Annaly Capital Management (NYSE:NLY) is a name I have covered in extreme detail in the past two years. My coverage of the name of late, however, has been limited to a very brief update based on last quarter's earnings. Thus, I felt it prudent to re-visit the name to take an in-depth look at some of the key metrics of the company which I have highlighted in the past as being key to the stock's performance. For example, it is still all about book value. The interest rate spread is also key, as are the building blocks of its earnings report. These metrics are important to have an updated understanding of given their impact on the company as a whole and subsequently the stock. That said, as I reviewed in greater detail the key factors impacting an investment in this name, including the dividend, I am steadfast in my decision to not back away from my recommendation to accumulate this stock.
Digging much deeper into the building blocks of the quarterly report
First off, NLY reported a Q2 GAAP net loss of $333.5 million, or $0.37 per common share. This is down substantially from the prior year's quarter which saw $1.6 billion in GAAP income of $1.71 per common share. It's also down from Q1 which saw GAAP net loss of $203.4 million or $0.23 per average common share. I've harped on this before but it deserves repeating. I would love to see management provide an estimate of taxable income, as this is really key to profitability and more importantly, what they have or can afford to pay in dividends. But at the same time, with the huge losses mREITs have been posting, many companies aren't relying on taxable income to pay dividends. This was key for American Capital Agency (NASDAQ:AGNC) on its recent conference call. Still, I bring this point up again because taxable earnings and GAAP net income will always differ due to items such as non-taxable unrealized and realized gains and losses, differences in premium amortization and discount accretion, and non-deductible general and administrative expenses. Even when NLY was consistently reporting positive GAAP net income it did not provide this information in quarterly releases. Now, buried in the quarterly report and a huge driver of the GAAP loss was the company's realized losses on terminations of net interest swaps. The company booked losses of $772,491,000 there. In contrast, one strong positive was the rise in core income, which according to a fellow Seeking Alpha author has the potential to result in dividend increases in the future. I concur. Core earnings for the quarter were $300.4 million or $0.30 per average common share as compared to $239.7 million or $0.23 per average common share for the quarter ended March 31, 2014, and $294.2 million or $0.29 per average common share for the quarter ended June 30, 2013. This is substantial improvement.
Interest rate spread
What about the all-important interest rate spread? Well first, NLY's main competitor AGNC reported that the net interest rate spread, improved drastically from 1.43% at the end of Q1 to 1.84% at the end of Q2. For NLY in Q2, along with strong core income, there were some highlights in the building blocks of the interest rate spread. For example, the annualized yield on average interest-earning assets was 3.2%, a rise from the first quarter. Coupled with the 1.94% annualized cost of funds on average interest-bearing liabilities, including the net interest payments on interest rate swaps, NLY yielded an average interest rate spread of 1.26% for the quarter, which was stronger than Q1. This was a whopping 36 basis point increase from the 0.90% average interest rate spread in Q1 2014 and a 25 basis point improvement over Q2 2013. When I called a bottom in Annaly, one of the key issues for me was the interest rate spread. I needed to see improvement in 2014 for that call to hold. Thus I was very pleased it came in at the high range.
Risk exposure
I was also looking to see what the company did with their risk exposure. Back in the fall I had discussed that Annaly would definitely lever down as the company rebalanced its portfolio. What do I mean when I say leverage? Leverage is basically the use of borrowed money to magnify returns. For more on leverage see this excellent article. Leverage includes repurchase agreements, convertible senior notes, securitized debt, loan participation and mortgages payable. At the end of the quarter total NLY shareholder equity was about $13.4 billion. Leverage at the end of Q2 2014, Q1, 2014, and Q2, 2013, was 5.3:1, 5.2:1 and 6.2:1, respectively. Thus, the company has remained at historically conservative leverage ratios for the last two quarters, ticking up just 1.9% on a relative basis. This conservatism should protect the company, but can limit returns.
Constant prepayment rate
Another key to be on the look-out for is the constant pre-payment rate. Some companies may call it the conditional prepayment rate, is basically the rate at which the principal of the loan is expected to be prepaid in a given time period. For example, if certain mortgage loan pool has a constant prepayment rate of 9%, then 9% of the existing pool principal outstanding is expected to prepay, or was prepaid over the time period of measurement. Thus far in 2014, the rate has been low. The constant prepayment rate for Q2 2014, Q1, 2014, and Q2 2013, was 7%, 6%, and 17%, respectively.
Book Value
As I have stated many times, book value is a key driver of an mREIT's share price. As you know, book value has decreased sharply since 2012 as Annaly's earnings have drastically fallen. But book value is on the mend. And this is key for share appreciation. In the last quarterly report, book value was $12.30. For the second quarter, much like its competitor AGNC, it reported an increase in book value. In fact, quarter-over-quarter book value spiked of 7.6% to $13.23 per share. What's more, this also represents a 1.5% improvement from the Q2 2013 book value of $13.03. In essence, Annaly has recovered a good chunk of the damage sustained to its book value in 2013. I predict that Q3 2014 will see book value rise to at least $13.50 given the current interest rate environment of the last month and a half, the company's last known leverage ratio, and the present trajectory of earnings. Although earnings were poor on a GAAP basis, you now see how little this matters to the overall key metrics of the company.
The dividend-the reason to buy Annaly
I mentioned that I concur with the prior suggestion that the increase in core income could lead to dividend increases in Q3, but probably by Q4. But remember, while you can time buys in cyclical names like mREITs for capital appreciation, the real reason to own these is for the dividend. The long-term investor, one with a ten-year plus horizon, can play the DRIP game. Those in retirement can simply collect income. And those who have stuck with Annaly for the last ten years have been rewarded handsomely, despite the ups and downs. Figure 1 displays the history of dividends for Annaly in the last ten years and Figure 2 displays the cumulative dividends paid in the same time period.
Figure 1. Annaly Capital Dividend History, Last Ten Years.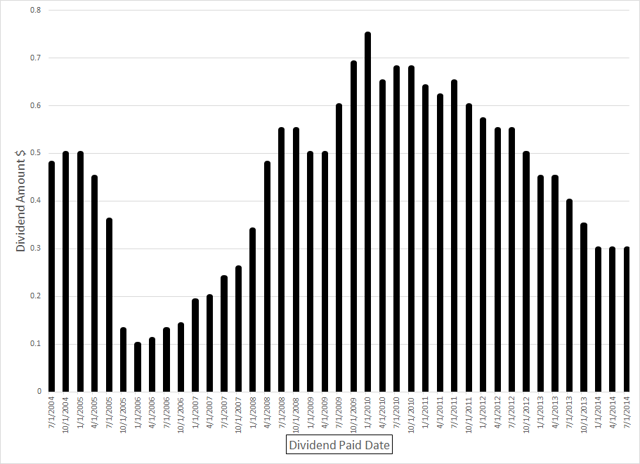 Source: Data available at Nasdaq.com dividend history for Annaly. Chart created in excel
Figure 2. Annaly Capital Cumulative Dividends Paid in the Last Ten Years.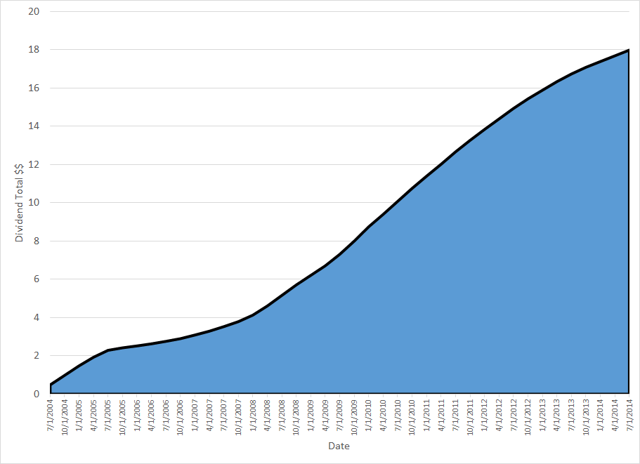 Source: Data available at Nasdaq.com dividend history for Annaly. Chart created in excel
As you can see in figure 1, the dividend has fluctuated substantially over the last ten years. This is primarily in response to the cyclical nature of rates, changes in earnings and company specific successes and failures. What is important to note is that you can plot both the book value and/or share price of Annaly over the same figure 1 and reveal a similar pattern (data not shown). In short, the book value, dividend and share price are all intertwined. While this is common sense for some, it may not be obvious to others. What is important to also note is that the yield has in general been consistently above 10%, contributing to fantastic returns over time.
Figure 2 displays the cumulative earnings. What the take-home message is for his graphic is that the dividends have accumulated to generate a return of $17.99 in this time frame. As an extreme example, an investor who bought into the stock in 2000 for around $8.25 could have seen shares drop to $1.00, and still have netted a return $10.74, or 130%. Now, that of course hasn't happened and shares are trading at $11.75. On a capital appreciation basis, that is only a return of $3.50 per share or 42% over ten years. Not terrible, but nothing to write home about. Factor in the dividends paid of $17.99 and the total return if the investor in 2000 sold everything right now would be $21.49 or 260%.
Having said that, my argument, given the trends in the stock, is not to sell now. I see the potential for dividend raises coming. I see the share appreciation in the stock's future. The best advice for someone looking to raise fast cash in this situation would be to take out the original investment, plus a little extra, and let the rest run. Overall, the point of this explanation is to hammer home that we buy these stocks for the income they provide. Growth can be found elsewhere (although I reiterate all signs point to share price appreciation on the way).
Is the dividend safe?
In short, yes it is. In fact, I think given the current climate, the risk is to the upside, that is, a dividend raise is more likely than a cut. With recent insider buying by the CEO Wellington Denahan, management is betting that it is. As fellow contributor and expert on Annaly stock author Regarded Solutions eloquently points out, when the CEO buys a million dollars worth of stock, he listens. So do I. And so should you. While the CEO is well compensated, no one burns a million dollars. You buy stock because you think it is going higher. Does this mean the dividend is safe? Not necessarily but it is a strong piece of evidence that I would include in any prediction model. Fundamentally I think the dividend is safe so long as the market does not tank and interest rates continue to stay low, or move with little volatility. It is rate volatility, or strong short-term increases that wreak havoc on mREIT portfolio holdings. This is because the company has a diverse asset mix consisting of residential mortgage backed securities, asset backed securities and commercial mortgage backed securities.
Conclusion
All of the key metrics of Annaly are improving. I love the widening of the net interest spread. The all-important book value is on the rise. Shares are up substantially since they bottomed in the winter. All signs point to core income increasing, which should lead to higher dividends in coming quarters, and in turn, a higher share price. I am not backing off of Annaly any time soon.
Disclosure: The author is long AGNC, NLY.
The author wrote this article themselves, and it expresses their own opinions. The author is not receiving compensation for it (other than from Seeking Alpha). The author has no business relationship with any company whose stock is mentioned in this article.