Last week I wrote an article - Sleep Well At Night With These 5 REIT CEOs Behind The Wheel - and in that article I explained the importance of "thinking like an owner, not an investor." In such, I provided insight into the importance of analyzing more qualitative factors such as management, integrity, and uniqueness of the overall brand. I wrote:
I consider the share price paid part of the value that I'm getting when I pay for the investment of choice. As I see it, I am actually contributing the capital necessary to operate the business and for that reason a portion of the proceeds are being used to fund payroll costs.
My Top REIT CEOs were all hand-picked based on their track records of managing risk under pressure or as Donald Trump said:
...what separates the winners from the losers is how a person reacts to each new twist of fate.
Measuring risk management performance is a challenging task as I explained:
...it's hard to measure how well a CEO is performing, especially since they often focus on short-term results at the expense of longer-term performance. That's just human nature - CEOs are incentivized to meet quarterly guidance numbers as they are judged by the market on the shorter-term goals.
However, within my short-list of best CEOs there is one that stands out above the rest. This favored REIT executive has not only demonstrated an extraordinary track record of dividend performance, but also an equally impressive track record for putting numbers on the scorecard.
It's the sustainable success that "separates the best from the rest" and by shifting focus on short-term shareholder value to a more balanced long-term approach Ventas, Inc. (NYSE:VTR) has created extraordinary value for investors.
As I began to write this article, there was really no question as to the best CEO in REIT-dom. Just take a look at the performance of Ventas since March 1999.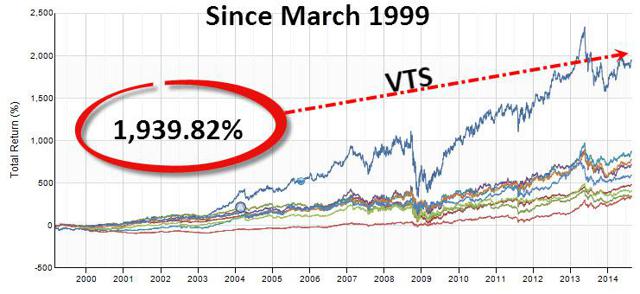 Maybe this chart provides a better representation of the facts - Ventas has crushed the competition: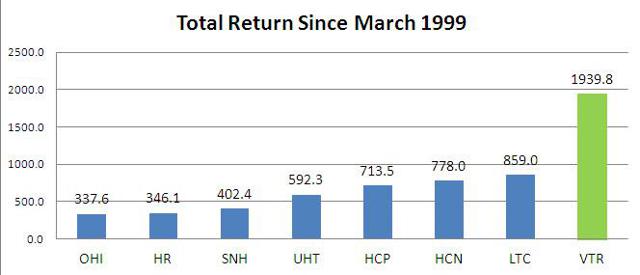 The Underdog CEO Will Not Abandon Us
What's important to recognize is that Debra Cafaro was not a typical CEO when she was hired in 1999, she was somewhat of an underdog.
Prior to joining Ventas, Cafaro previously oversaw a complex turnaround of Ambassador Apartments, Inc., a Chicago-based REIT. With difficult and complex legal issues brewing, Cafaro took over (as president) in 1997 and in less than year she orchestrated a $682 million sale of the 52-property portfolio to Apartment Investment & Management Company (NYSE:AIV).
While grappling with adversity - credit defaults and overstated earnings - Cafaro was able to rescue shareholders but more importantly, she was recognized for working under pressure. As Chris Malone and Susan T. Fiske wrote in The Human Brand:
The underdog always has something to prove, so we can count on the underdog's loyalty. Underdogs, we feel, will not abandon us in times of trouble.
In 1999, Cafaro was approached by Douglas Crocker, then CEO of Equity Residential (NYSE:EQR) about an opportunity in the senior housing sector. Crocker who was also on the board of the struggling assisted living operator (Ventas) asked Cafaro to consider becoming the company's CEO. At the time Ventas was faced with a perfect storm of problems.
The US Department of Justice was seeking $1 billion in Medicare fraud claims. In 1998 Ventas took the name and corporate structure of Vencor, its predecessor. The newly renamed company then spun-off its operating functions into a new unit, which was branded with the old Vencor name and Ventas' sole-tenant.
Creditor claimed, however, that the spin-off amounted to a fraudulent transfer that Ventas was using as a means to avoid payment. By the time Cafaro came on board (March 1999) the newly spun-off Vencor was close to bankruptcy, and the unit filed for bankruptcy protection in September 1999. On top of that, Cafaro had to address the looming October 1999 maturity of a $1 billion unsecured bank loan.
The first steps taken by Cafaro in 2000 included adopting REIT status and securing $1 billion in debt financing. The following year Cafaro restructured the company's debt and oversaw the restructuring of Vencor, which was recapitalized and rebranded as Kindred Healthcare.
Having grown the struggling enterprise (in 1999) into a dominating REIT is an extraordinary feat and over the last 15 years Cafaro has assembled an executive management team that has executed at all cylinders - a strategy for restructuring, growth, and diversification - that has been an amazing story of a "phoenix rising from the ashes." As noted above, Ventas has unmatched performance, but what about other large-cap peers? Take a look:

Ventas has outperformed all recognized Indexes by a wide margin, not even close: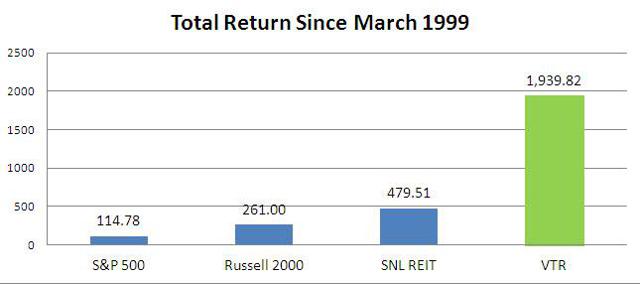 Debra Cafaro: Who Comes First, People or Profits?
Here's how Chris Malone and Susan T. Fiske (in The Human Brand) explain a best in class leader:
By acting as the "face" of their respective companies and brands, they offer us a sense of emotional reassurance as living embodiments of the company's trustworthiness, warmth, and competence.
The leading brand experts went on to explain:
We don't want to be led by the person who possesses only the group's average values; that person seems uninspiring; better than some, worse than others. Instead, we expect leaders be at the extreme high end of commitment to the group's collective ideal of itself.
Let's take a look at the "extreme high end of the commitment" that embodies the attributes of my favorite REIT CEO. First let's take a look at the growth of Ventas and the historic expansion of the company's asset base: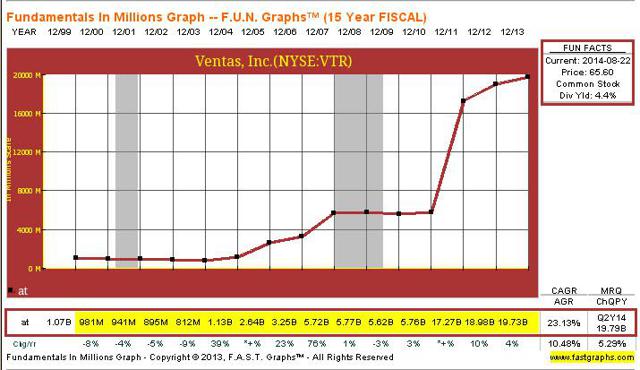 Ventas recently closed on its $1.2 billion all-cash acquisition of 29 Canadian senior living communities from Holiday Retirement. These private pay properties are located in seven Canadian provinces, with the majority in Ontario and Alberta.
Ventas has also announced it was acquiring American Realty Capital Healthcare Trust (NASDAQ:HCT) in a $2.6 billion transaction consisting of 143 properties, comprised of 78 medical office buildings, 29 senior housing communities, 13 senior housing triple-net properties, 14 skilled nursing facilities, 7 hospitals, and 2 land parcels. The timing for the HCT deal is likely year-end and here's why the proposed deal has not been included in Ventas guidance, as explained by Debra Cafaro on the recent earnings call:
The timing on HCT is more variable and also, really, even if it does close at the end of the fourth quarter, let's call it, that would have very limited impact on 2014, anyways. So this just seems like the best way to provide the best guidance to our investors.
Here's a snapshot of historic assets with the $3.8 billion closed and announced deals included: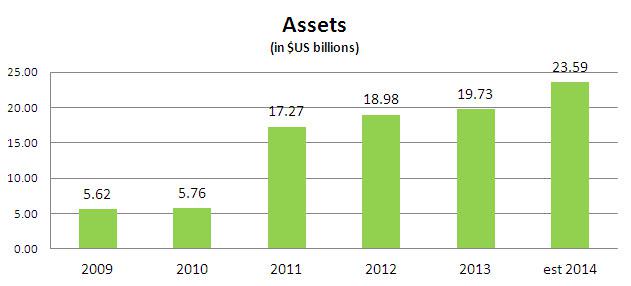 Based on Market Capitalization, Ventas ranks as one of the largest Healthcare REITs:

Here's a snapshot of the company's historic market capitalization growth: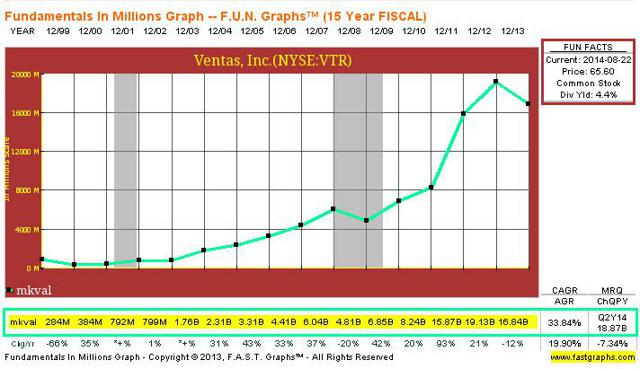 Having grown from one tenant to over 1,500 properties, Ventas has one of the most diverse operating platforms in the REIT sector. Here is a snapshot of the balanced business model that includes senior housing operators (28%), senior housing (26%), skilled nursing (20%), medical office buildings (16%), hospitals (7%), loans (2%), and other (1%).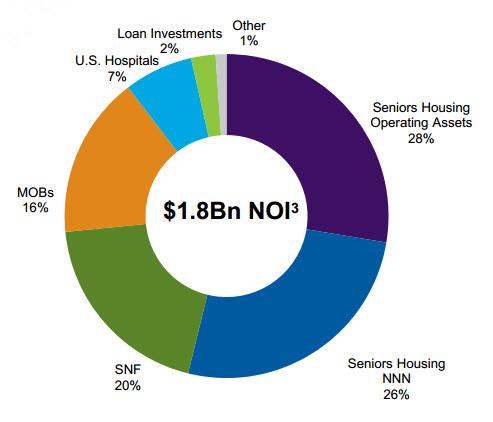 The chart below does not include the Holiday and HCT deals (that will further diversify) Ventas' revenue stream.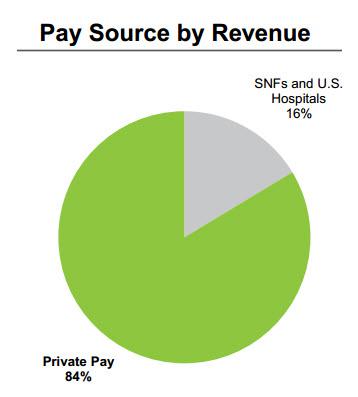 The Holiday and HCT transactions will substantially increase Ventas' footprint. Here's a snapshot of the geographic model (does not include Holiday or HCT):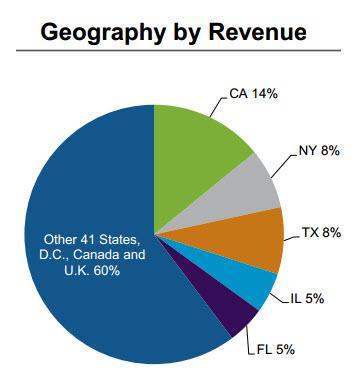 Here's a snapshot of the US exposure (does not include Holiday or HCT):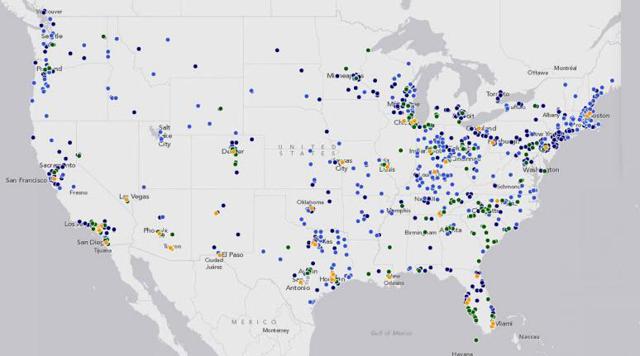 Putting the Numbers into Perspective
As mentioned above, Ventas has evolved from a struggling company in 1998 into a dominate S&P 500 company that has a BBB+ credit rating from all 3 rating agencies.
During the latest quarter Ventas raised $700 million through the issuance of senior notes with a weighted average interest rate of 2.75% and a weighted average maturity of 7 years. The proceeds funded almost $200 million, representing the cash portion of investments in the quarter, CapEx, development and redevelopment and $188 million of mortgage prepayments, with the balance used to reduce the revolver. The mortgage debt prepaid was at a weighted average cash interest rate of 5.9% and a GAAP rate of 4.1%.
Ventas' average cash interest rate improved 40 basis points to 3.7% and the company has been able to maintain its weighted average debt maturity at nearly 7 years. At quarter end, credit statistics remained outstanding with a net debt to pro forma EBITDA at 5.5x, fixed charge coverage ratio in excess of 4x and secured debt to enterprise value of 8%. At quarter end, the company's revolver balance was $179 million, and debt-to-enterprise value was an outstanding 34%.

Ventas has around 24.5% in secured debt, compared with a peer group average of 23.8%.

Ventas has reduced its reliance on secured debt: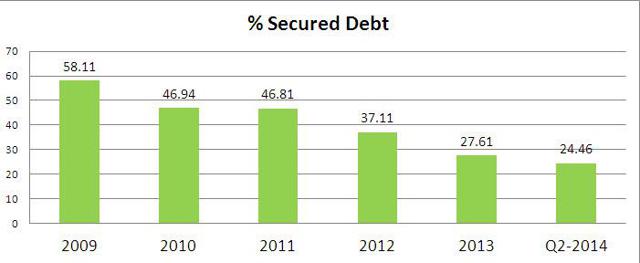 As you can see below, Ventas has maintained a conservative capital management strategy: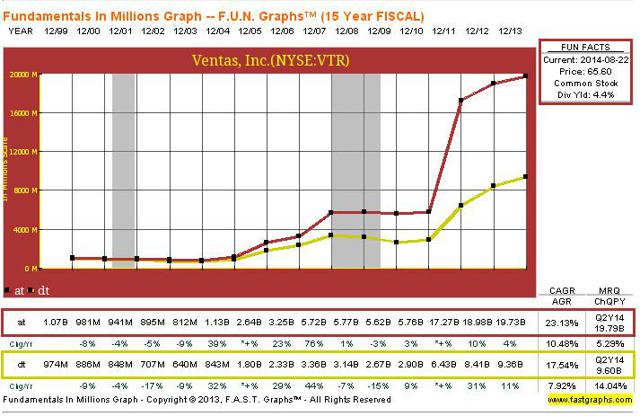 What Have You Done For Me Lately?
Ventas' Normalized FFO ($1.12 per share) grew 11% to $1.12 per share compared to the second quarter of last year; that growth resulted from increases in same-store NOI, accretion from acquisitions and receipt of fees and other income. Excluding non-cash items, normalized FFO also grew by 11%.
Also cash flow from operations grew 12% in the second quarter compared to the same period last year to $311 million and is up over 17% year-to-date. This extraordinary growth is due to strong performance in raising capital effectively, investing capital wisely and managing assets productively.

Ventas said it was increasing its full year 2014 normalized FFO guidance to $4.39 to $4.43 per share, as a result of the closing on Holiday and results year-to-date. This guidance, if achieved, should deliver 7% to 8% per share normalized FFO growth over 2013, excluding noncash items. It would also represent the ninth year out of the last 11, when Ventas delivered over 7% per share growth.

As illustrated below, Ventas has maintained a very reliable and predictable earnings history: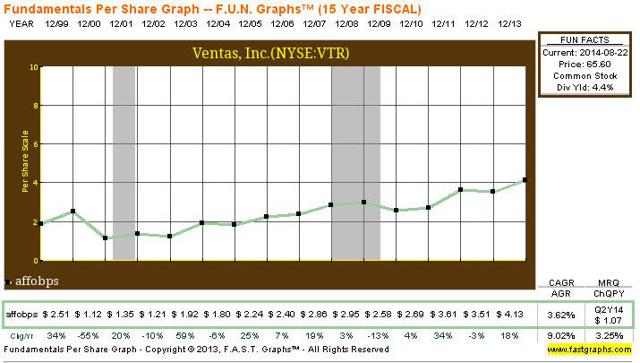 Ventas also grown its dividend at a compound annual rate exceeding 9%, with a conservative payout ratio of 67% of normalized FFO per share excluding noncash items. Here's a snapshot of Ventas' historic FFO per share and dividends paid per share record: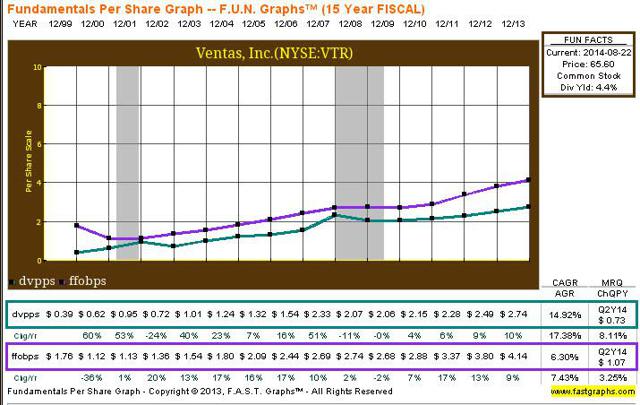 The FAST Graph below provides a colorful picture of Ventas' extraordinary dividend history: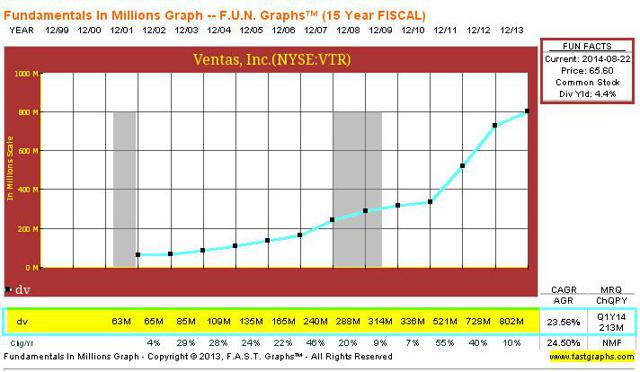 Here's a snapshot of the company's dividend payout history: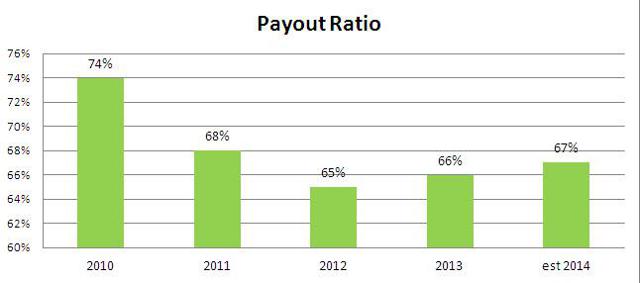 Based on guidance (referenced above), Ventas should pay an estimated $2.90 per share in dividends in 2014: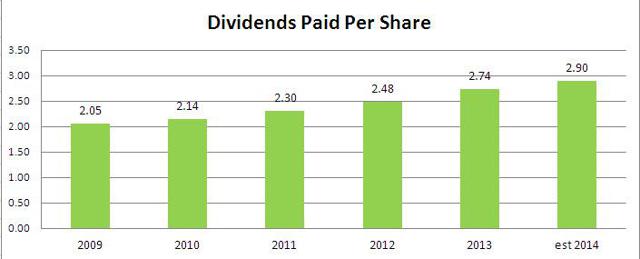 Here's a snapshot of Ventas' projected dividend growth (compared with a few peers) in 2014 - not too shabby: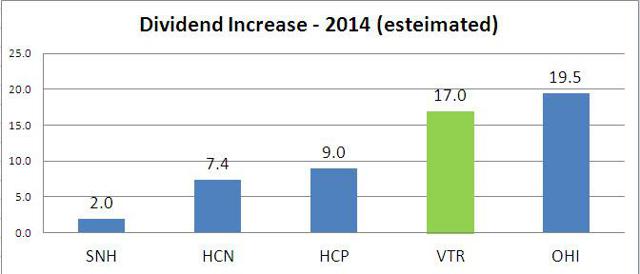 Here's a snapshot comparing (the same peer group) dividend growth over a 3-year period - 10.6% a year ain't bad at all: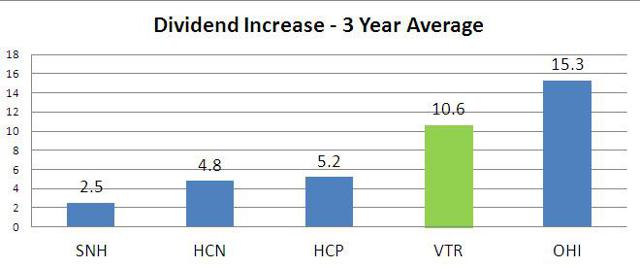 Here's a snapshot comparing (the same peer group) dividend growth over a 5-year period - still strong.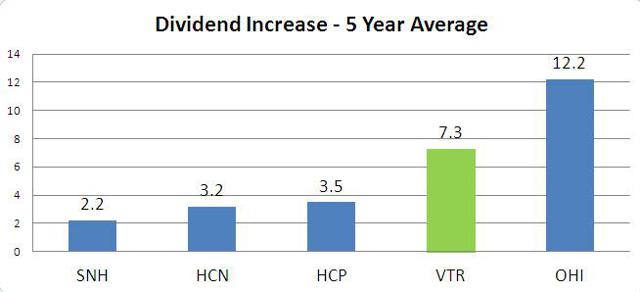 On the latest earnings call an analyst asked whether Ventas was raising its dividend again. Debra Cafaro responded:
Well, the board obviously makes a dividend decision every quarter. Ventas' history has really been a fantastic one in this regard, which is to have above average dividend growth, a very favorable payout ratio that makes the dividend both secure and have room for future improvement. And we'd love to be able to continue that pattern because we think it's a very important part of the overall total return proposition we offer to shareholders.
That's One Heck of a Reward
Now it's crystal clear - Cafaro has provided shareholders with an exceptional reward - that is, boosting dividends and steady share price growth. It comes down to one thing: If you can provide investors with confidence, shareholders get a premium. That's preciously why I consider Debra Cafaro to be the "pound for pound" best CEO in REIT-dom. In short, Ventas' financial performance continues to be consistent and outstanding. She summed it up on the recent earnings call:
We are confident we can extend our long track record of excellent, consistent performance to produce reliable growing cash flows, dividends, earnings and total return for our shareholders.
So what does Mr. Market think about my top CEO pick?
Based on dividend yield, Ventas is paying out the lowest yield in the peer group (even after some bib boosts):

However, Ventas is trading at FAIR VALUE with a P/FFO multiple of 14.8x (below the peer average of 15.1x):

Given the historic valuation range for Ventas, we can see that the shares remain in-line with more recent values (around 15x):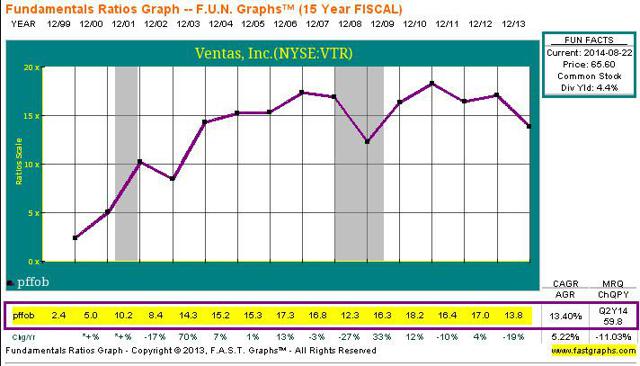 Let's recap the successful dividend performance of the company (and the CEO) as follows: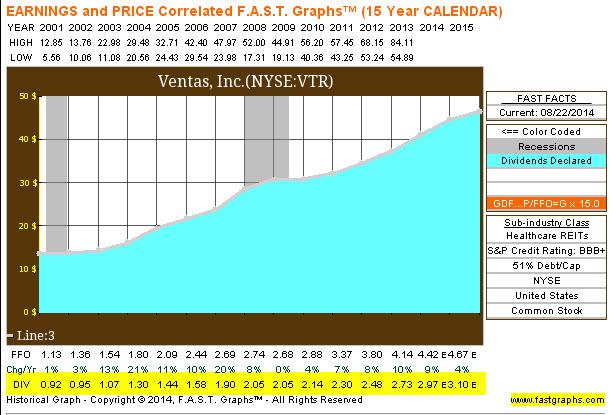 Now let's recap the successful earnings history of Ventas, led by the extraordinary leadership: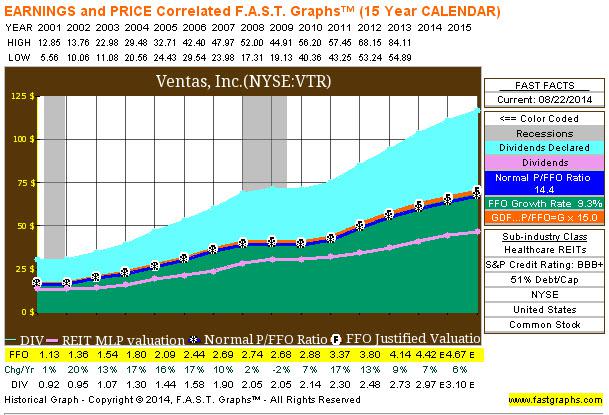 Before I drill down to a BUY price, I will remind you how Debra Cafaro summed up the investment thesis for Ventas (on the recent earnings call):
I do think we have assembled an unbelievable enterprise and company that has some characteristics of reliable cash flow growth and diversified asset class, diversified tenant base, et cetera and given that we are sort of 1/3 health care; 1/3 real estate; 1/3 finance there is a tremendous benefit to scale and diversification…we're all about creating value for shareholders and we will hopefully always make decisions that accomplish that.
In closing, I admire the accomplishments of Debra Cafaro and her extraordinary track record of creating shareholder value. However, remember that I'm a value investor and I must maintain a disciplined approach to creating value (for myself and others). In that regard, I'm moving my BUY price from $55 to $60; that's still below the current share price of $65.60. I was fortunate to find a desirable "margin of safety" on December 3rd (at $56.05) and January 3rd (at $56.93) and I will continue to increase my exposure if shares move back to $60.00 or below.
Ventas is "without a doubt" a SWAN (sleep well at night) REIT and because "we experience, learn, or infer about the intentions of people behind the brand" I am more stress-free as it relates to my decision to own shares in Ventas. I'm not pulling any punches, Debra Cafaro is the "real deal" and she can trade jabs better than anyone else in REIT-dom. As co-authors Chris Malone and Susan Fiske explain:
The person we follow as a leader must represent its ideals in their highest expression, its very heart and soul…They (leaders) provide us with a reassuring human face that represents the company's intentions toward us…they must translate those intentions into actions and demonstrate them for all to see.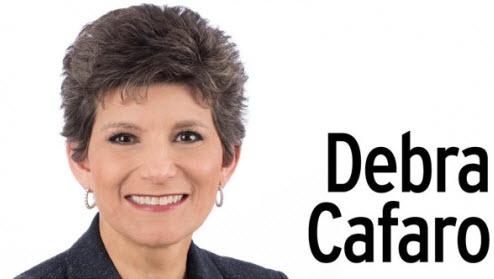 To learn about Ventas and other "sleep well at night" REITs, check out my newsletter HERE.
Source: SNL Financial, F.A.S.T. Graphs, and Ventas Investor Presentation.
Other REITs mentioned: (NYSE:KIM), (NYSE:O), (NYSE:NNN), (NYSE:FRT), (NYSE:PSA), (NYSE:SPG), (NYSE:NHI), (NASDAQ:SBRA), (NYSE:HR), (NYSE:HTA), (NYSE:HCP), (NYSE:LTC), (HCN), (NYSE:UHT), (NYSE:AVIV), (NYSE:OHI), (NYSE:MPW), (NYSE:DOC), and (NYSE:SNH).
Disclaimer: This article is intended to provide information to interested parties. As I have no knowledge of individual investor circumstances, goals, and/or portfolio concentration or diversification, readers are expected to complete their own due diligence before purchasing any stocks mentioned or recommended.
Disclosure: The author is long O, DLR, VTR, HTA, STAG, UMH, CSG, GPT, ARCP, ROIC, HCN, OHI, LXP, KIM, WPC, DOC, UDF, EXR.
The author wrote this article themselves, and it expresses their own opinions. The author is not receiving compensation for it (other than from Seeking Alpha). The author has no business relationship with any company whose stock is mentioned in this article.