Recent history of the gold price can be roughly divided into 3 phases. The time before summer 2011, when the price rose tremendously: from $280 at the end of the last millennium to an all-time-high of nearly $1,900. Then, a short plateau period followed, where the price never fell below $1,600 (till end of 2012). Since the beginning of 2013 a bear market has taken over, leading to a decrease in the gold price to as low as $1,200. Recent developments in Ukraine caused a slight rise in the gold price, but it is still far away from the glory days 2 years ago. Needless to say, the effect on gold miners was significant. Expectations of huge profits made the companies increase their output enormously, which led to a dramatic increase in production costs. Nevertheless, they were still low enough to ensure huge profits. This changed in 2013 and its effects can be seen in the balance sheet of any gold miner: huge losses due to impairment of reserves in that year. It was not uncommon, that the loss of 2013 wiped out the profits of many years before. It is no surprise, that the stock market reacted to this with huge losses in validation of gold miners. In my opinion, these losses are partially exaggerations and the actual market capitalization does not reflect the true value of many gold miners. One such exaggeration is Buenaventura (NYSE:BVN), a Peruvian gold miner. With a production of about 900,000 ounces gold in 2013 (gold being responsible for roughly half of revenues), shares in 14 mines and a market capitalization of about $3.39 billion, Buenaventura is a medium sized gold miner. All information in this article (if not otherwise stated) refers to financial statements of 2013 and Q2/6M 2014.
Overview
Buenaventura is Peru's largest precious metals company. It is engaged in the exploration, mining and processing of gold, silver, copper, zinc and lead. Buenaventura owns 9 gold and silver mines directly, where copper, zinc and lead are produced as side products. Additionally, the company has stakes in 5 subsidiaries, among which Yanacocha (43.65%) and Cerro Verde (19.58%) are the most important. Yanachocha, located in the Peruvian province of Cajamanca, is the second largest gold mine in the world and the largest in America (total production in 2013: more than 1,000,000 oz). Most of the other shares of the mine are held by Newmont Mining. Yanaocha is also developing the Conga project, which caused some resistance of residents. Buenaventura also operates other greenfield and brownfield projects. A small part of its revenue is generated by Concorcio Energetico de Huancavelica, a electric power generation and transmission company and Buenaventura Ingenieros, an engineering consultant (both subsidiaries are owned to 100% by Buenaventura).
Buenaventura was founded in 1953 and, hence, has a company history that is longer than most of its competitors. Still a significant part of the shares (more than 27% at the end of March 2014) is held by the founder family. At the moment, the company has a market capitalization of $3.17 billion and is listed on the NYSE.
The table below summarizes production figures of Buenaventura's mining operations in 2013: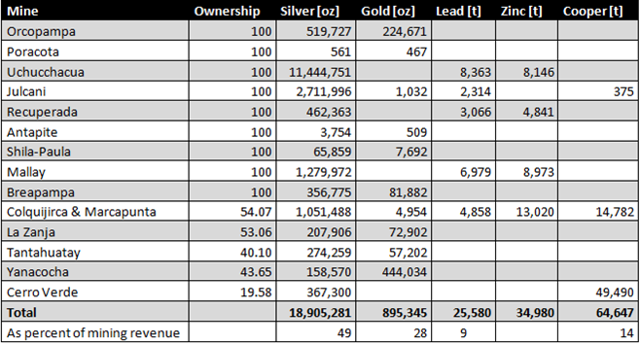 (all production numbers are related to ownership of Buenaventura)
During the golden decade of gold miners, Buenaventura was able to increase its business dramatically. Development of equity and balance sum is especially impressing. During 2005 and 2012, equity rose 25% each year. One can also see, that Buenaventura never relied on debt in that period. Equity and balance sum rose about equally.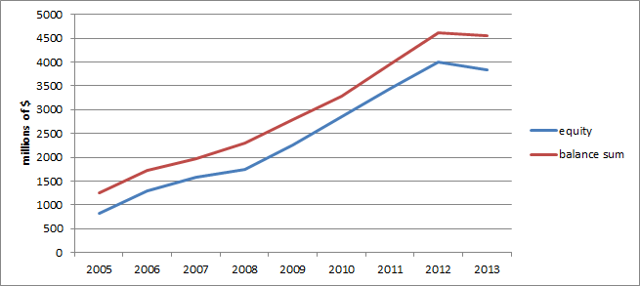 The next graph shows the development of revenue and operating profit (only fully owned operations) over time. Buenaventura records investments that are not fully owned in accordance with the equity method and states 'share in the results of associates under the equity method' every year. That means:
net profit = operating profit + change in share of associates.
As those investments are substantial, they have a huge influence on Buenaventura's final profit.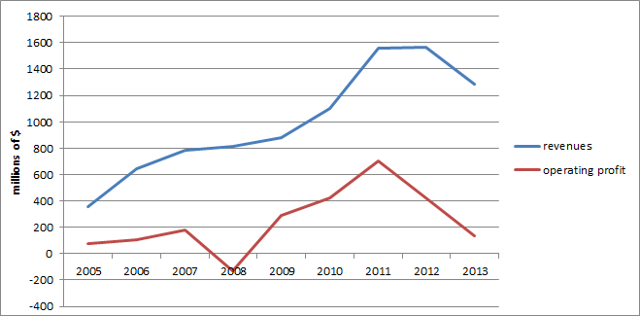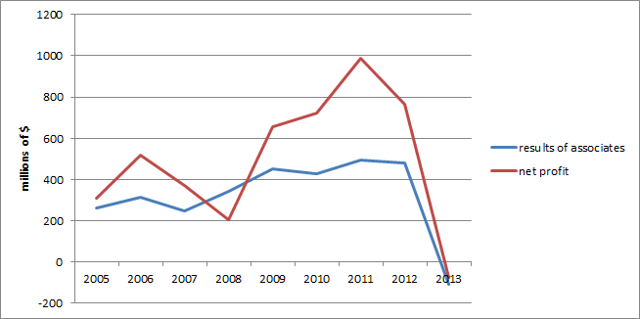 Once again, the pattern is clear. Huge rises in the years up to 2012 and then a substantial decrease in revenues in 2013 and the first loss in net profit after many years.
Business year 2013
I have summarized the income statement for 2013 in the following table: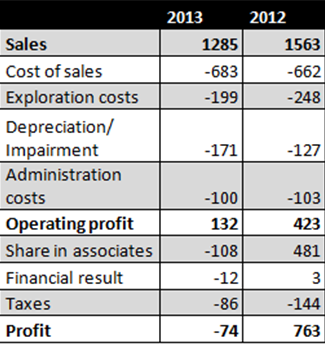 (all numbers in millions of $)
2013 is the period that includes impairments, caused by the weaker gold price. Nevertheless, results from this year were still relatively acceptable compared to most competitors. The average realized price in 2013 was $1,392.18 per ounce for gold (2012: $1,677.96) and $22.33 per ounce for silver (2012: $31.07). This fall in price was the main reason for the decrease in sales, that fell by 17 percent to $1,285 million in 2013. Costs of sales rose about 3%. Buenaventura cut expenditures for exploration by 20%. Depreciation/impairments increased by more than one third. General costs remained approximately equal, while operating profit fell 68%, but was still positive. Change in share in associates was minus $108 million and ate up nearly the whole operating profit. This figure is mainly composed of a change in equity of minus $245 million in Yanaycocha, which become necessary after an impairment charge of the mine's long-lived assets of $726 million. As Buenaventura had to pay $86 million income tax, total loss was $74 million.
Cash flow from operating activities was plus $419 million in 2013. Cash flow from investing activities was minus $428 million, sufficient to offset the contribution from operating activities. Payment of financial obligations was $25 million higher than the increase of financial obligations and Buenaventura paid dividends that amounted to $92 million. The combination of these two effects resulted in a negative contribution of financing activities of $116 million to cash flow.
6M 2014
The first six months of 2014 brought an end to the fall of the gold price and even a slight increase. They also brought further (but smaller) impairments for Buenaventura, but also a first evidence for better business. I have summarized the most important figures for both Q2 and 6M 2013: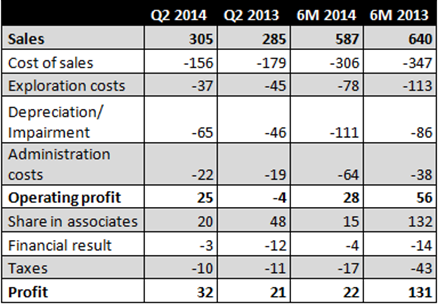 (all numbers in millions of $)
It is quite clear to see, that the first quarter 2014 was tough for Buenaventura, but the second one got better, just reverse to development in 2013. The company realized an average gold price of $1,292 per ounce in 6M 2014 (6M 2013: $1,477) and an average silver price of $19.75 per ounce in 6M 2014 (6M 2013: $25.82). Total revenue fell by 7% in 6M 2014, as gold production decreased 15% and silver volume rose by 18%. Cooper (the third most important product of the company) saw a volume increase of 100%. Buenaventura spent less on exploration, but depreciation/impairment increased by 29% in the first half of 2014. Additionally, write-off on assets of associated companies eventually comes to an end. In 2Q 2014 the share in the result of associates was positive for all mines, but Yanacocha, where the negative result was influenced by a $21.3 million write-down of leach inventory. In the first six months of 2014 this mine produced 400,000 ounces gold. Its mining plan for 2014 was confirmed. As it expects a production between 895,000 and 985,000 ounces for the year, the second half of the year should see higher profit. The total profit for Buenaventura for Q2 2014 was $32 million, which means EPS of 9 US cents (Q2 2013: 7 US cents, despite the higher gold price).
In 6M 2014 cash flow from operating activities was $67 million. As investments in development costs and property, plant and equipment was $136 million (also roughly equals cash flow from investing activities), Buenaventura had to increase its financial obligations to offset the cumulative effect. It did so by about $150 million.
Huanza hydroelectric plant (100% owned by Buenaventura) started full operations and is now generating 95 MW of excessive electric power. The expansion of the El Brocal plant (54.07% owned by Buenaventura) is expected to start full operations in September and should then treat 18,000 tpd of polymetallic ore.
As of 30 June 2014, Buenaventura had a balance sum of $4,682 million. Total equity was $3,848 million, which gives an equity-to-debt-ratio of about 0.22. Non-current liabilities are $834 million, while the remaining $377 million refer to current liabilities. Investment in associates accounts for $2,363 million, about 50% of the balance sum. Apart from this, no goodwill can be found in Bunaventura's balance. Mining concessions, development costs and property, plant and equipment account for $1,535 million.
At the moment Buenaventura is trading at a market capitalization of about $3.39 billion, meaning a P/B of 0.88. To give a realistic number of P/E is more difficult, as the years 2013 and 2014 are transition years affected by huge impairments. Bloomberg expects a P/E of about 20 for 2014.
The company lists proven and probable reserves of 1,036,000 ounces of gold and 136,464,000 tons of silver at the end of 2013. These numbers refer only to the mines 100% owned by Buenaventura and assume a gold price of $1,300 , as reserves always refer to economically producible commodities. Reserves of Yanacocha were 5 million ounces gold (excluding the Conga extension).
Comparison to competitors
I have compared Buenaventura to some competitors, mostly gold producing companies bigger than Buenaventura (P/E and P/B from Bloomberg, RoE: own research). I have ignored junior miners, as their risk and cost structure is different. I think it is useful to include return on equity for 2013, as it gives an idea about the impairments of reserves and, hence, how realistically the were stated in the balance. Buenaventura did well in all three categories. It has the lowest P/E and a P/B well below average. RoE was also fine, especially if one considers that it only become negative because of the change in share of associates.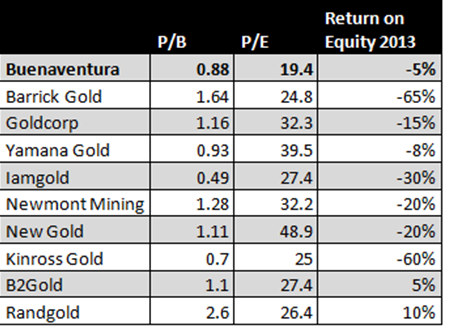 It it clear, that production costs for gold are also an important factor when one intends to compare miners. The amount of money a company needs to get 1 ounce gold out of the underground will finally determine the company's profitability. Hebba Investments does a regular comparison of all-in gold mining costs, that resulted in costs per ounce (excluding write-offs) between $1,100 and $1,300 in their last version (Q3 2013). I have used their methodology on Buenaventura and calculated the costs for the last available numbers (Q2 2014). The result was total costs (excl. write-offs) of about $1,180 per ounce (mines owned 100% by Buenaventura). Total costs (excl. write-offs) for Yanacocha in 2013 were $1,253 per ounce. It would have been possible to apply the calculation on Cerro Verde too (via conversion factors), but as this mine does not produce one ounce of gold, I think it does not make much sense. I want to add, that even in the annus horriblis 2013, share in profit from Cerro Verde was positive ($116 million).
Risks
In my opinion the three most important risks related to Buenaventura are the gold price, the concentration of the company's activities on only one country, Peru, and the Conga project .
There is a huge dependence for BVN's profits on the gold price. Although the company has other income streams, its profit is eventually determined by the price it can charge for gold. In my opinion, it is futile to try to predict short-term development of any price. But on the long term, I am convinced that gold price can never fall below total production costs. At the moment, they are at about $1,200 (industry-wide). Reducing this average would only be possible by closing some of the less profitable mines, which would greatly reduce gold supply. It is reasonable to assume, that gold miners went for the 'easy' reserves first. Hence, the discovery of new gold mines that are less expensive to produce than the active gold mines is not very realistic. Opposed, gold demand will most likely rise due to population growth and economic growth in the developing countries.
As most of the assets of Buenaventura are located in Peru, the development in this country can have a tremendous influence on the company. In the second quarter of 2011, presidential and congressional elections took place and resulted in a change in government. Since the beginning of his term, President Humala of the Partido Nacionalista Peruano has supported mining as a driver for economic growth in Peru. Just recently, he proposed a new tax stability contract for mining companies. Mining makes up 15% of Peru's GDP and 60% of the country's exports. Whatever the outcome of the next election might be, any government will have to realize the importance of this sector to the economy of Peru and the necessity of foreign investment and know-how. Of course, there is always the possibility of strikes and labor disputes. Up to now, most of them have been declared illegal by the labor ministry and work resumed soon.
Yanacocha is still the largest gold mine in South America, but its production has declined significantly in the last decade. Peak production happened in 2005 (3.3 million ounces of gold), and since then gold output declined significantly. As I mentioned above, guidance for 2014 is between 895,000 and 985,000 ounces. In 2010, Yanacocha launched the Conga project, a mining extension that should enhance productivity and increase reserves. A total sum of $4.8 million should be invested. As of December 31, 2013, total reserves related to Conga project were estimated to be more than 12.5 million ounces of gold (at a gold price of $1,300). The environmental impact assessment was improved in October 2010 and President Humala also supported the project after his election. In the second half of 2011 opposition against the project started to grow, mostly because of the necessary drainage of lakes that claimed to threaten water supply in the region. Although Yanacocha accepted additional restrictions in 2012, the situation escalated and even led to the declaration of martial law. In the meantime, the first artificial water reservoir was built and things have calmed down a bit. Nevertheless, there is still a fierce opposition against the Conga project. Caramanca's regional government also opposes the project. Regional presidential elections will take place in October 2014.
Conclusion
Buenaventura is valued inexpensively compared with its competitors, both in terms of P/E and P/B. Additionally, the company is financed very conservatively. The company has shown an acceptable performance even in 2013, the annus mirabilis of the mining industry. Buenaventura still expands its business. The new operations in El Brocal and stronger mining in Yanacocha should be a booster for the second half of the year. On the longer term, Buenaventura should profit from the Conga project. After the project has proceeded that far, I can't imagine that even a change in government could bring it to fall. Buenaventura's management has done a wonderful job in the years since 2005 by expanding the business by 200% and still maintaining a low debt-to-equity ratio. It is also a sign of quality, that the company did not have to sell or abandon any of its mines, as so many miners were forced to do in 2013.
Unless gold falls through the floor, I can't imagine much more downside for Buenaventura. As I have explained, I think this is highly unrealistic. Even in such a case, Buenaventura would have tremendous advantages compared to its competitors due to its more conservative financial position. If, on the other hand gold price rises, which will have to happen eventually, Buenaventura will profit in the way, it did in the last decade: with huge, steady growth. In my opinion, Buenaventura is one of the best picks among major gold miners.
Disclosure: The author is long BVN.
The author wrote this article themselves, and it expresses their own opinions. The author is not receiving compensation for it (other than from Seeking Alpha). The author has no business relationship with any company whose stock is mentioned in this article.