Avalanche Biotechnologies, Inc (AAVL) - Buy Recommendation - Price Target $32.00
The 25 day quiet period on underwriter analyses of Avalanche Biotechnologies, Inc that began with the firm's July 30 IPO ended on August 24, allowing the IPO underwriters to release detailed research reports on the biotech firm engaged in the development of treatments for ophthalmic diseases through its gene therapy platform.
AAVL's share prices will likely gain a temporary boost from the release of the underwriter analyses.
Early Market Performance
AAVL's IPO priced at the high end of an upwardly revised range at $17 per share. The stock performed extremely well in its first day of trading with a return of 64.6% despite a crowded week of IPOs with few strong performers. AAVL made substantial losses until August 5, and has since made small gains to close at $30.52 per share on August 22.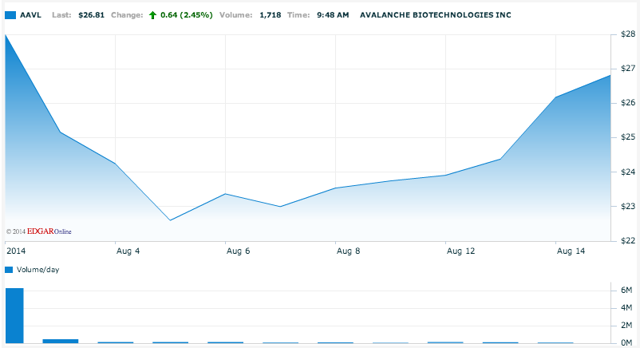 (Nasdaq.com)
AAVL's IPO underwriters, including Cowen and Company, LLC; Jefferies LLC; Piper Jaffray & Co.; and William Blair and Co., L.L.C, will seek to maintain and accelerate the firm's recent gains through the release of positive analyses beginning with the expiration of the quiet period.
Underwriters, Quiet Period Expirations, and Buying Opportunities: Academic Studies
As The Journal of Finance (VOL. LVIII, NO. 1; 2003) explains, share prices will typically start to rise before the date of the quiet period expiration as investors anticipate positive reports from the IPO underwriters and purchase shares ahead of the expiration in order to take advantage of the forthcoming analyses.
Lead author Dan Bradley, PhD, CFA, affiliated with the University of South Florida, and his colleagues state that analysts immediately initiate coverage for 76% of firms at the conclusion of the quiet period, almost always with a rating of 'Buy' or 'Strong Buy.' For the two days prior to and the two days following initiation, firms receive abnormal positive returns of 4.1%. In cases when multiple analysts initiate coverage, returns have been found to increase further-to 6.4%.
Carter, Piwowar, and Strader (2001) support Dr. Bradley's conclusions, stating that the mean analyst rating at the conclusion of the quiet period is a "Buy," and that higher ratings correlate to higher returns. Lach and Highfield (2009) note that analyst initiations have not been as positively biased since the NASD and NYSE rules and the Global Settlement; however, Highfield, Lach and White (2008) find that the five-day cumulative adjusted returns remain statistically significant at approximately 2%.
Bradley et al also find a significant correlation between the quantity and visibility of IPO underwriters and increased share prices near the expiration of the quiet period.
Our own research, performed on a sample of 2014 IPOs, reveals above-market returns of 2.3% within an 8 day (-5, +2) period (day 0 being expiration). These data are statistically significant at the 90% level. Excluding the IPOs of REITs and banks, returns increase further and remain within the 90% significance level. We also noted that a greater number of underwriters could lead to reduced volatility of returns in the quiet period. We observed no significant linear relationship between market capitalization and returns or volatility of returns in the same period. We also observed no significant linear relationship between the percentage of the company floated at the time of IPO and returns or volatility of returns.
In all cases, investors' early share purchases often create an atmosphere of rising demand, leading to an increase in share prices before the quiet period ends and generating a short-term buying opportunity.
Discovery and Development of Treatments For Ophthalmic Diseases
AAVL is a clinical-stage biotechnology firm in the early and pre-clinical phases of developing gene therapies to treat patients with ophthalmic diseases through the use of its gene therapy platform, which it calls the Ocular BioFactory. The firm's product candidates are designed to induce the expression of therapeutic proteins via a single administration.
AAVL's lead product candidate, AVA-101, seeks to treat wet age-related macular degeneration, also known as AMD. Current therapies for wet AMD require several weeks worth of consistent eye injections, leading to problems with patient non-compliance and resulting vision loss; AAVL hopes that AVA-101's single administration will allow for better patient outcomes. The firm is currently conducting a Phase 2a trial on the AVA-101; top-line data from the trial is expected in mid-2015.
AAVL's other product candidates include AVA-311 for the treatment of juvenile X-linked retinoschisis (XLRS) and AVA-201 for the prevention of wet AMD. AVA-201 operates similarly to AVA-101, but it can be administered earlier in the progression of the disease through a customized delivery mechanism. AAVL is developing AVA-311 in collaboration with Regeneron; it would be the first approved therapy for XLRS.
AAVL's collaboration with Regeneron on AVA-311 is an element of a broader research collaboration and license agreement with Regeneron for the discovery of novel product candidates through the Ocular BioFactory platform for as many as eight therapeutic targets. AAVL can receive up to $80.0 million in milestone payments for each therapeutic target, as well as royalties on the sales of such products. The firm may also elect to share up to 35% of worldwide product candidate development costs and profits for any two of the therapeutic targets.
See our previous article on AAVL for additional information.
Big Competition
If approved, AVA-101 will compete with current therapies for wet AMD, particularly anti-VEGF therapies designed to inhibit a protein that leads to abnormal blood vessel growth in wet AMD cases.
Some of those therapies are marketed by established firms with greater financial and marketing resources than AAVL, including Novartis AG (NYSE:NVS), Genentech, Inc., Bayer HealthCare LLC, and Regeneron Pharmaceuticals, Inc. (NASDAQ:REGN).
Strong Management
Co-founder Thomas W. Chalberg, Jr., Ph.D. has served as AAVL's President and CEO since October 2010. He previously worked in various oncology and ophthalmology positions at Genentech.
Dr. Chalberg was also a Howard Hughes Medical Institute Fellow at Stanford University, where his research focused on retinal diseases and new technologies for gene therapy.
Dr. Chalberg holds an A.B. in Biochemical Sciences from Harvard University, a Ph.D. in Genetics from the Stanford University School of Medicine and an M.B.A. from the Haas School of Business at the University of California, Berkeley.
Short-Term Opportunity In Sight
Though AAVL got off to a hot start on the market, investors have since been hesitant to buy into the stock.
The firm's product candidates are also a great distance from receiving FDA approval.
That said, AAVL's agreement with Regeneron is extremely promising, and could lead to significant revenues for the firm in the future.
Investors interested in buying into AAVL should consider taking advantage of the buying opportunity presented by the upcoming quiet period expiration but exercise caution long-term.
We encourage readers wishing to join the discussion on IPO quiet period expirations to click +FOLLOW above the title of this article - and those wishing for the latest updates to click +Get real time alerts.
Disclosure: The author is long AAVL. The author wrote this article themselves, and it expresses their own opinions. The author is not receiving compensation for it (other than from Seeking Alpha). The author has no business relationship with any company whose stock is mentioned in this article.