Author's Note: August 21's close price of $24.85 is used throughout article.
I. Company Overview & Introduction
In 1958, John K. Hanson convinced investors in California to open a travel trailer factory in Forest City, Iowa. In 1960, the name of the operation was made Winnebago Industries (NYSE: WGO), and the rest, as they say, is history.
In 1966, the first motor home was produced by Winnebago, and, by 1970, the company had moved its operations to a larger manufacturing facility. In 1970, Winnebago was listed on the New York Stock Exchange, rising 462% in its first full year on the exchange. By 1984, sales had topped $400 million for the first time ever. 20 years later, in 2004, Winnebago generated $1.1 billion in sales.
2004 proved to be a turning point for Winnebago. At the end of 2004, Winnebago traded near the $40 mark. From 2004 to 2009, the RV industry, however, rapidly contracted. By early 2009, Winnebago was trading just above $3.
As the industry and overall economy rebounded, so did Winnebago, which now trades just below $25. Winnebago, however, is currently down nearly 20% from highs made last year. For me, today's current price presents an attractive asymmetric risk/reward opportunity for investors such as myself. By the end of next year, I see Winnebago shares trading around 45% higher than current prices, with downside limited to, at the most, 15%.
II. How We Got to Where We Are Today
The current sell-off in Winnebago's stock began back in December of last year. On the 19th of that month, Winnebago reported fiscal first quarter results. Profit rose 51%, beating analyst expectations, however, for revenue Winnebago came in at $222.7 million, short of the $233 million expected. Up to that point, Winnebago shares had risen an incredible 74.42% year to date, so it comes as no surprise that shares viciously sold off on the report. Expectations had simply climbed too high, leaving Winnebago little wiggle room.
From above $30, Winnebago fell back below $25. On June 26, Winnebago reported fiscal third-quarter results that satisfied investors, and, as a result, shares rose about 5% to now sit right around $25.
At current prices, Winnebago trades with a current-year price to earnings ratio of 15.42, a 1-year forward price to earnings ratio of 13.74, and a current-year price to sales ratio of 0.72. (All data is article taken from Sentieo or SEC filings).
These figures alone say a lot about how the market is looking at Winnebago right now. Both on a relative basis to the overall market, and on a relative basis to Winnebago's historic performance, Winnebago is currently being perceived as an underperforming company with a dim future. Winnebago's best days, the market says, are behind it.
Back in 2004, when Winnebago made its all-time high of $40.65, the company sported a current-year price to earnings ratio of 20.76 and a current-year price to sales ratio of 1.36. That was a decade ago, however, and the future is apparently much gloomier for Winnebago today.
III. What the Market Is Missing
From 2004 to 2009, Winnebago's fundamentals collapsed. Sales went from $1.11 billion in 2004 to $212 million in 2009. EPS went from $2.03 in 2004 to -$1.27 in 2009. Simply put, the company was torn to shreds. There were serious concerns that Winnebago was going to be put into bankruptcy, but, in the end, Winnebago did not, and is now rebounding with vengeance.
In fiscal 2013, Winnebago generated $803 million in revenue and $1.13 in EPS, and by 2015, the company is expected to again reach 2004-like numbers.
This rise back to all-time high fundamental marks will cap off what has been a pretty crazy decade for the company and the company's stock.
From 2013 to 2014, Winnebago's profit margin increased from 3.81% to 4.64%. In 2015 and 2016, further strengthening is expected to place Winnebago's profit margin back up around 6%, where it sat in 2004.
The company's ROE is also improving, with the trailing twelve-month figure sitting at 24.56%. In upcoming years, this figure is also expected to creep back up towards historical all-time highs, around 30%.
Balance sheet wise, Winnebago is every bit as strong as ever. As of the company's latest quarterly filing, the company has a current ratio of 2.74. In 2004, Winnebago only had a current ratio of 2.56.
In 2004, Winnebago had a stockholders' equity of $201 million. Today, Winnebago has a stockholders' equity of $184 million.
You can do this with nearly every other financial measurement of Winnebago, and a similar picture will be painted. Here's the main idea: Winnebago, fundamentally, will basically be the same company it was back in 2004 by the end of this year and into 2015. For fiscal 2014, which is set to close on August 31, Winnebago will have generated $938 million in revenue and $1.61 in EPS. Compared to fiscal 2004 figures of $1.14 billion in sales and $2.03 in EPS, those numbers are 15.80% and 20.69% off of 2004's record pace. Yet, surprisingly, Winnebago's current stock price is 38.87% off of its all-time high of $40.65, which was set in late 2004.
Why is the market allowing Winnebago's fundamentals to catch up but not its stock price? Primarily, because the main market Winnebago operates in (motorized RVs) is still very far behind 2004's record-setting pace. This $3.9 billion market, which Winnebago holds an 18.6% share of, is, as the slide below shows, still expected to be 35.14% off its 2004 figure by the end of this year.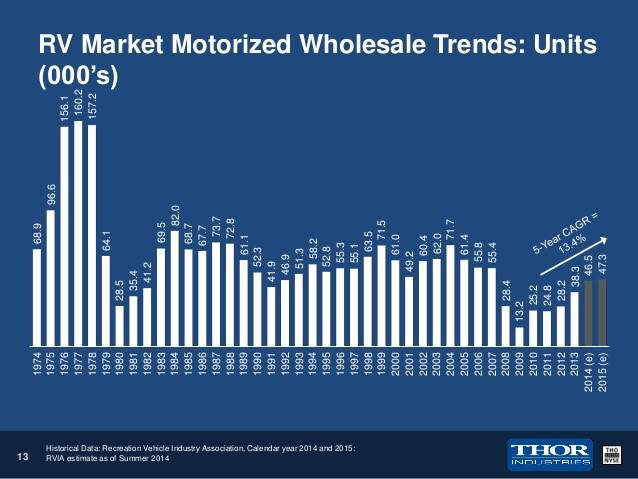 Source: Competitor Thor Industries' Shareholder Presentation
Winnebago's stock price being 39% off of its peak and this industry being 35% off of its peak isn't a coincidence. Winnebago, after all, derives 92% of its overall revenue from this industry.
But, as I have already mentioned, Winnebago is already very close to the levels it was fundamentally back in 2004, even with this weakness in its primary segment.
How has Winnebago managed to near its prior financial state even as the company's main segment has lagged behind? Partly, because of Winnebago's new focus on the towable industry, which is already back to setting new all-time highs.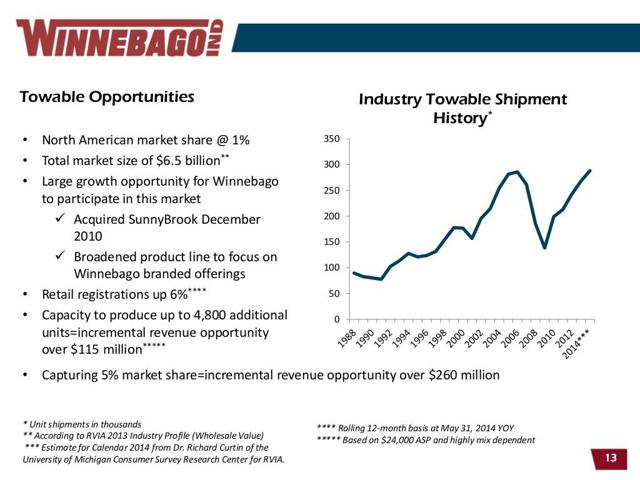 Source: Winnebago's Shareholder Presentation
The towable industry is already worth $6.5 billion, yet Winnebago currently only holds a 1% share of the North American market. As the slide above points out, if Winnebago could only capture 5% of this market, $260 million could be attained in new annual sales.
While that would be a pretty drastic increase, it is not out of the question, especially considering how aggressive Winnebago has been in this market over recent years. In the company's most recent quarter alone, towable revenue grew 11.9% year-over-year.
Analyst David Whiston of Morningstar noticed this shift in the company's strategy towards towable operations, and asked this in regard to the segment's future on the Q3 2014 conference call:
"You guys are sounding a lot more optimistic on towables now. Does that make you more inclined to be more aggressive on seeking another acquisition soon? Or do you want to keep working on getting towables up to speed?"
To which, VP and CFO Sarah Nielsen responded:
"Yes, we definitely are happy with the progress inside the last two quarters from a financial standpoint, very much so. And that creates that confidence to wanting to expand and better utilize the facility that we currently are located in and obviously plan for the future."
This "planning for the future" includes, most likely, further acquisitions in the space, which Winnebago is optimally positioned to do with no debt and $106.8 million in cash, equivalents, and receivables.
The second major reason Winnebago has bounced back quicker than the overall industry is the company's rock-solid brand, which has allowed the company to gain market share in 3 out of the 4 sub-sectors in the motorized RV industry over the past 3 years, as the snippet below shows.

Image Source: Winnebago's Q3 2014 10-Q
Going forward, on a higher level, the economic and demographic backdrop Winnebago is operating in has been, and should continue to be, extremely favorable. Interest rates are at historically low levels, gas prices are relatively stable, consumer confidence is steadily rising, and the U.S. population of those aged above 65 is expected to grow 69% from 2012 to 2030 (which is significant as nearly half of Winnebago's owners are 60 or older).
This convergence of a recovering motorized market, an increased focus on the high-potential towable industry, a market-share gaining brand, and an attractive economic and demographic backdrop points to Winnebago's fundamentals continuing to strengthen through 2015 and setting all-time highs shortly thereafter.
The market doesn't seem to get that, however, and seems more concerned simply with how Winnebago's core industry is faring. According to the market, the company's outlook is much gloomier now than it was in 2004, while the opposite, in fact, is true.
The market has already begun to realize its mistake, as is evidenced by the 5% jump on Winnebago's most recent earnings report, which, most notably, featured major progress in the company's towable operations. The more evidence (through future earnings reports) Winnebago presents that it can recover faster than its core market, the more the market will be inclined to look past that motorized RV units chart and into the company's underlying fundamentals, meaning great things for Winnebago's stock.
IV. Valuation: What is Winnebago Really Worth?
| | | | |
| --- | --- | --- | --- |
| | 2004 | 2014 | % Decrease |
| Sales (in millions) | 1,114 | 938 | -15.80% |
| EPS | 2.03 | 1.61 | -20.69% |
| Stock Price | 40.65 | 24.85 | -38.87% |
| P/E Ratio | 20.76 | 15.42 | |
| P/S Ratio | 1.36 | 0.72 | |
The chart above summarizes the financial performance of Winnebago in 2004 and 2014, along with two key indicators as to how the market values the company. While sales and earnings are only off 15%-20%, the share price is still nearly 40% off 2004 levels. Such a gap has been facilitated by lower P/E and P/S ratios as a result of negative market perception.
If Winnebago's stock price was merely proportional to its 2004 metrics there would be significant upside.
If Winnebago's current stock price was proportional to its 2004 sales data, there is 37.75% upside.

If Winnebago's current stock price was proportional to its 2004 EPS data, there is 29.74% upside.

Here's the exciting part: Winnebago theoretically doesn't even need to do anything else for such increases to be warranted. Those are the levels Winnebago should be trading at right now, not in a couple of years. Of course, that is not the case as investor perception is currently against the company.
A more likely scenario than Winnebago's valuation metrics simply skyrocketing is a combination of improvement in Winnebago's fundamentals (provided by that convergence of factors I discussed above) and a gradual realization by the market that Winnebago's future is more promising than anticipated.
If Winnebago simply delivers on 2015 EPS expectations of $1.84 and the company's P/E ratio only rises to 18.02, the mid-point of 2004's and 2014's ratios, Winnebago is a $33.28 stock, representing 33.92% upside from current prices.
Alternatively, if Winnebago delivers on 2015 sales expectations of $992 million and the company's P/S ratio rises to the mid-point of 1.04, Winnebago trades at $38.14, 53.48% higher than current prices.
Of course, things could not go to plan. Maybe the market decides that it screwed up in 2004, and never should have awarded Winnebago the multiples it did. Let's say the market sticks to its current multiples, and Winnebago comes in 20% below estimates for 2015 EPS and sales.
With EPS of only $1.47 and a P/E ratio of 15.42, Winnebago only drops 8.77% lower, to roughly $22.67. With sales of $794 million and a price to sales ratio of 0.72, Winnebago is priced 15.00% lower at $21.12.
Even in a worst-case scenario, the downside for investors is limited. Over the next year, the potential upside is about 43.70%, while the potential downside is 11.89%, representing a lopsided risk-reward profile of 1 to 3.68.
V. Conclusion and Takeaway
Winnebago's underlying financials are right back in striking distance of 2004-like numbers, yet the company's stock chart tells a different story. In such a story, Winnebago is helplessly tied to its core motorized RV industry, which is still a far cry from 2004 levels, as is Winnebago's stock price.
A look at Winnebago's numbers, however, shows that Winnebago has actually been able to bounce back much quicker than its main industry, primarily because of brand strength and a growing focus on towables, a strong, fast-growing market.
The backdrop is now set for Winnebago to not only match 2004's historic numbers, but possibly beat them as early as 2016. Yet the market simply doesn't seem to care all that much, as Winnebago is being punished with punitive P/E and P/S multiples.
That is already beginning to change, however, as Winnebago continues to provide solid evidence that the company is stronger than its core industry and has a promising future. As the market realizes its mistake, I believe a combination of strengthening fundamentals with improved investor perception will drive shares 45% or more higher over the next year, with even my worst-case scenario indicating, at the most, 15% downside.
Such is why I will begin to accumulate a position in Winnebago in the days ahead, and hope you will consider doing the same. Happy investing!
Disclosure: The author has no positions in any stocks mentioned, and no plans to initiate any positions within the next 72 hours.
The author wrote this article themselves, and it expresses their own opinions. The author is not receiving compensation for it (other than from Seeking Alpha). The author has no business relationship with any company whose stock is mentioned in this article.