Sunday evening, in a story reported both by Reuters and the Wall Street Journal and confirmed by the participants, it was announced that Burger King (BKW) is in discussions to acquire Canadian-icon, Tim Hortons (THI). The proposed deal would be structured as a tax-inversion. The $10 billion deal would the first major tax-inversion deal announced since the Obama administration launched a public-relations offensive against these transactions, including a comment by the President referring to participants as "corporate deserters". On August 6, Walgreen (WAG) dropped a previously announced inversion in the face of political pressure; the company's stock fell 14% on the day of the announcement.
The King Has Been Expanding His Kingdom
BKW has only been public for a little more than two years, gaining 87% during that time period. Since going public, BKW has significantly outperformed peers such as McDonald's (NYSE:MCD) and Yum Brands (NYSE:YUM), other comps such as Starbucks (NASDAQ:SBUX) and Panera Bread (NASDAQ:PNRA), acquisition target THI and the S&P 500.

Source: Yahoo!
BKW's performance has been even more impressive in 2014, up almost 20% year-to-date. THI has also performed positively in 2014, up over 9% for the year (the S&P 500 is up less than 8% over the same period). All of THI's gains came during just two days this month, after the company announced earnings that beat analyst estimates as well as a stronger outlook.

Source: Yahoo!
Tim Hortons is as Canadian as Ice Hockey, Eh!
Many Canadians, when asked what makes Canada unique, will mention some combination of Tim Hortons and Ice Hockey. Ontario, Canada-based THI began 50 years ago, merged with Wendy's (NYSE:WEN) in 1995 and went public in 2006. With a focus on donuts and coffee, the company has grown to over $3 billion in sales and has a projected growth rate of 9.7% (next five years). With a 2015 PE of 18.5 and a PEG (PE/Growth) of 1.9, THI is certainly not cheap, and can be considered close to fully-valued. THI is also fairly levered, with a debt/equity ratio of 3.8 and a current ratio of 1.2.
Burger King Embrace's Its Inner Child ... And Snubs the US Government?
In a cover story on BKW in July, "Burger King Is Run by Children", BloombergBusinessweek, gushed about the company's young, cost-cutting, profit focused executive team. BKW, which after moving toward pseudo-healthy food several years ago, has fully embraced its role as a purveyor of cheap, fast and filling burgers and fries targeted at young males. The company's audacious move to increase in scale by acquiring THI, while gaining a tremendous tax-driven synergy is symbolic of the aggressive actions "kids" like 33 year old CEO Daniel Schwartz have taken. Other controversial acts include selling almost all of the company's company-owned restaurants.
BKW is majority-owned by the Brazilian 3G fund, but activist investor, Bill Ackman, through this Pershing Square Capital Management, owns about 11% of BKW's shares. It may be a coincidence, but Mr. Ackman has been agitating for Washington to go after Herbalife (NYSE:HLF), for being a pyramid scheme, and has been disappointed in the lack of "action" to that end. Perhaps Mr. Ackman is sending a message?
BKW is smaller than THI, with just over $1 billion in sales, but is projected to grow faster, at 16.0%, over the next five years. The company has a 2015 PE of 23.8 and a PEG of 1.5. Though smaller from a sales perspective, BKW's profit margin is twice that of THI (26.0% vs. 12.8%) and its enterprise value is higher ($11.7 billion vs. $9.7 billion). BKW also has more financial flexibility (at least pre-merger), with a debt/equity ratio of "only" 2.0 and a current ratio of 3.4.
An Expensive Neighborhood
With the exception of SBUX, BKW trades at the highest 2015 PE of the selected peer group and comp set. However, BKW's growth makes its PEG more moderate relative to the group. By contrast, slower growing THI trades at relatively steep PEG. It is hard to argue that any of the selected companies is a traditional "value". However, in this author's opinion, BKW (pre-transaction) and SBUX would appear to be most likely to deliver value to an investor.

Paying Less Taxes Makes Sense, Eh

At 35%, the Unites States has one of the developed world's highest tax rates. Canada, which is proximate in distance and similar in culture, boasts of a corporate tax rate of only 15%. While the details and potential tax savings from the deal have not been announced, the savings could be highly significant. For the first six months of 2014, BKW paid taxes at a 25.6% rate. The opportunity to decrease BKW's net corporate rate by 5% would have increased earnings per share, on a pro forma basis, by almost 7% or $0.05/share on an annualized basis.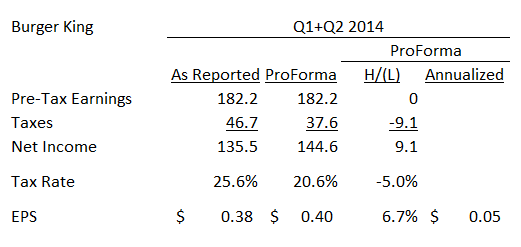 Closing Thoughts
BKW's strategy of pushing cheap, unhealthy food, was not designed to endear the company to First Lady, Michelle Obama. So, being politically correct is not part of BKW's core strategy. Delivering returns to shareholders clearly is the strategy. If BKW formally announces plans to acquire THI under a tax-inversion, the company understands it will provoke a strong, negative (political and PR) response. The company's board, and presumably its largest, and highest profile shareholder, Bill Ackman, have made the calculation and determined the benefits outweigh the risks.
On a personal level, I admire the audacity of BKW and hope the company's actions will be a catalyst to drive positive change in the Unites States tax code (in a previous article, "Tupperware Is On Sale: P/E of 12,PEG Less Than 1 And A 3.7% Dividend", I advocated for tax inversion as part of an investment thesis). From an investor's stand point, both the target, THI, and the acquirer, BKW, look anything but cheap. I think I will watch the action from the peanut gallery, as it should be an interesting deal to watch.
This article reflects the author's opinions and should not be used the basis of a buy or sell decision. All investors should conduct their own due diligence and make investment decisions on the basis of their findings.
Disclosure: The author has no positions in any stocks mentioned, and no plans to initiate any positions within the next 72 hours.