An article in today's Yahoo Finance makes a simple and misleading claim. Talking about this year's strength in the S&P 500 and its eponymous ETF (NYSEARCA:SPY), author Ryan Vlastelica suggests this strength "is the latest affirmation that stocks are preferred to bonds."
A couple of points: First, in 2014, stocks have not been preferred to bonds. Bond bears like myself have been astonished as long-term bond prices climbed 15% this year. Stocks? "Only" 10%! The chart below compares SPY to the US Long Term Treasury ETF (NYSEARCA:TLT).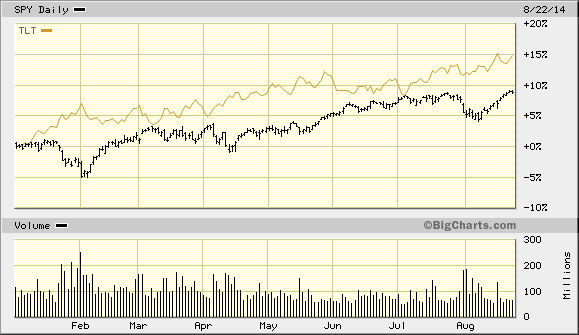 Source: bigcharts.com
More importantly, this shows that skepticism about stocks continues even in the face of strength! One of the oldest sayings on Wall Street is bull markets climb a wall of worry. More than five years into this bull market, this wall has yet to be scaled. In fact, bears trying to scale this wall have slipped back this year.
Further "evidence" that stocks might face some headwinds? "The AAII bullish sentiment survey at 46% just hit a nine-month high!" This is supposed to be a contrarian indicator: Higher readings mean the Wall Street hoi-polloi are bullish... time to sell.
Well let's look at another local peak that formed earlier on June 12th... just a tad lower at 44%. What happened shortly after? Stocks rose 3%.
And what was bullish sentiment in late July... just before the big swoon? 29%! Heck of a contrarian indicator.
When I was learning technical analysis back in the 1960s - just as the nightmare of zillions of computer-based technical indicators was dawning upon us - my broker used to tell me:
You don't buy sentiment. You don't buy MACD. You don't buy heads and shoulders - in fact most investors don't even use their own heads and shoulders. You buy stocks!
By that he meant use simple and basic indicators like the advance/decline line, highs and lows, and on-balance volume. This tells you not what traders are thinking, but what they are doing!
And right now, a lot of traders are still scared of this market. So scared that they are willing to lend money to the US government (that paragon of fiscal prudence) for thirty years and receive a coupon payment not indexed to inflation! Is that a crowd you want to follow?
In the meantime, breadth has been excellent. I will agree that volume could be better; but this is August!
Let this wall of worry push this market to record highs.
Disclosure: The author is long XLK, IHI.
The author wrote this article themselves, and it expresses their own opinions. The author is not receiving compensation for it (other than from Seeking Alpha). The author has no business relationship with any company whose stock is mentioned in this article.