The rural economy slowed for the first time in six months due to sinking crop prices. Farmland values are projected to decline over the next year, according to the majority of bankers surveyed for the RMI. This contradicts reports released by the Seventh and Tenth Federal Districts in the past week. Those reports, which surveys bankers across the same region as the RMI, predicted land values to stay consistent or increase slightly over the same time period.
Ranging between 0 and 100 with 50.0 representing growth neutral, the RMI decreased to 48.3 from 51.8 in July. This is the lowest the index has fallen since August 2012. RMI levels are short of where they were last year, but this should be expected with crop prices significantly lower than this time last year.
Ernie Goss, Ph.D, Economics Professor at Creighton University stated, "Agriculture commodity prices have plummeted for crop farmers in our region and are expected to move even lower in the months ahead. This decline has spilled over into the broader rural economy according to our survey. With record crop supplies anticipated by analysts, I expect readings to move even lower in the months ahead."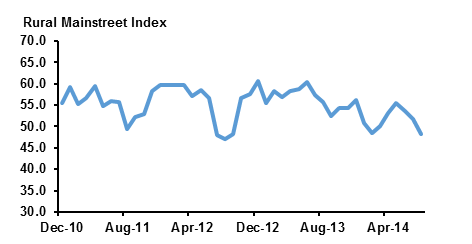 Source: Rural Mainstreet Index Creighton University
The farmland price index decreased to 41.4 from 48.3, falling to the lowest level since February. Lower expected farm incomes due to declining grain prices has driven farmers, the largest purchasers of farmland in the U.S., out of the marketplace. "Much weaker crop prices are taking the air out of agriculture land prices. This is the ninth straight month that the index has moved below growth neutral," said Goss.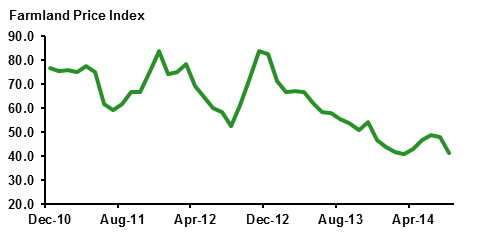 Source: Rural Mainstreet Index Creighton University
The farm equipment sales index decreased to 25.5 from 33.4, a record low for the index. Goss said, "This is the lowest reading that we have recorded for the equipment index since we began the monthly survey in 2006. The rapid decline in agriculture commodity prices is causing farmers to become more cautious in their equipment purchase."
This month bankers were asked their outlook on farmland prices over the next year. Roughly 78% of the respondents believe that farmland values will decline. The average decline in farmland values was predicted at 4.8%. When asked the same question six months ago the average decline was 3.2%. "Clearly, bankers are becoming more pessimistic regarding the trend in farmland prices," said Goss. Bankers were also asked their projection on cash rent values over the next year. On average bankers responded with $285 per acre, a $27 increase from the average response six months ago. "This will place a financial pinch on the farmer renting land and selling at today's slumping crop prices," said Goss.
Table 1: Rural Mainstreet Economy Last Two Months and One Year Ago: (index > 50 indicates expansion)

August 2013

July 2014

August 2014

Area economic index

55.8

51.8

48.3

Loan volume

70.5

79.8

73.4

Checking deposits

51.7

53.5

46.7

Certificates of deposit and savings instruments

43.5

37.8

32.5

Farmland prices

55.8

48.3

41.4

Farm equipment sales

49.2

33.4

25.5

Home sales

72.5

64.1

59.5

Hiring

59.2

59.7

56.8

Retail business

52.6

55.4

47.5

Confidence index (area economy six months out)

53.4

42.9

39.9
Source: Rural Mainstreet Index Creighton University
Survey
This survey represents an early snapshot of the economy of rural, agricultural and energy-dependent portions of the nation. The RMI is a unique index covering 10 regional states, focusing on approximately 200 rural communities with an average population of 1,300. It gives the most current real-time analysis of the rural economy.
Disclosure: The author has no positions in any stocks mentioned, and no plans to initiate any positions within the next 72 hours.
The author wrote this article themselves, and it expresses their own opinions. The author is not receiving compensation for it. The author has no business relationship with any company whose stock is mentioned in this article.