The opportunities in the global cyber security industry make investing in cyber security stocks one of the wisest decisions right now. The ever-increasing spread of cyber-attacks and threats is fast shaping the fortune of the global cyber security market. Other factors driving growth in this industry include a surge in the number of people using Internet-connected devices, mostly through the Internet of Things, where the existing solutions to track cyber-attacks have largely become ineffective.
It is no longer news that hackers are stealing fortunes from businesses around the globe daily. Symantec Corporation (NASDAQ:SYMC), an Internet security firm, has estimated that cyber-attacks on businesses in the U.S. increased by 91% in 2013 and that the increase in the number of breaches grew by 62% in 2013. Also, a report by Homeland Security shows that cyber-attacks on critical infrastructure, at federal agencies and other government partners, increased by 68% as of 2013.
It is mind boggling to learn that intellectual property assets valued at about $250 billion are being lost each year to cyber-attacks. The magnitude of the financial loss is probably what caused the Director of the National Security Agency, Gen. Keith Alexander, to describe the threat of cyber-attacks as "the greatest wealth transfer in history." This is a time when businesses are creating huge budgets to combat the growing threat of cyber-attacks, and it is also a time when discerning investors can invest in good cyber security stocks and make a profit.
Prospects in the Cyber Security Industry
IT security experts report that global spending by corporations to combat cyber-attacks in 2011 was around $60 billion. It was projected this value will rise to about $77.7 billion by the end of 2014. Going forward, these experts project spending in the cyber security market will increase by 10% each year for the next 10 years, which means that by year 2024, businesses will spend around $700 billion to fight the threat of cyber-attacks.
Spending in the cyber security market comes from two distinct channels. From the perspective of governments and militaries, cyber security spending goes into the development of cyber security solutions like cyber weapons and cyber defense products and services. From the perspective of industrial and telecom companies, and other businesses that need cyber security protections, spending goes into the development of products and services for the IT domain and equipment.
The cyber security industry has a huge task of continually improving its expertise to counter threats as hackers, cyber spies, and cyber criminals continue to develop programs that render previous cyber solutions ineffective. Analysts at Gartner and Forester Research claim that the U.S. is the biggest cyber security spending nation. Corporations and all categories of organizations in the private and public sectors, especially banks and credit card companies, need to increase their cyber security spending if they want to keep their operations safe from the activities of cyber criminals. The time is right for investors to start evaluating companies that are directly or indirectly linked with providing solutions to the growing threat of cyber security. Below I will discuss four of the cyber security companies that offer significant investment potential for value investors.
Symantec Corporation
Symantec is a company known globally for its proven expertise in providing firewall cyber security solutions for consumer data and information, in addition to providing systems and storage management products and services. Symantec is a mid-cap stock, and it is the world's largest independent cyber security solutions provider. This tech company's business could be categorized into three lines: First, there's the company's information security unit that deals in firewall mobile offerings and Norton anti-virus software. Second, Symantec's user productivity and protection (UPP) unit provides backup, mail and web security services. Symantec's third line of business provides information management services to corporate organizations.
Recently, Symantec announced its first-quarter financials for fiscal year 2015 (which ended July 4, 2014) and it exceeded analysts' earnings per share (EPS) estimate by 7.14%, or $0.03. The company's revenue for the first-quarter results inched up by 1.5% to $1.74 billion, from $1.71 billion when compared to its revenue for the corresponding period a year ago. The net income of the tech company inched up by 34 cents per share from 22 cents per share reported during the same quarter last year. In dollar terms, Symantec's net income for the quarter was $236 million vs. $157 million a year ago. The chart below gives a graphic view of the improvement recorded in Symantec's Q1 2015 financials: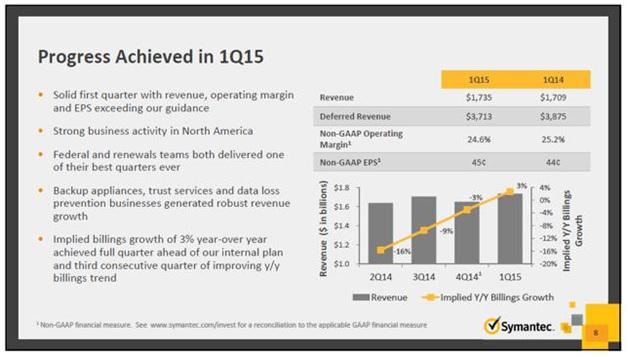 Figure 1: Symantec Investor Resource 2014.
Symantec's free cash flow yield continues to be impressive when compared to its competitors. In fact, Symantec reported $293 million as net cash generated from operating activities for Q1 2015. For the fiscal year 2014, the company reported $1,281 million as net cash flow. Overall, Symantec's cash flow yield has been about 10% greater than the average reported by its competitors, meaning Symantec has adequate cash to reposition itself in the competitive cyber security market. Additionally, its management has proposed to boost the stock value of the company by using around $900 million, or 90% of its net cash flow, for share buybacks and dividend payouts this year, making the stock a good buy right now.
Check Point Software Technologies Ltd.
Check Point Software technologies Ltd. (NASDAQ:CHKP) is a direct competitor to Symantec and Fortinet. CHKP is also a mid-cap stock like Symantec, with its main expertise focused on developing and marketing software, including cyber security products and services.
There are strong reasons to believe that Check Point continues to make gains from increasing demand for solutions to fight cyber crimes. One of these is the fact that the company's average revenue growth of 13.3 percent in the last three years exceeds the industry average of 6.4. Check Point's return on assets (ROA) and its return on equity (ROE) of 14.0 and 18.9, respectively, exceed the industry average of 8.2 and 15.5, respectively. In addition, Check Point has a solid cash position, good operating cash for its size, and very encouraging free cash flow of $1.39 billion -- $905 million and $660 million, respectively -- and the company is free of debt.
Fortinet Incorporated
Fortinet Incorporated (NASDAQ:FTNT) is a micro-cap cyber security company with market capitalization of about $2.92 billion. The company provides integrated protection against cyber threats, including sophisticated cyber threats. Fortinet is another company in the software application industry that stands a good chance of benefiting from the surge in the demand for proven software technology for fighting cyber crimes. Though the company's second-quarter 2014 fiscal year results managed to beat analysts' estimates by $0.10, the company grew its revenues by 25% year over year.
As direct competitors, SYMC, CHKP and FTNT stocks have their peculiarities. Symantec is clearly the leader among the three. Symantec's price/earnings to growth ratio (PEG) is the lowest, and it is the most capitalized stock with 16.58 billion market capitalization. However, Symantec also has the highest debt and the lowest earnings growth estimates when compared with Check Point and Fortinet.
Staffing 360 Solutions
Although not a household name, Staffing 360 Solutions (NASDAQ:STAF) is a public company engaged in the execution of a global consolidation strategy in high-margin businesses such as IT, engineering, finance, and, most importantly, cyber security. Through its Cyber 360 Solutions division, Staffing 360 Solutions is devoted to identifying and attracting the top 10% of cyber security talent in the United States. Through its cyber security division, Staffing 360 Solutions provides highly qualified IT experts and security services personnel that combat the growing threat of cyber-attacks and cyber terrorism.
As a small cap company, investment comes with the standard risks, yet Staffing 360 Solutions has been steadily proving its growth strategy over the past year through its successful acquisitions. It is also ideally positioned to benefit from the growing global demand for cyber security products and services. As an investor, if you consider only cyber security stocks like Symantec, Fortinet, and Check Point Software Technologies, you are essentially limiting your investment portfolio. As opposed to restricting investments to the cyber security software and tools themselves, Staffing 360 Solutions deploys people on the front lines of increasingly global cyber war.
We can view it this way: The people or organizations responsible for cyber-attacks are obviously extremely smart and talented. They have spent thousands of hours learning their craft. They share information with one another, and they use the latest spoofing techniques to hide their tracks, which can be quite difficult to decipher. The important takeaway from all of these big headline-grabbing attacks (such as the Target data breach and reports of Chinese hackers stealing national secrets) is not solely about the tools and systems that exposed them, but the people. It is the people that we should be afraid of and concerned about. Tools alone don't protect our companies and our digital borders. Once a tool is released to the world, it does not take long for someone to exploit its vulnerabilities and broadcast this information to the world. The single most important defense against cyber-attacks and hackers is talented people -- professionals who are equally as talented if not superior to the bad guys.
It is currently estimated that the cyber security industry is 300,000 people short of the number of qualified personnel needed today. Additionally, the Bureau of Labor Statistics forecasts a similar situation for the United States, saying the number of information security specialists that the U.S. is going to need by 2018 is more than 50% greater than the number we currently have. Staffing 360 Solutions' mission is to deploy the right cyber security experts at the right time, and it is quickly carving out a good-sized piece of that pie. In addition to its Cyber 360 Solutions division, it has put four new names under the STAF umbrella in the past year, ramping up its growth.
Currently, Staffing 360 Solutions is on course toward generating annual revenue of more than $100 million a year, and management has publicly stated its goal of generating more than $300 million in sales in the next 24 months. That is a significant growth trajectory to discerning investors with an appetite for growth stocks because STAF's sales per year two quarters ago were just around $8 million. Staffing 360 Solutions recently provided an update on revenue guidance, and the company now has operations in both the U.S. and Europe.
Conclusion
In summary, investors interested in cyber security stocks have the potential to yield a significant return because cyber-attacks are expected to continue at an increasingly furious pace going forward. As our society becomes more interconnected and billions of more users connect to the web, the need for companies and governments to obtain people with the right talent to protect our delicate systems and national interests is becoming all too apparent. At the end of the day, we need the right people to defend us against the bad guys, and STAF looks like they might have the right cyber personnel for the job.
Disclosure: The author has no positions in any stocks mentioned, and no plans to initiate any positions within the next 72 hours.
The author wrote this article themselves, and it expresses their own opinions. The author is not receiving compensation for it (other than from Seeking Alpha). The author has no business relationship with any company whose stock is mentioned in this article.
Editor's Note: This article covers one or more stocks trading at less than $1 per share and/or with less than a $100 million market cap. Please be aware of the risks associated with these stocks.