The 3-D Printing industry has garnered much attention both here on Seeking Alpha and other stock forums due to its growth potential and almost infinite application possibilities from manufacturing to healthcare. However, one industry that has been left largely ignored is 3-D scanning, which is used in conjunction with printer oftentimes and has many of the same growth catalysts. FARO Technology (NASDAQ:FARO) has positioned itself well within the 3-D Scanning space to capitalize on growth over the next few years.
3-D Scanning and the Applications
Those familiar with high-flying names like Stratasys (SSYS) and 3D Systems (DDD) are most likely well aware of the 3-D Printing process. Printers utilize a digital file or computer-aided design as a template to print anything from a dental mold of teeth to a child's toy. The easiest way to describe 3-D Scanning is that it is the complete opposite. Using lasers for exact measurements, objects are scanned by a robotic arm from 360 degrees and a digital file is rendered in the same format that 3-D printers require. The relationship between the two industries is extremely strong, with various programs being rolled out in recent quarters that are comprehensive scan-to-print solutions.
The chart below, from a detailed report of the 3-D Scanning market, shows the expected growth of the 3-D Scanning market through FY2018. While somewhat lacking compared to 3-D Printing, a CAGR of just under 15% is a very impressive clip for a largely ignored industry.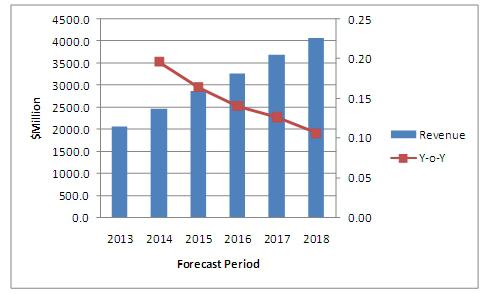 The applications of 3-D Scanning fit under the "Automation" umbrella as a process that uses lasers instead of human labor in order to achieve instant results whether it be in a manufacturing warehouse, the hospital, or a battlefield placing it in high demand with current market environments. A comprehensive list of industries that FARO is actively involved in can be found here, with highlights of the most promising below:
Construction: The use of 3-D Scanners in the construction process can prove instrumental in achieving results consistent with the architectural plans. FARO's lasers are used throughout the process to ensure there are no errors or construction flaws. The market for construction alone is huge as countless real estate developers and home builders have begun utilizing the technology.
Law Enforcement: Perhaps the most promising market, which has seen the most growth in recent quarters, is the application of lasers at crime scenes to create exact models of the scene. These models are then passed onto ballistics experts, prosecutors, and other law enforcement officials to both maintain the integrity of the case and facts. These models can also be used for computer simulations, which have become extremely prevalent in the court process in recent years.
Defense: The use of lasers on military equipment can be used to instantly notify personnel of any possible damage the equipment has incurred, while also being used to help build tanks, humvees, and the like. Lasers can also be used to map terrain, which is used extensively for military planning.
Manufacturing: Another potentially huge market, which uses lasers to improve quality-control without slowing down the assembly line by comparing the model of a correct part with the computer-generated model of the incoming part and flag if necessary.
These markets are just a few of the many possibilities that 3-D Scanning has the power of automating. Similar to 3-D Printing, the potential opportunities are quite endless when considering the power of the technology.
Valuation
One of the reasons I am excited about the 3-D Scanning industry and specifically FARO is that it does not trade at the extreme multiples found in 3-D Printing.
| | | | | |
| --- | --- | --- | --- | --- |
| | P/E | Forward P/E | EV/EBITDA | P/S |
| FARO | 41.5 | 37.4 | 20.1 | 3.2 |
| SSYS | N/A | 62.1 | 48.8 | 9.1 |
| DDD | 136.1 | 81.2 | 588.4 | 8.4 |
While FARO trades at a much higher P/E multiple than the S&P average of 19.72, it is not necessarily extreme due to the solid growth of the industry. This is in contrast to many who believe that SSYS and DDD might be trading at unwarranted levels given their current fundamentals.
DCF analysis shows slight upside to the current price of $54.90 (as of August 20) to be about 6.7%. Since management does not produce guidance into the next fiscal year, I used the overall 3-D Scanning growth rate as a proxy. This actually leads my DCF to err on the side of caution as FARO has increased its market share in each of the last three years, suggesting it will grow at a faster rate than the overall market.

My fundamental assumptions assume a weaker than expected FY2015, and revenue growth in line with the overall market in FY2016-2018. Using a discount rate of 10% and applying a EV/EBITDA multiple of 18 (currently trading at just over 20), results in a target price of $58.56.

FARO has a strong balance sheet with a current ratio 5.58 and cash on hand of $130M giving the flexibility to finance acquisitions or continue investing in R&D to maintain a competitive advantage and increase margins. This financial flexibility is also evident in the lack of long-term debt. R&D expense has been meaningful thus far, with major gains being margin expansion over recent quarters as production costs have decreased and superior technology to many of its peers.
Technical Analysis
At current price levels, FARO seems fairly valued by my estimates with minimal upside, but the stock should dip over the next couple trading days.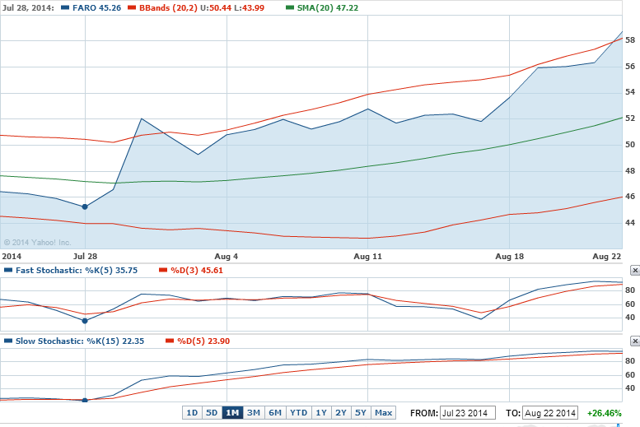 FARO closed above its upper Bollinger Band on Friday suggesting that the price will revert to its mean in the short-term. In addition, stochastics are well above the 80 threshold which shows that the stock is currently overbought. Both of these indicators lead me to believe that FARO will dip at the beginning of trading this week, opening a buying opportunity for investors to initiate positions.
Risks
All investments come with inherent risk, which FARO is not excluded from. Compared to the S&P, FARO trades at a fairly high multiple meaning that it could be prone to a sharp drop in the event of a market correction. Also, revenue projections are higher than the average company, so failure to meet estimates would inevitably lead to a decrease in both the top and bottom-line. There are also a few customers such as Boeing (NYSE:BA), the United states government and automobile manufacturers which constitute a large percentage of total revenue. While one customer leaving would not affect FARO's top-line much, a chain reaction towards a competitor would hurt top-line growth.
Conclusion
The 3-D Scanning market is poised for much of the same growth that 3-D Printing has experienced recently and will for the next few years. FARO is an alternate way to gain 3-D exposure for investors that want to refrain from buying the pure-play printing companies trading at extremely high multiples. I suggest waiting for a dip to initiate or add to positions in FARO as it is currently just below its 52 week high and fairly valued by my estimations. With current market conditions, I plan to initiate a position if the price drops in the $49-53 range.
Disclosure: The author is long SSYS.
The author wrote this article themselves, and it expresses their own opinions. The author is not receiving compensation for it (other than from Seeking Alpha). The author has no business relationship with any company whose stock is mentioned in this article.