Here is a quick recap of how various sectors performed at the end of 2010 (click to enlarge):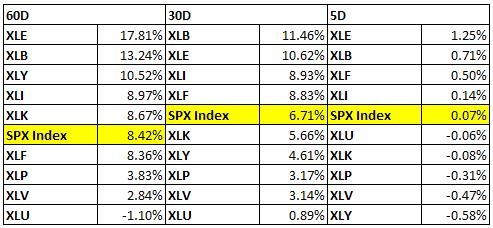 Sector Performance at End of 2010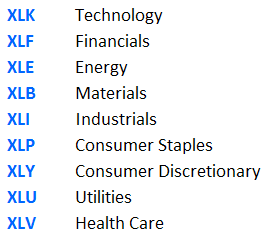 The XLE and XLB, the energy and basic materials ETFs, have had a solid run in at least the last two months. The top holdings in the XLE include XOM, CVX, SLB, and COP. The top components of the XLB are FCX, DD, DOW, MON, and NEM.
Also, I just uploaded a file detailing sector performance in 4Q10. I had written up a piece a couple of months ago on the topic of growth vs. defensive sectors and touched upon the concept of sector rotation. That analysis will help interpret the sector performance break down, e.g., noting which sectors outperformed and underperformed the market in certain weeks and then looking for patterns. For example, the technology sector has been underperforming the S&P for the past three weeks. I can interpret that to mean that a growth sector lagging the market might suggest a weakening market. Or, if I am bullish on the market, I can take that to mean that the technology sector is due for a lift as a part of the whole sector rotation idea.
If "Betty the Bear" is not a familiar term to you, I am currently net short, which should give you a clue as to where I stand.
Disclosure: I have no positions in any stocks mentioned, and no plans to initiate any positions within the next 72 hours.