In what could be more bad news for Russian stocks and those with Russian exposure, such as BP (NYSE:BP) and Royal Dutch Shell (NYSE:RDS.A) (NYSE:RDS.B), we are seeing stories that indicate Russia could be making a move on further naval infrastructure on the Black Sea. News out of the region has not always added up, but with Ukrainian military forces closing in on Russian supported separatists elsewhere, a move on the southeast would make sense from a strategic point of view, as it not only increases the space which Ukraine must cover but also gives Russia very strategic real estate.
Chart of the Day:
New supplies of oil are impacting prices, but many have missed the rise in the US Dollar Index which caught fire again in August. If we do not break through the 52-week highs here, we would expect a minor pullback before another possible leg up. Commodity investors need to pay attention to the index moving forward.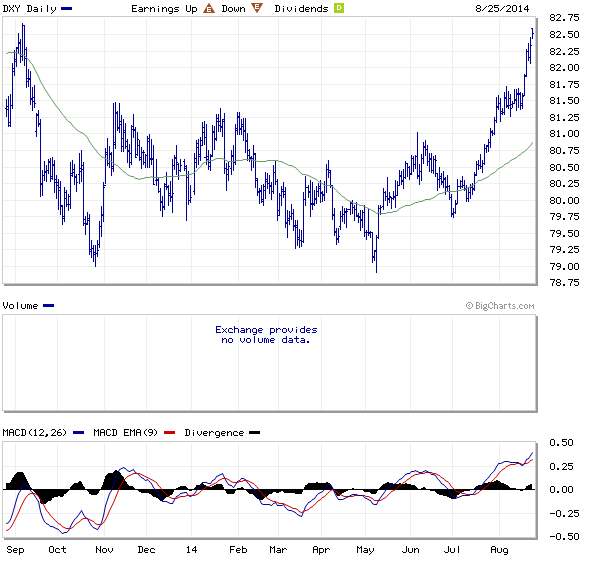 Source: BigCharts
Commodity prices are as follows (at time of submission):
Gold: $1,277.30/ounce, down by $2.90/ounce
Silver: $19.32/ounce, down by $0.066/ounce
Oil: $93.58/barrel, down by $0.07/barrel
RBOB Gas: $2.7576/gallon, up by $0.0192/gallon
Natural Gas: $3.92/MMbtu, up by $0.08/MMbtu
Copper: $3.215/pound, up by $0.0105/pound
Platinum: $1,420.70/ounce, up by $2.20/ounce
Steelmakers Surging Again Today
We have been bullish the steelmakers for a while now, having gone bullish both US Steel (NYSE:X) and AK Steel (NYSE:AKS) at much lower prices. It has been a volatile ride, but we are beginning to see the underlying trends previously discussed having an effect on input costs for the industry. Also helping the industry is that the US has imposed tariffs on steel piping imports from certain foreign markets which should help companies like US Steel and AK Steel.
We have spent a lot of time discussing the iron ore market and how the largest producers are looking to gain more market share as they increase production to push the high cost producers out of the market. Currently, this is driving down prices for the entire iron ore complex, and as the prices come down, it is helping the steel companies by increasing their margins. With natural gas prices heading lower as well, steel companies could be set to rally.
The last year has been good to those investing in steel names, with both US Steel and AK Steel posting strong gains. Look for the rally to continue so long as the energy boom continues in the US and the worldwide economic recovery continues to grind out gains.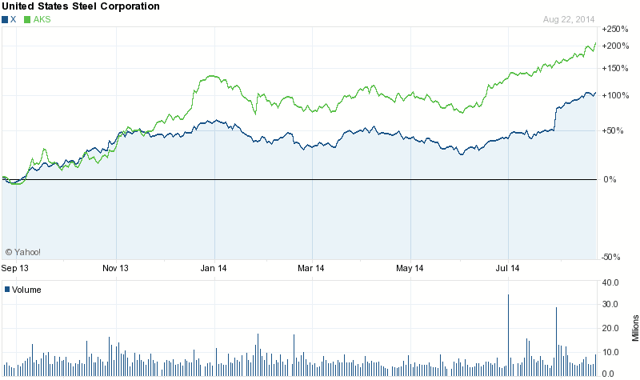 Source: Yahoo Finance
US Steel shares are being helped today after receiving an upgrade from Credit Suisse which saw the firm raise its price target on the shares from $25/share to $50/share, while also raising its rating on the company to 'Outperform' from 'Underperform'.
Divestments Continue In Oil Industry
Last year, it was Apache (NYSE:APA) seeking to offload some of its international exposure, specifically in the Middle East. Now it appears that another US E&P, Occidental Petroleum (NYSE:OXY), is looking to get serious about lowering its exposure to the region. While the company has been exploring its options for its Middle East operations for a while, it appears that the company has shifted its focus to offload assets individually now rather than as a portfolio.
The rumors now are centered around the Shah field in the United Arab Emirates, which Occidental operates and holds a 40% interest in. The potential deal is reportedly structured around Occidental remaining the operator of the project and retaining a 10% ownership interest while selling 30% of the project to Mubadala Development Company.
Disclosure: The author has no positions in any stocks mentioned, and no plans to initiate any positions within the next 72 hours.
The author wrote this article themselves, and it expresses their own opinions. The author is not receiving compensation for it (other than from Seeking Alpha). The author has no business relationship with any company whose stock is mentioned in this article.