Over the weekend, there was an interesting article that detailed how S&P 500 (NYSEARCA:SPY) companies reduced their buybacks in Q2. During the second quarter, only $120 billion was spent on buybacks, down from $159 billion in the first quarter, the article states. This was as a result of stock prices rising to fresh highs and the article details how buybacks slowed down as companies didn't want to buy back shares at new highs. Today, I'm here to analyze the issue further and detail how investors can still take advantage of the buyback craze.
First, there is one major item not in the article that I must point out. The buyback drop of nearly $40 billion, or roughly 25%, seems rather large. However, nowhere in the article is technology giant Apple (NASDAQ:AAPL) mentioned. Let's take a step back and remember what happened earlier this year. Apple's stock dropped after its earnings report in January, and the company stepped in with a large share repurchase. In fact, during the first calendar quarter of 2014, Apple's fiscal second quarter, the company bought back just under $18 billion worth of stock. This was between open market repurchases and an accelerated repurchase program. However, in the company's fiscal third quarter, the calendar second quarter, Apple bought back just $5 billion worth of stock. That alone is a $13 billion difference, equal to one-third of the $39 billion drop. If you exclude Apple, total buybacks were down just $26 billion, or about 18.5%. That's not as drastic as the article originally seems. Yes, timing sometimes is just as important as the numbers.
Still though, $120 billion in buybacks is a solid amount. Companies are not going to just stop buying back stock completely. Apple itself had about $39 billion left on its repurchase plan at the end of June, and it expects to finish that program by the end of calendar 2015. Apple continues to buy back stock and is likely to average about $6.5 billion over a six quarter period. Once Yahoo (YHOO) gets a huge chunk of cash from the Alibaba (Pending:BABA) IPO, Yahoo will most likely begin to buy back a lot more stock. Yahoo has already reduced its share count dramatically in recent years, but an even more powerful buyback could get the share count down further. If the US government ever were to have a tax repatriation holiday, buybacks could soar even higher. Apple itself has over $100 billion in cash outside the US, so there is hundreds of billions available in that situation. While some companies are repatriating funds, others like Apple are issuing debt against these funds in this low interest rate environment. We've seen rates decrease again recently, as seen in the chart below, which could help buybacks even more.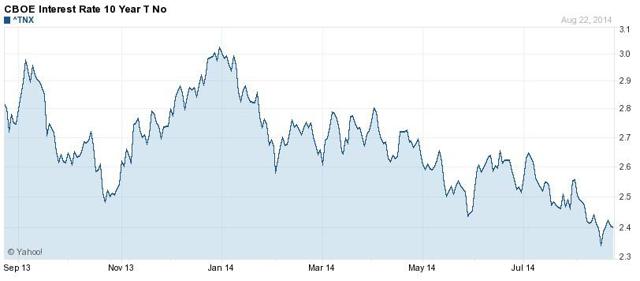 So how can investors take advantage of stock buybacks? Well, you could easily invest in names that have large repurchase programs, like Apple and Yahoo. However, for those that don't want to invest in single stocks, which do carry a bit more risk, there is a wonderful ETF called the PowerShares Buyback Achievers Portfolio (NASDAQ:PKW). How does this work? Well, about a year ago, I wrote an article detailing the main points of this ETF. At that time, this ETF had about $1.2 billion in assets, and at the end of July, that number was approaching $3 billion. Of course, it helps that the market has gone higher which has propelled this ETF to new highs as well. You can view all of the fund's performance data here. In the chart below, I've compared the PKW to the SPY over the past five years. You might be surprised at the results.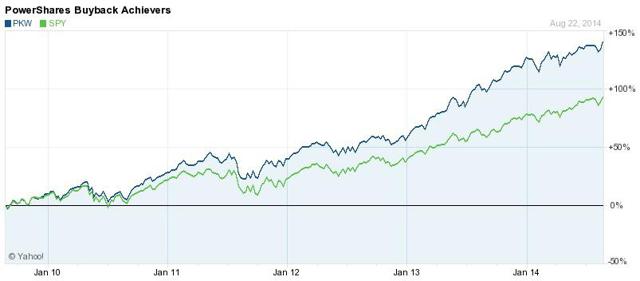 Why do I like this ETF? Well, it starts with the fact that I like buybacks. Generally speaking, companies like to buy back their stock when they feel that shares are undervalued, and it is a good way to return excess cash to shareholders. Reducing your outstanding share count helps to boost EPS and it also adds an extra bidder to the marketplace, which pushes shares higher. But I like this ETF because I think it will outperform the market over the long-term. When the market is going up, companies that are buying back shares should get an extra boost from buybacks. When the market is going down, buybacks should help ease the decline in stocks. As you can see from the performance page linked above, the underlying index and the ETF have done pretty well compared to the S&P 500 over the longer-term. While past performance cannot be guaranteed in the future, there is a good reason for future performance to be solid.
In the end, buybacks are still plentiful, and investors should take advantage of them. Yes, Q2 saw a big decline, but when you strip out the one-time boost from Apple's huge early 2014 purchase, the decline was not as great. Companies are still buying back a tremendous amount of stock, and the PowerShares Buyback ETF is a good way for investors to play a basket of buyback stocks.
(Source data: all charts in this article taken from Yahoo Finance)
Disclosure: The author has no positions in any stocks mentioned, and no plans to initiate any positions within the next 72 hours.
The author wrote this article themselves, and it expresses their own opinions. The author is not receiving compensation for it (other than from Seeking Alpha). The author has no business relationship with any company whose stock is mentioned in this article.