Prothena Corporation plc (NASDAQ: PRTA) is a little-known Irish biopharma developing novel treatments for a host of rogue protein-based diseases that reap absolute havoc within our bodies. Some examples of these killers include Alzheimers, Parkinsons, and Amyloid Light-chain (NYSE:AL) amyloidosis.
This tiny company taking on the Herculean challenge of creating treatments for patients with few options therapy-wise is actually spin-off of the once-mighty Elan Corp., which was gobbled up by Perrigo Corp. (NYSE: PRGO) for a reported $8.6 billion in 2013. Although Elan retained a fairly large interest in Prothena following the spin-off, Perrigo decided to liquate its inherited stake in the company earlier this year, cutting the final ties between parent and offspring.
How Prothena was brought forth into the world of public biotech companies has profound--and perhaps under-appreciated, ramifications for the company's long-term outlook. As such, I believe it's important to consider three reasons why this stock might explode higher in the context of the company's history.
Reason 1 - Seasoned clinical team, leaders in the field of monoclonal antibodies
Looking across the realm of developmental biopharmas, you would be hard-pressed to find a scientific team with decades of experience conducting late-stage clinical trials. Perhaps as a direct consequence of this broad trend, it's well-known that smaller companies have a much tougher time in gaining regulatory approvals for their clinical candidates with the FDA and EMA. Simply put, experience matters when it comes to regulatory filings and the conduct of pivotal clinical trials.
Because Prothena is an offshoot of a former mid-sized pharma, the company is fielding a highly experienced team of scientists, senior managers and board of directors. If the truth is told, most companies with a sub-billion dollar market cap are often inhabited by executives that have bounced from one struggling biotech to another.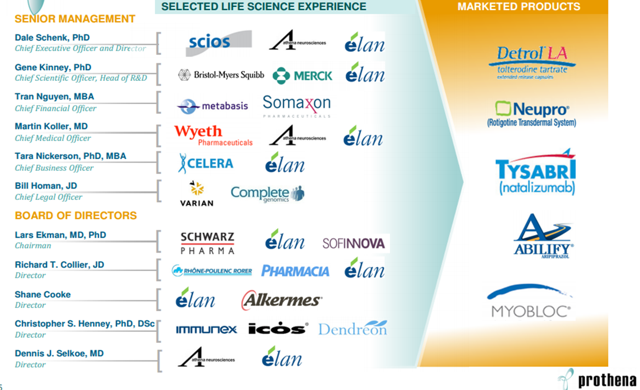 Looking across this team, it's easy to see that they have the relevant and necessary experience of shepherding experimental products through to successful regulatory approvals. I personally believe that many investors under-appreciate the innumerable pitfalls that can hinder a drug's path towards approval---many of which are caused by inexperience with the clinical trial or regulatory process. With Prothena's deep experience, this should be one less risk facing the company moving forward.
Reason 2 - Clinical pipeline takes an aggressive and diversified approach to drug development
The next way in which Prothena's unique beginnings benefit early investors is in the clinic. Because the company has deep experience with monoclonal antibodies, they have been able to lay out an aggressive and diversified approach to drug development that gives shareholders the highest chance for success over the long-term.
In my view, I believe Prothena has gained tremendous insight from the failures of bapineuzumab that are already benefiting early shareholders. Without turning this article into a biochemistry lecture, my take is that Prothena's scientific team appears to have a strong understanding of how their putative therapies interact with amyloid plaques, with much of this knowledge coming from the high profile failure of bapineuzumab.
Applying these lessons, Prothena is seeking to develop the first disease modifying treatment for AL amyloidosis with cardiac involvement with its lead clinical candidate NEOD001. Thus far, NEOD001 has shown some intriguing signs of efficacy in a small, Phase 1 study and no serious adverse effects.
Looking ahead, the company plans on launching a combined Phase 2/3 study before the end of the year, which should be an important catalyst in terms of share price moving forward.
Perhaps just as important as NEOD001, Prothena has launched a collaborative effort with Roche (NASDAQOTH: OTCQX:OTCQX:RHHBY) to develop PRX002 for Parkinsons disease. This collaboration could be worth in excess of $600 million going forward and it has already begun to generate some noteworthy milestone payments for Prothena.
On a final note, Prothena is expected to announce additional disease targets in the cancer/inflammatory disease arena soon, which would give the company a total of three clinical candidates for high value markets.
Reason 3 - Strong balance sheet and share structure
Start-up biotechs frequently struggle to raise capital and have to resort to blowing up early shareholders as a result. After a few short years, it's not uncommon to see early stage biopharmas push their share count into the hundreds of millions and even into the billions.
Because Prothena started off on a stable financial footing as a spin-off and has garnered critical milestone payments from Roche, it has been able to keep the float at impressively low levels, i.e., about 27 million at the time of writing. Moreover, Prothena has a strong cash position with a reported $319 million in cash and cash equivalents at the end of June. The company expects to end the year with approximately $285 in cash.
Given that Roche is responsible for covering 100% of the expenses for RX002, Prothena should thus have a cash runway that extends beyond the next 18 months--even after accounting for the increased expenses of initating new clinical trials. In short, dilution shouldn't be a serious near-term risk.
Conclusions
Prothena is a small-cap biopharma (current market cap = $588 million) inching towards the launch of a pivotal Phase 2/3 study for AL amyloidosis. As the trial progresses, I think it's fair to say that share price is more than likely to begin to edge higher, especially since there shouldn't be any near-term financing needs on the horizon.
While it would be absurd to gauge the probability for success regaring any of these clinical candidates, Prothena's vetern leadership team in the field of monoclonal antibodies, combined with its strong balance sheet, puts the company in a different league compared to other small-cap biotechs, in my opinion.
In closing, I think it's way too early to speculate about potential valuation scenarios based on the commercial potential of either NEOD001 or PRX002--beyond saying they are considerable in view of the company's present market cap. Even so, investors willing to take the long-view should be encouraged by the significant interest in Prothena's platform from quite literally the biggest pharmas in the game--many of whom have previously invested sums many times that of this biotech's current market cap.
Factoring this interest across the pharma world into the investing thesis, I am cautiously optimistic that Prothena will begin to move in a big way following the launch of NEOD001's next clinical trial later this year, as speculative investors begin to push into the stock.
Disclosure: The author is long PRTA.
The author wrote this article themselves, and it expresses their own opinions. The author is not receiving compensation for it (other than from Seeking Alpha). The author has no business relationship with any company whose stock is mentioned in this article.
Editor's Note: This article discusses one or more securities that do not trade on a major U.S. exchange. Please be aware of the risks associated with these stocks.