The Census Bureau released its monthly new home sales report for July this morning. Despite higher inventory and historically low mortgage rates, the continuous downtrend for new home sales further confirms my thesis that the housing market is entering its second leg of a long-term bear market. Investors who are long homebuilder stocks should exit their positions and take any profits or limit losses. Aggressive investors can play the sector from the short side.
The seasonally adjusted annualized new home sales rate for July was reported to be 412k. This was 2.4% below June's (revised) rate of 422k. The number was also below the Wall Street analyst consensus estimate of 430k. If you pull up the link at the top and scroll down to the "not seasonally adjusted," not annualized data, you'll see that the month to month drop from June to July was an even bigger decline at 7.5%.
Perhaps the most interesting aspect of this report is that the July sales rate as calculated was the lowest since March. In fact, the July number was below the new home sales reported for every winter month. Recall that the financial media narrative blamed unusually cold winter weather for the declining home sales in early 2014 vs. 2013. But July is supposed to be the 2nd or 3rd seasonally strongest month for new home sales and the July number was well below the average monthly sales rate from October 2013 to March 2014 (438k - data is in the link at the top).
Another negative indicator for new home sales is the fact that inventory has now grown to 6 months' supply. This up 7.1% from June and 7.1% from July 2013. Additionally, per the data from the link above, the median months for sale, at 3.5, is at its highest since last July. Again, recall that both the National Association of Realtors and National Association of Homebuilders (as I've detailed in previous articles) were attributing declining home sales to low inventory. Clearly, the inventory for both new and existing homes has been climbing steadily since the beginning of the year, yet home sales volume is in a clear downtrend. This point is further reinforced by the fact that 30yr mortgage rates are well below their level at the beginning of the year. Neither higher inventories nor lower mortgage rates seem to be stimulating home sales volume.
Based on my dissection and analysis of the new home sales data, I believe that the homebuilder stocks are significantly overvalued based on fundamentals. After a quick 9 trading day bounce, the homebuilder stocks (Dow Jones Home Construction Index) appear to be rolling over once again and headed lower: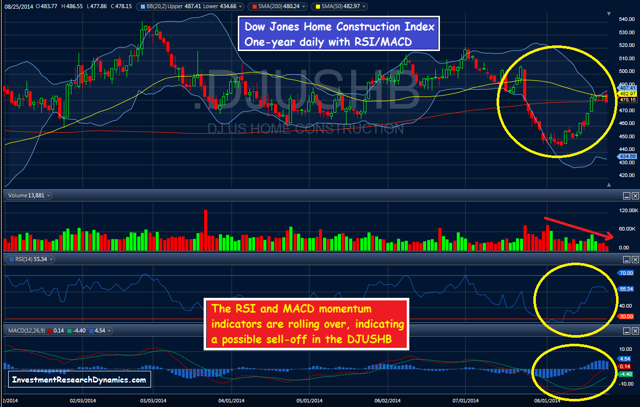 As you can see from the graph above, the DJUSHB had a short, quick bounce from an oversold condition. It was last month's new home sales report that triggered the sell-off. The bounce occurred on declining volume, which is usually considered bearish. The RSI/MACD momentum indicators have bounced up and appear to rolling over, indicating a possible continuation of the sell-off that began last month.
With that said, and based on in-depth fundamental analysis of several homebuilders which is available on my website, I believe that homebuilder stocks should be sold if you own them or sold-short if you want an aggressive trading play. I am currently short DR Horton (NYSE:DHI), KB Home (NYSE:KBH) and Ryland (NYSE:RYL). I added to my positions on Friday by selling short some near-money calls on all three. I also like short-sell plays in Toll (NYSE:TOL), Pulte Home (NYSE:PHM), Lennar (NYSE:LEN) and Beazer (NYSE:BZH). I believe that, long term, all of these stocks will eventually trade below $10 and at least one or two will collapse under the weight of high inventories and debt levels.
Disclosure: The author is short DHI, KBH, RYL.
The author wrote this article themselves, and it expresses their own opinions. The author is not receiving compensation for it (other than from Seeking Alpha). The author has no business relationship with any company whose stock is mentioned in this article.