Introduction: Interface Inc. (NASDAQ: IFSIA) is an environmentally responsible manufacturer and marketer of interior floorings. This Atlanta, GA based company specializes in modular carpets. Modular carpets are essentially the square carpet tiles one often observes on the floors of open offices. The photo below highlights the company's fancier squares marketed to the more fickle consumer market.
Interface Inc. is what we label a Socially Responsible Investment. The various sections below examine different parts of the company and factors affecting its valuation (stock price). This research report examines the company from all perspectives, not just whether it fits our ESG criteria. We have gone to great lengths to examine the company as objectively as possible.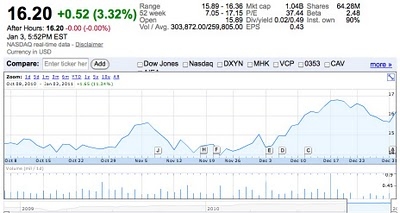 Stock chart courtesy of Google Finance.
Executive Summary

What we really like…

And not so much..

· Attentive, focused management

· Shares near 52week high

· Brand leader, high market share

· Moderate financial leverage

· Strong orders/business trends

· High volatility of stock (Beta)

· High peak-earnings power

· High earnings volatility

· Leadership in Sustainability

· Low business diversity

· Conservative accounting

· Sensitive to the business cycle

· Successful restructuring

· Moderate Insider Selling
We believe Interface, Inc. is a good SRI investment candidate. Our rating is "7" (out of a possible 10). This rating incorporates quantitative and qualitative factors, including the corporate, social and responsibility efforts of the firm. The executive summary above summarizes key investment factors/risks. With the goal of maintaining objectivity, every investment is required to have a full list of Negatives, or if you will, "things we don't like very much."
Firstly, this is a company with a soul, best exemplified by its chairman and founder, Ray Anderson. In 1994, he set his company the aim of having zero impact ("Mission Zero") on the environment by 2020. As Ray describes, it was a dramatic wake up call, analogous to "a spear in his chest." He challenged his employees "to head the first company that, by its deeds, shows the entire industrialized world what sustainability is in all dimensions: people, process, product, place and profits – and in doing so, become restorative through the power of influence." And the company hasn't looked back since.
This "Mission Zero" has enabled the company to be ever focused on its customers, end markets and products. In fact, the company now specializes only in modular carpet. This enabled Interface to become a leading niche player in flooring, though to the risks of low business diversity and high sensitivity to the Business Cycle.
One big byproduct of Mission Zero has been a transformed culture, one that has inspired creative solutions, making carpeting as exciting as iPads. Key share data and our rating are below:
Share Data:

Interface, Inc.

IFSIA-Nasdaq

Price (1/03/11)

$16.20

Our Rating:

52-Wk Range:

$17.15 - $7.05

7

Out of 10. Higher is better.

YTD % Change

88%

Market Cap (mm)

$1,020mm

Shares Outstanding

63mm

Beta:

1.6x (Bloomberg)

Dividend (Yield %) qtr.

$0.02 (0.5%)

Price/Book value:

3.8x

Earnings estimate:

$0.60 (12/2010)

This report is provided for information purposes only and is not a recommendation.

P/E ratio (on above est)

27x
Share data on Interface Inc. (see table) reveals a company with moderately-priced shares as measured by their price/book value (3.8x), price to earnings (P/E) ratio, and the fact that its share price is closer to its $17.15/share 52-week high, than to its low. A dividend yield (of <1%) and high beta imply volatility of the shares. The market capitalization of $1Bn categorize this as a small-cap investment, further increasing return, as well as risk. Our overall investment rating is 7, reflecting strong business order trends, but higher-than-average balance-sheet and share price volatility.
Given the company's higher overall volatility, we expect its share price to be highly sensitive to the business cycle. The best time to purchase shares of such industrials are during the bottom of business cycles (e.g., 2009) when companies are reporting net losses. Based on economic forecasts, it appears economies (especially the U.S. are in the beginning to mid-stage of recovery). Hence, upside "remains in the cards."
| | | |
| --- | --- | --- |
| Income Statement ('09) | Balance Sheet | Cash Flow statement |
| Revenues: $858.9mm | Current Assets: $388.0 | Cash Operating: $55.5 |
| Oper Inc.: 64.7 | Total Assets: 727.2 | Cash Investing: (-7.4) |
| EBITDA: 89.9 | Total Liabilities: 481.1 | Cash Financing: (-3.5) |
| Net income: 10.9 | Total Sh.Equity: 246.2 | Free Cash Flow: 43.6 |
Revenues for FY Dec'09 were $858.9mm, down from the $1.1Bn peak reached in both FY'08 and FY'07. Given strong order growth, analysts say revenues could reach their previous peak by FY'11. We believe Interface can easily meet this estimate given its excellent execution. As such, the most vital factor will be whether or not a secular transition to modular carpets continues overseas, particularly Germany (a large market), where carpet tile penetration remains under 10%. (Refer to the Industry Discussion for additional information.)
Interface has large operating leverage as well as moderate to high financial leverage. This combination can yield exciting earnings gains when business trends improve. Thus, a 1% Revenue gain will likely lead to far higher changes in net income.
Shareholders' equity of $246.2mm is somewhat low given the company's moderate (mostly long-term) debt profile needed to support fixed assets/machinery. Shareholders' equity has declined over the last 1½ years given net losses and a restructuring.
Surprisingly, Interface managed to remain free cash flow positive over the last 3 years, though this was attributed to the inclusion of non-cash items.
In the charts below (sourced by Bloomberg LLC), rather than focusing on the absolute dollar level over the years, note the volatility of them. This volatility can be seen in nearly all aspects of the company ranging from earnings, cash flows, assets and share price. Such volatility visually demonstrates that this company is riskier than average. From left to right: 1) revenue, 2) operating income, 3) pretax income, 4) income before XO items, 5) net income, 6) basic EPS before abnormal items.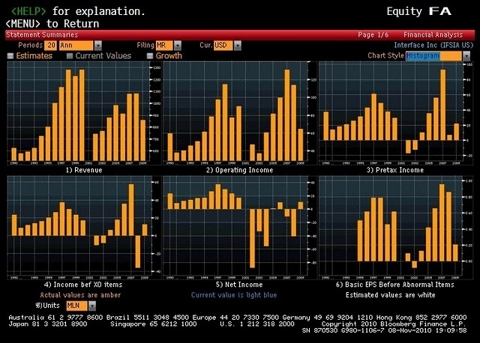 Disclosure: I am long IFSIA.