By Brad Lamensdorf of Ranger Equity Bear and Eric Fernandez, CFA of Two Rivers Analytics, Inc.
United Natural Foods (NASDAQ:UNFI) is full of artificial valuation fillers. It also has unwholesome negative cash flows and a growth story that is turning sour. Sparing readers more food puns for now, UNFI stock should be sold short. The key organic food incumbent and UNFI's largest customer (Whole Foods (WFM)) is facing new competition from several directions, crimping UNFI's growth and margins. UFNI appears unable to turn sales growth into cash flow and is currently showing negative and declining cash flows. The balance sheet is worsening from continued inventory investment, and the stock is overvalued relative to its growth prospects.
Description
United Natural Foods distributes and retails natural, organic and specialty foods and non-food products in the US and Canada. The company distributes grocery and general merchandise, produce, perishables and frozen foods, nutritional supplements and sports nutrition, bulk and food service products and personal care items. It operates 13 retail stores in the United States and one in British Columbia. Its customers include independently owned natural products retailers, supermarkets and mass market chains. Whole Foods represents approximately 36% of UNFI's revenues.
The organic space faces a large number of new entrants
The organic food space faces increased competitive pressures from several directions as traditional supermarkets and mass market retailers have noticed the organic space. Many have developed initiatives to add incremental growth to their product portfolios. Kroger (NYSE:KR), Safeway (NYSE:SWY) and Publix (OTC:PUSH) are pursuing initiatives in organics. Big-box Costco (NASDAQ:COST) has as well. Wal-Mart (NYSE:WMT) announced in April that it is carrying items from Wild Oats; a supplier of organic foods at a more accessible price point, than say, Whole Foods (dubbed "Whole Paycheck"). Taking direct aim at high priced fresh and organic foods, Wal-Mart is claiming that their organics will cost 25% less than specialty supermarket equivalents.
While some of these grocers have become customers of UNFI, we don't expect the mass market players to buy through third party distribution. One of the key competitive advantages for a Wal-Mart is their logistics capability, which they will want to bring to bear in the organic space as well.
In addition, there are a bevy of Whole Foods imitators. Many of these have gone public over the past few years including Sprouts Farmers Market (NASDAQ:SFM), The Fresh Market (NASDAQ:TFM), Fairway Group Holdings (NASDAQ:FWM) and Natural Grocers (NYSE:NGVC).
There will be an impact on market leader and UNFI key customer Whole Foods
Whole Foods (WFM) happens to be UNFI's largest customer, accounting for 36% of sales last year. What impacts Whole Foods clearly impacts UNFI.
We believe that the collection of these new players represents a threat to the 800 pound gorilla of organic and specialty foods, Whole Foods (WFM). While there is much debate in the investment community over whether Whole Foods stock is wounded and declining or nicked and recovering, it is hard to imagine that the totality of new competition will not take a bite out of their market share and add a layer of pricing pressure to the market. As unique as Whole Foods bulls perceive the "Whole Foods experience" to be, there are suddenly a variety of other choices for consumers.
We foresee a future where Whole Foods will be outflanked. On one side there are competitors specializing in smaller niches of organic or specialty foods analogous to the corner bakery of old. These competitors might be able to command premium pricing. On the other side of the specturm, the larger supermarkets, Wal-Mart, Target and their ilk should be able to add organics to existing, much larger logistics supply chains to take advantage of their scale. Obviously, their ability to bring massive volume purchasing to the fight will allow them to press suppliers in organics just as in every other category of their business. This leaves Whole Foods stuck in the undifferentiated middle; not worth a premium but not the low cost provider either.
We also believe that Whole Food's highest growth days are behind it. Although the category continues to grow at rates in the high single digits to low teens, how many affluent, organic-seeking Americans don't already buy at Whole Foods? Is there room for them to add a planned 800 stores without compromising on subpar locations? (Organic food sales growth has slowed from a 15-18% rate before the financial crisis to current forecasts averaging 9-14%.)
Whole Foods' share price has been pummeled
The first shoe fell in May of this year after management reported disappointing quarterly results and slashed guidance for the remainder of the year. Perhaps we should not be shocked given that Whole Foods has missed on sales for the last 7 quarters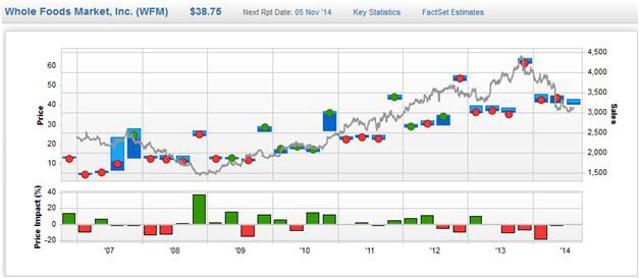 Source: Two Rivers Analytics Inc., Factset Research Systems, Inc.
It should not be a surprise, given the increased competition, that customers are shifting away from WFM and towards its competitors. Most of Whole Food's direct competitors posted positive results on earnings and revenue, while Whole Foods disappointed. And, unlike WFM, they tended to increase guidance for the full year.
Returning to UNFI…
UNFI's Margins are weak and will get weaker
Distributors' margins are never very high. Yet UNFI operates 13 retail stores and has some value added processes such as roasting nuts and packaging of various other products would imply the possibility of higher margins. UNFI's margins are very low and are declining. Gross margins have eased from approximately 20% in 2003 to 16.8% today. EBITDA margins have remained stable at approximately 4% over the same period. Stability would normally be seen as a positive, but it is alarming that UNFI has been unable to generate incremental EBITDA margin despite a six-fold sales growth rate since 2003. Operating leverage has only served to offset gross margin declines.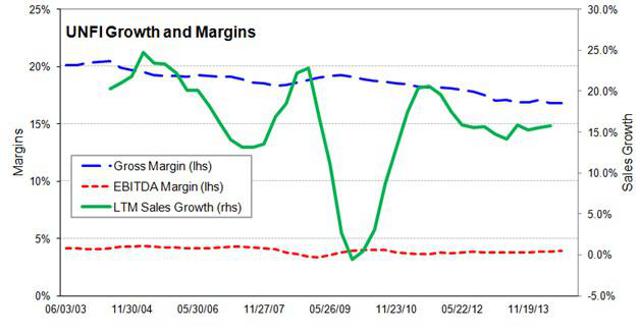 Source: Two Rivers Analytics Inc., Factset Research Systems, Inc.
We expect that UNFI's margins will continue downward at the gross margin level, and the worsening environment will compress EBITDA margins as well. The rapid adoption of organic products by competitors with their own supply chains will continue to exert pressure on UNFI's margins going forward. Pricing and margin pressure will flow from retailers, primarily Whole Foods, upstream to UNFI and other distributors. Further, UNFI's stated strategy of growing in the traditional supermarket space bodes poorly for margins as well. Larger chains tend to have more pricing power in negotiations with suppliers.
Low margin + working capital buildup = negative cash flows
The following graph makes the predicament clear. EBITDA is rising slowly (despite reasonable sales growth) yet cash flows are highly volatile and often negative. In fact UNFI's business (unlevered) free cash flows have been declining since 2013 and are now negative.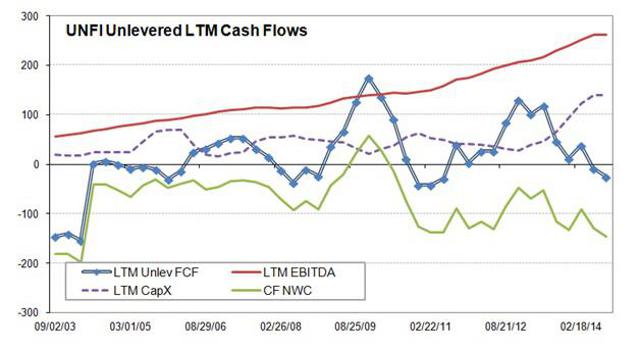 Source: Two Rivers Analytics Inc., Factset Research Systems, Inc.
UNFI is simply unable to convert their sales growth into profitable cash flow. Working capital turnovers are stable, but slow. From a cash flow perspective, the combination of low margins and slow turnovers make growth very expensive. While EBITDA and net income rise, cash flows are declining.
Leverage is high and rising
Weak cash flows are taking their toll on the balance sheet as well. UNFI borrows nearly every quarter in order to bridge the cash flow gap. It is not the most levered of the group, but several of its peers have net cash balances.
The problems at UNFI are beginning to be noticed
Short sellers have increased their involvement with the stock. Short interest has risen from 3% of outstanding shares to over 7% now. It still is not a crowded short. UNFI's valuations have come in a bit after the Whole Foods earnings disappointment, but the company is not cheap, especially in light of existing slow growth and our view of even slower growth to come.
Conclusion
Readers believing that the organic food company stocks are ahead of themselves should consider shorting the stock. Our view is that an increasingly crowded organic and specialty food market, the difficulties at UNFI's largest customer, Whole Foods, and UNFI's inability to turn sales growth into cash flow, will weigh on the stock over coming quarters and years.
Disclosure: The author is short UNFI, BDBD, and BNNY. The author wrote this article themselves, and it expresses their own opinions. The author is not receiving compensation for it (other than from Seeking Alpha). The author has no business relationship with any company whose stock is mentioned in this article.