Down the street from me is a Home Depot (NYSE:HD), and right next to that is a Lowe's (NYSE:LOW). Every time I go do some shopping for potting soil or general tools, I tend to find myself straying over to Home Depot and completely disregarding Lowe's. Even though Lowe's has a longer history as a home improvement store, Home Depot is more widely recognized as a home improvement store given its name and strong marketing. Sure, they could work on their customer service scores a little more, but they've been improving this gradually since 2006 -- and I believe that they can keep this trend going. Personally, I find that they always have what I need when I go there, and maybe they now have what I need as an investment so that I can profit from the recovering housing market and increasing consumer spending.
Housing Market
The housing market is recovering slowly but surely. Single-family housing starts in July were 8.3% higher than the numbers reported in June, as homebuilders are showing signs of optimism and brushing off the recent winter swoon. Housing permits were also up 8.1% m/m as builders anticipate more housing construction for the remainder of the year and in the near future. Furthermore, homebuilder confidence has now been continually rising for the past three months and is now at the highest level since January.
With easing inflationary pressures, homebuilders and new home buyers see this as a good time to enter into the markets again, as the Fed won't face increased pressure to exit its accommodative monetary policies. In the last 12 months up until July, CPI increased 2.0%, down 10 bps from the 12 months ended in June. Home prices, according to the 20-City S&P/Case-Shiller Home Price Index, rose at a slower pace in the second quarter of 2014. This slower price growth should help some potential home buyers make home purchases while interest rates remain low. RE/MAX further confirms this slower increase in prices, by stating in its July report the following:
In the 52 metropolitan areas surveyed in July, the Median Sales Price of all homes sold was $204,550. This was 2.4 percent lower than the median price in June, but 7.9 percent higher than the median price seen in July 2013.
Homebuilders aren't the only ones feeling the sensation of a booming housing market. Consumer spending related to home improvement is up, and is projected by the Joint Center for Housing Studies at Harvard University to surpass a peak set in 2006 with $145 billion in spending.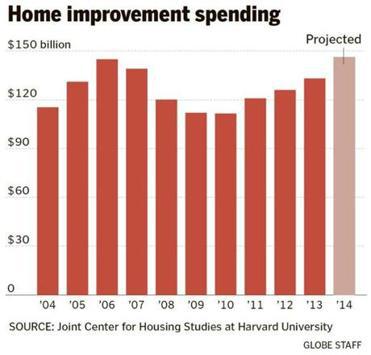 Valuation Metrics
For the table below, industry data were drafted using information from Yahoo Finance. When industry specific data were unavailable, I took the average of the "leaders and laggards" for the corresponding ratios. For EV/EBITDA, I went off of the numbers given on GuruFocus. As of Aug. 22, 2014, Home Depot had a P/E of 21.62.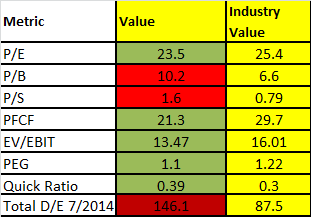 Notice that D/E is extremely high. The simple explanation for this is that Home Depot had to issue debt in order to assist with the stock repurchases it has had for the year thus far. P/E is getting close to the industry average, but that doesn't worry me too much. What stands out to me is the P/B and the P/S ratio, which are about double the industry average. Other than that, the remaining ratios look very promising.
Latest Quarter Results and Outlook
Home Depot reported earnings for the most recent quarter on Aug. 19. The company reported earnings that 5.56%, higher than analysts' estimates. Revenue increased 5.7% from last year to $23.91 billion and were above analyst estimates as well. Management has also confirmed that, with better-than-expected results, they will be raising their expected earnings per share target 20.2% higher, equating to an expected $4.52 per share for FY 2014. In addition to all this, Home Depot also saw an increase in sales by 38% relative to their e-commerce portal.
Seeing strong sales growth and, furthermore, a shift toward focusing on the e-commerce side of things impresses me as an investor. Knowing Home Depot is willing to adapt and market more strongly to the ever-changing Internet-based audience gives me hope that the company intends to truly take advantage of all portals of sales and, by doing this, benefit and capitalize on the growing internet space. What was even more impressive is their continued growth outside of the United States as well. In the earnings transcript, Chairman and CEO Frank Blake said the following:
Our Mexican business positively comped for the quarter, making it 43 quarters in a row of positive comps, and our Canadian business continues to perform well with positive comps for the 11th consecutive quarter.
Dividend Growth
Not only is HD a great play on the economic and housing recovery given its simple stock price appreciation, but it also pays a dividend and is a great fit for investors looking for an income stream. HD has a dividend yield of 2.40%, as per Yahoo Finance. Currently, it is expected that HD will pay out $1.88 quarterly. The recent upsurge in the growth rate is partly due to HD increasing its buybacks in order to create more value for its shareholders. YTD, Home Depot has repurchased about $3.5 billion worth of shares, and management plans on purchasing an additional $3.5 billion worth of shares in FY 2014.
Dividend Growth Rate
| 1 Year | 3 Year | 5 Year | 10 Year |
| --- | --- | --- | --- |
| 30.2% | 18.2% | 13.9% | 15.6% |
Calculated using information on Home Depot's investor website.
Furthermore, Home Depot's payout ratio has been declining since the end of 2008, and has now only recently increased from a five-year low of .3833 to .4149 as of the end of the last fiscal year. This is a positive sign for fixed-income investors as Home Depot is seemingly making its way back to being a value stock vs. a growth stock. If Home Depot continues increasing its payout ratio while continuing to deliver a five-year revenue growth trend of 9.07%, and a five-year dividend growth trend of 13.94%, investors should expect more value to be generated from Home Depot.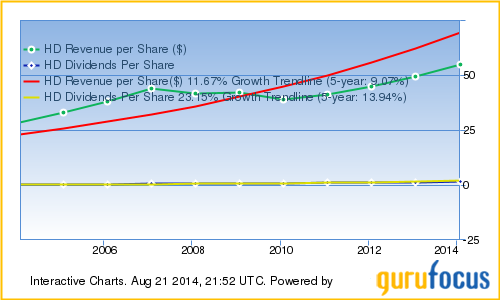 Source: Gurufocus.
HD's Annual Dividend Payout Ratio
(FY 2014)
(Feb. 3, 2014)
(FY 2013)
(Feb. 3, 2013)
(FY 2012)
(Feb. 3, 2012)
(FY 2011)
(Feb. 3, 2011)
(FY 2010)
(Feb. 3, 2010)
Earnings per Share
$ 3.76
$ 3
$ 2.47
$ 2.01
$ 1.57
Dividend
$ 1.56
$ 1.15
$ 1.04
$ 0.95
$ 0.9
Payout Ratio
41.49 %
38.33 %
42.11 %
47.26 %
57.32 %
Source: CSIMarket.
Comparing HD With Lowe's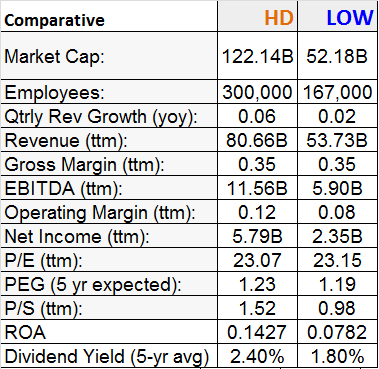 Drafted with information from Yahoo Finance.
From the above, we can see that Home Depot is performing better than Lowe's when it comes to revenue growth, operating margin, and ROA. Lowe's is expected to have relatively higher growth given its PEG of 1.19, and investors can also expect to pay less per dollar of sales in comparison to Home Depot. It would be hard to select which of the two companies to invest in just given the chart above, but personally I would prefer a higher dividend yield, ROA, and a larger market cap for conservative purposes.
Furthermore, as one can see from the chart below, Home Depot has had a more favorable run compared to Lowe's for the past five years. And this run may continue.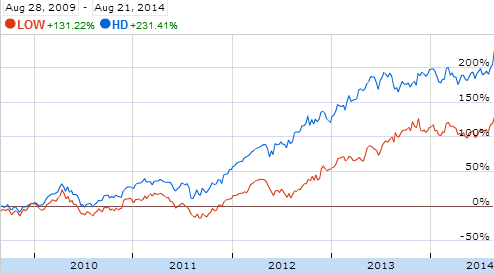 Source: Created by author.
Risks
I see two major risks that could affect the fundamental performance of Home Depot. The first would be the overall health of the housing market and its overall performance. As stated above, with the recently released data concerning housing supply, prices, expectations and spending, I don't see much of a worry concerning the housing market and its recovery.
Although price appreciation and turnover aren't as great as some hoped, Carol Tome (Home Depot's CFO) reaffirmed during Home Depot's latest earnings call that data figures concerning the housing market are in line with their personal expectations:
Well, as we look at the housing indicators, there are three that we pay attention to most closely. That would be turnover, home price appreciation, and household formation. Turnover is slower than what some people had hoped for but in line with our expectations, which is about 4% of units. Home price appreciation is slower than some people had hoped but in line with our expectations. For the year, we project home prices to be up around 5 or 6%, and that's how they are trending. Household formation at 500,000 households, it's certainly below what all of us would like to see. We used that number when we built our plan, but clearly we'd like to see that improve because there's something like a third of the people who are aged 18 to 36 living at home with their parents. Something's got to move, so to your question, what are you most concerned about, well, it's mortgage financing availability.

There has been some modest movement - there was a survey of senior loan officers, 70% of them said that underwriting standards haven't changed. Well, that's better than last quarter were it was about 74% of them said that underwriting standards hadn't changed, but something's got to move on mortgage financing reform, so for us, we continue to pay real close attention to that.
The second risk would be competition, particularly from the next runner up in market cap -- Lowe's. As noted in the comparison above, they are evenly matched when it comes to valuation metrics. With better customer service scores, and a longer history in the home improvement industry, Lowe's may have an advantage over Home Depot. However, Home Depot does have an advantage when it comes to store numbers and its reach. With a little over 2,200 stores compared to Lowe's 1,830 stores, Home Depot can leverage its locations and capitalize on its wider customer base. Home Depot also faces competition from online retailers; however, as stated above, the company has done a pretty swell job of increasing their e-commerce exposure and top line.
Conclusion
I expect Home Depot to perform fairly well given that they are currently buying back shares and are performing at the estimated levels stated in their Q2 summary. Given that Home Depot is trading at a P/E of roughly 21, it may seem overvalued. But compared to its previous P/E of 25 during the middle of 2013, 21 is a relative bargain. In addition, the housing market seems to be gaining steam, and Home Depot is in a position to capitalize on this. I believe that Home Depot has further room to run to the upside.
Disclosure: The author is long HD.
The author wrote this article themselves, and it expresses their own opinions. The author is not receiving compensation for it. The author has no business relationship with any company whose stock is mentioned in this article.