If you were to tell an investor who is reasonably knowledgeable about shale oil that they could buy a Permian driller at about 4.5 times forward EV/EBITDA, at close to 10 times forward earnings, with countless years of drilling inventory, with an unleveraged Balance Sheet, with a market cap of $2 to $3 billion, with lots of daily share trading liquidity, and with a respected management team, the chances are that the investor wouldn't believe you. The recent pull back in the oil sector has thrown up attractive bargains and investors able to exercise patience over the next 5 months - yes, patience is an asset class too - will very likely find themselves profiting greatly from investing now in well chosen shale stocks.
The problem for most investors is that there are some pretty big worries circulating overhead, most notably concerns about softening oil prices and the fear of a market correction triggered by the end of quantitative easing.
Lower oil prices ahead?
The latest International Energy Agency(NASDAQ:IEA) report, published 12 August 2014, predicts global oil demand will grow by 1 million barrels per day in 2014 and will accelerate slightly to 1.3 million in 2015. On the same day, the US Energy Information Agency (EIA) issued their forecast for oil prices, calling for an average WTI price of $100.45 for 2014 and $96.08 for 2015. Since WTI has averaged over $100 a barrel during the first 7 months of 2014, this EIA forecast essentially calls for oil to be relatively flat in the mid $90s during the next 18 months or so.
Whilst spot prices have recently softened due to ample supplies, prices along the futures curve all the way out to 2022 are now trading a full $10 higher than they were one year ago; long-dated WTI is now just under $90 whereas a year ago it was under $80. This is highly significant because it means that in the current market, producers can effectively hedge their entire WTI revenue streams for a 10-year period at average WTI pricing of about $90.
As always, the Middle East is pivotal. There is the likelihood that, instead of the anticipated growth in Iraqi production, growth there may be much more muted over the coming years because of the repatriation of critical staff by big oil companies in reaction to the Islamic State militant threat to southern Iraq, the heart of the country's oil industry. In June 2014 Exxon Mobile and BP evacuated staff, and in August others followed.
Saudi Arabia has been one of the biggest beneficiaries of the turmoil in the Middle East and Libya. They are happily producing beyond their needs as they fill the void and, from their current position of plenty, it is relatively easy for them to trim production in order to moderate pricing. This will occur, probably quietly.
The futures curve for Brent is unusual in that it is now in contango - prices for the next 18 months are higher than spot. This was explained by Harry Tchilinguirian, Head of Commodity Markets Strategy at BNP Paribas in a 21 August 2014 interview on CNBC Europe. Refer to the embedded video clip on this article. In summary, he said:
"We don't think Brent contango is going to last long because this is a result of transitory factors. We're looking at investors massively deleveraging out of oil. They took positions in early Summer on expectation that geopolitical events would lead to higher oil prices but they have been disappointed in that pricing has been largely unaffected by these events and so they have had to exit positions. We also had physical factors, increments in terms of loadings from countries such as Libya and Nigeria. It is the combination of all these factors that put downward pressures on the curve. Saudi Arabia can easily cut back to support OPEC, they are producing at 10 million barrels a day and they have a lot of room. For us, technically $100 is a floor on Brent and $92-$93 is the bottom end of the WTI trading range. We think the correction is overdone. We cannot discount another geopolitical event that will drive prices higher and investors now have scope to rebuild their long positions. By the end of the year we see prices going to an upper range of $110 on Brent and possibly $100 on WTI."
Overall, WTI pricing in the mid to low $90s appear well grounded and, for 2015 and the medium term, WTI is expected to trade largely in line with the IEA forecast i.e. the mid $90s. Investors should bear in mind that a WTI pricing assumption of $90 or lower is already widely used for planning purposes across the industry. Therefore, if, due to short-term ample supplies and/or investors further deleveraging out of positions, WTI should soften towards $90, or even briefly spike below that threshold, and be accompanied by further weakness in oil stocks, I would use that opportunity to buy oil stocks.
Stock market correction anyone?
I belong to the school that says there will be a period of market softness associated with the end of the Fed's QE program. Investors will probably use this event as rationale to cash in some gains during Q3 earnings reporting season. But, because stocks remain the only game in town, because stocks are priced only moderately above long-term valuation norms but not dangerously so, and because investors cannot now sensibly invest in US Treasuries with interest rate hikes coming in 2015, then, against such a backdrop, the dip associated with QE ending should, once again, be a buy-the-dip opportunity.
In August the markets had a 4.5% pullback and the October dip may be of similar magnitude, or possibly a little bigger but still less than 10%.
As to timing, if history is anything to go by, the pullback may occur before the Federal Reserve formally decides to terminate QE and markets will likely rally after the decision is announced. The October FOMC meeting takes place on October 28-29.
When to buy attractive oil stocks
I would not wait until an anticipated October dip before buying carefully selected shale oil stocks that are now very attractively priced. Aside from running the risk of missing the boat, there is the likelihood that oil prices will soon bottom out and any subsequent uptick in oil prices would normally translate into higher oil stock prices. For these reasons, I have personally bought into some long shale oil stock positions. If a market dip associated with QE ending throws up a further generous buying opportunity, I would then overweight my positions.
Permian / Midland Basin
One of the most exciting shale plays in the USA in recent times has been the Permian Basin, a geological basis covering approx 250 x 300 miles in West Texas and Southeast New Mexico. The great attraction of the Permian is that it contains multiple hydrocarbon-rich stratae with stacked-pay potential including Avalon Shale, Bone Spring Formation, Leonard Shale, Sprayberry Formation, Wolfberry Trend, Cline Shale and others.
The Permian is divided into two main oil-bearing areas, the Midland Basin to the East and the Delaware Basin to the West.
The following schematic from Occidental Petroleum outlines the main trends and shows the major overlaps. Whilst this is a useful starter, investors should bear in mind that play edge lines are open to interpretation and further delineation. Also, not all plays are noted on the map. As to the total Permian resource potential there are some eye-popping figures being bandied about. For example, Pioneer Resources estimates that the Wolfcamp A, B C and D formations and the Sprayberry shales in the Midland Basin alone, totally excluding the Delaware Basin, contain recoverable resources of up to 75 billion barrels. Eye-popping indeed.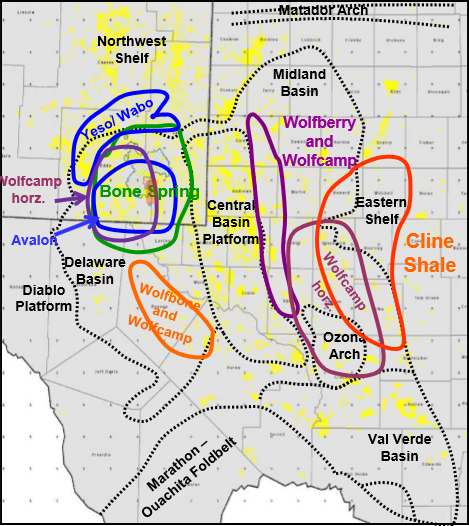 From an investor perspective a particular attraction is that horizontal drilling development of the Permian lags that of the Williston Basin and the Eagle Ford formation and the remaining long-term upside potential is widely considered to be superior. This slide from Pioneer Resources neatly shows the Midland Basin potential: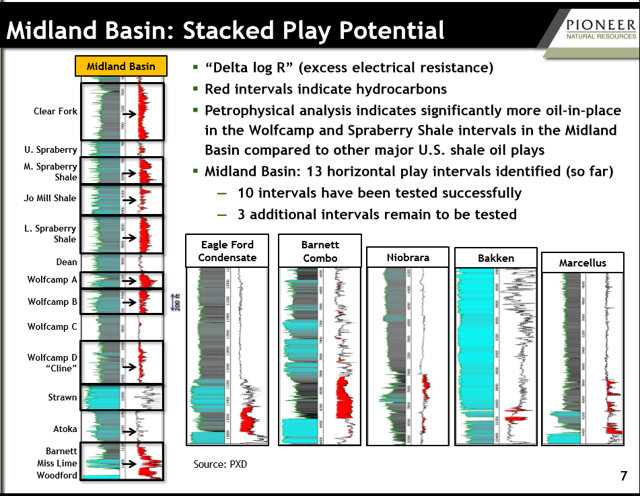 The drillers with the largest footprints in the Permian are; Occidental Petroleum (NYSE: OXY) 1.9 million net acres, Chevron (NYSE: CVX) 1.9 million net acres, Apache Resources (NYSE: APA) 1.7 million net acres, Devon Energy (NYSE: DVN) 1.3 million net acres, ConocoPhillips (NYSE: COP) 1.0 million net acres and Pioneer Resources (NYSE: PXD) 825,000 net acres.
None of these is a Permian pure-play although, amongst them, Pioneer is predominantly a Permian company. Its 825,000 net acres has possibly as much as 10 billion barrels of recoverable oil equivalent and over 20,000 drilling locations. As a reference point, Pioneer has a market cap of $29 billion and a total Economic Value (EV) of $31.4 billion. It trades on a 2015 price earnings ratio of 29 (yes, that's a 2015 p/e ratio) and a 2015 EV/EBITDA multiple of 9.6. These are rich valuations by my book, even allowing for the great long-term potential which it undoubtedly has.
Permian Differentials
Recently, there have been media reports highlighting the widening pricing differentials between oil delivered to Midland, the main pipeline takeaway point in the Permian, and Cushing, the delivery point for WTI futures. During this past week pricing differentials breached $20 a barrel. Without doubt, that's a worrying headline.
However, as is often the case, there is a notable difference between the headlines and the underlying reality. Yes, on Tuesday August 19, WTI-Midland differentials hit $21.50 but by the end of the day they fell to $15 and the next day were $12. Some expect the differentials will now move back to back to more normal levels of $6-$7 a barrel and close further when the BridgeTex pipeline comes into operation, scheduled for September. Other traders believe the differential will remain around $12 a barrel before it narrows at the beginning of 2015 when more takeaway capacity comes on line. Refer Reuters article dated August 22.
For sure drillers in the Permian Basis are victims of their own success in that takeaway capacity has been unable to keep up with the tremendous output growth. Drillers who have not already contracted all their production with pipeline companies have to find other ways to move the excess oil out. Some of this non-contracted oil will be shipped in rail cars, some will be shipped to gathering locations other than Cushing such as the Louisiana Coast, some will be sold to traders who arrange shipment of the oil to higher paying locations and some oil will simply be sold at the headline discount to WTI. Hence, at the margin, drillers will receive lower prices for oil that has not already been contracted with pipeline companies.
Investors should cast their minds back to the Bakken drillers who suffered differentials of over $15 a barrel for extended periods during 2012. Then, as now with the Permian drillers, a lot of alternative shipping options quickly came into play and, ultimately, the financial results of the Bakken drillers were not severely impacted.
Except for drillers with leveraged balance sheets that are reliant on higher oil dollars to help keep the borrowings in check, the phenomenon of wider differentials is a marginal and short-term problem for Permian companies. In most instances when stocks of the Permian drillers suffer negatively as a result of alarmist headlines about widening Midland-Cushing differentials those stocks should be bought.
Note: Periodically, comments appear suggesting that drillers are fully protected from widening differentials when the driller has full CME/Nymex WTI hedging programs in place. This is incorrect. WTI hedging programs only hedge the delta between the underlying WTI price embedded in the hedge contract and the WTI price at the contract maturity date. Such hedge programs do not hedge the Midland-Cushing/WTI differentials.
A look at some Midland drillers
It's always important to explore investment opportunities after stocks suffer a fall and the recent pull-back in shale oil stocks is no exception. Many small cap Permian stocks are currently trading at prices 30% below where they were just a few months ago. Bearing in mind the stacked play potential, the fact that the Permian Basin is relatively under-developed compared to the Bakken or the Eagle Ford and carries more long-term potential, and the 30% price discount - all this now puts many Permian shale stocks in an attractive valuation range and represents an excellent long-term buying opportunity.
The companies listed in these tables are all pure-play drillers in the Midland Basin, this is where most activity has occurred in the Permian. The data presented is as of June 30, 2014 and major post-June 30 events such as equity offerings or acquisitions have been incorporated. The companies are: Athlon Energy (NYSE: ATHL), Diamondback Energy (Nasdaq: FANG), Laredo Petroleum (NYSE: LPI), Parsely Energy (NYSE: PE), and RSP Permian (NYSE: RSPP). They have market caps that range from $2 billion to almost $5 billion and have average daily share traded volumes of ~1 million or more. There are other largely pure-play Permian drillers such as Clayton Williams Energy (NYSE: CWEI), a thinly traded driller in the Delaware Basin, or Approach Resources (Nasdaq: AREX) a company with a market cap of $700 million that some investors may also like to examine.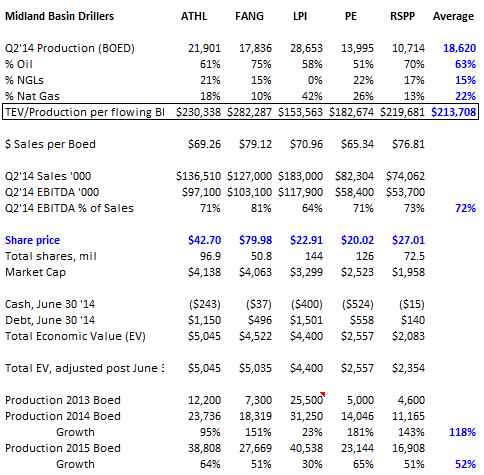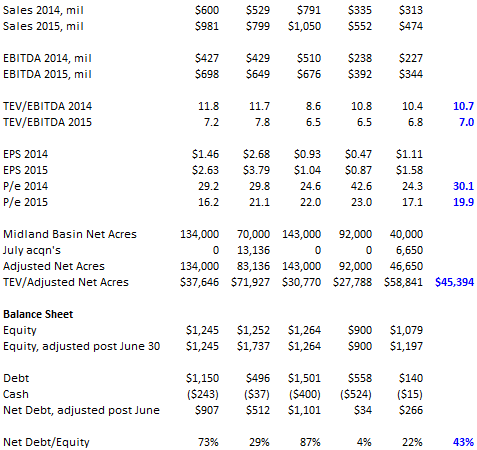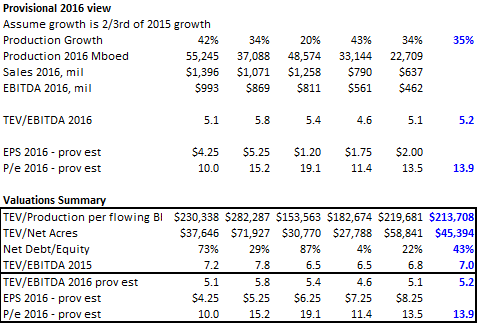 Investment is all about looking forward. I have not included any data relating to proved reserves because these companies are small super-growth drillers with, as yet, limited proved reserves. They are forecast to have production growth, on average, of over 100% in 2014 and over 50% in 2015. Proved reserves will follow suit.
The 2015 production and Sales and EPS data are derived from company guidance and from analyst financial estimates on Yahoo Finance.
The provisional 2016 estimates are built on the straight line assumption that growth in 2016 will be 2/3rd of growth in 2015. This is clearly very tentative and back-of-envelope at this stage. That said, companies with unleveraged balance sheets should be able to register strong production and sales growth for some time and I imagine that, in some instances, this 2/3rd growth assumption may be conservative. In either event, the inclusion of provisional 2016 data is important because investors must always look ahead to a company's forward estimates for production, sales, EBITDA and earnings per share. Today is August 24, 2014. In 4-5 months time - early 2015 - analysts "next year" estimates for drillers will appear on publicly on financial web pages such as Yahoo Finance. These "next year" estimates will be for 2016. No doubt, by early 2015 investors will already have bid up stock prices for the best buys available today. Hence, it's so important in my view to now assess the value that's available on this recent pullback and to profit from the run that will invariable occur over the next ~20 weeks.
A comment on Vertical versus Horizontal wells in the Permian: The physiology of the Permian Basin affords drillers the luxury of being able to hold acreage by drilling cheaper vertical wells that are economic because they penetrate multiple stacked plays. Additionally, these vertical wells help delineate pay zones. On the other hand, horizontal wells carry much greater economic benefit. Currently, drillers are doing a mixture of vertical appraisal wells and horizontal development wells but are gradually transitioning from appraisal towards development. This transition should boost efficiency and profitability in the coming years. This has not been factored into the year 2016 assumptions or data.
Each company in the data table has its own merits.
Athlon Energy (NYSE:ATHL) is expected to grow production in 2015 by over 60%, the stock is currently trading at a fairly attractive 2015 p/e of 16, and the TEV/Net Acreage valuation is also reasonable at $37,600 considering the growth. On a 2016 view, the P/e is provisionally about 10. This is cheap - strong growth shale oil stocks frequently trade on next year P/e multiples in the mid teens. The Debt/Equity ratio of 73% needs watching, particularly as Cash from Ops will not cover Capex during the near term. ATHL stock has scope to appreciate nicely as we get into 2015 but the Debt/Equity metric may hold the stock back to some degree.
Diamondback Energy (NASDAQ:FANG) has the highest oil cut at 75% of production, the highest $ Sales per Boed at $79.12 and the highest EBITDA as a % of Sales at 81% - this is a high and impressive figure. It also has a relatively unleveraged balance sheet with Debt/Equity currently at 29%. Assuming sales and production growth in 2016 of 34%, the TEV/EBITDA multiple for 2016, based on the current share price, comes out at 5.8. I consider TEV/EBITDA multiples in the range of 6 to 7 to be perfectly reasonable for high growth shale oil drillers. I'd probably be a seller if the stock passed the 7 level and Diamondback should easily provide an uptick of greater than 20% to investors. That's ok but, when buying stocks on a dip, some investors like to aim for more. Besides, on a TEV/Net Acres basis, Diamondback is already pricey at just under $72,000/acre.
Laredo Petroleum (NYSE:LPI) has a large 143,000 acres contiguous footprint in the Midland Basin. It has tremendous potential, at least on paper. The company estimates that it has 45 years drilling inventory, based on 3,500 horizontal drilling locations already identified in the initial 4 drilling zones, and it potentially contains 1.6 Billion recoverable Boe. Furthermore, taking account of acreage not yet derisked, more zones to be developed and additional downspacing, there may be another 1.6 billion Boe potential. These are great numbers i.e. potentially over 3 Billion recoverable Boe for a company that has a TEV of $4.4 billion.
Laredo has outlined plans to convert towards an efficient but highly complex development model that will entail drilling multiple oil bearing stratae at one sitting and connecting it all to an overall pre-installed and precisely located large gathering network. It is planning on a grand scale that is designed to yield improved efficiencies whilst delivering endless years of production growth. Unfortunately, the execution phase is encountering implementation snags and delays. Cycle times for completing the task of drilling all wells through the target zones is being stretched because, across the Permian, demand for completion services is outpacing supply. As a consequence, LPI delivered results during Q2'14 that were at the low end of their own production guidance - guidance figures that many had already considered conservative compared to the prior year. There are also questions being asked as to whether or not the pre-planned gathering network is inflexible and actually impinges upon possible future efficiency gains. This insightful article by Robert Polevoi on Seeking Alpha is recommended.
The operational and valuation metrics in the data table show that LPI had the lowest % EBITDA/Sales at 64% in Q2'14, the lowest expected growth rate for 2015 at 30% and the highest Debt/Equity ratio at 87%. Considering that Cash from Ops will not cover Capex for the time being, the Debt/Equity picture is set to worsen.
The LPI story is very interesting. Taking a provisional 2016 viewpoint, LPI is already good value although the forward P/e ratio seems high. Long term, I fully believe it will be a successful company and growth should tick-up after the teething issues are resolved. However, considering the high Debt/Equity together with the ongoing cash burn and the existence of unfavorable differentials albeit at the margin, and LPI's critical exposure to service delays that are reportedly occurring in the Permian, investor patience could remain tested for some time. That said, LPI stock is not likely to become super cheap because of the size of its potential recoverable resources.
Parsley Energy (NYSE:PE) has been flying under the radar since it hit the street at $22 when it IPOed in May. Other than its Q2 earnings release, it has issued no press releases and done no investor presentations. Doubtless this low key approach, as well as the softer oil prices and news of tight services in the Permian, has contributed to PE stock now sitting near its lows.
Parsley's numbers make very good reading: EBITDA/Sales in Q2'14 of 71%, production growth in 2014 of 180% (top of class), forecast production growth in 2015 of 65% (top of class), Net Debt/Equity only 4% (top of class), TEV/Net Acres $27,800 (top of class), Provisional 2016 production growth of 43% (top of class), provisional 2016 TEV/EBITDA of 4.6 (cheapest in class) etc. The acreage is listed above at 92,000 net acres. In fact, Parsley has an additional 22,300 net acres in the Delaware Basin, near Clayton Williams and Concho Resources (NYSE: CXO) acreage in Reeves County, that shouldn't be overlooked. Using the full 114,000 acres, Parsley has a TEV/Net Acreage value of $22,800. This is substantially cheaper than Permian peers.
Parsley is a young company with a lot of work ahead in terms of growing production and proving up their acreage. It may take time for the street to better appreciate what is on offer. During Q2'14 Parsley beat on Sales and EPS - Sales by $5 million and EPS by 5c (14c act, 9c est). Other than Diamondback, who squeezed out an EPS beat by one penny, it is the only company on this list to have beaten street estimates in Q2'14. A good start.
The question must be asked; can Parsley realistically be expected to grow production by 43% in 2016 and thereby arrive at the TEV/EBITDA multiple of 4.6? It is already on track to hit its 2014 growth rate of 180% and, if it can grow by anything resembling 65% in 2015, as currently forecast by the analyst community, then, considering the completely unleveraged Balance Sheet and large acreage footprint, there is no obvious reason to anticipate a dramatic growth slowdown from 2015 to 2016. In early 2015, I would expect PE to trade on a "next year" TEV/EBITDA multiple of 6-7. At 4.6 it is cheap, it offers about 50% upside potential and is an attractive buy at current levels.
RSP Permian (NYSE:RSPP), including the August 4.7 million share issue, has a market cap of $2.4 billion. Performance wise, its Q2'14 EBITDA/Sales came in at an impressive 73%, production growth this year is expected to be 143% followed by 51% in 2015. These are excellent numbers. The provisional 2016 TEV/EBITDA metric is an attractive 5.1, offering upside potential for the stock of over 35% by early 2015. The Balance Sheet is also clean with leverage of only 22%. TEV/Net Acreage appears to be a little pricey $59,000 including the 6,500 net acres acquired in July. The company increased its production outlook for 2014 in July - always a positive. The shares took a hit in early August when the company announced a sale of shares by existing shareholders. Overall, RSPP looks like a well run company, with good acreage in contiguous blocks, and excellent growth potential and the shares should gain about 35% or more by early 2015.
Summary
The recent pull back in shale stocks has thrown up some rare buying opportunities for Permian drillers. Across the board investors can expect gains of 20% or more between now and early 2015. From the above list, I would single out Parsley and RSP Permian with potential gains of 50% and 35%, helped to no small degree by both enjoying a combination of strong growth and unleveraged balance sheets.
Disclosure: The author is long PE, RSPP.
The author wrote this article themselves, and it expresses their own opinions. The author is not receiving compensation for it (other than from Seeking Alpha). The author has no business relationship with any company whose stock is mentioned in this article.