At the start of this month I put out an article showing how the CAPE Ratio can be used to possibly double the return of the S&P 500. As I noted in the article there is quite a lot of work that is needed with respect to further analysis, however extensive backtesting conducted by Wes Gray has shown that it is certainly possible for one to develop a strategy based on the CAPE ratio for individual stocks.
There was a great deal of social media activity surrounding the CAPE Ratio and its possible use as a indicator of an overvalued market which was precipitated by Shiller's article in the NY Times on the topic during last weekend. Meb Faber who utilizes the CAPE Ratio in his recently launched ETF Cambria Global Value Fund (NYSEARCA:GVAL) has provided a nice little library on the ratio as of Friday this week which you can access right here.
Every week we issue the list of stocks from the S&P 500 ranked by their respective CAPE Ratio's on an individual basis at caperatio.com. About two weeks ago, Josh Brown from CNBC at thereformedbroker.com suggested that we post bottom 10 and top 10 stocks ranked by CAPE.
So, here are the lowest, or cheapest, stocks according to the CAPE Ratio for the S&P 500.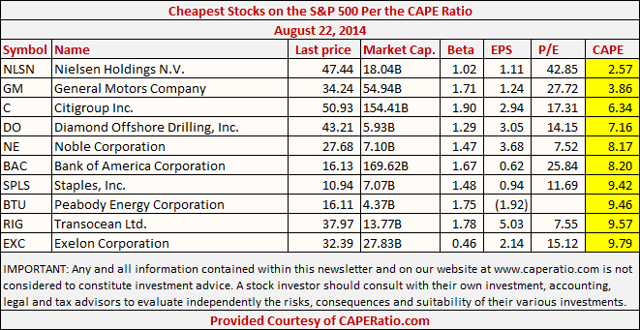 And now here are the most expensive stocks as ranked by the CAPE Ratio.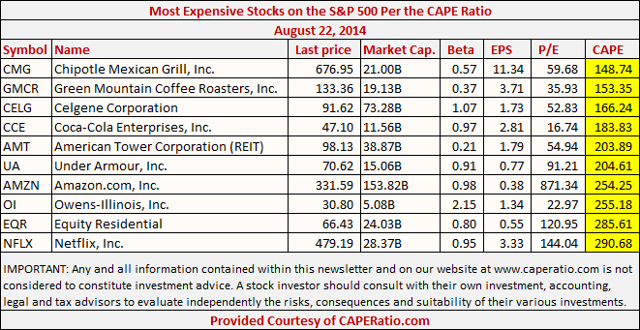 There are naturally a number of components that are not considered with respect to the formulation of these two lists. Some of the more expensive on this list are stocks that currently have a certain 'cult' appeal to investors such as CMG, and AMZN (and yes, I must admit to liking these stocks too). We can see from our list of cheapest stocks, that these are simply out of favor with Wall Street at the moment. Stocks such as GM, BAC, and BTU have struggled mostly due to issues that are not exactly reflected in earnings (GM is struggling because of negative press and court cases related to the recall, BAC is struggling due to the general issues involved in the banking environment, and BTU is struggling because of regulation in the coal industry).
I have also provided the Beta's for each stock from which one can easily see that the cheapest 10 stocks have an average Beta of 1.45 while the most expensive have a Beta of 0.90. It is worth noting that we can easily see that a portfolio of the cheapest stocks would need a much higher rate of return then the most expensive stocks in order to have an adequate risk adjusted rate of return.
Should an investor invest purely based on lists such as this? Of course not - but it really does seem to help as a stock screener in the sense that we can easily separate stocks that probably offer strong value for the long term investor. As shown in previously written articles linked to above, investing blindly based on the cheapest S&P 500 stocks does seem to have some merit even if a few of them end up tanking.
Happy Investing!
Disclosure: The author has no positions in any stocks mentioned, and no plans to initiate any positions within the next 72 hours.
The author wrote this article themselves, and it expresses their own opinions. The author is not receiving compensation for it (other than from Seeking Alpha). The author has no business relationship with any company whose stock is mentioned in this article.