Birchcliff Energy (OTCPK:BIREF) is a Canadian E&P company heavily focused on the production of natural gas. The company has one major core area, the Peace River Area in Alberta where it holds about 550,000 net acres. Since the company's formation in 2004, it has built a great land position and has seen very good production growth, which should continue nicely in the future.
On August 13th, the company reported strong second quarter earnings and also raised guidance for the rest of 2014. It is always an extremely promising sign when an E&P raises guidance and is something to really keep an eye out for. Along with the raised guidance, the company also raised its capital budget by $100 million CAD for the year, which should allow more development and obviously ties in with the raised production guidance.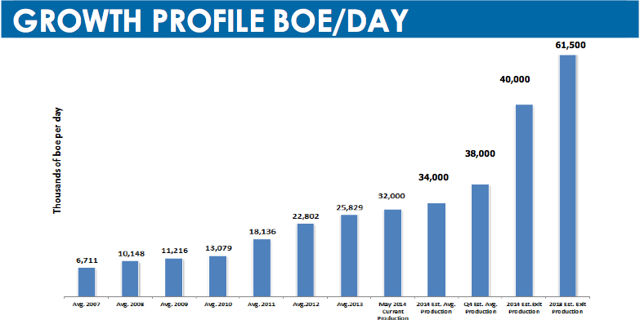 (Source: Birchcliff profile)
Production for the second quarter averaged about 31,200 boe/d, a 30% increase from Q2 2013. The new guidance has the company with an exit rate for 2014 of 40,000 boe/d and an average rate for the year of 34,000 boe/d. Since 2007, the company has seen great production growth of over 360% and the company forecasts production to increase another 92% by 2018.
The company's major play is its Montney/Doig land where production is virtually all natural gas. Since 2007, 141 wells have been drilled on the land and there is potential for over 2,300 new well locations on its position in the area. When breaking this land position down it is important to note the reserves and the company's history with reserve growth. At the end of 2013, the company had 320 MMboe of 2P reserves in the area and that number continues to increase yearly. Total 2P reserves for the company are about 370 MMboe, a massive increase from years prior.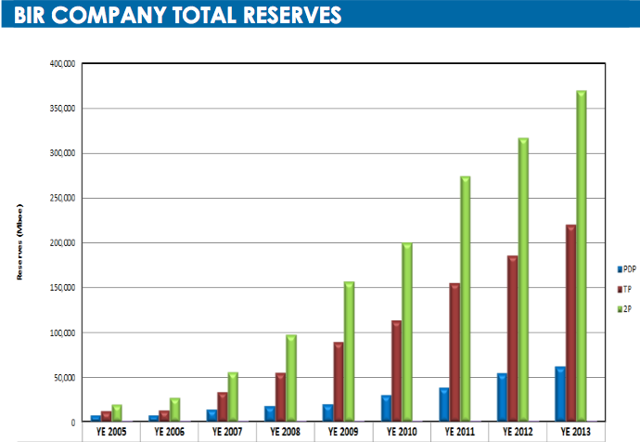 (Source: Birchcliff profile)
With the new expanded budget for 2014, the company increased its drilling program to drill 38 new wells on the Montney/Doig play, with 3 rigs operating in the area currently.
To be as efficient and cost effective as possible these natural gas plays need good infrastructure. One of Birchcliff's key holdings is its 100% owned PCS gas plant which the company just announced it would be expanding this fall, bringing the capacity to 180 mmcf/d from 150 mmcf/d. In all 68% of the company's total production went through the plant in the second quarter and increasing the capacity is a great move. This plant, along with the several others they operate and have stakes in are absolutely critical for the company to keep costs down. This can be seen in operating costs, which the company was able to decrease by 11% from Q2 last year and attributes the decrease mostly to the PCS plant.
Birchcliff also has another small core area inside the Peace River area. The Worsley play targets mainly light oil located at the Charlie Lake oil pool. So far, 8 wells have been drilled on the land this year with some IP rates as high as 500 boe/d. The company has lots of potential with its 123,000 acres in the area going forward, and plan to expand infrastructure in the area later this year to help growth in 2015.
Financially the company is in a sound position. Earnings continue to increase and revenue for the FY is forecasted to be up 60% from last year. Cash flow, which the company has been able to increase nicely, is supposed to cover the remainder of the 2014 capital program.
As of late, there has been speculation about natural gas prices. Obviously when investing or just looking into a natural gas play it is important to look at these prices, as revenue will depend a lot on it. A lot of speculation is that gas prices will rise into the winter as many are forecasting another bitter one. If we do see another winter like this past year, we can expect at least a better upward movement for gas prices, which could make it the perfect time to get into a company focused on natural gas. Birchcliff does currently have 40% of natural gas production hedged at $4.35 CAD per mcf. This lasts only until October 31st, but keeps the company a little safer if prices continue at current levels.

(click to enlarge)
In conclusion, Birchcliff looks very promising in the long term. The company has a good record of production growth and growth is expected to continue well into the future. With new expansions to its PCS plant and other infrastructure to reduce costs and increase production the company has a solid position to enhance operational performance. While natural gas remains a bit of a risky play at current producers, it may be time to add a producer before winter.
Disclosure: The author has no positions in any stocks mentioned, and no plans to initiate any positions within the next 72 hours.
The author wrote this article themselves, and it expresses their own opinions. The author is not receiving compensation for it (other than from Seeking Alpha). The author has no business relationship with any company whose stock is mentioned in this article.
Additional disclosure: Always do your own research before investing.
Editor's Note: This article discusses one or more securities that do not trade on a major U.S. exchange. Please be aware of the risks associated with these stocks.