By Scott Tzu
BlackBerry (BBRY), not really known as a litigious company, has had a little luck in the one battle it is fighting against Ryan Seacrest's (yes, the American Idol guy) company about an iPhone attachable keyboard that his company sells.
The question from the get go was whether or not Typo's keyboard came close to (or did) infringing on certain patents that BlackBerry holds. Again, the keyboard clips onto the phone, and looks nearly identical to BlackBerry's.
Typo has been fighting the preliminary injunction which was granted in March of this year. This past Thursday, however, a judge denied the motion to lift the injunction. Now, not only is BlackBerry going to continue with its suit alleging patent infringement, it could go after Typo for violating the initial injunction for selling to "foreign retailers after the injunction went into effect," according to The Wall Street Journal.
In other words, Typo kept selling the product, when it shouldn't have been.
Law360 said;
BlackBerry Ltd. urged a California federal judge on Wednesday to sanction Typo Products LLC for violating a court order barring the company from selling a wraparound iPhone keyboard accused of infringing BlackBerry's patented keyboard, calling Typo's recent distribution of 11,000 keyboards "brazen and blatant."

BlackBerry's attorneys told U.S. District Court Judge William H. Orrick that Typo has offered and sold its copycat keyboard both in the United States and overseas, and has replaced a number of warrantied units sold prior to the injunction. That activity undermines BlackBerry's business, the company argued in its motion for an order to show why Typo's actions shouldn't be held in contempt of the injunction.
Just for perspective, this is what the Typo keyboard looks like next to the BlackBerry's Q10: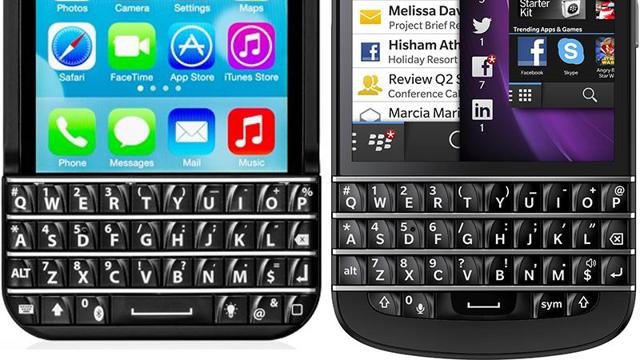 The Peel's Feel:
Typo's argument in defense of the initial injunction was that it was selling outside of the U.S., and so therefore, it was not in violation. Judge Orrick, presiding over the case, seemed less amused, noting that the initial injunction was a "whole lot broader" than Typo thinks.
With banter going back and forth about companies like Vringo (VRNG) and ParkerVision (NASDAQ:PRKR) trying to derive their revenues from claiming other, bigger companies are infringing on their patents, some BlackBerry bulls are a bit wide-eyed about this case.
You have to hand it to John Chen & Co., not suing for the money, but suing because the keyboard is "the identity" of the BlackBerry smartphone. You ever hear that phrase, "you have to own it?" BlackBerry is suing because it's "owning it."
One of the bull cases for BlackBerry, aside from its mountain of cash, has been the value of its patent portfolio. While the company is not likely to make an empire simply over the keyboard patent, this case goes to show an important lesson to other phone makers, "We may only have a small percent of the market share, but we'll vigorously defend what's ours."
While we like BlackBerry as an investment until the company makes it to cash flow-positive, we don't believe this case will have a monetary outcome that's material to stockholders. On the other hand, a victory could be a morale boost from the select few who continue to defend the brand and the job that John Chen has been doing since the beginning of his term as CEO.
The Facts of the Case (via Law360):
The patent-in-suits are U.S. Patent Numbers 7,629,964; 8,162,552; and D685,775.
BlackBerry is represented by Kevin Johnson and James Asperger of Quinn Emanuel Urquhart & Sullivan LLP.
Typo is represented by Olivier Alain Taillieu and Raffi Vaheh Zerounian of The Taillieu Law Firm LLP.
The case is BlackBerry Ltd. vs. Typo Products LLC, case number 3:14-cv-00023, in the U.S. District Court for the Northern District of California.
Disclosure: The author has no positions in any stocks mentioned, and no plans to initiate any positions within the next 72 hours.
The author wrote this article themselves, and it expresses their own opinions. The author is not receiving compensation for it (other than from Seeking Alpha). The author has no business relationship with any company whose stock is mentioned in this article.