When looking to invest in a particular company, I tend to favor industries that exhibit rather inelastic demand. The consistent need for the company's end product makes modeling of their future revenue and earnings rather predictable. On occasion, I will venture into companies that may not exhibit predictable earnings yet are the dominant company in their respective field due to their low-cost nature. I believe I have located such company in the Admiral Group Plc (OTCPK:AMIGY), a UK-based provider of auto insurance. In the article below, I will detail my bullish thesis on AMIGY.
AMIGY's largest market is the UK auto market, where they are the undisputed lowest-cost provider. Being the lowest-cost provider is of particular importance in a commodity type industry such as the insurance field. As we can see from the table below, AMIGY's expense ratio is far superior to the average participant in the market. By being the lowest-cost provider, AMIGY has a structural advantage that allows them to remain profitable while the inevitable price war breaks out.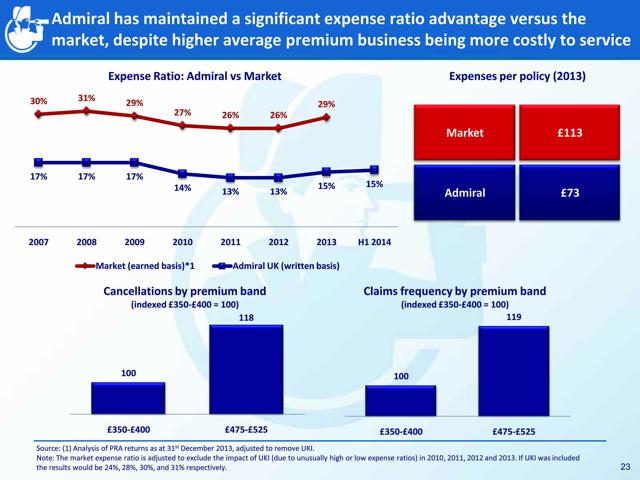 All slides taken from AMIGY investor presentation, unless otherwise noted.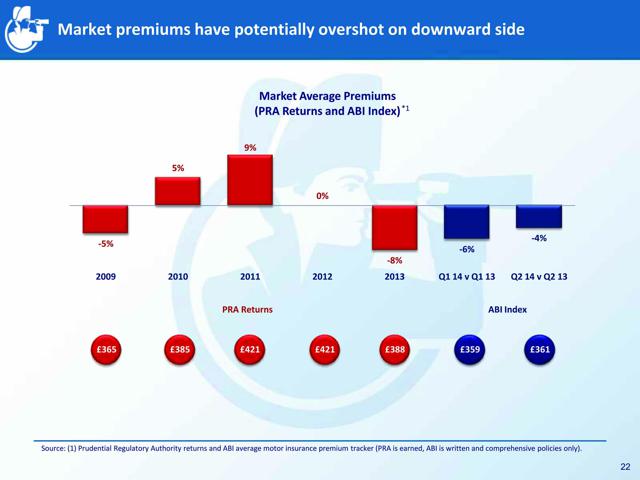 AMIGY continues to generate a healthy profit while the competition attempts to undercut each other in order to gain additional revenue. AMIGY has resisted the urge to misprice policies for the sake of growth as the insurance industry remains a long-tail business. By consciously underpricing risk, you are opening yourself up to years of losses. The graph above indicates that the pricing environment has arrested its decline and has begun its inevitable rise upwards.
I use the term inevitable due to the escalating expense of claims arising from accidents. AMIGY posted an illustration of a claim, which clearly demonstrates that the costs of an auto accident far outpace the rate of inflation. To keep one step ahead of the rise in costs, insurers will invariably pass the costs along to policy holders. Notice how the same claim has grown at a CAGR of 21.9% since 2007.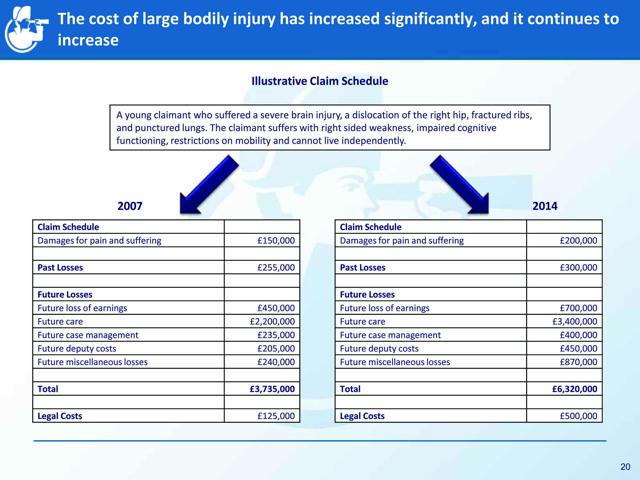 AMIGY is not content to simply dominate the UK market; it has decided to branch out into other markets such as the Spanish, French, Italian and US auto insurance markets as well. Results here are progressing, however, none of these four divisions is showing a combined ratio under 100. AMIGY expects that each market will take approximately ten years to build a stable book of business, which will allow a combined ratio of fewer than 100. The following chart taken from the earnings presentation neatly sums up the international division's performance.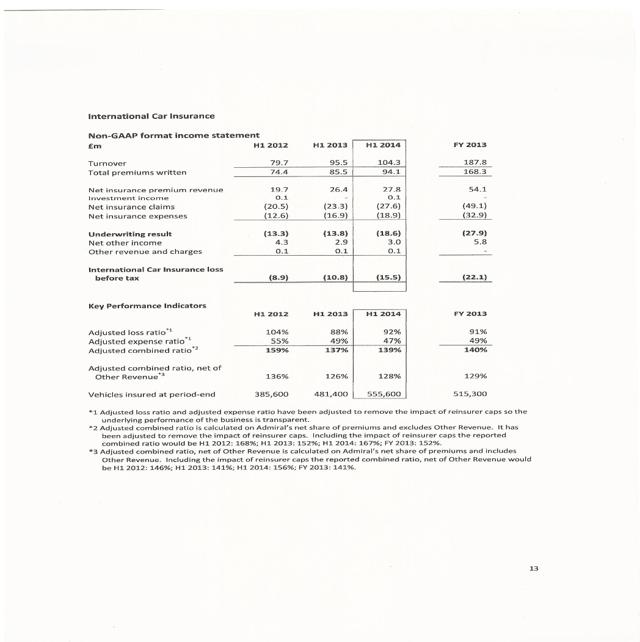 I would like to highlight the US market where AMIGY competes under the Elephant brand. Elephant insurance is sold in four states and has begun to accumulate a significant number of policies in force. As we can see from the pictures below, AMIGY has managed to grow policies in force while reducing its combined ratio. I expect the company to continue to drive the combined ratio down even further as the years progress and they become a better entrenched player in the field.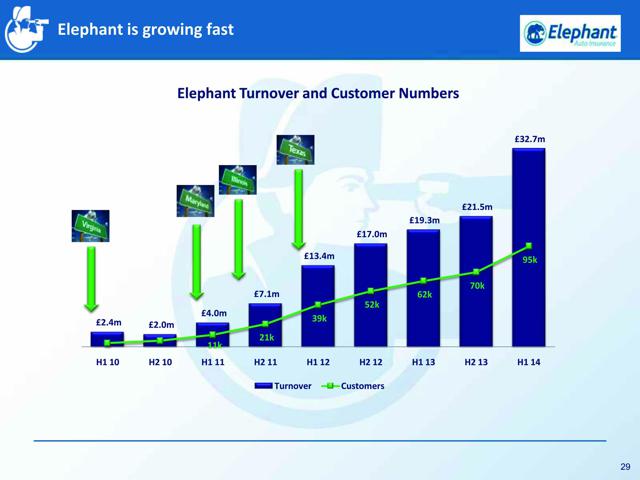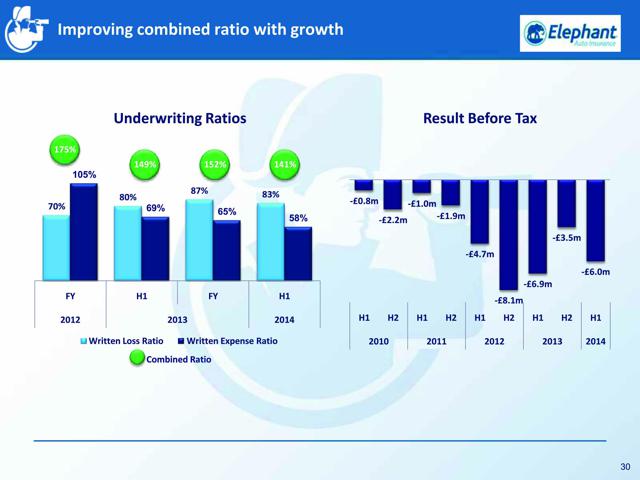 While growth is important, the key for AMIGY will be how they continue to differentiate themselves from the competition. AMIGY believes the US market is ripe for price competition and has launched a price comparison site dubbed comparenow.com. AMIGY is borrowing from the UK model, where greater than 60% of their policies in force came from a price comparison tool. The following graph neatly sums up how much business the price comparison sites are funneling to AMIGY. The Comparenow.com site has recently been updated to the catchoer title of Compare.com.
The US market is a highly saturated market with multiple large well-entrenched players. AMIGY will need to demonstrate its low-cost nature to generate significant business in the states. So far, the results augur well as their low-cost model seems to be catching on with customers. The following graphic sums up the average price a customer pays for a policy today.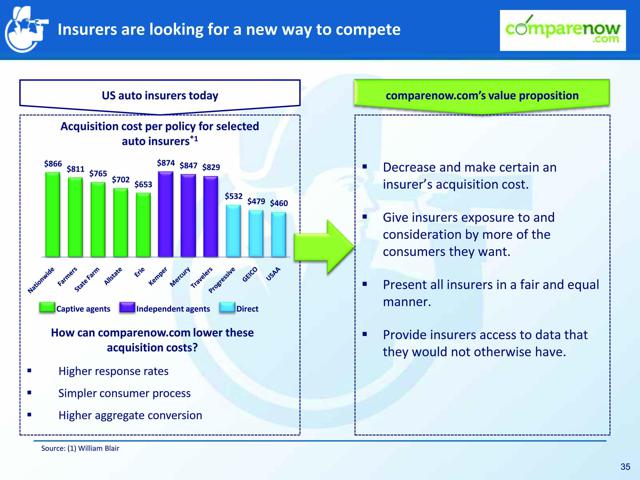 How will AMIGY reward shareholders going forward? The company returns almost all of its excess capital to shareholders in the form of dividends. The dividend is paid out twice a year instead of quarterly like most US companies. I constructed a table below to highlight the last four dividend payments. Management mentioned for the dividend to continue to grow over the next year, they would need to see current claims continue to develop as they expect. This will allow them to release some of their reserves, which will augment the dividend. AMIGY possesses a structural advantage as a low cost operator in the auto insurance field with significant growth potential ahead of it. It shouldn't be viewed as a stodgy dividend payer, hence any reduction in the dividend shouldn't be cause for alarm or panic. The real value here will be derived five years out as their market share continues to rise along with insurance premiums.
| | |
| --- | --- |
| 2nd half 2012 | $0.72 |
| 1st half 2013 | $0.69 |
| 2nd half 2013 | $0.78 |
| 1st half 2014 | $0.85 |
I would like to conclude with a discussion concerning the management team in charge of AMIGY. AMIGY was founded in 1993, with its current CEO Henry Engelhardt in charge since 1999. He has a young, yet well-seasoned team that runs the company with a conservative, excessive risk adverse nature. AMIGY employs reinsurance contracts to hedge the vast majority of its claims, which mitigates the end risk to the company. AMIGY return on equity is a stellar 54% which is a testament to the profitability of the company. AMIGY is a component of the FTSE 100 and should have many years of profitable future growth ahead of it. AMIGY doesn't offer a dividend reinvestment plan, which hasn't deterred me a bit. I simply reinvest the proceeds myself. I view AMIGY as a core long-term holding and recommend purchase in a tax sheltered vehicle such as a Roth IRA due to its generous dividend rate. For those who don't need the dividend for monthly expenses, consider reinvesting it on your own. Thanks for reading, and I look forward to your comments.
Disclosure: I am/we are long AMIGY.
I wrote this article myself, and it expresses my own opinions. I am not receiving compensation for it (other than from Seeking Alpha). I have no business relationship with any company whose stock is mentioned in this article.
Additional disclosure: Investors are always reminded that before making any investment, you should do your own proper due diligence on any name directly or indirectly mentioned in this article. Investors should also consider seeking advice from a broker or financial adviser before making any investment decisions. Any material in this article should be considered general information, and not relied on as a formal investment recommendation.
Editor's Note: This article discusses one or more securities that do not trade on a major U.S. exchange. Please be aware of the risks associated with these stocks.