A low-yield environment has caused investors to search for financial instruments that provide a higher yield than bank savings and Treasury bonds, forcing them to take on more risk. While low interest rates have hurt investors, they are enabling real estate to reestablish a firm footing after the 2008 financial crisis. The strong growth in the U.S. economy along with a favorable supply-demand balance is driving an increased appetite for commercial real estate. The recovery is being led by a demand in multi-family housing and self-storage units, as well as a slight uptick in regional malls. The combination of low interest rates and economic growth has resulted in commercial real estate outperforming the broader U.S. stock market.
According to the National Association of Real Estate Investment Trusts, exchange-listed U.S. equity REITs were up 16.26 percent while generating a dividend yield of 3.52 during the first half of 2014. Compare these numbers to the 7.14 percent return and 2 percent dividend yield of the S&P 500 Index over the same period. Due to the current market conditions, Vanguard REIT (NYSEARCA:VNQ) and similar REIT ETFs are showing strong momentum that is taking these financial instruments to new 52-week highs. The largest fund of its kind and performing as a one-stop investment vehicle, VNQ provides exposure to U.S. real estate and has sufficient liquidity to serve as a trading instrument.
One of the few drawbacks to REIT ETFs is the risk of higher interest rates. As with any investment, REIT buyers must continually determine whether a REIT makes sense as part of their overall portfolios. When REITs yield less than the rate on a 10-year Treasury bond, they typically experience a decline in price. Yields on the 10-year aren't at risk of climbing above REIT yields at the moment, but if rates experienced a rise similar to the one in 2013, it could quickly become an issue.
The Federal Reserve is currently considering raising rates after ending its quantitative easing (QE) program. Behind the scenes, members of the Federal Open Market Committee are in disagreement as to when rate hikes will actually take place. The current anticipated target date for the first rate hike appears to be sometime in the second half of 2015, while recently released Fed minutes from the July meeting show that some members are pushing for rate cuts to come sooner rather than later. Specifically, "In their view, the guidance suggested a later initial increase in the target federal funds rate as well as lower future levels of the funds rate than they judged likely to be appropriate." Even though some members want rate hikes sooner and for guidance on rates to be higher, it will ultimately depend on economic conditions.
In light of a potential increase in interest rates, the REIT sector does not look attractive at first glance. Consider this chart of VNQ, along with the 10-year Treasury rate.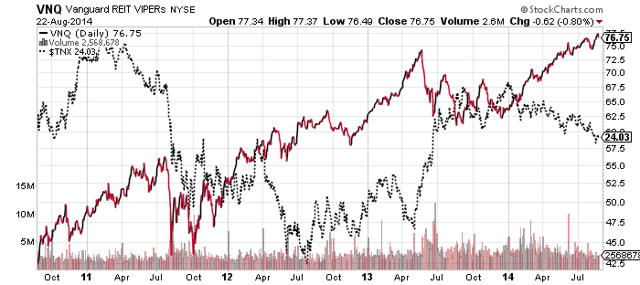 The chart clearly shows that VNQ made an intermediate term high in May 2013, just as investors were realizing that interest rates were headed higher. VNQ suffered a sizable decline, losing 16 percent from peak to trough as 10-year Treasury rates increased from 1.6 percent to 2.9 percent. When the rate on the 10-year finally topped at 3 percent in late 2013, VNQ and other REITs began a nearly uninterrupted rally in 2014.
However, the correlation between VNQ and the 10-year Treasury yield is not high for most of its history (going back to 2005), with a correlation coefficient of -0.33. A correlation coefficient of 1 would mean VNQ and the 10-year yield move in lockstep, while -1 would mean they are perfect opposites. A coefficient of 0 means there is no correlation between the assets. At -0.33, VNQ is negatively correlated with moves in the interest rate on the 10-year Treasury-when interest rates move up, VNQ has moved lower about one-third of the time.
We can break the correlation down into smaller time periods. From May 1, 2013 through August 21, 2014, the correlation coefficient was -0.47, much higher than the historical average. Taking an even smaller slice of time, the period of rapidly rising rates from May 1 , 2013 through December 31, 2013, shows the correlation coefficient reached -0.84. These numbers are reflected in the chart above, which clearly shows VNQ highly correlated with interest rates in 2013. Below is a longer look at the fund and interest rates: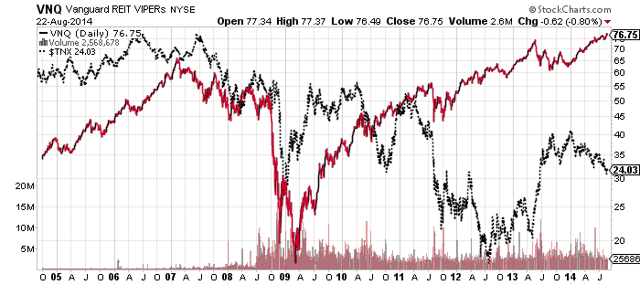 The takeaway is that VNQ and other broad REITs are not highly correlated with interest rates all the time. This makes sense given that rising interest rates often accompany economic expansions, a period that is typically good for real estate values. Last week's strong flash PMI number, the highest since April 2010, is a leading indicator of future growth, and one reason why rates are likely to rise in 2015.
It also makes sense that REITs are negatively correlated with interest rates, since higher debt costs constrain real estate investors, in addition to higher interest rates making bonds more attractive to investors. What the history shows though, is that the time to be worried about rising interest rates is not when there is a long and slow rise in rates along with an economic expansion, but rather when rates suddenly rise rapidly in a short period of time.
Here is a report from Altegris showing that REITs had positive returns in 5 of 7 rising rate environments. In some cases, REITs perform well during rising rate environments thanks to high rates of inflation. The current environment is one of low inflation and if inflation remains low, a rapid increase in interest rates would be bad news for REITs, but history shows that investors should not assume rising rates will hurt REITs.
Aside from a negative correlation to interest rates, REITs have a high positive correlation to equities and junk bonds. The correlation coefficient between VNQ and iShares iBoxx $ High Yield Corporate Bond (NYSEARCA:HYG), as well as the correlation between VNQ and SPDR S&P 500 Index (NYSEARCA:SPY), exceeds .90, signaling that REITs will trend with the broader financial markets.
Conclusion
As long as the bull market in stocks is alive and interest rates do not spike higher as we saw in 2013, VNQ and other broad REITs remain attractive. We expect interest rates will move higher in 2015, though not fast enough to cause another sell-off in REITs. If rates fall instead, real estate stands to benefit. The most recent comments from Janet Yellen at Jackson Hole increased uncertainty about rate hikes with its focus on the slack labor market. If the Fed maintains low interest rates longer than expected, REITs will benefit.
Disclosure: The author has no positions in any stocks mentioned, and no plans to initiate any positions within the next 72 hours.
The author wrote this article themselves, and it expresses their own opinions. The author is not receiving compensation for it (other than from Seeking Alpha). The author has no business relationship with any company whose stock is mentioned in this article.