Shares in Consolidated Edison (NYSE:ED) are currently trading at $57.18, slightly below the 52-week average of $59.24. At these levels, the dividend yield stands at 4.41%, as the company pays its investors $0.63 per share each quarter. The company has been paying dividends for 40 years, which is very impressive.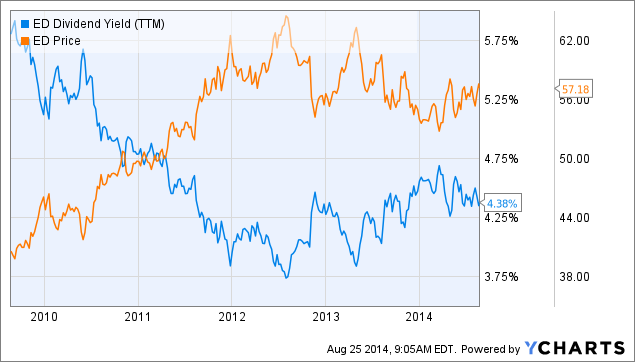 ED Dividend Yield ((TTM)) data by YCharts
In recent years, the company's dividend yield has declined. This is due to the fact prices per share have gone up at a higher rate than the dividend. The 5-year dividend growth rate stands at only 1.0%, which isn't very good news for investors who are dependent on dividend income. A growth rate of only 1% means purchasing power will actually decline whenever inflation is above 1%.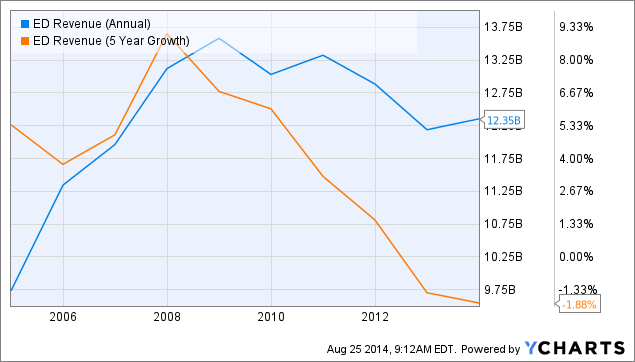 ED Revenue (Annual) data by YCharts
ED's revenue has been declining in recent years after hitting an all-time high in 2009. The 5-year average revenue growth rate stands at a negative 1.9%. For the current fiscal year, analysts expect the company to have revenues of $12.74 billion, which would be an increase of 3.1% to last year's $12.35 billion. This puts the forward price to sales ratio at 1.3, which is slightly below the industry average of 1.4, but above ED's 5-year average p/s ratio of 1.2.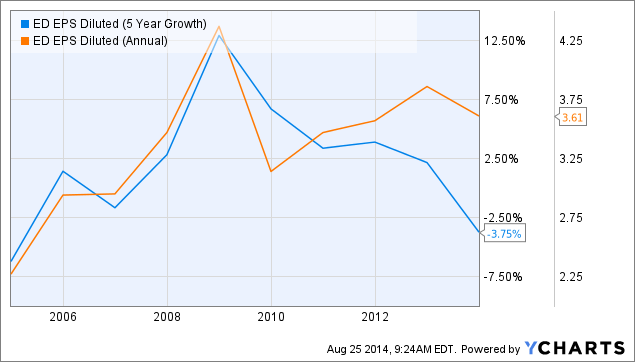 ED EPS Diluted (5 Year Growth) data by YCharts
The company has had disappointing EPS in recent years, with a 5-year EPS growth rate of -3.75%. The 3-year growth rate stands at 1.33%, while analysts are expecting average EPS growth of 2.72% for the next 5 years. For the current fiscal year, average analyst EPS expectations stand at $3.79, which puts the forward price to earnings ratio at a very low 15.1, well below many of its competitors. Furthermore, even though EPS growth expectations are quite low, the company has beaten analyst expectations in each of the past 4 quarters, as can be seen in the next table.

(Source: Yahoo Finance)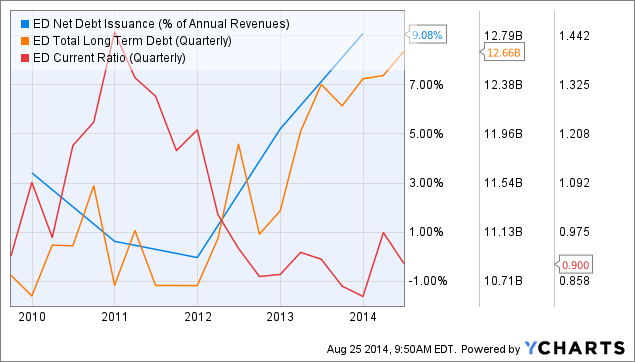 ED Net Debt Issuance (% of Annual Revenues) data by YCharts
Looking at the balance sheet for Consolidated Edison, we can see the current ratio has been dropping in recent years. A current ratio of less than 1.0 means current liabilities are larger than current assets, implying poor short-term financial health. Furthermore, the long-term debt has been growing at a very high pace.
Conclusion:
Consolidated Edison's growth in revenue and earnings has been disappointing in recent years. Rising share prices have pushed the yield down, although 4.4% is still very reasonable. Considering the low expected earnings growth, I wouldn't expect the dividend to increase by more than 2% or 3% annually, which means this is not a stock for investors looking to grow their income at a high pace. I would advise anyone holding shares in Con Ed to keep a close watch on the balance sheet, as the company has been increasing its debt at a high pace in recent years.
All things considered, I think ED is a decent stock if you're looking to generate some income from your stock portfolio without expecting too much dividend growth. Looking at the forward p/e ratio, the stock is relatively cheap compared to its competitors. However, the low dividend growth rate means I will be looking to invest my money elsewhere.
Disclaimer: I am not a registered investment advisor and do not provide specific investment advice. The information contained herein is for informational purposes only. Nothing in this article should be taken as a solicitation to purchase or sell securities. Before buying or selling any stock you should do your own research and reach your own conclusion. It is up to investors to make the correct decision after necessary research. Investing includes risks, including loss of principal.
Disclosure: The author has no positions in any stocks mentioned, and no plans to initiate any positions within the next 72 hours.
The author wrote this article themselves, and it expresses their own opinions. The author is not receiving compensation for it (other than from Seeking Alpha). The author has no business relationship with any company whose stock is mentioned in this article.