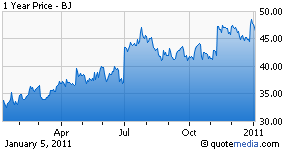 By Brian Sozzi
BJ's Wholesale Club (NYSE:BJ-OLD) is out with a flurry of news this morning. In the aggregate, the personnel shakeup in the executive ranks and the announcement of five club closures while overdue actions, is unlikely to maintain BJ's as a public entity if it were so inclined.
I think the timing and type of announcements are strategic in nature, coming ahead of an alleged auction of the company later this month. Management is trying to portray itself as having the ability to make the difficult decisions required to drive stronger earnings growth perhaps to stay aboard under a new regime, while also displaying hidden value to would be bidders. The closure of five clubs and the reorganization of headquarters staff have the potential to lift EPS by $0.05 to $0.10 in FY11 according to our model, but I fancy the actual accretion will be less as savings are reinvested in new clubs, remodels, and IT.
Executive Shift: Thumbs Up
BJ's announced that Robert Eddy, its VP and Director of Finance, has been named EVP and CFO. Cornel Catuna, BJ's SVP of Field Operations, has been named EVP of Club Operations. The appointments bring fresh perspectives to jobs held by long-time BJ's veterans, Frank Forward (with BJ's since 1984) and Tom Gallagher (with BJ's since 1991); both men are retiring. Mr. Eddy has the qualifications to assume the CFO reigns, having served as BJ's Director of Finance and in an audit/business advisory capacity at Pricewaterhousecoopers. Mr. Catuna seems to be an operations guy, which I think is important at a time that a tight ship needs to be run to mitigate inflation in many aspects of the club.
December Sales: Mixed
BJ's reported December headline comps of +3.8%, or +1.4% excluding gasoline price inflation. Although the print was below consensus and the November result of +5%, the month may be viewed positively as BJ's was up against comp acceleration last year m/m and the NE snowstorm hurt sales in week five. I was disappointed nonetheless by transaction value coming in flat given inflation in dairy and meat, and think a more aggressive posture was taken on holiday pricing. I have reduced my 4Q10 EPS estimate to $0.94 from $0.96, in line with the top end of management's $0.90-$0.94 guidance.
Store Closures and HQ Reorganization: Thumbs Up
Store Closures (five in total; three in Atlanta, one in Florida, one in North Carolina)
Pre-tax impact: $44 million to $46 million charge; cash expenditure of $41 million to $43 million
After-tax impact: $26 million to $28 million charge, or $0.49 to $0.51 per share (4Q10 hit)
Restructuring of HQ
Pre-tax impact: $26 million to $28 million charge; cash expenditure of $7 to $9 million
After-tax impact: $15 million to $17 million charge, or $0.29 to $0.31 per share
I have raised our FY11 EPS estimate to $3.00 from $2.95 as a result of these maneuvers.
Disclosure: No position