By Todd Shriber & Tom Lydon
For better and worse, exchange traded funds holding high-yield corporate debt have been in the spotlight quite a bit in recent weeks.
Over the four weeks ending Aug. 6, investors pulled $13 billion from junk bond funds and ETFs, stoking talk of frothy high-yield valuations a tenuous junk bond bubble destined to burst with dangerous consequences.
As highlighted by inflows of over $1.5 billion to the iShares iBoxx $ High Yield Corporate Bond ETF (NYSEArca: HYG) and the SPDR Barclays High Yield Bond ETF (NYSEArca: JNK) since Aug. 7, some investors are clearly returning to junk bond ETFs, indicating that a high-yield bubble may not be as imminent as previously thought.
"Obviously, an acute risk-off scenario would likely hit high yield harder than investment grade or mortgage backed securities," said Market Vectors Portfolio Manager Fran Rodilosso in a statement. "But we see a number of factors that tell us we're not currently in a bubble for high yield. For example, the effects of the recent high yield sell-off have been almost completely retraced and the fundamentals, like issuance, corporate leverage levels, and default rates, remain relatively strong."
There are some ETFs that offer unique avenues to high-yield exposure that could prove resilient in the current environment, including the Market Vectors Fallen Angel High Yield Bond ETF (NYSEArca: ANGL). Due to the once upon a time investment-grade status of its holdings, ANGL's profile is tidier than other high-yield bond ETFs with nearly three-quarters of the fund's weight rated BB.
"Fallen angels tend to have higher credit quality on average than the broader high yield universe," Rodilosso says, "and ANGL's value proposition has played out across multiple time horizons, outperforming other ETFs covering the high yield space."
ANGL has an effective duration of 5.5 years, a yield to worst of 4.64% and a 30-day SEC yield of 4.4%, according to Market Vectors data.
Another option to consider is the Market Vectors Treasury-Hedged High Yield Bond ETF (NYSEArca: THHY), which employs a type of long/short strategy where it will go long junk bonds and short 5-year Treasury bonds to hedge against adverse movements in interest rates.
Due to that Treasury-hedging methodology, it has a scant effective duration of 0.21 years. The ETF has a yield to worst of 4.39% and a 30-day SEC yield of 4.25%.
Rodilosso pointed to THHY as a vehicle for investors concerned about rising interest rates but who are less concerned about the credit cycle.
Market Vectors Treasury-Hedged High Yield Bond ETF Credit Quality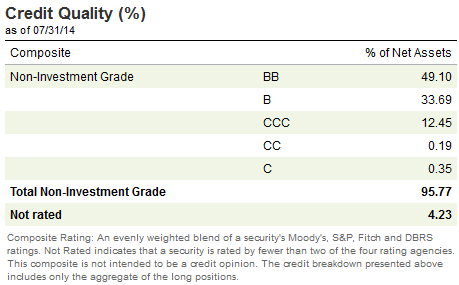 Table Courtesy: Market Vectors
Tom Lydon's clients own shares of HYG and JNK.
Disclosure: The author is long HYG, JNK.
The author wrote this article themselves, and it expresses their own opinions. The author is not receiving compensation for it. The author has no business relationship with any company whose stock is mentioned in this article.