The office supply industry is undergoing many changes, due to online selling and less reliance on paper and print as the 21st Century continues its digital evolution. While people still use writing implements, like pens and markers, the overwhelming majority of people in modern society conduct the bulk of their productive office work time on computers.
Staples Inc. (NASDAQ:SPLS) and OfficeMax (NYSE:OMX), two of the largest retail store chains in the office supply industry are both feeling the pinch. Both retail chains have announced the closings of hundreds of stores across the US over the next several years in an effort to staunch the bleeding of declining earnings.
Staples' Decline
Staples stock has dropped precipitously from close to $16 per share in January, 2014 to a current level under $11.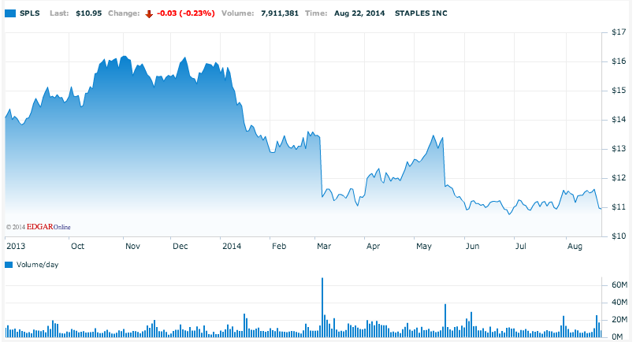 (Nasdaq.com)
Although Staples recently met analysts' expectations in their announced 2nd quarter earnings, the overall number is still indicating a continued decline and the downward skew does not look to change course this year. Its North American retail business fell by 6% and overall EPS in the 2nd quarter is roughly down 43% from 2013. The retail business comprises 43% of total sales, which starkly demonstrates how vulnerable Staples is to the fluctuating market away from traditional office tools and supplies. However, overall operating income from Staples' combined retail and online sales fell in the 1st quarter from $172 million in 2013 to $93 million in 2014, and its operating margins shrank to an anemic 3.5%.
From a "glass half full" point of view, earnings improved from Staples' 1st quarter, which was off 42% from 2013. The 2nd quarter fell from $169.9 million in 2013 to $96.21 million in 2014.
Attempts To Cut Costs
Staples' management has made certain cost cutting moves to stem the tide. They have increased inventory and sales of new category items and services like copying, printing, and breakroom supplies. Staples has dramatically pushed its online sales platform with aggressive coupon promotion and targeting of students in Back to School campaigns.
Staples has also managed to keep its debt-to-equity ratio to 0.19, which is laudable, given that succumbing to cheap interest rates now could burden the company even more ominously as the Fed rescinds QE and subsequent interest rate hikes hit later this year.
Struggles To Overcome Sales Slump
In spite of their stoic efforts, Staples' management is having difficulty bucking the overall slump in retail sales. Gross profit margins are under 27% and net profit margins at a measly 1.7% trail the industry average, which is troubling, given Staples' volume discount purchasing power from manufacturers. Increased competition from Wal-Mart (NYSE:WMT) and Amazon (NASDAQ:AMZN) surely are impacting Staples, who is a relatively "one trick pony" compared to the one stop shopping online experience that Wal-Mart and Amazon can offer.
With an additional 80 store closings in the 2nd quarter and more to follow, margins may rise from cost cutting, but Staples is very heavily reliant, more than ever, on its commercial customers and online business. Annual revenues from these segments are about $10 billion, slightly under 50% of Staples' total gross revenues.
OfficeMax - Even Worse Off
From a long-term perspective, OfficeMax, Staples' largest direct competitor, is in an even weaker position, as they are closing many more stores and do not have the online presence that Staples currently has established. Staples trades at about 11 times earnings and also pays a 4.2% dividend, which are comfortable numbers from an investment point of view.
For Staples Investors:
In the bigger picture, Staples may be able to grab market share away from OfficeMax or an even more debilitated Office Depot (NYSE:ODP) but the overall direction in the office supply market is still downward.
Staples may emerge victorious at the end and can possibly get its stock price north of 15, but this will be a protracted process and is likely to continue lower before reversing the trend.
We are increasingly negative on SPLS moving forward in 2014.
We invite readers wishing to join the discussion on Staples and the greater office supplies industry to click the +FOLLOW button above the title of this article.
Disclosure: The author has no positions in any stocks mentioned, and no plans to initiate any positions within the next 72 hours.
The author wrote this article themselves, and it expresses their own opinions. The author is not receiving compensation for it (other than from Seeking Alpha). The author has no business relationship with any company whose stock is mentioned in this article.