Three weeks ago, I recommended Himax Technologies (NASDAQ:HIMX) as a low-risk, high-reward value play going into its earnings announcement. Since then, the stock has rallied from as low as $5.70 to a close of $8.35 on Friday 8/22, an increase of more than 40%. Management provided solid earnings and encouraging guidance in the Q2 earnings release which discredited many concerns which had driven the stock down in the first place. New partners in HIMX LCOS business mitigates some risk associated with Google Glass and makes it seem unlikely Google (NASDAQ:GOOG) is switching suppliers. However, expectations in HIMX business have risen with its share price. If Google leaves HIMX outright or if wearable microdisplays are a failure as a whole, there is significant downside risk at the current valuation. Array cameras are another significant growth opportunity that could make up for a shortfall from Google Glass, but visibility remains cloudy. The higher HIMX share price climbs the more speculative an investment it becomes.
Driver IC Update
I have modified my assumptions since my first article in HIMX core driver IC business. In Q2, HIMX increased its market share in the driver IC market from 9.7% to 10.4%. Given this impressive performance, I now model constant market share instead of a modest decline in market share over the next four years. This is still quite conservative. HIMX could easily expand its overall market share as it continues to execute its business strategy of providing a complete solution to its customers.


I now model 2015 earnings of $0.58 per share, compared to my previous estimate of $0.54 and a consensus of $0.52.
LCOS and Array Cameras
My Google Glass estimates remain unchanged, but the probability of HIMX meeting this estimates are greater now that HIMX and Lenovo have partnered up. Many analysts and other sources quote even higher expectations for Google Glass sales. I remain conservative in my estimates through 2016 and do not expect huge earnings contributions until this point.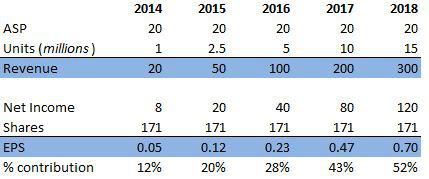 Yet another LCOS opportunity recently announced comes from a partnership with Lumus. The two companies are to team up to produce yet another virtual reality wearable glass product. The end market opportunity for this product and others like it remains uncertain, but the announcement provides insight into competitive landscape of available microdisplay solutions. Zvi Lapidot, CEO of Lumus, explains his company's partnership with HIMX:
Himax's superior LCOS technology, its availability for high volume production, and the Company's forward looking technological applications were critical in our selection of Himax as a strategic partner. Their microdisplay, specifically designed for smart glasses, combines smoothly with Lumus' transparent display, creating the ideal solution for true Augmented Reality and hands-free wearable computing… While our ultra-thin, see-through optics enable natural looking wearable displays, Himax's unique LCOS technology provides the high level of brightness necessary for see-through Augmented Reality. Ultimately, our cooperation enables us to bring widely appealing solutions to help seamlessly and intuitively blend wearable technology into our daily lives
HIMX microdisplay solution is superior to other options currently available. In particular, the front-lit LCOS is setting HIMX apart from its competitors and giving the company the edge it needs to increasingly gain LCOS design wins. With more companies choosing HIMX for their microdisplay needs, it seems increasingly unlikely that Google has other plans for its own microdisplay product.
It remains uncertain whether these products will be successful in the end market. If Google Glass and competing products are not a smashing commercial success, the earnings impact for HIMX will be mild. Investors should be careful to temper their expectations and not fall into the trap that many did when HIMX traded as high as $15.49 a share (30x current consensus 2015 estimates). With shares rising rapidly, Google Glass prospects cannot support ever higher valuations alone.
Excitement is also increasing around HIMX wafer level optics (WLO) product offerings, in particular array cameras. This is another new product unproven in the broader market. Array cameras have the potential to become a major competitor to traditional camera solutions. Jordan Wu, CEO of HIMX, in the Q2 conference call explains array camera prospects going forward:
This is new technology. So we have to prepared of surprises but we are in full speed, but I think to place that year after next year -- we are hoping that this will gradually become kind of -- I wouldn't call it mainstream but one of the major solutions to represent the traditional camera. I think we are very hopeful for that.
While HIMX has many exceptionally exciting growth opportunities on the horizon, the products associated with this growth are unproven and risk remains high. Volatility in both HIMX business and the share price are likely going forward.
Valuation
Based on the close Friday 8/22 at $8.42 per share
I have updated my DCF and expanded it to provide sensitivity to WACC and the terminal growth rate. My base case yields the following:



If my base case assumptions remain intact, I target a 2015 fair value of $10.45 per share, an upside of 24%. This implies an 18x PE multiple and a 15-20% premium to comparable companies, which I believe is reasonable due to HIMX superior growth outlook.
Assuming HIMX loses Google's business and is unable to make up for the shortfall in sales from Lenovo and WLO products, I apply a 14x 2015 earnings multiple to get a 1 year fair value target of $6.50. This represents a downside of 24%. When I initially recommended HIMX, the downside was negligible, but now the risk/reward has come into a more reasonable range.
Conclusion
Investors should be cautious initiating new positions in HIMX. The current valuation relies on HIMX LCOS and WLO products succeeding. The potential upside makes it tempting to invest in HIMX as a speculative investment even at these levels, but investors should be mindful of their risk tolerance. Do not fall into the trap investors did only a few short months ago. The underlying company has changed very little even as the share price fell 60% only to rebound 40% in recent weeks. I remain bullish on HIMX business but am nonetheless shifting to a more cautious stance. HIMX is once again a speculative investment, and new investors should be careful not to get caught up in yet another wave of hype.
Disclosure: The author is long HIMX.
The author wrote this article themselves, and it expresses their own opinions. The author is not receiving compensation for it (other than from Seeking Alpha). The author has no business relationship with any company whose stock is mentioned in this article.