Mexico has recently implemented sweeping changes in its energy sector that now allow private and foreign entities to participate in the Oil and Gas sector. Oil and gas interests were nationalized by the state in 1938 and the Constitution of 1917 was amended to forbid foreign ownership. The Constitution was recently amended to allow foreign and private entities an opportunity once again to do business in Mexico. Mexican regulators have set up rules to govern the transition from total state control of the extraction, refining, storage, and transportation of hydrocarbons to a state-regulated oil and gas sector. The State will retain ownership of oil and gas reserves, but may now enter into E&P (Exploration and Production) contracts with the private sector. The Mexican Ministry of Energy (SENER) and the National Hydrocarbon Commission (CNH) will conduct several rounds of competitive bidding for E&P areas, with the first bid round beginning in June 2015 to be completed by the end of 2015.
Prior to the competitive process, SENER awarded PEMEX (the State oil monopoly) 83% of Mexico's 2P reserves (proven and probable) and 21% of potential reserves in a "Round Zero". Under the new rules, PEMEX may assign rights to their allocation to private entities, subject to regulatory approval by CNH. Further bidding rounds will be defined and administered by SENER and CNH and are expected to include separate offerings for production enhancement in existing fields, shale development in the North, onshore and offshore fields, and deep offshore development projects.
In Petro-states, governments often use petroleum revenues generated by the state oil monopoly to subsidize food and fuel prices. As social programs inevitably grow, funds for necessary maintenance and reserve replacement in the oil sector are diverted to serve the general welfare. As deterioration of production infrastructure in Mexico reached significant proportions, oil and gas output began to decline. The government applied only limited resources to reverse the decline and could not attract foreign investment due to Constitutional prohibitions. This year's Constitutional reform came into being as a means to revitalize the oil and gas sector and restore petro-dollars to a struggling economy.
NATURAL GAS COMES OF AGE
Exports of crude oil have historically been the revenue source sought by PEMEX. The natural gas associated with oil production has been used primarily by PEMEX in its refining operations with the remainder transported by PEMEX for power generation or petrochemical production. Lacking a national natural gas grid, pipelines were constructed to serve generation and industrial facilities near the urban centers of Mexico City and Vera Cruz. As demand for natural gas as a commodity grew, PEMEX constructed a mainline to serve Monterrey and to tie into the U.S. national grid in contemplation of exporting natural gas to the U.S. Over time, generation facilities were constructed along the pipeline route to supply electricity to northern Mexican states and eventually demand for natural gas outstripped Mexico's ability to supply sufficient natural gas domestically.
DEMAND
Unlike the U.S., natural gas is not used for residential or commercial heating. PEMEX remains the single largest gas consumer, with power generation by the State electric utility, CFE, and private sector generators second. Manufacturing and industrial applications constituted the third demand category.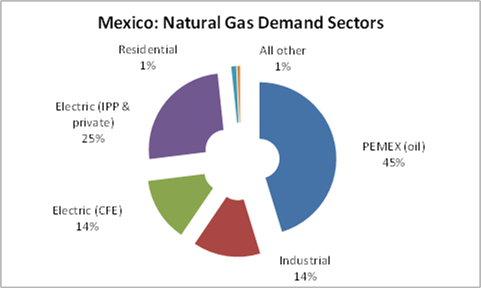 Source: UT Center for Energy Economics (UTCEE): Guide to Electric Power in Mexico www.beg.utexas.edu/energyecon/2013%20E.pdf
RISE OF THE MAQUILADORA
Set up along the U.S./Mexico border in Free Trade Zones (FTZ) to take advantage of cheap labor, assembly plants known as maquiladoras exchanged materials and finished goods with no import/export duties assessed. Growing demand for energy at these facilities created export opportunities for U.S. gas as more and more maquiladoras sprang up along the border. The North American Free Trade Agreement (NAFTA) implemented in 1994 allowed maquila plants to expand into the interior. Maquiladoras have been the second largest industry in Mexico since 1996, behind only the petroleum industry.
POWER GENERATION
The key element for Mexico's plan for long-term economic development is a reliable supply of cheap electricity. The Mexican government subsidizes electricity for residential and industrial customers. A partial de-regulation of the power sector in 1992 and again in 1999 accelerated the construction of new gas plants by IPP's (Independent Power Producers), which have contributed most of the growth in power since the turn of the century.
Mexico hopes to double its power generation capacity, now 54 Gigawatts, in the next decade. Much of the increase will be natural gas fired, and the majority of that will be built and operated by IPP's. CFE has five new combined cycle gas plants in construction and two more plants nearing construction. These facilities will come on line between 2015 and 2017.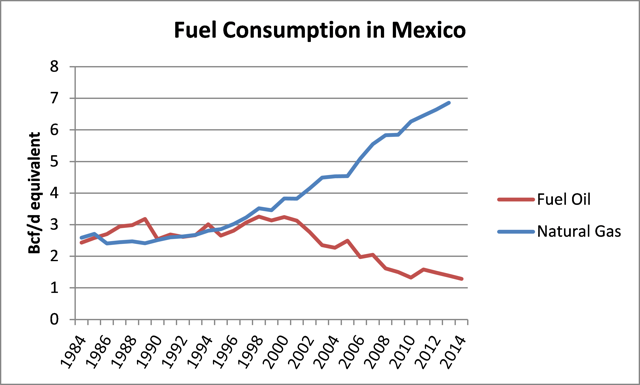 Figure: Mexico has made progress in converting power generation from fuel oil to natural gas.
Source: US Energy Information Adminstration www.eia.gov/
CFE's program to convert its fuel-oil generation fleet is well underway. Mexico's source of fuel oil is the high sulfur residual oil byproduct of its domestic refineries. The use of the once plentiful high-sulfur fuel oil is also a source of the choking air pollution in Mexico City. Mexico's consumption of fuel oil for power generation has been cut by about half since 2000 and is expected to be essentially eliminated in the next decade.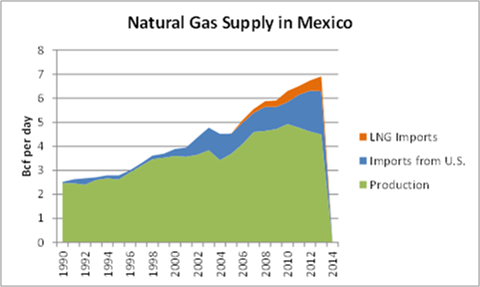 Figure: Imports provide the stopgap between declining Mexican production and growing demand.
Source: US Energy Information Adminstration www.eia.gov/
IMPORTS
Imports of natural gas from South and West Texas into northern Mexico have constituted the bulk of the rise in volume of Mexico's imports. LNG import terminals, constructed at Altamira, Ensenada, and Manzanillo, fuel nearby generation facilities. The North Baja Pipeline, built to export re-gasified LNG to the U.S., now provides power plants in Baja California an import alternative to the more costly LNG.
NEW SUPPLY
The development of the Eagle Ford shale in south Texas put abundant supplies of natural gas right on Mexico's doorstep. PEMEX has secured long-term firm transportation commitments on the NET Mexico pipeline now under construction. PEMEX also has secured new capacity on existing cross-border pipes in south Texas and has begun construction of a series of interconnected pipelines that will penetrate western Mexico.
NET MEXICO and LOS RAMONES
NET Mexico Pipeline is the U.S. segment of a pipeline running from the Agua Dulce Hub near Corpus Christi to Rio Grande City at the U.S. /Mexico border. Scheduled for completion in December 2014, NET Mexico will initially deliver 1.0 bcf per day into the new Los Ramones Pipeline to Monterrey. In 2016, capacity will be expanded to 2.1 bcf/d. Los Ramones Phase II will reach 700 miles into Mexico's Aguascalientes State with 1.42 bcf per day capacity. NET has committed all pipeline capacity to a long-term firm transportation agreement with MGI Supply, Inc., the U.S. subsidiary of PEMEX.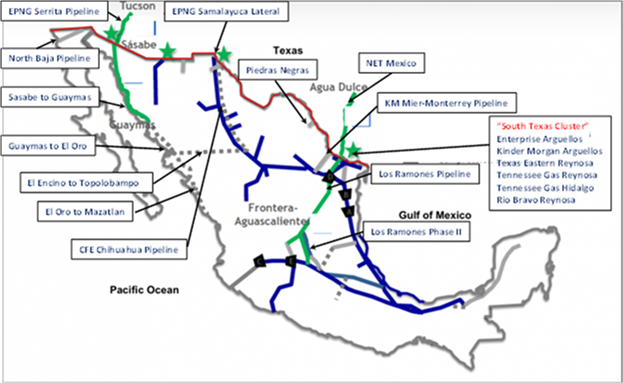 Figure: Existing and Planned U.S. Export Pipelines overlaid on PEMEX natural gas mainline transportation system map.
Source: PEMEX www.pemex.com/Paginas/default.aspx & Mobius Risk Group www.mobiusriskgroup.com
WESTERN EXPANSION
Construction has begun on the Sasabe to Guaymas pipeline (capacity 0.77 bcf per day), with completion expected by the end of 2014. This segment and the Guaymas to El Oro pipeline (capacity 0.51 bcf per day) are contracted to Sempra Energy for construction and operation. The Mexican subsidiary of TransCanada, TGN, is similarly contracted for the El Encino to Topolobampo pipeline (capacity 0.67 bcf per day) and the El Oro to Mazatlan pipeline (capacity 0.202 bcf per day). With the exception of the Sasabe to Guaymas pipeline, the pipeline segments are expected to be operational by 3Q2016. The Chihuahua pipeline that will parallel an existing PEMEX pipeline from Juarez (across the border from El Paso, TX) to Chihuahua City has not yet been tendered.
BEST LAID PLANS
Mexico has embarked upon an ambitious energy expansion program. Its success will raise the standard of living for the Mexican people and will provide a market for the abundant shale gas production from U.S. shale plays.
The information in this report is purely the opinion of the author, as of the date of this report, and does not represent a recommendation to buy or sell by the author or by Mobius Risk Group, LLC. Information and data have been obtained from sources considered reliable; however, Mobius Risk Group LLC does not guarantee that the information is accurate or complete.
Disclosure: The author has no positions in any stocks mentioned, and no plans to initiate any positions within the next 72 hours.
The author wrote this article themselves, and it expresses their own opinions. The author is not receiving compensation for it. The author has no business relationship with any company whose stock is mentioned in this article.