Housing stock traders just got a gift, and as any good mannered investor knows, it's rude to reject a gift. Data reported this morning on the market for newly constructed homes offered a result that was interpreted by the market as contradictory to the positive message received last week. This is a gift for housing stock interests, at least for a near-term opportunity I see availing itself over the next month to three months. I see opportunity to buy well-capitalized and land stocked builders here, or for an easier to effect investment, just buy the SPDR Homebuilders ETF (NYSE: XHB). We can give thanks to Janet Yellen's reprieve issued last week for the catalyst, and capital seeking opportune advantage as the driver.
New Home Sales reported this morning for the month of July came in short of expectations. The annual pace of sales was reported to be running at 412K, which missed economists' expectations for 430K. As you can see here, there was an immediate and sharp reaction in the SPDR Homebuilders that lasted right on through the day. But fret not for your stud locator, because we're working with galvanized nails for now, thanks to Ms. Yellen.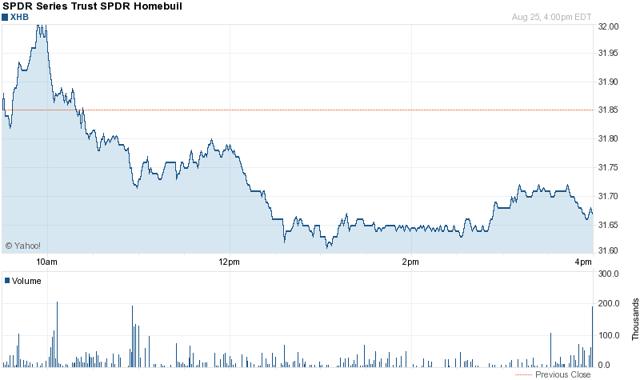 While it's true that the pace of sales declined month-to-month in July, it was after an upward revision to the June pace, to 422K, from 406K initially reported. Considering that 16K upward adjustment to the prior month comparable, the 10K decline month-to-month does not look as bad. In fact, it illustrates a sort of settling here, or what I believe is the building of real traction in new housing post the initial recovery that followed the housing crash.
There's a second sign that points to this traction possibility, and that is the building of inventory for sale to 6 months supply, up from 5.6 in June. It reflects homebuilder confidence in the market and demand for new homes; since I authored my piece questioning the right of homebuilders to be confident now, Janet Yellen has put her foot on the interest rate brakes so to speak. It's also important that sales in July 2014 were 12.3% above the 367K pace of July 2013; that is improvement no matter how you look at it. So, looking at the data in detail offers a different tone for the new home market than is visible via inspection of just the top line comparison.
Janet Yellen's reassurance to investors last week that despite apparent economic improvement, the Fed still sees reason to be cautious about raising interest rates, offers these beaten down and economically sensitive stocks an all-clear to rise here over the near-term. And capital flowed into the roughed up homebuilder shares last week. However, today it retreated on the apparent bad data point.
| | | | |
| --- | --- | --- | --- |
| Homebuilders | 08-25-14 | YTD | TTM |
| SPDR Homebuilders | -0.5% | -4.9% | +8.9% |
| PulteGroup (NYSE: PHM) | -0.1% | -6.4% | +18.7% |
| D.R. Horton (NYSE: DHI) | -1.1% | -3.3% | +15.3% |
| K.B. Homes (NYSE: KBH) | -1.2% | -4.3% | +6.4% |
| Toll Brothers (NYSE: TOL) | -0.7% | -4.6% | +13.2% |
| Hovnanian (NYSE: HOV) | -1.2% | -36% | -19.2% |
| Beazer (NYSE: BZH) | -0.3% | -23% | +8.9% |
Take note of today's losses, as I see them as opportunity for the right investment. I believe traders can eliminate company-specific risks by looking to investment in the SPDR Homebuilders. The XHB was up 4.2% last week. It was because of the positive signs in the period's industry reports, but it was greatly supported and sustained by the caution expressed by Janet Yellen on Friday. I believe capital wants to flow into the group here, and it can, thanks to Yellen's position. The year-to-date decline in the XHB was warranted in my opinion, as capital flowed out of the rate sensitive group and into other sectors of the economy. But as the economy and the labor market reflect improving health, and given the latest revelation from the Fed Chairwoman, this group should garner profit seeking capital attention over the near-term. I believe a 1 to 3 month long trade in the XHB will prove wise from here. Tomorrow's home price data may offer even more opportunity, as the current consensus estimate for the S&P Case Shiller 20-city seasonally adjusted home price index is expected to show price decline. Some might say that is good for sales, but others will point to lack of demand as the driver. If we get that second gift, I would take it in the XHB for the short term.
Disclosure: The author has no positions in any stocks mentioned, and no plans to initiate any positions within the next 72 hours.
The author wrote this article themselves, and it expresses their own opinions. The author is not receiving compensation for it (other than from Seeking Alpha). The author has no business relationship with any company whose stock is mentioned in this article.