In Josh Peters book, The Ultimate Dividend Playbook, the editor of Morningstar DividendInvestor explains "sucker-yield stocks" as follows:
...a ridiculous yield combined with an inherently vulnerable business model that sends ominous signals of doom.
That explanation sounds rather bewitching but Peters reminds us that chasing yield is a dangerous proposition and one in which it's absolutely unsafe to gamble in securities where, in the words of Frank J. Williams, "people of the dupe type are hypnotized by the glare of gold." (from the book, If You Must Speculate, Learn the Rules).
As a true measure of protection, it's critical that investors don't look at the yield until analyzing the safety of the dividend, the ability for the dividend to grow, and the overall merit of the stock. As Peters explained, the dependability of dividends is a big reason that investors purchase REIT shares and the power of repeatability is measured best based on quality, not quantity.
This article is my first in a series called "Sucker Yield REITs" and I intend to provide a meaningful and quantitative analysis on REITs that could be deemed "sucker yield" plays. If you don't have time to read this entire article, simply scroll down to the bottom to determine whether or not this REIT gets a lollipop.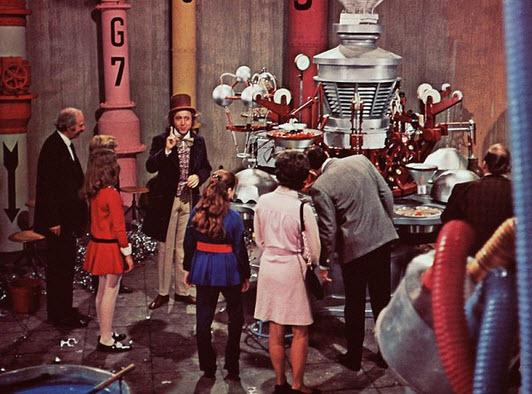 Is Whitestone REIT an Everlasting Gobstopper?
I'm sure that many of you read Charlie and the Chocolate Factory or saw the acclaimed 1971 film. In true Willy Wonka-land we know that the products came from a world of 'pure imagination' and even the Everlasting Gobstopper never runs out.
But what about Whitestone REIT (NYSEMKT:WSR)? This Houston-based REIT pays one of the highest dividend yields in the shopping center sector, over 7.5%.

Whitestone was founded in 1998 and began trading as a public company on August 25, 2010. The portfolio today consists of 61 Community Centers including retail and office/flex properties with 5 million square feet of gross leaseable area (or GLA). According to SNL Financial data, Whitestone has 28% exposure in Industrial assets (11 properties), 15% exposure in Office assets (7 properties), and 57% concentration in Retail (35 properties).
Whitestone has a targeted geographic model that is focused on high growth markets such as Dallas, Houston, Phoenix, San Antonio, and Chicago. The majority (37 properties) are located in Texas and Phoenix (22 properties).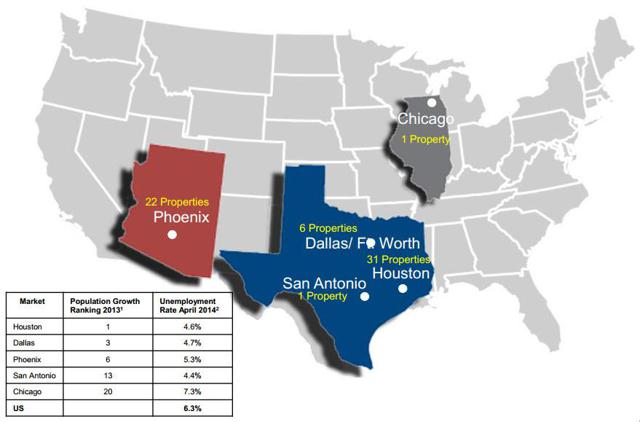 Whitestone's differentiated investment approach is to increase its market share by being a consolidator (in a highly fragmented industry) of financially distressed properties and to broaden its competitive strengths of turning around troubled shopping centers. Although buying value-add shopping centers is somewhat of a niche investment strategy; the model is scalable and produces exceptionally high returns. Whitestone has been focused on the Phoenix portfolio that includes 16 existing properties and 4 development parcels.
Whitestone drives internal growth by increasing occupancy - 1% increase in occupancy translates to around $700,000 in additional rental income or $.03 per share.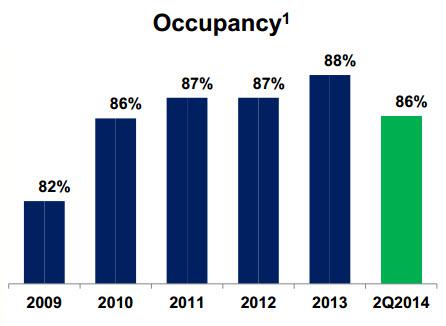 Whitestone: A Unique Growth Engine
Unlike most of the other Shopping Center REITs, Whitestone focuses on a more "community-based" model that includes over 1,230 tenants with no tenant accounting for more than 1.2% of Average Base Rent (or ABR). The company's diverse tenant base is concentrated on a variety of categories such as medical, educational, and casual dining. The Whitestone tenants tend to occupy smaller spaces (less than 3,000 square feet) whereby the small tenants pay a 53% premium over the large tenants.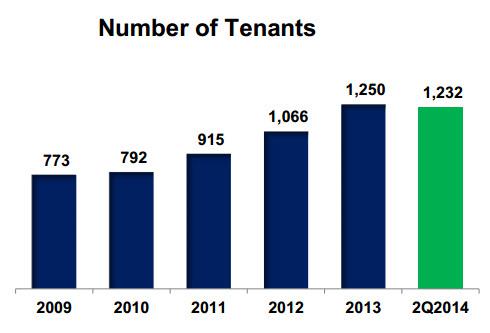 One of the biggest concerns that I have with this operating model is the impact to the tenants when interest rates begin to increase. Most of Whitestone's tenants are considered "mom and pop" operators and although they may have multiple stores, most rely on bank financing for growth. As a result, many of these operators have floating credit facilities and balloon-based maturities. Any modest increase in interest rates will have a magnified impact to the underlying P&L model.
That's one of the reasons that Whitestone is able to drive its growth; however, keep in mind that the revenue is not investment grade generated and the increase in rent growth is the lowest grade on the credit curve.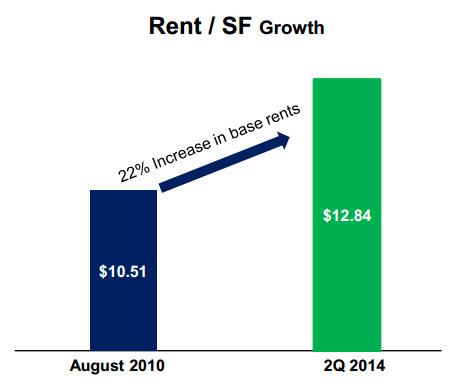 So what Whitestone makes up in quality income it compensates with quantity; by acquiring assets and leasing them to a large number of smaller tenants, this REIT has been able to move the needle. Here's a snapshot of the company's historic Rent per Square Foot growth: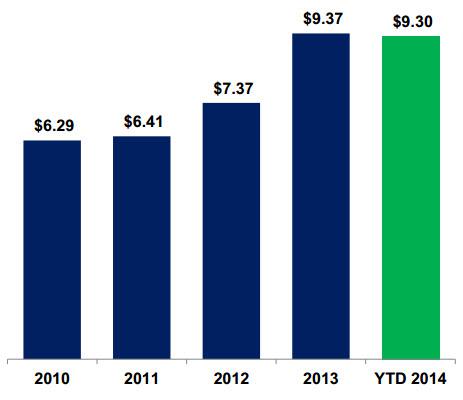 Margins are thin for many "mom and pop" companies and when rates begin to rise I fear that many operators won't be prepared for even gradual rate hikes. Here's a snapshot of Whitestone's top tenants and, as you can see, most of the tenants are small-time players: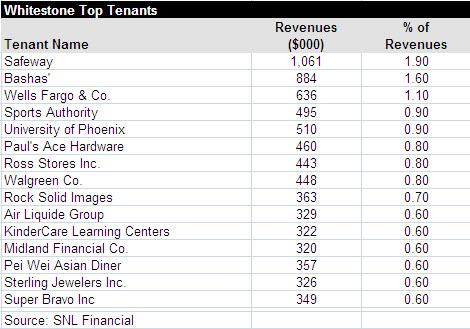 Over 70% of Whitestone's tenants are considered small service (under 3,000 square feet):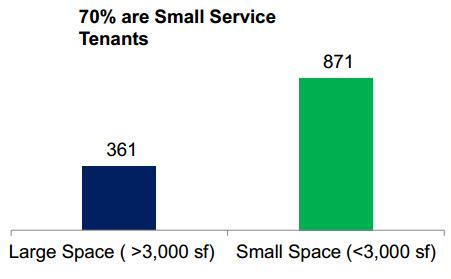 However, as Whitestone suggests (source: Investor Presentation), there's a 47% premium rent factor associated with the smaller tenant spaces: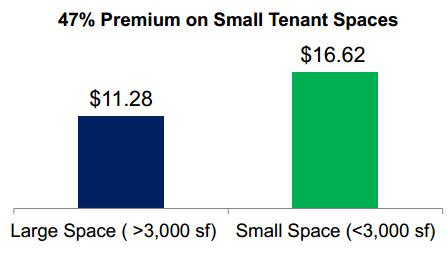 Again, that does not help me "sleep well at night" considering the fact that the majority of the "premium" income is being generated from tenants that could conceivably go away with a sudden snow storm. As a former multi-tenant franchisee, I was consistently interacting with other franchisees and I became increasingly insightful with the fact that many operators were struggling to keep up with paying utilities and rent. One meaningful snow storm (or significant weather event) could potentially threaten the viability of the business. Simply put, there's considerable risk in owning shopping centers with non-credit tenants.
Remember that most other REITs enjoy similar "value add" strategies; however, Whitestone is the only Shopping Center REIT that focuses exclusively on the non-investment grade model. For example, Retail Opportunity Investments Corporation (NASDAQ:ROIC) owns 59 shopping centers on the West Coast, however its strategy is to acquire distressed "anchored" properties with names like Safeway (largest tenant), Rite Aid, and Kroger. See my recent article on ROIC HERE.
The other important thing to remember when you're investing in non-anchored real estate is that there is a limited "exit strategy." In other words, the properties that Whitestone owns are more difficult for sale to others since there is limited capital for non-investment grade assets. Many banks will not finance non-investment grade properties (without considerable equity and recourse) since many of the same banks still own them too. There is not a big market for non-investment grade retail and given the potential impact on weaker tenants, investors and banks are becoming much more cautious. REIT investors should too.
Can the Balance Sheet Compensate for the Risky Asset Model?
Much like Whitestone's weaker-financed tenant base, I am equally concerned about Whitestone's balance sheet. However, I give the company credit for strengthening its debt stack through refinancing of its property-level and corporate-level debt. As illustrated below, Whitestone has made good strides with reducing its reliance on secured debt.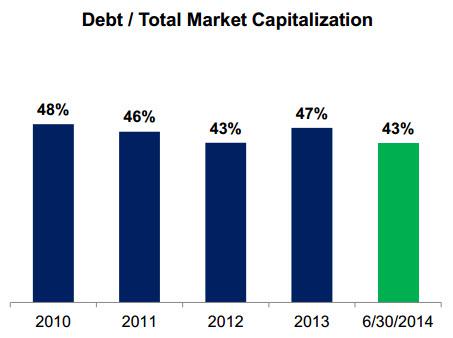 Whitestone's debt is not dangerously high and as illustrated by the coverage ratio history (below), the company has strengthened its leverage.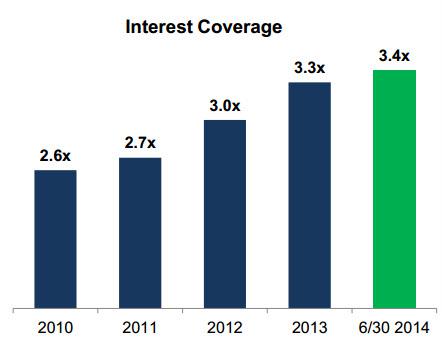 Debt maturities aren't dangerous either; however, I am concerned with the amount coming due in 2017. I'm not a big fan of using CMBS debt for non-investment grade assets, that's a dangerous combination.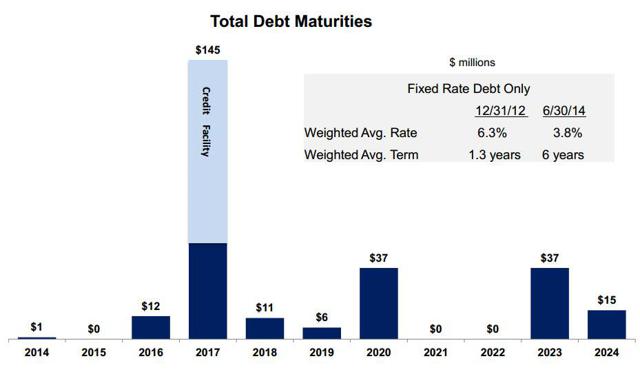 Here's a snapshot of Whitestone's secured debt compared with the peer group:

Here's a snapshot of Whitestone's total debt to total market capitalization compared with the peer group:

Whitestone: Let's Examine the Repeatability in Question
As I said at the outset, a "sucker-yield" is defined (by Josh Peters) as "an inherently vulnerable business model" and in order to gauge that susceptibility, one must examine the income stream more closely. Let's take a look at Whitestone's historic revenue growth: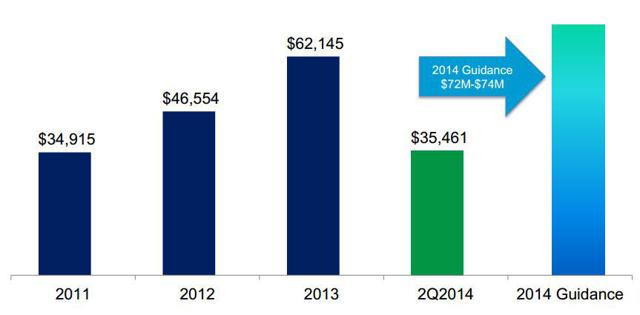 If we examine the previous 17 quarters we can see that the company has achieved positive NOI increases in all but the most recent (Q2-14) quarters:

Also, we can see that Whitestone has increased its average NOI per square foot by 43% since 2010. Again, that's not a magical number for me since the drivers are non-investment grade and the rents could go down as fast as they went up.

Here's a snapshot of Whitestone's Core Funds from Operations (or FFO) growth: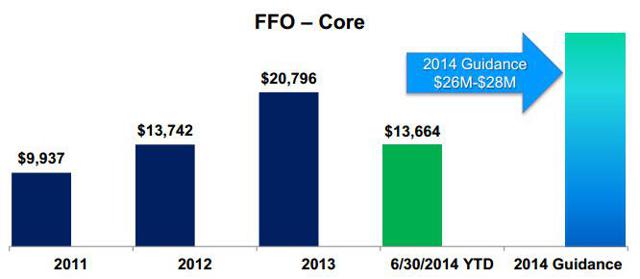 Here's a snapshot of the company's core FFO per share growth (includes 2014 guidance of $1.09 to $1.18 per share):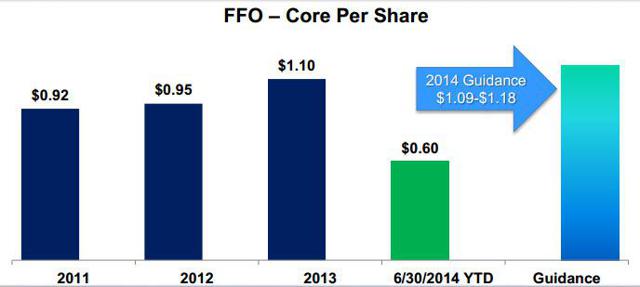 Upon review of Whitestone's FFO per share history (starting in 2009) we see that the company suffered a setback when FFO per share fell from $1.35 (in 2010) to $.92 per share (in 2011):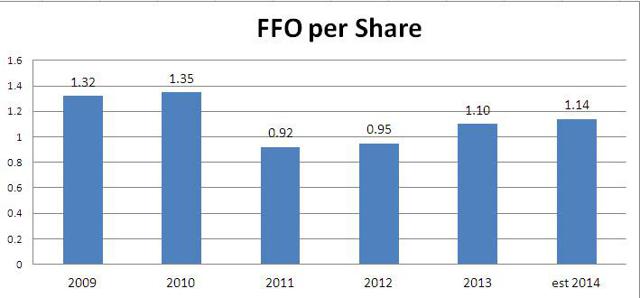 Subsequently, we see that Whitestone was forced to cut its dividend from $1.341 (in 2010) to $1.14 (in 2011). The company has since maintained a flat dividend payout since 2011.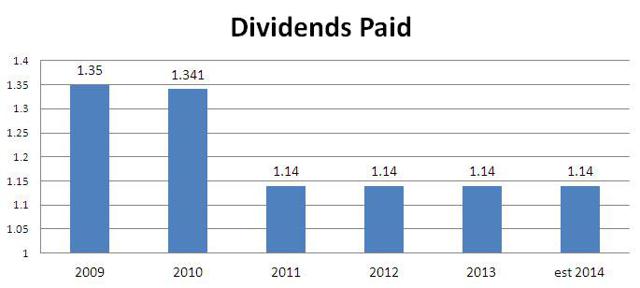 Over the past few years, Whitestone has been a higher risk as it relates to its dividend payout history and this year the company stands to be at a less vulnerable risk category as it covers 100% of the dividend from FFO.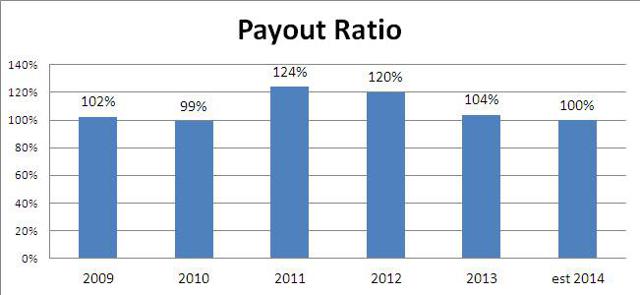 Of course, as I warned above, the income that is being generated is at a substantially higher risk and the lack of geographic diversification also makes the income more vulnerable to potential threats (i.e. earthquakes, hurricanes, etc.). Whitestone has yet to increase its annual dividend payout since its significant cut in 2011. As Josh Peters warned us:
Dividend increases provide the best possible evidence of dividend safety.
So Is This Whitestone a "Sucker Bet"?
First off, let's remember that Whitestone is a small-cap REIT with a market capitalization of around $343 million - the second smallest shopping center REIT in the US.

Based on P/FFO multiples, Whitestone ranks as one of the least expensive shopping center REITs; however, I alluded to the risks - low quality income, little geographic diversification, high payout ratio, and no dividend growth - and the low multiple is a reflection of the muted institutional coverage.

Whitestone pays dividends monthly (see my monthly dividend article HERE) and the current yield is 7.56%. Since January 1st, the company has performed in-line with the peer group (average total return is 18.15%).

But remember, Whitestone has embedded risks and if I was an investor in this REIT, I would demand a higher return to compensate me for the risk. As I see it, there are few catalysts that are going to allow Whitestone to trade at a higher multiple or in-line with the peer group. In short, I just don't believe Whitestone will outperform the peer group and so the primary value proposition is the "sucker yield" of 7.56%.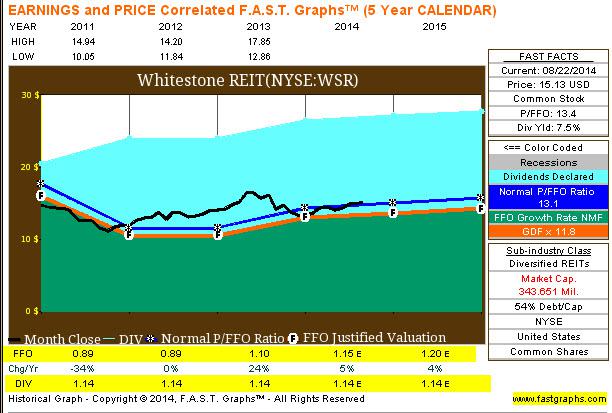 For me, the "thrill of victory is not worth the agony of defeat." I think it's especially important to see companies with sound dividend records as that prompts me to believe that management is committed to maintain and increasing the dividend. Whitestone has to "show me the money" and that means that a track record of dividend increases must develop - that's the loudest and clearest message that management can send me. I'm not tempted by the "sucker yield"; just show me a REIT with a dividend payment that lasts like an everlasting gobstopper!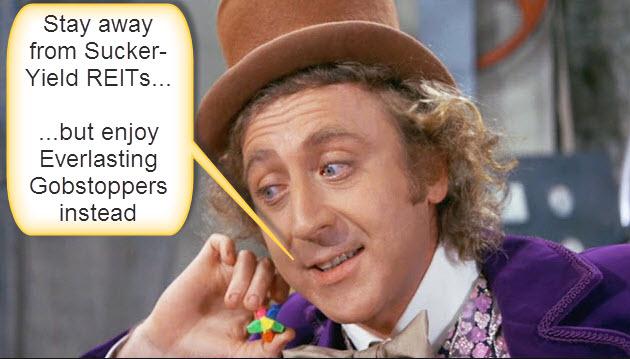 To learn about the "everlasting REIT gobstoppers" check out my newsletter HERE.
Source: SNL Financial, F.A.S.T. Graphs, and Whitestone Investor Presentation.
Other REITs mentioned: (NASDAQ:WHLR), (NYSE:FRT), (NYSE:REG), (NYSE:UBA), (NYSE:EQY), (NYSE:KIM), (NYSE:AMRE), (NYSE:WRI), (NYSE:RPAI), (NYSE:DDR), (NYSE:EXL), (NYSE:RPT), (NYSE:KRG), (NYSE:BRX), and (NYSE:IRC).
Disclaimer: This article is intended to provide information to interested parties. As I have no knowledge of individual investor circumstances, goals, and/or portfolio concentration or diversification, readers are expected to complete their own due diligence before purchasing any stocks mentioned or recommended.
Disclosure: The author is long O, DLR, VTR, HTA, STAG, UMH, CSG, GPT, ARCP, ROIC, HCN, OHI, LXP, KIM, WPC, DOC, UDF, EXR.
The author wrote this article themselves, and it expresses their own opinions. The author is not receiving compensation for it (other than from Seeking Alpha). The author has no business relationship with any company whose stock is mentioned in this article.