Chronic pain suppression in the U.S. is a $13B market annually, whose landscape is constantly changing based upon the unintended consequences of drug addiction. The most popular of these opiates is Purdue's OxyContin, ranked 18th in total U.S. sales last year at $2.46B. Sales of the drug, however, are in rapid decline, not because there's something more effective out there, but because the original manufacturer spent $100M to make the maximum-strength formula preferred by addicts tamper-resistant.
Consequently, users, who are not always patients, couldn't crush the capsules into a quickly absorbed powder, and switched to alternative painkilling narcotics like Opana. Endo Pharmaceuticals (NASDAQ:ENDP), makers of Opana, then made their own tamper-resistant formula that is now struggling to achieve pre-resistant sales.
Purdue made the unusual request of the FDA to bar generic formulations of OxyContin, on the basis that this would lead to more doctor shopping and abuse. Meanwhile, California lawmakers urged the company to turn over a list of physicians who had previously over-prescribed the narcotic ostensibly, so charges could be brought against them.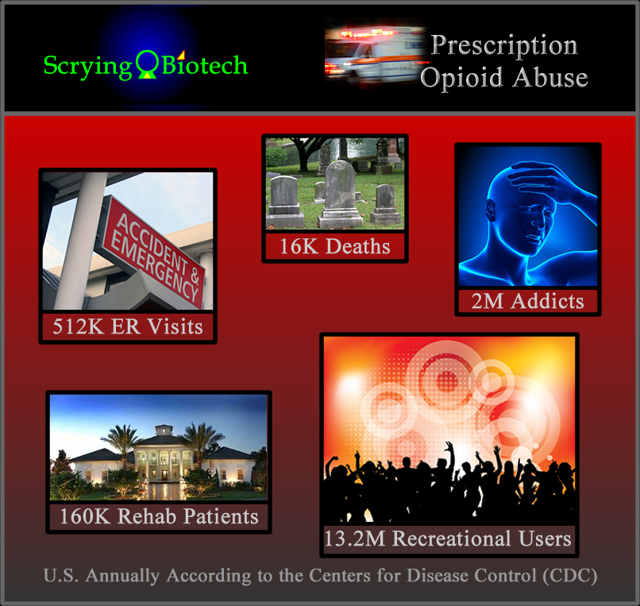 The net effect on patients in need of pain relief might be even more chilling. We're left to wonder how many times those in need have been turned away by doctors who mistakenly thought them to be exhibiting drug-seeking behaviors. Increasingly, physicians are erring on the side of caution, as 14,800 overdose deaths were recorded in 2008 alone.
The ultimate answer to the question of narcotic addiction for chronic pain sufferers, however, isn't in making a vehicle for delivery that can't be tampered with, but in making a narcotic that relieves pain but can't get you high. You see, what addicts are looking for is that burst of euphoria that accompanies the sudden onset of pain relief. That's why they prefer to crush OxyContin into a powder to snort or smoke.
And that's why Nektar Therapeutics (NASDAQ:NKTR) has the single-most important answer to the problem. NKTR-181 is an analgesic that has been altered on the molecular level to cross the blood-brain barrier at a slower rate, thereby substantially reducing the feelings of elation associated with addiction. It also addresses the undesirable central nervous system side-effects of sedation and respiratory depression.
The FDA is concerned enough about narcotic abuse to have addressed it publicly in many forums, and to have awarded "Fast-Track" status to NKTR-181 as representing a possible and promising solution. The following slide, and many of those that follow, were taken from the Research and Development Day Pain Presentation held on October 8, 2013. You should note that this article will present a timeline of conceptualization that I've constructed, demonstrating the evolution of thought behind what I believe will be a very successful effort in Phase III.
Nonetheless, NKTR-181 ran into a sizable ditch on the road to commercial approval last year, and towing it to the starting line of a Phase III trial has been a slow and meticulous process, causing investors to doubt if regulatory sanction will ever be granted.
A pivotal trial that was to have commenced this quarter has been postponed until Q1 of 2015. And with so much on the line, and so many questions as yet unanswered, what has Nektar been doing to ensure commercial success?
Phase II: What Went Wrong?
NKTR-181 surprisingly missed its primary endpoint in a Phase II study that completed in September of last year involving patients with osteoarthritis of the knee. Put simply, "patients who were randomized to placebo did not show the expected increase in pain scores observed in similar Enriched Enrollment, Randomized Withdrawal studies." This, from a press release dated September 26, 2013.
In the following 2 slides, you can clearly see that NKTR-181 was effective at reducing pain both during and after titration. Titration is the period of time when screened participants are now on the drug, and dosages are being adjusted to avoid intolerable side-effects. 97% of patients experienced clinically significant pain relief.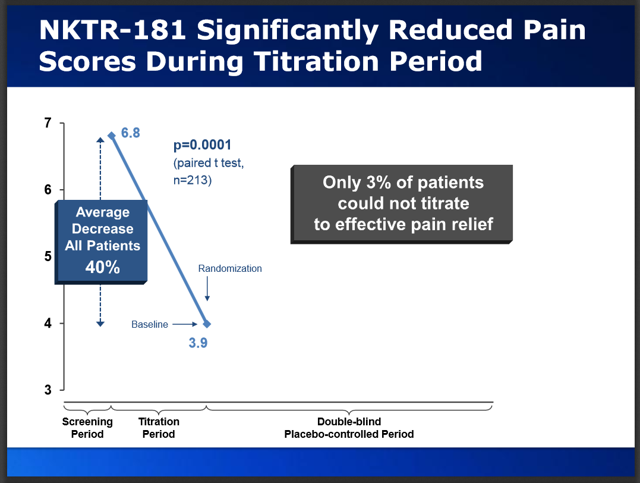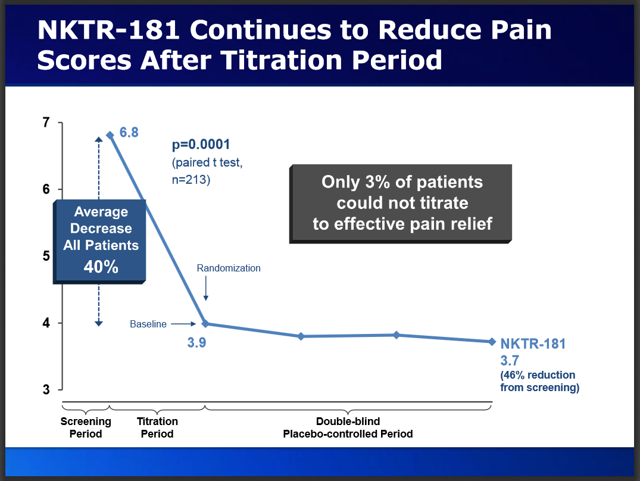 In the next slide, you can clearly see that patients assigned to the placebo arm of the withdrawal study segment, delineated in red, did not rebound to previous pain levels.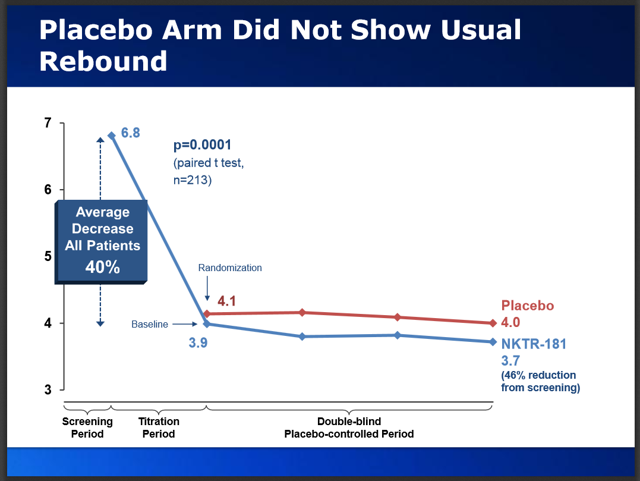 This subsequent slide indicates what should have taken place.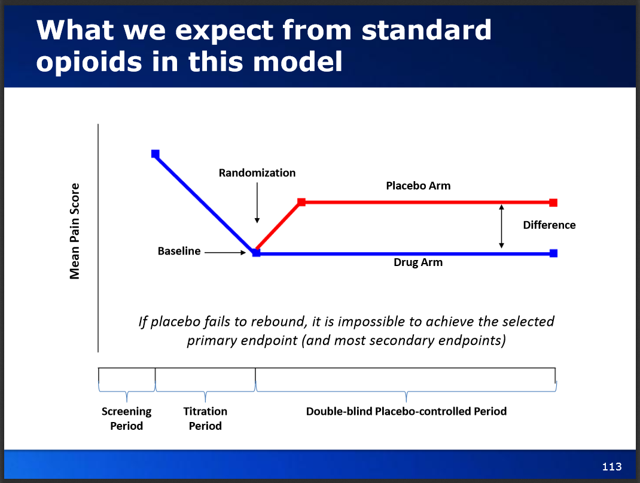 The Timeline of Trial Structural Repair
September 26, 2013: Right away, Nektar President Howard Robin knew that not only had the Phase 2 trial failed, but NKTR-181 was proven to be an effective pain reliever. This was from a press release discussing the results.
Based upon the data from this trial, it is clear that NKTR-181 provides pain relief on par with existing opioids while achieving a very favorable safety profile that differentiates it from standard opioids. We are committed to bringing NKTR-181 to patients suffering from chronic pain.
October 8, 2013: Dr. Robert A Medve, then Nektar's chief medical officer who, along with Dr. Lynn R. Webster, had conceptualized the idea behind NKTR-181 - a slower rate of drug entry into the central nervous system, had several ways to demonstrate Howard Robin's assertion of efficacy. Here's a slide showing the analgesic effect versus historical placebo performance of previously conducted morphine-based studies.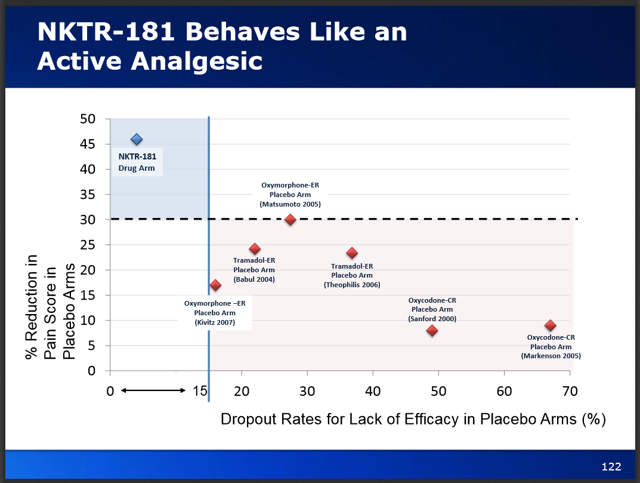 One has to keep in mind that this October 8th Pain Presentation webcast took place less than 2 weeks from the date news broke concerning the Phase II trial failure. Still, Nektar had worked up several more slides indicating that NKTR-181 was effective not only as an analgesic, but as a drug that wouldn't attract recreational users.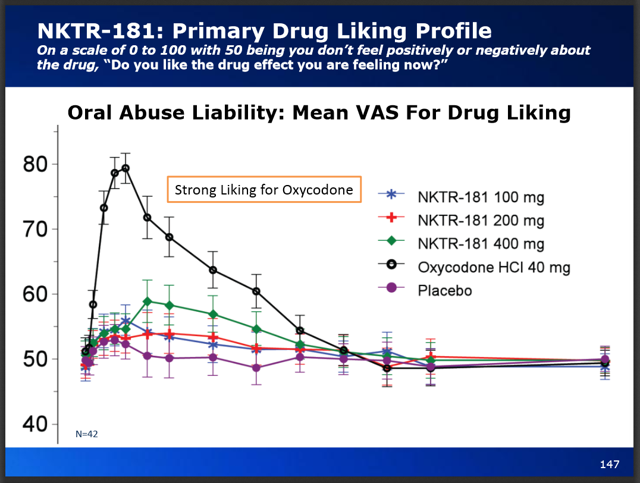 November 7, 2013: President Howard Robin indicates that a request to meet with the FDA has been granted to discuss the results of the Phase II study and plan for a Phase III effort in mid-2014.
January 14, 2014: By this time, Nektar had extensive consultations with the FDA, pain experts and opinion leaders, and had arrived at three important conclusions about the Phase II study that would be incorporated into a Phase III trial design. But before he addressed those items, President Robin tackled a common misconception around NKTR-181 at the JPMorgan Healthcare Conference in San Francisco.
I'll say this every time because I want people to fully understand it, this is a new molecule, this is an NCE, this isn't the formulation, it isn't something we did to an existing opioid, this is an NCE and it works as an NCE and it has received Fast Track status from the FDA.
If Robin sounded a bit defensive, it's because people were failing to understand the complexity of the compound and the impact of that complexity on the trial outcome. This wasn't a simple issue involving known attributes, but a walk into the great unknown of scientific discovery. Furthermore, Robin wasn't going to make that journey in a reckless hurry, not with an asset as valuable as this.
3 Notable Conclusions
The EERW trial design was not optimal for a drug with low CNS side-effects and participant dropout rates. The format was developed for and around drugs that had historically high dropout rates, and was adopted to NKTR-181 by default.
After randomization into the placebo-controlled portion of the study, patients were allowed to continue use of their non-opioid pain relievers. Part B of this stunning revelation was that this withdrawal portion of the study lasted for a scant 21 days, too little to show separation.
And finally, the numeric rating scale, or NRS method of assessing pain intensity was inadequate to the task at hand. You can find a scholarly examination of the merits of this system here in an article entitled: "Assessment of Pain." Here's a relevant quote: "There are some limitations with this, as memory of pain is not accurate and often colored by changing context factors."
The fact is, patients were allowed to keep a loose journal of their pain experience, which is considerably less diligent, and therefore, less accurate than other accepted clinical methodologies.
At this time, Howard Robin had arrived at three important changes to the Phase III trial design. Note too, that these will morph again following the arrival of a new chief medical officer in May.
A parallel design would be implemented, in which 600 osteoarthritis of the knee patients would be randomized on a 1:1 basis to either the active or placebo arm, in which there will be a titration effect and then a 12-week treatment period.
There will be a complete elimination of background medication.
Patients will be monitored for pain in a controlled clinical environment, and not at home in their leisure, utilizing the WOMAC pain subscale designed specifically for osteoarthritis pain sufferers. This analysis requires patients to move by walking stairs, bending and other functional behaviors, with immediate electronic assessment applied.
February 26, 2014: At the 2013 year-end earnings call, President Robin details for the first time, use of an interim futility analysis at the 200-patient enrollment mark. He speaks of wanting to make sure the study is "on the right track with the proper study design" before committing to the full cost of a Phase 3 program. And at that time, he knew that a fresh perspective was needed to move this NCE to a happy conclusion.
Yes, former chief medical officer Dr. Robert Medve had been instrumental in the creation of the compound, but he was equally involved in the now failed trial design. Consequently, this left lingering doubts in the mind of Howard Robin as to whether or not these changes were enough to lead to success.
When In Doubt - Gergel The Answer
May 19, 2014: There are many who foolishly think that the future of Nektar Therapeutics is tied to the advancement of NKTR-102 through a series of cancer treatment applications. And though this is an important aspect of the transformation of the company into the upper stratospheres of commercial-stage biotechnology, only a fool would disregard the commercial impact of NKTR-181. And Howard Robin is no fool.
Consequently, President Robin looked about for someone younger, with fresh ideas and experience shepherding a new painkiller through to regulatory success. And the man he found is Dr. Ivan Gergel.
A quick perusal of Dr. Gergel's bio on the Nektar website will tell you that he's had the requisite experience to task the problem at hand. As chief scientific officer at Endo Pharmaceuticals, Dr. Gergel was responsible for a number of late-stage programs that included, among others - Abuse-Deterrent Opana ER® for chronic pain.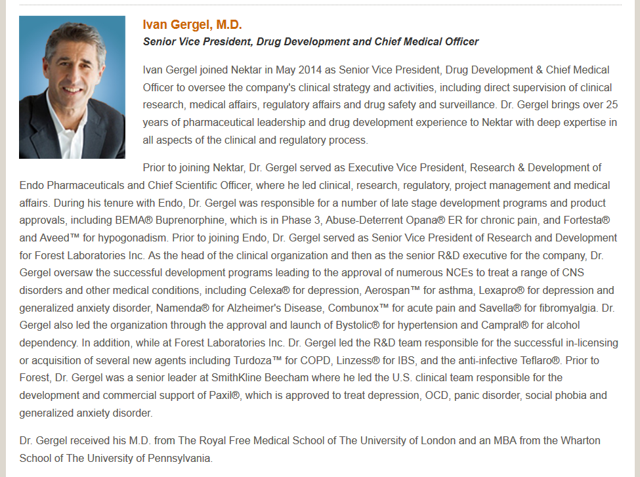 Therefore, Dr. Gergel has not only had first-hand experience in developing an approved treatment in the field of tamper-proof pain relief, but has had extensive conversations with FDA regulators involving the entire discussion of addiction-resistant narcotic treatments. He not only knows what to expect, but what the agency is looking for in a new therapy. This knowledge and level of experience will prove to be invaluable moving forward.
Key Contributions Gergel Has Made Already
July 31, 2014: There's no doubt that as a New Chemical Entity, NKTR-181 has properties that might vex chronic pain specialists, key opinion leaders, company executives and the FDA well past the conclusion of a pivotal Phase III study. There is no guarantee of success. All that can be done at this time is to properly handle those aspects that are under Nektar's control. I don't know if it was Gergel who thought of this, but whoever it was, I'd like to run up and shake their hand.
Osteoarthritis of the knee is a very painful disease. It can literally make you wish you were dead. But there is one thing you can do to avoid experiencing that pain - cease moving. Now there is another form of chronic pain that you simply can't get away from - back pain. It sticks with you even while you sleep at night. And somebody, somewhere along the way recognized this. And for that, I'm eternally grateful. There has been no commitment to this change, but here's Howard discussing it at the Q2 2014 Earnings Call.
Lastly, we're evaluating the right chronic pain setting for the Phase 3 trial. Recent successful studies with mu-opioid agonists have been conducted in patients with lower back pain and our review of the data indicates that the effect size is larger in this patient population. Therefore we are seriously considering this setting for our Phase 3 plan.
While this is presently nothing more than a "maybe," it hints at the influence of Dr. Gergel, who was no doubt privy to those studies.
Gergel also has returned Nektar to the EERW study design, which unlike the stark parallel assignment, allows for titration to an optimal dosage prior to randomization. This is wise, because it also allows FDA some deliberation time to make an apples-to-apples comparison of NKTR-181 to other approved painkillers, whereas a new structure would not.
To counter the trade-off involved in that choice, Gergel has recommended that patients have a drop-off in their pain scores well in excess of the 20% required in Phase II before entering the randomized portion of the study.
And finally, President Robin reiterated his stance on the use of supplemental painkillers in the placebo study phase.
For the Phase 3 study, patients will not be permitted to take potentially confounding background medications, and specifically, we will not allow any concomitant non-steroidal anti-inflammatory drugs. Rescue medication will be restricted to acetaminophen.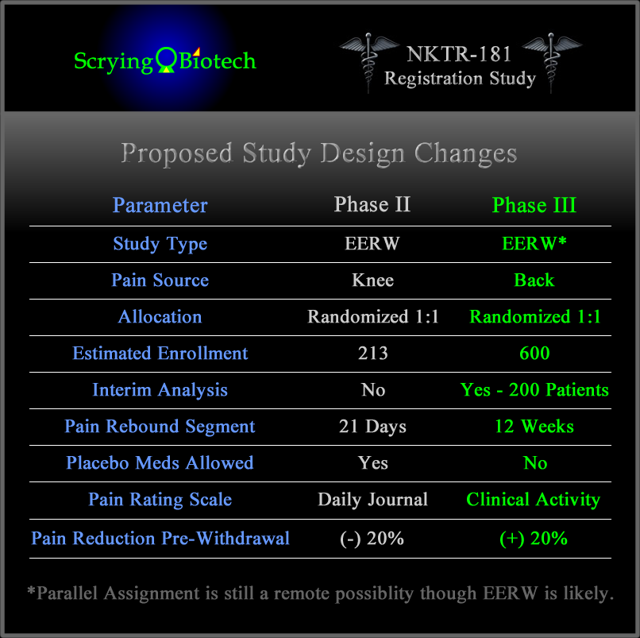 A Larger Market In Play
And this segues us nicely into that secondary market of temporary pain relief I spoke of in bullet point 4 of the article introduction. Because the #1 cause of acute liver failure each year in the U.S. is acetaminophen poisoning, and because the same number of people that die from opioid overdose each year die from gastrointestinal bleeding caused by excessive aspirin intake, it's entirely possible that NKTR-181 could expand into all areas of prescription pain relief utilizing these common treatments in high dosages. These are, after all, opioid substitutes given to preclude addiction.
Yet another area that people don't talk about in reference to NKTR-181 is short-term pain relief now prescribed by, for instance, dentists. After a root canal, a patient is often given a 2-day prescription of hydrocodone. In my case, I rarely use but maybe 2 of the 10 pills prescribed, and the rest sit in my medicine chest just in case I'm in pain for some other reason and need them.
This is the kind of thing, however, that the FDA would like to stop. Those unused pills are an invitation to teenage children and young adults alike to abuse. And if a patient takes one on the way out of the office and prior to driving home, they can prove to be deadly even to those outside of the issue at hand.
NKTR-181, on the other hand, would simultaneously deal with both problems. Recreational users wouldn't get the anticipated high from what's in the medicine cabinet. Consequently, the resale street value of the drug would be almost nil. And drivers wouldn't fall asleep at the wheel nearly as often, and the net effect would be saved lives.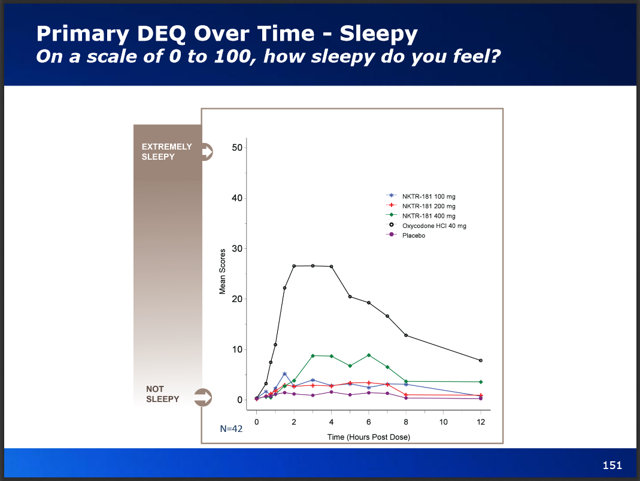 Closing Thoughts
Though it's far too early to entertain thoughts regarding the marketing of NKTR-181, when and if that day arrives, Nektar will have to be careful not to price the product by any measure other than to compete with existing therapies. Premium pricing that ignores patient out-of-pocket expenses and reimbursement costs will leave prescription pads free from doctor scribble.
Understandably, the company has vacillated over various elements of the changed trial design in Phase III, because NKTR-181 is an NCE with unique properties. Nonetheless, in each instance, it's justified the shift by making compensatory corrections in other areas. It is possible, for instance, that the drug is so good at doing its job that it trains the brain to be pain-free longer without continued dosing of the drug. Therefore, investigators are wise to account for this possibility by extending the placebo phase out to 12 weeks.
This is a very tricky business. A very tricky business indeed.
Always be well...
Disclosure: The author is long NKTR. The author wrote this article themselves, and it expresses their own opinions. The author is not receiving compensation for it (other than from Seeking Alpha). The author has no business relationship with any company whose stock is mentioned in this article.
Additional disclosure: Any information or opinion expressed herein may not be true, accurate or correct and it does not constitute any suggestion to buy, sell, hold or adopt any investment strategy for this stock or any stock that may be mentioned. Reliance upon information in this article is at the sole discretion of the reader. The sole purpose of my article is to entertain by providing information, the accuracy of which is as good as the public sources it was derived from. Do not act on anything I have written. Rather, do your own due diligence and consult an investment professional before making any investment decision. Acting on what any one writer, including me has imparted to you is foolish at best. I have no better access to resources or gift of opinion formulation than you do. I sometimes make mistakes. There are a myriad of things, which can happen in lieu of any forward-looking statement I have made. Any stock featured or mentioned in an article I compose is subject to all manner of influences, which can change its value in dramatic fashion upwards or downwards. These events can be of a wide variety not limited to news-related occurrences, managerial decisions, trial failures, stock manipulations and so on. I make every effort to declare positions I have in stocks I cover or mention in an article but reserve the right to move in and out of said investments at my own discretion based upon the wisdom of doing so. I implore you to do your own due diligence, invest at your own considerable risk attaining the just reward your efforts have wrought.