Home Depot's (NYSE:HD) full-service warehouse-style stores have seen solid improvement in their operating metrics over the last 5 years. Even though net sales have only been increasing at a 4.47% CAGR (compound annual growth rate), net earnings have grown at a 19.73%% CAGR. The company's performance has been steadily improving as a result of improving net margins. One major catalyst from the metrics is their reduction in total operating expenses which fell by 250 basis points from 26.6% to 23.1%.
Management's guidance from the August 19th earnings call, transcript here, provided guidance that fiscal 2014 expenses should be below their prior estimates. Debt in the structure has been increased significantly from the prior year. The company reported an increase in debts of $4 billion year-over-year. Half of that amount came from the issuing of long term debt in June 2014. The balance sheet date is May 4th, 2014; long term debt issued in June shouldn't show up. The structure isn't harming results, in my opinion, as the company posted diluted EPS of $1.52 for the quarter, up 22.6% year-over-year. Management has put some attention on their metrics. Inventory turnover was flat at 4.9, but asset turnover decreased on the basis of higher total assets.
The housing data has had a mixed outlook for Home Depot. The company expects to continue seeing solid increases in sales. Guidance for sales growth of 4.8% for the company and 4.6% for comparable stores was reaffirmed. Generally speaking, those growth numbers are solid, but this is also lower than Home Depot's recent performance: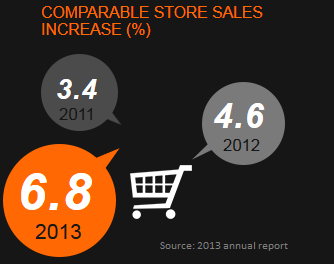 However, the guidance on better operating margins brings about better earnings per share also. Fiscal year 2014 should see EPS outperform previous estimates by about 10 cents per share. That would be an increase of just over 20% for fiscal 2014 compared to 2013 and puts EPS estimates between $4.50 and $4.54. This news follows on several years of earnings growth: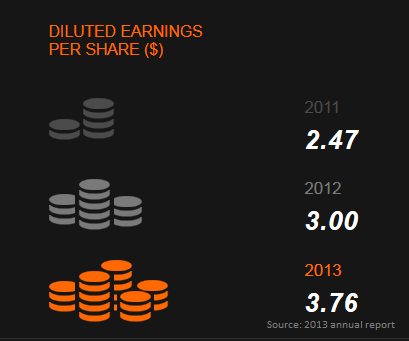 The EPS improvements aren't strictly driven by improvements in controlling operating costs though. With the addition of new debt the company has raised their share repurchase target from $5 billion to $7 billion. All that growth and improvement isn't without risk. The company's debt to equity ratio has risen substantially. In 2009 it was only 49.9%. They started this year at 117.6%. Despite the additional risk (from leverage), the interest burden has very reasonable. Interest in the last quarter was just under 1% of sales. That's up from .86% of sales year over year. In the next quarter I expect interest expenses to exceed one percent of sales, but I still think the company has lowered their WACC (weighted average cost of capital) by introducing the additional debt and reducing their equity financing. The interest expense from the most recent quarter, annualized, would lead to an effective pre-tax rate of 5.18% on long term debt. After adjusting for Home Depot's effective tax rate (37%), the after tax cost of long term debt is 3.27%.
Conclusion
Home Depot's growth in both sales and operating margins has made this warehouse-style store attractive. The effective use of debt may provide long term advantages to shareholders as the reduced WACC helps the company leverage their operating improvements.
Disclosure: The author has no positions in any stocks mentioned, and no plans to initiate any positions within the next 72 hours.
The author wrote this article themselves, and it expresses their own opinions. The author is not receiving compensation for it (other than from Seeking Alpha). The author has no business relationship with any company whose stock is mentioned in this article.