After exceeding Q2 earnings estimates in July, Robert Half International Inc. (NYSE:RHI) rose to a 52-week high. Since then, it has fallen about 6%. The pullback may prove to be a good entry point.
Industry
The hyper-cyclical traditional staffing industry is fragmented, with billions of suppliers, millions of customers and tens of thousands of firms worldwide. Staffing firms compete with each other for suppliers and clients. Margins have decreased in recent years, especially in certain segments, and some say part of the industry has become commoditized. This will only add to the merging tendencies displayed by staffing firms in order to realize greater economies of scale.
A recent threat has been the rise of on-line platforms which function as the agency. For instance, Task Rabbit, one of the few firms that actually sent workers on-site started a business segment. However, the recent disappearance and lack of a subsequent re-emergence of the business segment with the revamped website released this summer, may be a sign that the web-based firms are not as much as a disruptor as previously thought, at least for certain areas. LinkedIn (LNKD) may possess the ability to take some "perm" revenue in addition to that of job site firms.
Moreover, recent data may point to the rise of the US temporary worker being more than a passing phenomenon.
Bureau of Labor Statistics Number of Employees Classified as Temporary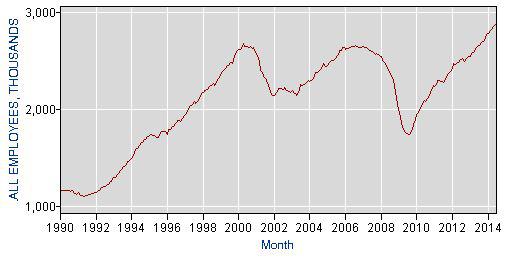 Source: BLS
Another interesting trend in the US markets, as well as global markets, is the inability for an employer to find the right employee even though labor markets have exhibited higher unemployment.
The trend of increasing temporary labor without permanent hiring has been echoed on earnings calls. MAN's Q2 call,
"While we have seen some pockets of strength in permanent recruitment in some countries such as the U.K., at this point we are not yet feeling a broad-based recovery in permanent recruitment fees."
RHI's Q2 call, speaking of conversions from a temporary employee to a permanent employee:
"But they are still at the low end of the 3% to 5% of revenue, maybe not the absolute low but they have come off, they are off the bottom but still low traditionally."
RHI
RHI competes in a niche area of the staffing industry, focusing on temporary and permanent services for skilled labor in fields such as accounting, finance, technology and legal with clients that are small to medium size and a few larger clients. Almost 80% of its revenue is derived from temporary and consulting services. Another 8%-9% is from permanent placement services. The majority of its revenue is US based, ~75%.
RHI is the parent of Protiviti, a consulting firm working in fields such as internal audit, governance, litigation and business and technology risk, that was formed with employees of Arthur Anderson after its 2002 debacle. Protiviti accounts for the remainder of its revenue, 12%-13%.
Continued Top Line Growth in all Segments
RHI has exhibited top line growth in all business segments and the growth has continued into first half of 2014.

Source: 10k, 10q
In addition to the industry factors mentioned above, employer's favoring temporary employees and an inability to find suitable permanent employees, increasing risk, complexity and challenges in the financial realm should bode well for RHI's services. Services such as audit, technology and finance should not diminish and small to medium sized firms will have a need for specialized services but may not need the addition of full-time staff. It should be noted that bill rates are trending up, improving, 2.6% in Q1 and 3.5% in Q2, yoy.
Currently, Protiviti is in the process of increasing managing director level staff and has recently launched an online portal for FCPA compliance. Adding talent at the MD level should improve its competitive positioning which can help margins. When Protiviti has larger projects, it uses RHI's temporary staffing services on assignments, enabling it to ramp up or down easily. Growth of Protiviti can drive RHI's temporary segment.
Margin Improvement and Expansion Possibilities

Because of its positioning, RHI can and has commanded a higher gross margin than other staffing firms. As a reference, MAN has ~2.5% EBITDA and has a goal of 4% EBIDTA. KELYA's EBIDTA is even less.
On the most recent call an analyst asked, if RHI could achieve its peak rate gross margins. With respect to temporary services, management believes it can surpass the previous peak rate margins for three reasons. First, as previously mentioned, labor markets are still not in full recovery mode and conversions remain historically at the low end of the range of 3%-5%. If there was a pick up here, margins could go up 100 basis points. Second, there is a lag between unemployment tax rates and unemployment. A 30 to 40 basis point improvement is to be expected. Third, when wages increase, RHI has typically been able to expand the rate charged by more than the increase.
Accounts Receivable Management
Staffing firms have to be nimble with their accounts receivable management since they are paying employees for services rendered and taking an IOU from a client. The government would not take too kindly to an employer renegotiation of labor rendered due to client non-payment.

There is a slight increase in Days Sales Outstanding, which is common across the industry.

There are obvious differences between peers in the nature of how they conduct business (US vs. non-US, temp vs. perm, other services offered) but currently RHI is however, arguably one of the best, if not the best at accounts receivable management.
Recent Guidance by Management
RHI management currently gives guidance for revenue and EPS 1 quarter out. The last four quarters RHI has come in at the high end of its range of or exceeded its EPS guidance. Revenues have ranged from the mid-point to over guidance.
The Q3 guidance, Revenues $1,175,000,000 to $1,225,000,000 Income per share: $0.55 to $0.60, caused analysts to revise upwards their Q3 EPS estimates to $0.58 for Q3 and as well as upward revisions in their price target price in recent weeks. Given management's recent record on guidance, meeting or exceeding analyst estimates should not seem far-fetched.
Valuation Considerations
At first glance, RHI's valuation appears richer than some of its peers in the staffing industry.

For the two competitors that disclose annual temporary placed employees (some peers listed above aren't in the business of temporary staffing), MAN and KELYA, differences can be seen in the value of adding one more worker. Worker numbers do not include corporate or support staff.

Given the revenue value and margins, RHI is uniquely poised to for a continuation of the "permanent temporary" labor market.

RHI has shown a tendency to consistently return cash to shareholders through dividends and share repurchases. Under the current authorization, there are still 6.8 million shares that can still be purchased which is about 5% of the shares outstanding.
It should be noted that since Q2 earnings release, three insiders have sold shares.
The labor market has changed. BLS statistics show that temporary labor is increasing. Comments made by staffing industry management show that there has been little progression through the cycle (low conversion rate). So if there is a continued persistence of employers favoring temporary employees over permanent ones (perhaps due to their uncertainties over the direction of the economy or due to legislation that makes increasing headcount undesirable), a continued increasing regulatory and risk environment that requires special skills and an inability of employers to find employees with certain skills, RHI is positioned to reap the benefits given its niche and margins.
Disclosure: The author has no positions in any stocks mentioned, and no plans to initiate any positions within the next 72 hours.
The author wrote this article themselves, and it expresses their own opinions. The author is not receiving compensation for it (other than from Seeking Alpha). The author has no business relationship with any company whose stock is mentioned in this article.