Summary
I decided to write this comparison article between Valero (NYSE:VLO), Marathon Petroleum (NYSE:MPC), and Tesoro (NYSE:TSO) after a comment on my original article about Valero. My original article entitled "Is Valero A Good Play For the Energy Sector?" received a large response. One of the comments I received from a Seeking Alpha reader wanted to know how Valero compared to Marathon and Tesoro, so this article is designed to give a quick comparison between the three companies.
MPC
Marathon Petroleum is the nation's fourth largest transportation fuel refiner with 1.7 million barrels per day capacity. The company owns, operates, leases, or has ownership interest in over 8,300 miles of pipeline. Taking a look at the past performance and valuation of a company can help quickly compare a company to its competition.
From a valuation standpoint MPC is fairly valued in comparison to its competition and its growth rate. The company currently trades at a price to earnings ratio of 14.4 versus an industry average of 15.3 and an S&P average of 18.2. The company also trades at a PEG Ratio of 1, meaning that the company trades at a price to earnings multiple even with its growth rate, a positive sign for the company.
Looking at MPC's performance, the picture is also a positive one. Although the history of the stock only goes back a few years, the company has been able to outperform its industry as well as the S&P.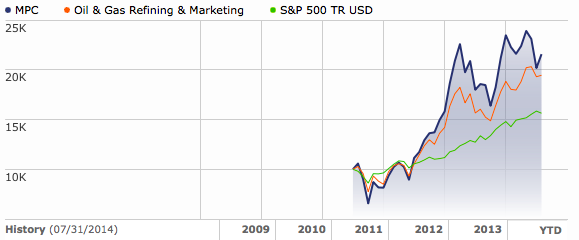 Chart Courtesy of Morningstar
Marathon does pay a dividend of around 1.9%, which is lower than the industry average according to Morningstar.
TSO
Tesoro Corp is an independent petroleum refiner in the United States, which operates through different business segments. The company focuses on transportation of crude oil as well as the manufacturing, in addition to transportation and sale of fuels.
The company currently trades at a price to earnings ratio higher than MPC. TSO currently has a price to earnings ratio of around 23.3, compared to an industry average of 15.3 and the S&P average of 18.2. Tesoro has a more attractive PEG ratio of 0.5 however. This means that Tesoro is currently trading at a price to earnings multiple of half its growth rate, which conceptually signals that the stock is currently undervalued.
Historically Tesoro has outperformed as well. As you can see, Tesoro's has a longer performance history to analyze, but the chart clearly shows that the company has been able to outperform the S&P by a relatively large margin.

Chart Courtesy of Morningstar
In terms of Tesoro's financials, the numbers appear to be quite strong. Net revenues have continued to increase at a fast rate, growing from $20.6 billion in 2010 to $37.6 billion in just three years. The balance sheet has remained relatively strong as well. Current assets has increased from $2.9 billion to $5.3 billion over the same time period, but liabilities increased as well. Overall equity has increased by about $1 billion in the three year period.
Tesoro pays a dividend of 1.6%, which is also lower than the industry average of 2.7 and the S&P average of 2.3.
Recap Valero
As discussed in my previous article that is linked in the intro, Valero is company lead by CEO Joe Gorder that specializes in the manufacturing and marketing of transportation fuels, as well as petrochemical and power products. Assets of the company include sixteen petroleum refineries, 11 ethanol plants and a 50-megawatt wind farm.
To recap and update Valero's valuation, Valero currently trades at a price to earnings ratio of just 9.2. Valero's PEG ratio is the highest of the three at 1.4. A PEG ratio of 1.4 does not necessarily mean that the company is overvalued, conceptually that happens at around a PEG ratio of 2 or more.
Valero's performance has been strong over the long term as well, but perhaps not as strong as some of its competitors. As you can see below the stock has been able to outperform the S&P over the long term, but has actually underperformed its industry.

Chart Courtesy of Morningstar.
Valero also pays a similar dividend with a yield of 1.8%.
Risks
As with any company in the energy sector the stocks do come with some risks. The price of energy and natural resources can have significant impacts on the performance of all three companies. Economic conditions is another major risk that could damage potential performance.
As mentioned in my other article, Valero could potentially be negatively affected by refining margins, which historically have been quite volatile. The margin between refined product prices and the prices for crude oil can be affected by the ability of imports, production levels, as well as potential government intervention.
Potential Government regulations, environmental policy changes, and changes in consumer preferences are all risks that the companies face. The majority of the risks that these companies face are all sector specific and apply to all three companies relatively equally. As an added note, it is important to keep in mind that the risks are often beyond the control of the company, and come as part of investing in the energy sector.
Which is best?
To recap, below are the valuations and dividend yields of each of these three companies.
Valero: P/E : 9.2 PEG: 1.4 Dividend: 1.8%
Tesoro: P/E : 23.3 PEG: 0.5 Dividend: 1.6%
Marathon: P/E : 14.4 PEG: 1 Dividend: 1.9%
The differences in dividend yields are relatively inconsequential when comparing these three companies, and from a valuation standpoint Tesoro has the most attractive growth and PEG ratio.
Looking at the comparison chart below for the performance of all three companies, you can see that Tesoro has been the strongest performer over the long term. MPC and VLO have performed relatively similar thus far. Of the three stocks compared today, Tesoro appears to be the winner. The PEG is the most attractive, the dividend is on par, and the past performance has been stronger than the competition. oSince there is no guarantee of what will happen in the future, it may be worth diversifying into Energy based ETF, such as VDE by Vanguard.

This article is given for informational purposes only and is not to be construed as investment advice. Contact your investment professional and do your own due diligence before investing.
Disclosure: The author has no positions in any stocks mentioned, and no plans to initiate any positions within the next 72 hours.
The author wrote this article themselves, and it expresses their own opinions. The author is not receiving compensation for it (other than from Seeking Alpha). The author has no business relationship with any company whose stock is mentioned in this article.