By G C Mays,
The ISM Non-Manufacturing Index registered an 57.1, 2.1 percentage points higher than it was in November. The NMI index is still relatively new, less than two years old. The more established business activity & production index registered at 63.5, a 6.5 percentage point increase over November and is rapidly approaching all-time high range. With the ISM Manufacturing Index or PMI, also hovering at or near 25 year highs, a short-term top in business activity may be near.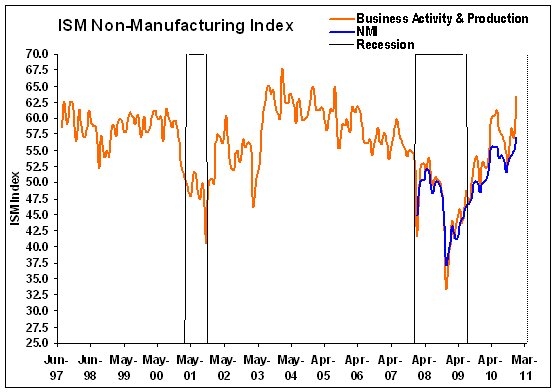 Source: Institute of Supply Management / The Mays Report
WHAT SOME RESPONDENTS REPORTED:
"Overall business climate remains reasonably positive." (Management of Companies & Support Services)
"Pricing pressures are starting to heat up." (Construction)
"Outlook for 2011 is positive with an increase in spending." (Finance & Insurance)
"Looks like more budget reductions are coming in the next year." (Educational Services)
"Cotton prices are moving upward, but prices are being kept in line as the overall Asian market cools somewhat."(Retail Trade)
"Business picking up for holiday — above expectations." (Transportation & Warehousing)
The largest increases in activity was in new orders, which registered at 63.0 for an increase of 5.3 percentage points and prices, which registered at 70.0, 6.8 percentage points higher. The new orders and prices index have been trending higher for 16 and 17 consecutive months, respectively.
The biggest declines in activity was with new export orders and imports with each declining by 3.5 percentage points to register at 56.0 and 51.0 respectively. Export growth has slowed for four months while import growth has slowed for five. Order backlogs have begun to contract with the backlog of orders index declining by 3.0 percentage points to register at 48.5 in December. The employment index registered at 50.5, which was a decline of 2.2 percentage points as compared to November.
While the manufacturing employment index is at or near 25-30 year highs the non-manufacturing employment index is has not approached its previous peak, reached in August of 2005.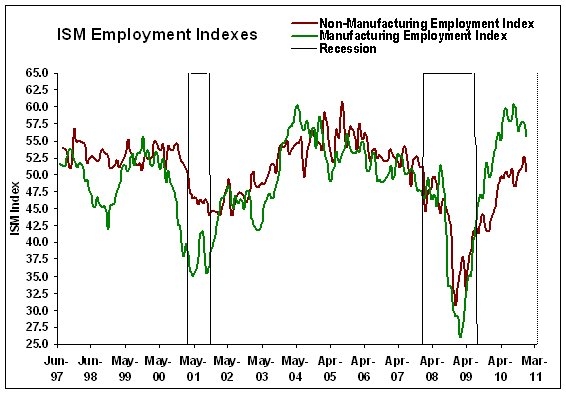 Source: Institute of Supply Management / The Mays Report
Looking at the commodities reported up or down in price or in short supply, I noted while reviewing Monday's ISM Manufacturing report an increase in the price of resin and today the Non-Manufacturing report is reporting an increase in the price of paper for the second consecutive month. It is notable because one of the stocks I cover is Oil-Dri Corporation (NYSE:ODC), which reported higher packaging costs due to higher paper and resin prices during their first quarter conference call. It looks as though these costs will persist throughout the second quarter as well. I wanted those of you who follow the Mays Report because of our coverage of Oil-Dri Corporation to become aware of this.
As I wrote on Monday in my article on Monday's ISM manufacturing report, historically, this is pretty close to as good as it gets in terms of business activity. I am not predicting a recession, just a healthy correction from a short-term top.
The author of this article is long shares Oil-Dri Corporation (ODC) as of this writing. For a complete disclosure of my policy on ownership of stocks written about or recommended, please see my about page.
Disclosure: I am long ODC.