I was researching fuel costs for power generation when I stumbled on a most interesting report by the federal government. Most all utility investors should at least be aware of the overall findings of the report, if not reading the whole 5-page report. This report is part of a larger 269-page annual publication by the US Energy Information Agency (EIA) titled Annual Energy Outlook 2014 with Outlook to 2040 (pdf).
The specific report I am referring to is titled Levelized Cost and Levelized Avoided Cost of New Generation Resources in the Annual Energy Outlook 2014. The report outlines the total cost per MWhr for construction, financing and operating new generating capacity for various fuel sources and plant designs. The time frame is for generating capacity coming on line in five years, or in 2019. Costs are calculated to be all-inclusive and are separated into categories of Capital Costs, Fixed Operating and Maintenance, Variable Operating and Maintenance, including Fuel, and Transmission Investment. The table lists approximate applicable subsidies offered by local and federal governments, then totals these costs with and without the subsidy. Costs are adjusted for overall capacity load by design type and uses a real after-tax weighted average cost of capital (WACC) of 6.5%. Calculations are based on a 30-yr cost recovery period. Coal costs have been adjusted upwards by $15 per metric ton of CO2 for plants not using carbon capture sequestration technology (CCS). The table looks like this:
U.S. Average Levelized Costs (2012 $/MWh) for Plants Entering Service in 2019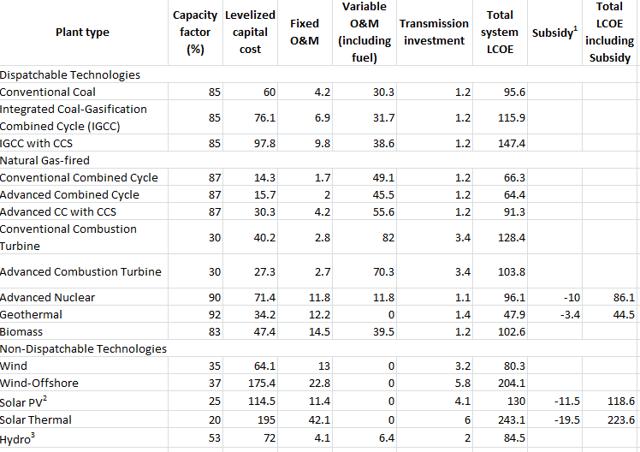 Source: EIA
Dispatchable technologies refer to sources of electricity that can be turned on or off, or that can adjust their power output at the request of the power grid operators. These include generating plants usually termed as base load. Wind, solar and hydro generating capacity does not have the ability to vary output based on demand and are referred to as non-dispatchable. Base load plants are facilities that operate almost continuously, generally at annual utilization rates of 70 percent or higher. Intermediate load plants are facilities that operate less frequently than base load plants, generally at annual utilization rates between 25 and 70 percent. Peaking plants are facilities that only run when the demand for electricity is very high, generally at annual utilization rates less than 25 percent. Most alternative fueled plants do not currently use technology that would qualify as base load and have the attributes of intermittent loads.
The Institute for Energy Research has transformed the table above into a graph as follows: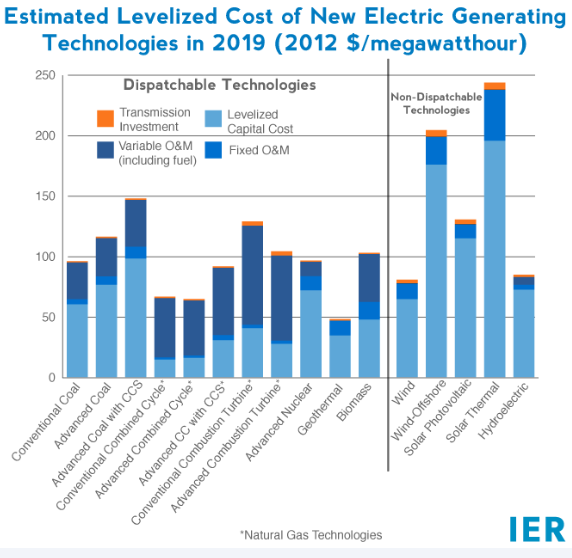 In addition to the above table, EIA offers a range of costs based on geographic variables. Below is a table of the average non-subsidized cost by design, sorted low cost to high, including the range of costs from minimum to maximum:
U.S. Minimum, Average and Maximum Levelized Costs (2012 $/MWh) for Plants Entering Service in 2019, sorted by Average.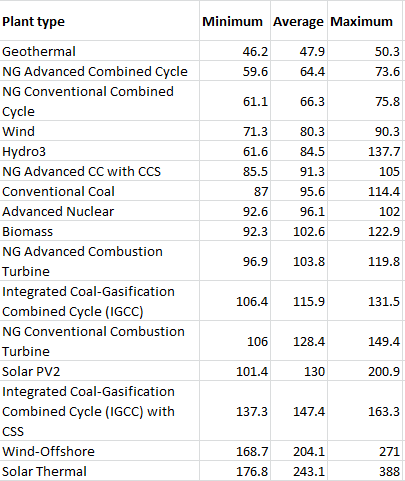 Source: EIA, MyInvestmentNavigator.com
It would be easy to see why alternative fuel advocates can root for geothermal, wind, and hydro being preferred as more cost effective. Three of the five lowest cost designs are alternative fuels. However, this does not include the structural disadvantages of being non-dispatchable. Keeping this separation would create a much different table.
U.S. Minimum, Average and Maximum Levelized Costs (2012 $/MWh) for Plants Entering Service in 2019, sorted by Technology and Average.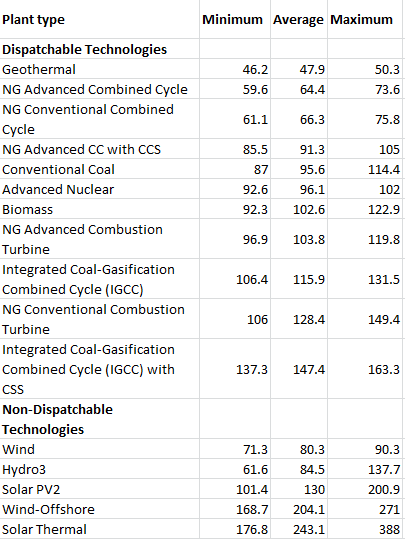 Source: EIA, MyInvestmentNavigator.com
For these calculations, natural gas prices are expected to increase from $3.44 delivered to the utility to around $5.00, per pg 106 of the EIA report.
As a utility investor, why should I care? The important takeaway for shareholders should be to better understand their due diligence when investigating a specific utility's anticipated new generating assets, and to achieve a better appreciation of where the industry is moving concerning new power availability and retail pricing trends. For example, as offshore wind farms become more politically correct, utility investors should appreciate the impact of generating electricity at three to four times the cost of natural gas conventional and advanced combined cycle plants.
In addition to having the lowest cost levelized cost, geothermal generating plants also have the strong advantage of being the only alternative fuel source that is also base load compatible. Geothermal dates back to 1904 in the Italian village of Lardello, when a few lamps were lit from electricity produced using underground steam. The first electric-producing geothermal plant began operations in that town in 1913, making the technology just over 100 years old.
The U.S. is the leading country for installed geothermal power generation. Below is a graph of 2012 installed capacity and capacity growth from 2008 to 2012, as offered by the Geothermal Energy Association: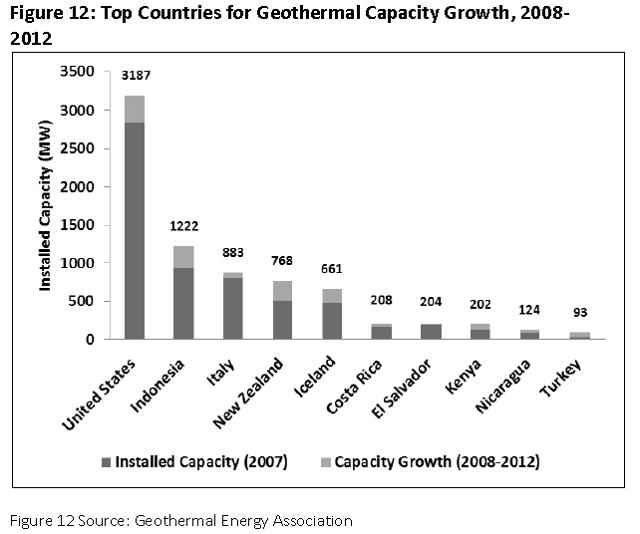 Below is a graph of the growth of global and U.S. geothermal generating capacity, also from the GEA: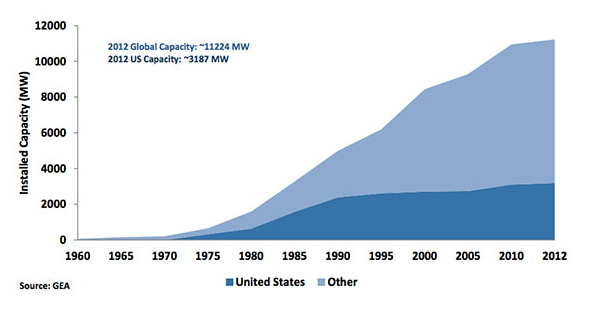 According to a report from the USGS offered on the Geothermal Energy Association website, there are many locations in the U.S. for large-scale thermal power generating plants:
The USGS assessment evaluates geothermal resources in the states of Alaska, Arizona, California, Colorado, Hawaii, Idaho, Montana, Nevada, New Mexico, Oregon, Utah, Washington, and Wyoming. The assessment identified 241 moderate-temperature (90 to 150°C; 194 to 302°F) and high-temperature (greater than 150°C) geothermal systems located on private and public lands in these states.
Who are the players in geothermal industry?
There are several publicly traded stocks offering exposure to geothermal generating assets. Some are penny stocks and not considered in the following list. I anticipate on elaborating on these companies over time.
Calpine (NYSE:CPN) is a merchant power producer mainly focused on natural gas as its primary fuel source. CPN operates 725MW of capacity at its Geysers project in California. Geysers have been generating power for over 50 years. Geothermal represents about 3% of overall generating capacity for CPN.
Energy Development Corp. (OTCPK:EGDCY) is a Philippine-based developer and operator of geothermal generating plants. Energy Development is the second largest producer of geothermal power in the world. EGDCY operates 1,344MW of alternative energy capacity, of which 1,130MW is geothermal. Of the five geothermal fields operating in the Philippines, 52% of production is from one field in the province of Leyte. The stock trades as a non-sponsored ADR and has a current market capitalization of $3.8 billion. 1 ADR equals 100 shares traded on the Manila Exchange. EGDCY pays a dividend twice a year, and the TTM yield is 2.5%. With a relatively short history of paying dividends going back to 2011, dividends paid were: 2011 $0.37, 2012 $0.36, 2013 $0.39, YTD 2014 $0.22. More information can be found here (pdf).
LSB Industries (NYSE:LXU) is an offshoot of the power generating industry and is a manufacturer of geothermal heat pumps, selling to individual home installations and to large commercial projects. One third of LXU's revenues are from pumps used to tap geothermal heat and the balance is from the manufacture of chemicals used in agriculture and industry. WaterFurnace Renewable Energy (OTC:WFIFF) is a Canadian company also involved in residential and commercial geothermal installations. LXU has a market capitalization of $880 million and WFI.TO has a market cap of $341 million.
The most often mentioned geothermal company is Ormat Technologies (NYSE:ORA). ORA has several patents on its geothermal generating designs and has installed about 1,800MW of capacity worldwide. Ormat's current generating portfolio of 626MW (net) is spread globally in the U.S., Guatemala and Kenya.
One thorny issue plaguing geothermal power generators is the imbalance between geothermal and wind/solar. Most government agencies, and hence utilities, favor wind and solar, but the negative implications of building excessive amounts of intermittent power has yet to be an issue. When 10% of a state's power source is intermittent, the overall effects are minimal, but as the percentage creeps up over 30%, electrical generation on cloudy, windless days may become an issue. When the news media begins to report on the problematic issues of intermittent alternative-fueled power, the spotlight will turn on geothermal power as a potential savior.
Author's Note: Please review important disclaimer in author's profile.
Disclosure: The author has no positions in any stocks mentioned, and no plans to initiate any positions within the next 72 hours.
The author wrote this article themselves, and it expresses their own opinions. The author is not receiving compensation for it (other than from Seeking Alpha). The author has no business relationship with any company whose stock is mentioned in this article.
Editor's Note: This article discusses one or more securities that do not trade on a major U.S. exchange. Please be aware of the risks associated with these stocks.