Well, well. You just never know what's going to happen when you wake up on a Monday morning. First off, I guess it's always a good thing if you do wake up on a Monday morning, it beats the alternative. But yesterday offered news that I would have never guessed, it felt like a dream, perhaps more like a nightmare.
Burger King (BKW) and Tim Hortons (THI) are in talks, with the plan that Burger King would take over Tim's and move the head office to Canada, largely for tax purposes. Now that's even more crazy, companies moving to Canada from the U.S. for lower taxes! My, how times have changed. But it's all true, at the federal level, Canada has been lowering taxes for businesses and individual taxpayers. Canada is now one of the most competitive and business friendly nations on earth. OK, and I can blame myself, I did work on the communications and branding team that put the conservatives and Mr. Harper in power many years ago. It's my fault. But I had no idea that writing a branding paper or two would lead to me losing my favourite investment. Ha.
I am not a stock picker, but I think I do understand branding to a certain degree, and I understand how branding can lead to sales and profits, and more importantly sustained and growing sales and profits. Tim Hortons is an institution in Canada. It's right up there with hockey and universal health care as "things" that make us Canadian. Tim's sells 8 out of 10 cups of quick serve coffee in Canada. They still have great growth potential in Canada, and they are smartly growing organically in the U.S. Northeast.
There's no such thing as a no-brainer in the world of investing, but for me this was as close as I was going to get as a no-brainer. Tim's has been seen hanging out with burger joints in the past. Wendy's (NYSE:WEN) used to own them. But when they spun off Tim's (they had to because Tim's was so much more valuable on its own than with Wendy's) I bought the stock. I knew the story well, and in fact, I was an advertising creative director on the Tim Hortons business at the time.
It worked out well, so far. It's beat the market, by "a bit" from 2006. That's THI in racing green. They also had a recent 15% spike just a couple of weeks ago as earnings and revenue were well received.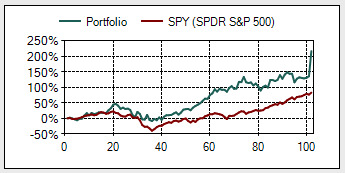 So along comes this burger joint with a 33-year-old CEO (not from the food industry) and they want to buy a wonderful Canadian brand and success story. And the Burger King group is run and directed by a private equity group. Here's what I read on that in the National Post.
Like any private-equity firm, 3G aims to cut costs and boost margins at the companies it acquires, said David Stowell, professor of finance at Northwestern University's Kellogg School of Management.
"That's what private-equity firms do: they reduce costs by tightening up operations and that sometimes leads to a reduction in headcount," said Mr. Stowell, who previously worked as an investment banker at JPMorgan Chase & Co., UBS AG and Goldman Sachs Group Inc.
If Burger King acquires Tim Hortons, "3G will pull out the normal playbook and do the things that will improve margins and cash flow," including possible layoffs, he predicted.
Well, I can assure you that Tim's success was not built on belt tightening. They spend a lot of money doing great charity work. They have wonderful product development. They have robust community and marketing groups. They employ a lot of people who help build the brand and do good in the community.
The private equity model would not work at Tim Hortons. Though no one can be certain of how that group will respond to owning Tim Hortons. But brand building does not seem to be their forte.
So I sold, two thirds of my position. I think I had an additional 22% gain yesterday. I am hoping that someone out there will be even more hopeful for a private equity firm buying a great brand that they will pay me even more for the other third.
It was a no-brainer. If the marriage falls through (as I hope it will) then someone just paid me an outrageous price on news. There's no way THI is worth what I sold it for yesterday. And if the deal falls through, Tim's will fall back to its previous price area and I can repurchase with the additional funds I created yesterday. It's now in cash, waiting. I am hopeful that I get that opportunity. I am so surprised that Tim's would even sit down at the quick serve table with these folks. The THI board may have other plans and ideas.
If the deal goes through, there's the possibility that investors will like the plan and the price will go up even further. I would sell into that. And unlikely, but maybe there's a great plan and Tim's can leverage the assets of Burger King. I may decide to keep $10k in there to have a look and go along for the ride. But that is unlikely.
Yesterday reminded me of why I am an indexer and not a stock picker. You might enjoy this article, My Three Stocks. My 3 stocks have grown to 4 with the addition of Apple (NASDAQ:AAPL). I purchased that for the same reason as I own Tim Hortons - incredible brand power and products and earnings power. So soon, I may be back to 3 stocks. Ha.
It's a sad day in Canada, it's like losing an Olympic or World Junior hockey game.
That was more than bitter than sweet; selling and making a very good profit but having to say goodbye (or the start of goodbye) to a company that I love to own, and visit. Their new dark roast is very good as well, I might add. They keep innovating. That may end. And so will my ownership of this great company.
But I will likely get a second chance to own Tim Hortons no matter how this plays out. This new group is here to make a buck. We'll see if they are in it for the long haul. I would guess not.
Happy investing and be careful out there.
Dale
Disclosure: The author is long SPY, VIG, EFA, EWC, AAPL.
The author wrote this article themselves, and it expresses their own opinions. The author is not receiving compensation for it (other than from Seeking Alpha). The author has no business relationship with any company whose stock is mentioned in this article.
Additional disclosure: Dale Roberts is an investment funds associate at Tangerine Bank (formerly ING Direct). The Tangerine Investment Portfolios offer complete, low-fee index-based portfolios to Canadians. Dale's commentary does not constitute investment advice. The opinions and information should only be factored into an investor's overall opinion forming process