Although the S&P 500 did not close above the 2,000-point level, it did trade above that psychologically important level during the day and left us feeling quite bullish about the current market. As we look at the situation, neither the market as a whole, nor investors individually, are too bullish right now; which indicates lingering fears about potential pullbacks, as well as rational exuberance... if one can call it exuberance.
Chart of the Day:
The recent equity market rally has been met with a rally in the US treasury market as well. It is an interesting period we are in, where investors are both optimistic and pessimistic; which is why we are seeing this hedging that is resulting in both equity and fixed income markets rising.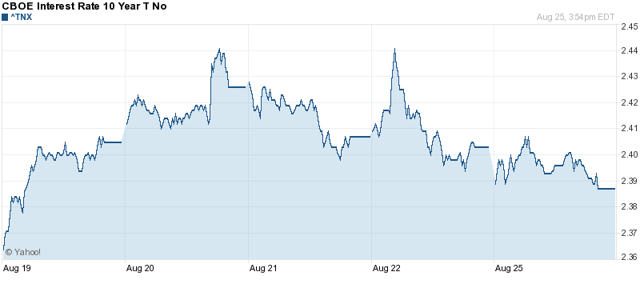 Source: Yahoo Finance
We have economic news today, and it is as follows:
Durable Orders (8:30 a.m. EST): Est.: 7.0% Act: 22.6%
Durable Goods-Ex Trans (8:30 a.m. EST): Est.: 0.6% Act: -0.8%
Case-Shiller 20-City Ind. (9:00 a.m. EST): Est.: 8.3% Act: 8.1%
FHFA Housing Price Index (9:00 a.m. EST): Est.: N/A Act: 0.4%
Consumer Confidence (10:00 a.m. EST): Est.: 88.3
The Asian markets are mixed today:
All Ordinaries - up 0.05%
Shanghai Composite - down 0.99%
Nikkei 225 - down 0.59%
NZSE 50 - up 0.25%
Seoul Composite - up 0.35%
In Europe, the markets are higher this morning:
CAC 40 - up 0.57%
DAX - up 0.18%
FTSE 100 - up 0.38%
OSE - up 0.01%
Interesting Boeing News
Yesterday saw Boeing (NYSE:BA) announce that BOC Aviation, a unit of Bank of China, had placed an order worth $8.8 billion that consists mostly of the company's various 737 models. Asia is becoming an increasingly important region, with both Boeing and Airbus competing to lock in big customers. This deal for Boeing follows another recent deal by BOC Aviation, where the leasing company purchased Airbus planes; which simply highlights the strong demand from the region as air traffic continues to grow and companies look to keep their fleets young and top-of-the-line.
With Boeing approaching the all-important $130/share level once again, we are paying attention because the current momentum might finally break the resistance located in the area. Previous moves have failed, but with the market at all-time highs and this blue chip having lagged, we could see fresh capital inflows in the following weeks.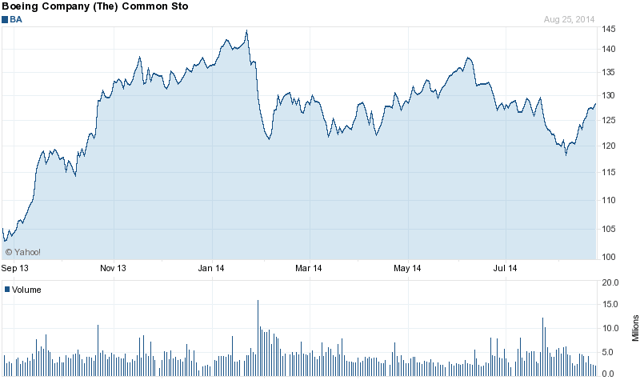 Source: Yahoo Finance
Speaking of recent purchases of new airplanes, there is a bit of color to add to the recent purchase by the low-cost/discount airline subsidiary of Russia's Aeroflot. It appears that the plan is for Aeroflot to drop Dobrolyot, which has been plagued since EU sanctions caused the airline to shut down due to leasing restrictions. The new low-cost airline will use four Boeing 737s to provide service within Russia, with the potential to add routes to Crimea if there is enough demand to do so.
Amazon One-Ups Google
News broke yesterday that Amazon.com (NASDAQ:AMZN) had reached a deal to acquire Twitch, an online community which allows users to watch broadcasts of other gamers in popular video game titles. The agreement has Amazon paying $970 million in cash for the company, which will bolster its entertainment and content platform.
Why is this significant, you ask? Well, first, the rumors for the last month or so have had Google (GOOG, GOOGL) as the acquirer in a deal valued around the same price. Most thought that the Google acquisition of Twitch was a done deal, but with talks having fallen apart a few weeks ago, a number of companies stepped up with offers for the site, including Microsoft (NASDAQ:MSFT), Sony (NYSE:SNE) and Yahoo (YHOO). In the end, it was Amazon and Jeff Bezos winning the highly sought-after asset, and now Wall Street is trying to figure out whether this was a calculated short-term move to block some of Amazon's biggest competitors from gaining a prime entertainment property, or whether this is Amazon once again looking a few years into the future at a new business to integrate into its current product offerings.
Disclosure: The author has no positions in any stocks mentioned, and no plans to initiate any positions within the next 72 hours.
The author wrote this article themselves, and it expresses their own opinions. The author is not receiving compensation for it (other than from Seeking Alpha). The author has no business relationship with any company whose stock is mentioned in this article.
Additional disclosure: BA has previously been recommended.