Angie's List (NASDAQ:ANGI) is a very controversial stock. There are those who love it and perhaps more who absolutely hate it. As investors obviously we need to part ways with sentiment and focus on what might make a stock tick, in order to benefit. So looking at any stock through a sentimental prism is usually bad for your portfolio.
There have been dozens of great articles here on Seeking Alpha, so I will not bother with the specifics of the company. But if you want to know my opinion of the stock, please consider my article from June 2013, where I said the stock should be sold short (Angie's List's Working Capital And Shareholder Equity Is Now Zero).
Below is probably the most important chart as I see it, that should concern Angie's List shareholders: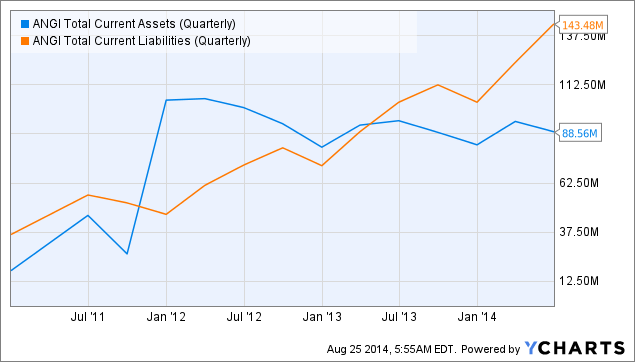 ANGI Total Current Assets (Quarterly) data by YCharts
As you can see from the chart above, Angie's List current assets are about $88.5 million but on the current liability side, current liabilities stand at $143.5 million.
Now what this means is that not only does Angie's List have no working capital, but that it is technically broke. Reason being is that it does not have the assets to cover its short term liabilities within the next twelve months.
However, if we inspect the balance sheet of the company, we will see that the company is not bankrupt and that things are not so bad as they seem.

Source: Angie's List 10-Q
The reason is because many of the liabilities are deferred. Meaning the company does not actually have to pay with cash, but in kind. Deferred membership and deferred advertising liabilities total about $81.7 million, so the company is technically not in some kind of a liquidity crunch for the time being, because the actual liabilities that have to be paid in cash are only $61.8 million, which are covered by assets of $88 million.
However, if current liabilities continue to rise and current assets remain the same -- as has been the case for many quarters now -- then there will come a time that indeed the company will be insolvent.
So when do we reach that inflection point? It is very difficult to tell, however the difference between actual liabilities that have to be paid in cash and the assets with which to pay those liabilities is only about $26 million.
And if this difference continues to widen over the next several quarters (if nothing changes), then there is a very big possibility that the company will witness some kind of liquidity crisis, and that might mean a lot for the stock to the downside.
Disclosure: The author has no positions in any stocks mentioned, and no plans to initiate any positions within the next 72 hours.
The author wrote this article themselves, and it expresses their own opinions. The author is not receiving compensation for it (other than from Seeking Alpha). The author has no business relationship with any company whose stock is mentioned in this article.