Facebook has transformed the way we live and interact, has flooded the world with opportunities in a rapidly-developing social-media era, and may have even become the "second internet."
But with dot-com bubble valuations, growth limitations, and potential legal hurdles standing in the way – are we nearing "social network overload"? And if the social-media craze is overdone, are there ways to make money in the case of a "social media crash"?
There is no doubt that Facebook is one of the most dominant and exciting companies around, with seemingly nothing holding it back from becoming the first website, or internet-based company, to have control over every country in the world.
Just take a look at Facebook's global dominance (click to enlarge images):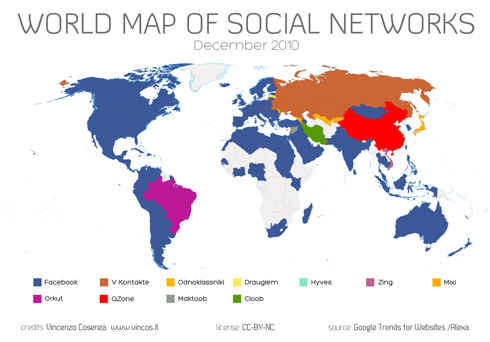 With an ever-growing worldwide recognition as THE social network, and continuous penetration into competitive markets of emerging countries which offer a nearly-untouched consumer base with multiple avenues for giant profits, Facebook's hype is absolutely warranted. It is a platform for connecting with people, a source of news and updates, and an ever-evolving landscape for gaming, business, media, and technology.
Yet with all the massive potential it offers, how can we be assured that Facebook's dominance will actually translate into profits? And how can we determine if expectations are getting ahead of themselves? After a period of tremendous growth that has seen Facebook's user base grow from 150 to 600 million and its perceived value rise from less than $10 billion to over $50 billion (in less than 1 year!), is it time to jump in before it really takes off? Or is the Facebook hype and mass-awareness a sign of irrational exuberance for a business model founded on free-usage and mirage-like profit potential?
4 Reasons Facebook Could Succeed
1) It Is Becoming the "Second Internet." Already the largest networking, photo, and gaming site, with very impressive upcoming opportunities in apps, television, its own email service, and just about every aspect of the internet, Facebook is not too far from being a one-stop source for people to manage their social lives, stay informed about current events, and find great deals on everything from travel to clothing. In fact, with over 30 billion pieces of content (links, news, blogs, photos, etc.) shared each month, developers from over 190 countries building with the Facebook platform, an average of 10,000 new websites being integrated with Facebook every day, and the recognition that Facebook is likely the number one means for interconnectedness and mass-exposure, it is not a complete shock that Facebook took over Google's (NASDAQ:GOOG) title of "most-visited site" in the US for 2010. If a monopoly on the internet is ever possible, Facebook may have the best chance.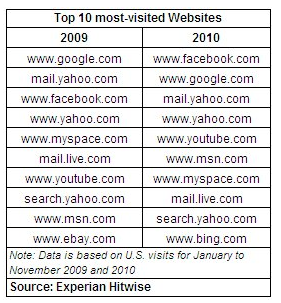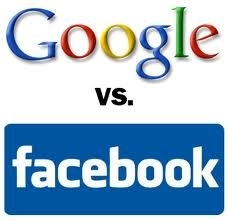 2) Much Room Left for New Ideas and Opportunities. It may have already revolutionized the ways in which we communicate, behave, and spend, but there is still much growth left in this rapidly-developing social cyber-world. Far from exhausting its innovative talents, Facebook continues to impress us with new apps, new ways of engaging its user base, and big dreams for the future. And many believe that the money will soon flow into Facebook once it firmly takes hold. If Facebook does figure out a way to improve its advertising capabilities and monetize its grasp on such a massive audience, it could very well be just in its beginning stages.
3) Many More People Still Left to Join. Surpassing the 500-million user mark in July 2010, and currently having an estimated user base of more than 600 million users, there may still be plenty more people left to join. The world population is nearing 7 billion! And though many will not be able to join due to age, lack of the necessary technology, or simply lack of interest, Facebook founder Mark Zuckerberg has said that "it is almost a guarantee" that Facebook will hit the 1 billion mark.
Take a look the following chart: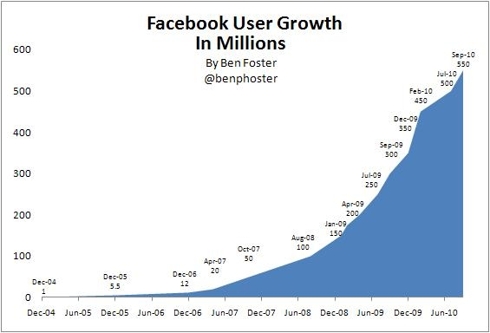 As you can see, Facebook's exponential growth since late 2004 is indicative of the tremendous momentum it has gained. If momentum continues as it has been thus far, the 1 billion mark isn't a far stretch, though we do have to keep in mind that previous performance is no guarantee for future results and that it may be much harder to convince another 500 million people to join the site than it was to convince existing users.
4) Still No Mass Investor Participation. After 5 years of enormous success and public attention, Facebook is still a private company! Companies generally go public in order to raise money for expansion and to allow insiders to sell their share of the company. But Facebook has been avoiding the usual need to go public by raising $1 billion in funding (compared to only $25 million raised by Google before going public in 2004), and by allowing its private shares to be traded in secondary markets created by companies such as SecondMarket and SharePost, which allow for insiders and shareowners to sell their privately-held shares to institutions and wealthy investors who are willing to pay big bucks for a stake in what could be a highly-valuable IPO in the future. In other words, private Facebook stock is currently being bought and sold in a secondary market even though the company isn't public. And though Zuckerberg recently said "Don't hold your breath" when it comes to a Facebook IPO any time soon, an investment in the company now could be very profitable if Facebook does end up going public.
And with Goldman Sachs (NYSE:GS) announcing this week that it will invest $500 million in Facebook, creating a "special purpose vehicle" to allow its wealthy investors to buy a stake in the company, the mass-investing phase in Facebook may only be starting.
On the one hand, more investment funds may soon offer Facebook shares to individuals, which will further inflate Facebook's share value; companies like Felix Investments, EB Exchange Funds, and GreenCrest Capital have already opened Facebook funds in the past year. On the other hand, all this increased investor appetite for Facebook may force Facebook to go IPO earlier than it has been planning to, which could launch the mass-investment phase as the average investor jumps into Facebook stock with hopes it will become the next Google.
Or, in a third scenario, Facebook investing could turn out to be a terrible decision if the inflated private-share prices turn out to be the result of greedy speculation, or if the company and its IPO fail to be as successful as most people believe they will be.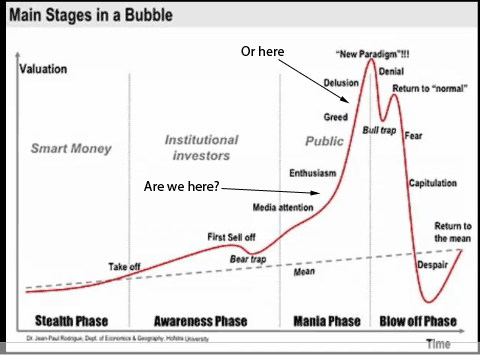 7 Reasons Facebook Could Fail
1) Extreme Valuations. Facebook shares being traded on the secondary market are valuing the company at over $50 billion. That makes it bigger in valuation than Boeing (NYSE:BA), which is both America's largest exporter and one of the 30 companies in the Dow Jones Industrial Average (DJIA). The $50 billion valuation also makes Facebook worth over 60% as much as Amazon (NASDAQ:AMZN), one of the worldwide leaders in online retail – ranging from books to consumer electronics (including its Kindle) to shoes (it owns Zappos).
The $50 billion valuation wouldn't be so much of an issue if Facebook was producing proportional revenues to justify its market cap. And surely much of the money that has been invested in Facebook is being invested because of the potential future profits that Facebook may produce.
But Facebook has yet to truly prove its money-making abilities. While it did more than double its revenues of approximately $800 million in 2009 to $2 billion in 2010, it is still far from producing the revenues necessary to justify a $50 billion valuation. Take Boeing (BA), for example: with a market cap of $49 billion, it far outperforms Facebook's $2 billion in revenues with over $65 billion in revenues. Amazon (AMZN), which is valued at less than twice what Facebook is valued at, still earns 15X more in revenues. And Dell (DELL), which is valued at half of Facebook's valuation, earns 30X as much as Facebook.
Another sign of massive speculation and unproven valuation is Facebook's P/E ratio. The P/E ratio, or price-to-earnings ratio, is a measure of how much investors are willing to pay today for a company's earnings tomorrow. If a company is expected to grow rapidly, and therefore "prove itself" by earning the required revenues, investors will pay higher multiples for the company's stock; a company with a bright future would therefore be proportionally more expensive than a failing company. But while investors generally benefit from paying more for growth companies, there are big risks involved in overpaying. A 20 or 30 P/E ratio is historically reasonable for a growth company, and a 50 or 60 P/E ratio may sometimes prove profitable; but massive and dangerous investment bubbles have formed and collapsed when P/E ratios reached extremely lofty levels, such as the dot-com bubble that saw the P/E ratios of many overly-hyped companies reach over 100, only to send those companies' stock prices crashing down once reality set in.
So why is Facebook's P/E ratio pointing to extreme valuations and potential over-speculation? Because based on its $50 billion valuation and $2 billion in revenues, it currently has a P/E ratio of over 100, with some estimates as high as 400! Compare that to P/E ratios of 22 for Apple (NASDAQ:AAPL), 24 for Google (GOOG), and 68 for Netflix (NASDAQ:NFLX), and it is very obvious that Facebook has yet to prove itself, if at all possible at these valuations.
Here's what happened to some of the most promising companies in the dot-com bubble, who carried P/E ratios as high as Facebook currently does: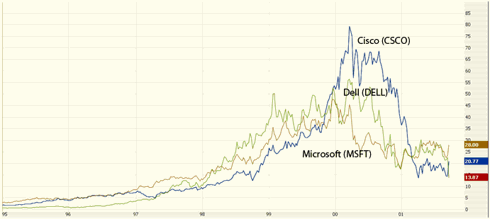 These companies did maintain their leading positions, and remained some of the biggest companies in the world even after the bubble collapsed. But that didn't stop their stock price from dropping as much as 90%. Sure, Facebook has the potential to earn the huge amounts expected; but are expectations way ahead of profits?
2) Unproven Ability to Monetize. As mentioned above, Facebook is yet to prove its ability to turn big profits. As a free social-media platform, Facebook's main service provides it with zero payment. Instead, Facebook must generate revenues by offering advertising and other fee-related services. The problem, however, is that Facebook is struggling with monetizing its business. Firstly, Google still dominates the internet advertisement space; it had a head start, currently has a much more efficient system for targeting ads at the right audience, and is better able to mesh its advertising segment with its search business. Secondly, Facebook hasn't proven that it can truly become ad-friendly; unlike Google, which places well-targeted ads to individuals actually searching for something, Facebook is attempting to advertise to individuals who may be using the site strictly for its social aspect and could very well be annoyed by such intrusive ads.
Social media is hard to monetize, and Facebook hasn't yet figured out how to make the big profits expected of it; but that hasn't stopped venture capitalists from funneling millions of dollars into Facebook and anything related to social-media or the accompanying apps. Yet it may be important to take note that Facebook is not only valued at extreme levels, but is also severely lagging in revenues when compared to the first 6 years of Google. If it can't match Google's initial growth, why should we assume it could be the "next Google," let alone value it at $50+ billion?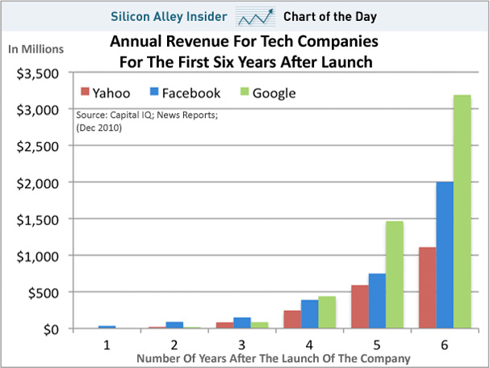 3) Growth Limits and Waning Interest. Facebook is taking over the world, but how much growth is left until it does so? And if it does establish itself all over the world, what growth will then follow?
Facebook has already captivated 600+ million people, and has convinced them to join. It has also spread around the world like an infectious social-media disease, transmitted from friend to friend and further developing the global Facebook obsession. Yet while countries such as Indonesia, Russia, and India (among many others) continue to show strength in adopting Facebook, there is no guarantee that the current Facebook adoption rate will continue. Instead, as opposed to the mainly-American audience Facebook was geared towards until recently, Facebook now faces different cultures with different needs, expectations, and potential political ramifications. China and Japan remain two of Facebook's biggest challenges. If Facebook is able to firmly take hold of these competitive arenas, it will prove itself as the sole worldwide king of social-media; if it fails to take control, it may set itself up for very dangerous failed-expectations. Either way, however, worldwide domination may already be factored into most people's investment models or expectations. Facebook's growth may therefore be broken down into three outcomes – world domination, failed penetration into China and other important markets, or waning interest which sees Facebook losing even its current user base. I'd bet on something closer to world domination, but the threats of slowing growth, waning interest, and expectations that may have already factored in Facebook's global dominance may make Facebook a very dangerous investment.
In fact, Facebook growth in the US may be peaking. After a record 133.5 million unique visitors in October, Facebook saw a slight drop to 132.7 million unique visitors in November. Worldwide, Facebook saw an added 14 million unique visitors; but stagnant US growth and a decline in interest could be a warning of what's to come.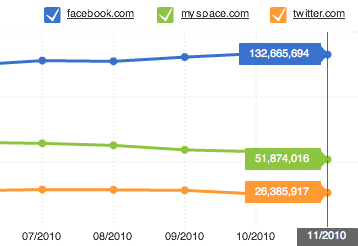 (Source: InsideFacebook.com)
Moreover, Facebook may actually begin to lose users. If months like June 2010 are any indication, Facebook is not immune to negative growth: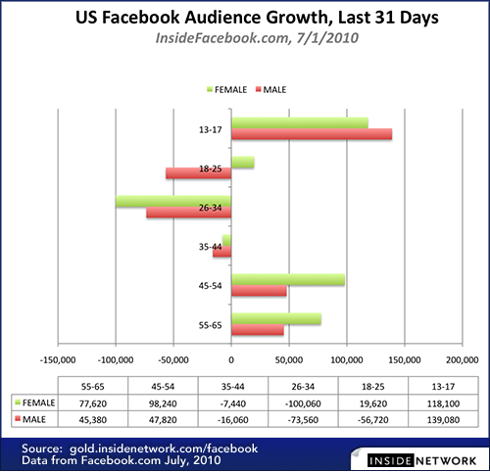 As you can see, Facebook's US growth may be slipping. Not only was growth negative for the 18 to 44 age range, but Facebook may be losing what many consider to be its most lucrative and vital demographic – the 18-35 year olds. Facebook may have simply lost its luster once everyone's parents and grandparents were able to join; it may no longer be as "cool" as it once was.
4) MySpace Part 2? Until Facebook stole the spotlight, MySpace was by far the most dominant and promising social-networking site in the world. It is true that MySpace wasn't as widespread then as Facebook currently is; and it is also true that Facebook offers critical features that were unavailable on MySpace and that make Facebook more connected and more dominant than any of its predecessors. But what says that Facebook's fate won't ultimately follow in MySpace's footsteps? MySpace was the supreme site for years, only to have its title taken away by Facebook's superior competition and by the growing disinterest among MySpace users. Though Facebook does seem to be better geared for competition and continued dominance, there is no guarantee that it will remain on top forever; a revolutionary competing site could theoretically usurp Facebook of its power. And if a better competitor doesn't show up, growing disinterest and "Facebook fatigue," as some have called it, pose the added threat. People are very fickle; Facebook is not immune to fads and constantly-changing interests.
5) Privacy Issues. As a social network founded on openness and shared personal information, such as pictures and daily activities, Facebook has had to deal with many privacy issues. With much private, and potentially dangerous, information open to the public, the threats of identity theft, stalking, and defamation are much bigger than many realize. And Facebook has had to revise their privacy policies and attempt to appear more transparent on numerous occasions due to constant public criticism and potential legal issues.
Privacy issues remain one of Facebook's biggest challenges. People generally prefer that their information be kept private, or at least that its sharing will be limited to people they know and trust. Facebook's policy, however, is less transparent than it would have us believe. While Facebook does appear to be strongly supportive of its users' privacy, it faces very difficult challenges in ensuring that privacy. Their privacy policy states the following:
In order to provide you with useful social experiences off of Facebook, we occasionally need to provide General Information about you to pre-approved third party websites and applications that use Platform at the time you visit them (if you are still logged in to Facebook). Similarly, when one of your friends visits a pre-approved website or application, it will receive General Information about you so you and your friend can be connected on that website as well (if you also have an account with that website). In these cases we require these websites and applications to go through an approval process, and to enter into separate agreements designed to protect your privacy…You can disable instant personalization on all pre-approved websites and applications using your Applications and Websites privacy setting. You can also block a particular pre-approved website or application by clicking "No Thanks" in the blue bar when you visit that application or website. In addition, if you log out of Facebook before visiting a pre-approved application or website, it will not be able to access your information.
As you can see, Facebook generally maintains its right to provide users' information to "pre-approved" third party websites and applications. Not only is Facebook tracking your activity, but "when one of your friends visits a pre-approved website or application, it will receive General Information about you." And while Facebook does allow users to change their privacy settings, it is really hard to determine how much of each user's personal information is actually protected. And even if Facebook makes sure to protect your information, who says the third-party vendors who somehow get their hands on your information aren't abusing it?
Facebook is vulnerable to many threats which could jeopardize its user safety and, in turn, its success. Facebook reserves the right to share or store much of its users' information, which allows it to harvest information and collect data about users. This data mining is generally done for behavioral targeting in Facebook advertisements, but it is not a stretch to say that Facebook is both sharing our personal information and developing a system of surveillance to monitor our activities. Forget Big Brother, Facebook is watching.
And if data mining and information-sharing aren't enough of a scare, the increasing threats of spam, spyware, and fake accounts are making the trade-off between networking and privacy much less attractive. In fact, a researcher recently compiled a list of over 170 million Facebook users and uploaded it on Pirate Bay for anyone to download. The ease with which an ill-intentioned person could access such vital information makes Facebook a haven for hackers, criminals, and data miners looking to wreak havoc or earn ethically-questionable profits. If Facebook doesn't tackle the privacy issue before it gets out of hand, it could face growing resentment, a loss of its users, and substantial legal issues.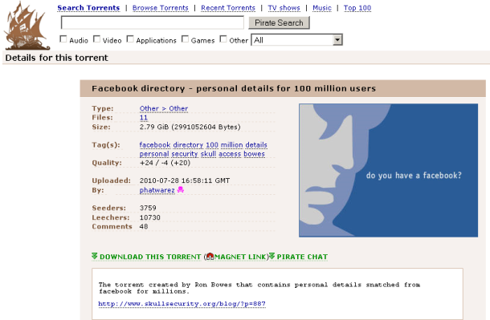 (Source: Pirate Bay/Screenshot by CNET)
6) Mass Awareness Signals Peak. The best investments are made before the whole world knows about them. The most fashionable clothing is coolest before everyone is wearing it. The most talked-about news story is most interesting before everyone has already "discussed it to death." The same may be said regarding Facebook – the best time to join Facebook or invest in it is before everyone knows about it and uses it. And based on a few signs, Facebook's popularity may have peaked.
2010 was Facebook's biggest year in many ways. It saw an added 250 million users, the most for a year since it was founded; it neared $2 billion in revenue; it was able to penetrate very important markets in its quest for global growth; it completely revamped much of its online design and introduced tremendously innovative and promising features; and it even took over Google's spot as number one most visited website in the world. But nothing has grabbed the media's attention more than the release of the Facebook movie, The Social Network, and the tremendous honor of having Facebook founder and CEO, Mark Zuckerberg, named "TIME Person of the Year." Not only did The Social Network receive exceptionally positive reviews from critics, but it also opened at #1 in theaters and has grossed nearly $200 million since its release in October 2010.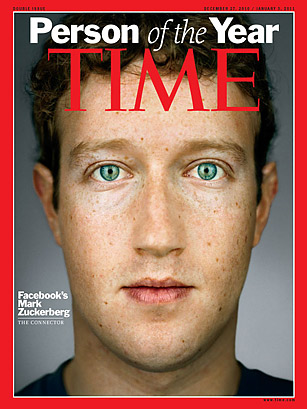 But the tremendous attention Facebook has received may be signaling a peak in popularity. While it is true that Facebook still has plenty of growth left and many exciting opportunities remaining for the future, is there that much room left for the "Facebook obsession" to grow? After a movie based on it came out, its CEO winning "TIME Person of the Year," and an upcoming special on CNBC entitled "The Facebook Obsession," how much better can things really get? If anything, most people's attention and love for Facebook is near its maximum levels; and with everyone from grandparents to 10 year olds now on Facebook, it could be just a short while before many users lose interest.

7) Risky Derivatives and SEC Investigation. Goldman Sachs (GS) along with a Russian investment firm announced this week that they will be investing $500 million into Facebook, ultimately allowing its wealthy investors to invest up to a total of $1.5 billion into the company. Goldman Sachs will be providing the investment opportunity by creating a "special-purpose vehicle" which will sidestep one of the most critical laws regulating initial public offerings. The law states that companies with more than 499 investors must disclose important financial information in order to limit investor risk and maintain financial integrity – something Facebook has been avoiding since its founding. Zuckerberg wants to keep Facebook a private company, and continues to do so by limiting the number of investors to below 500. The problem now faced, however, is that Facebook is using a tricky loophole to maintain that number under the 499 limit.
Goldman Sachs is a prime example of how such a loophole is used. Even though Goldman will have multiple investors buying stock in Facebook, Goldman will technically only be considered 1 investor on Facebook's books. In other words, even though Facebook says it currently has less than 500 investors, there are probably many more that are either unaccounted for or simply lumped together as pooled money and counted as 1. Adding to this law-avoidance, it appears that the investment risk involved in Facebook is much greater than many believe. Not only are the investments in Facebook being made in a private company with highly inflated and hard-to-value shares, but the secondary markets in which Facebook shares are being traded are completely unregulated and unsecured. The risks involved with investing in a private company such as Facebook are tremendous, and investment in Facebook is by no means recommended for the average investor. Goldman Sachs' creation of a "special-purpose vehicle" – another term for "derivatives" – is not too much different than the "special-purpose vehicle" it created to pump its mortgage-backed securities to its uninformed investors who eventually saw their investments collapse while Goldman walked away mostly unaffected. Facebook may sound like a better bet, but it could be just as risky and ill-advised as any other asset-backed security or derivative.
This hasn't escaped the attention of regulatory authorities either. The SEC is currently investigating Facebook and Goldman Sachs to figure out exactly what is happening with the investments. The SEC knows both companies are avoiding the 500 shareholder laws, and it may begin to clamp down on these shady practices. The SEC could end up forcing Facebook to go IPO in order to avoid these issues, or it could prevent some of these shady investment practices. Though a push for an IPO may make a current investment in Facebook fairly lucrative, the potential risks involved with private-company derivatives are tremendous. Add to that the sensationalism involved in these private shares and the unheard-of $50 billion valuation for a private company with inadequate and unproven revenues, and Facebook could very well be a social-media bubble.
As we've mentioned again and again, Facebook is one of the most interesting and dynamic companies in history. It has revolutionized technology, social networking, and the future of how we live and interact. There is no doubt Facebook has a lot of potential and many opportunities to become one of the biggest companies in the world, already having control over the bulk of the globe and now the #1 most visited website. There are many more people for Facebook to "convert," many more ideas for it to develop and introduce, and many more investors for it to convince on its way to becoming the "second internet."
But while investors are clamoring to snap up shares in the private company, and the media continues to be infatuated with anything related to social-media, there are many issues lurking that could set Facebook up for serious problems. For one, its valuations are currently at extreme levels not seen since the dot-com bubble; its revenues are by no means enough to justify its $50 billion market cap. Second, it hasn't truly proven itself as a profit-generating business; since its business model was essentially founded on a free service, it has been facing difficulties in monetizing its business. Thirdly, though it has grown extremely rapidly thus far, we should not expect Facebook to continue seeing such astronomical growth; at some point it will have saturated the market. Moreover, while it aims at global growth, it could start losing some of its current users due to disinterest, new competitors, or harmful privacy policies. It could also face some legal troubles both on the privacy front and in its shady and avoidant investment practices. There are so many potential issues involved that could hamper Facebook's growth, jeopardize it legally, or simply see it fail to meet expectations, that an investment in Facebook carries a tremendously higher risk than reward. Money could potentially be made, but the dot-com bubble valuations and the housing-meltdown-like derivatives make investing in Facebook extremely dangerous.
Disclosure: I have no positions in any stocks mentioned, and no plans to initiate any positions within the next 72 hours. I will gladly purchase put options in Facebook if offered.