It has been no secret that tensions between the United States and China have been mounting over the use of technology for some time, but The New York Times recently reported that a Chinese-built operating system could be released as early as October to compete with Microsoft (NASDAQ:MSFT) Windows, Google (NASDAQ:GOOGL) (NASDAQ:GOOG) Android and Apple (NASDAQ:AAPL) iOS. This is the latest in a series of blows for the American Big Three, each of which had previously identified China as a key growth area for each respective company. While the rollout period is likely to take several years before taking complete effect, shareholders in each company should consider the long-term ramifications. In the immediate term, all three stocks remain on my buy list, but this story will be critical over the next several years.
Windows 8 Banned
Xinhua, the government news agency, reported that the Chinese operating system is expected to begin with a new desktop version, to be followed my mobile versions. The story, citing Ni Guangnan head of the official operating system development alliance established in March, said the hope is that "domestically built software could replace desktop operating systems within one to two years and mobile operating systems within three to five years." Last May, China banned government use of any system that relied on Windows 8.
Suspicions between the two countries have been running high ever since the Snowden incident raised questions about U.S. tech firms providing "backdoors" into American-made technology. The U.S. Justice Department, in what is believed to be a direct response, indicted five Chinese military officers for cyberhacking and industrial espionage. As both governments continue to make retaliatory moves, the ultimate impact on global commerce is hard to quantify. Still, Mr. Ni referred to the ban as an "opportunity" for local development.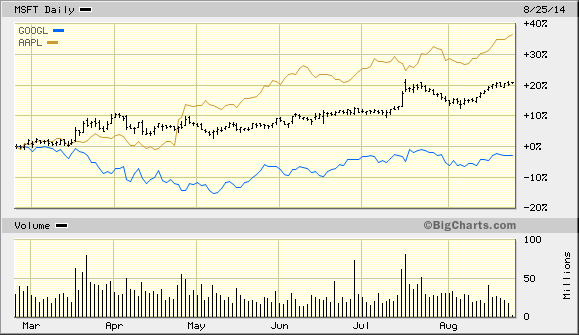 Google and Apple May Be Next
Google's challenges with China are well known ever since the King of Search largely pulled out of the country when it refused to bow to censorship pressure. Still, with IDC putting Android's market share at nearly 85% as of the end of the second quarter, Google clearly has a presence in the country. Google has been accused of discriminating against some local businesses and is generally viewed as having too big a presence by the Chinese government.
Apple CEO Tim Cook has perhaps been most outspoken about the importance of China to the company's growth strategy. Last quarter, roughly 16% of Apple's revenue resulted from Chinese sales. While the company, in some respects, has seen less pressure than its brethren, a Chinese-made mobile OS will likely impact sales over the next three to five years. Mr. Ni made clear "dealing" with the Big Three is a high priority: "Creating an environment that allows us to contend with Google, Apple and Microsoft - that is the key to success."
The Trades
Despite this development, I remain bullish on all three stocks over the next few quarters. Apple is heading into a significant product release period, and has the momentum to run. Google continues to innovate and Microsoft should not be counted out. Over the longer-term, this trend is likely most damaging to Microsoft. Mr. Softy relies on Windows to drive its business and being shut out of China, or even seeing fierce competition from a new competitor could hurt. With the Chinese desktop OS expected first, it is also the most likely to feel the impact first. Microsoft badly needs to demonstrate its ability to shift into the mobile world before time runs out. A 2.7% dividend yield is reason to wait and see for now.
Google is the next likely to be hurt by this shift. While search still makes up the bulk of Google's revenues, the shift to mobile means that Android will become increasingly important. If a new player can seriously erode some of Android's market share, investors should take notice. With the timeframe mentioned, however, playing the near-term potential of the stock makes sense.
Disclosure: The author has no positions in any stocks mentioned, and no plans to initiate any positions within the next 72 hours.
The author wrote this article themselves, and it expresses their own opinions. The author is not receiving compensation for it (other than from Seeking Alpha). The author has no business relationship with any company whose stock is mentioned in this article.