One sector in the stock market that gets very little attention is water utilities. Water services and how millions of Americans get drinking water on a daily basis is an afterthought and very few people realize the importance of this basic service. However, with drought conditions lingering through much of the southwest, this topic is gaining importance and investors are actually beginning to pay attention to water utility companies and the important services they provide. The average American uses approximately 100 gallons of water a day and the average American household uses about 127,400 gallons of water a year. Because water affects nearly every aspect of our daily lives, water utilities have become remarkably consistent operators that generate regular cash flow that are used to payout steady dividends. This article will cover 8 publicly traded water utilities. Half of these water utilities are dividend aristocrats, meaning they have increased dividends for at least 25 consecutive years. In fact, these 4 dividend aristocrats have increased their dividends for at least 40 consecutive years.
| | | | | | | | |
| --- | --- | --- | --- | --- | --- | --- | --- |
| Water Utility | Market Cap ($B) | P/E | EV/EBITDA | Debt/Equity | Payout Ratio | Dividend Yield | Consecutive Years of Dividend Increases |
| American Water Works Co. (NYSE:AWK) | $ 8.89 | 23.5 | 10.6 | 1.22 | 51% | 2.5% | 5 Years |
| American States Water (NYSE:AWR) | $ 1.23 | 20.5 | 9.76 | 0.67 | 59% | 2.7% | 59 Years |
| Artesian Resources (NASDAQ:ARTNA) | $ 0.18 | 21.5 | 10.8 | 0.95 | 74% | 4.0% | 5 Years |
| Aqua America (NYSE:WTR) | $ 4.33 | 19.8 | 13.8 | 1.03 | 55% | 2.4% | 6 Years |
| California Water Services Group (NYSE:CWT) | $ 1.14 | 26.6 | 10.9 | 0.85 | 76% | 2.7% | 46 Years |
| Connecticut Water Services (NASDAQ:CTWS) | $ 0.36 | 19.3 | 12.6 | 0.86 | 53% | 3.0% | 44 Years |
| Consolidated Water Co. (NASDAQ:CWCO) | $ 0.17 | 32.2 | 13.5 | 0.07 | 48% | 2.4% | 0 Years |
| Middlesex Water Co. (NASDAQ:MSEX) | $ 0.32 | 19.6 | 11.1 | 0.85 | 68% | 3.6% | 41 Years |
Source: Yahoo Finance and Dividend.com
American Water Works
American Water provides drinking water, wastewater and other water related services to an estimated 14 million people in more than 40 states and in two Canadian provinces. The company is the largest publicly traded water utility in the US and has pursued an aggressive acquisition program over the past several years. In 2014, the company acquired four regulated water systems and one regulated water and wastewater system for around $2.9 million. The largest acquisition in 2014 was when the company's unit, Kentucky American Water, acquired the water and wastewater assets of the City of Millersburg, KY, for $0.52 million. This strategy has led the company to have the highest debt/equity ratio in the group. The company was founded in 1886, but has only been a publicly traded company since 2008.
American States Water
American States Water provides water, electric, and contracted services in the United States. The company purchases, produces, and distributes water in 75 communities in 10 counties in the State of California; and provides electric service to the City of Big Bear Lake and surrounding areas in San Bernardino County, California. In 2013, it served 257,102 water customers and 23,615 electric customers. The company was founded in 1929 and is headquartered in San Dimas, California. American States Water claim to fame is its 59 consecutive years of dividend increases. This gives the company the second longest streak of consecutive dividend increases in the entire New York Stock Exchange behind Diebold (NYSE:DBD).
Artesian Resources
Artesian Resources provides water, wastewater, and other services on the Delmarva Peninsula. It distributes and sells water to residential, commercial, industrial, municipal, and utility customers in the states of Delaware, Maryland, and Pennsylvania. In addition, the company provides public and private fire protection to customers in its service territories. In 2013, the company serviced approximately 79,700 customers. The company was founded in 1905 and is headquartered in Newark, Delaware.
Aqua America
Aqua America operates regulated utilities that provide water or wastewater services in Pennsylvania, Ohio, North Carolina, Illinois, Texas, New Jersey, Indiana, and Virginia. The company offers liquid waste hauling and disposal, and water and wastewater services through operating and maintenance contracts with municipal authorities and other parties. As of February 2014, the company served 3 million residents across its territories. Like American Water Works, Artesian Resources has pursued an aggressive acquisition strategy by acquiring small municipality water utilities.
California Water Services Group
California Water Services Group provides water utility and other related services in California, Washington, New Mexico, and Hawaii. It provides its services to approximately 475,100 customers in 83 California communities; 4,200 water and wastewater customers on the islands of Maui and Hawaii; 16,000 customers in the Tacoma and Olympia areas in Washington; and 7,600 water and wastewater customers in the Belen, Los Lunas, and Elephant Butte areas in New Mexico. The company was founded in 1926 and is headquartered in San Jose, California. It is also a member of the dividend aristocrats with 46 years of consecutive dividend increases.
Connecticut Water Services
Connecticut Water Services is a regulated water utility providing water services to 121,768 customers in Connecticut and Maine. The company also operates a service line protection plan for public drinking water customers by providing bulk deliveries of emergency drinking water to businesses and residences through tanker trucks. The company is a dividend aristocrat and has increased dividends for 44 consecutive years.
Consolidated Water Co.
Consolidated Water is a pure play on desalination. The company develops and operates seawater desalination plants and water distribution systems in the Cayman Islands, The Bahamas, Belize, the British Virgin Islands, and Indonesia. The company plans an aggressive expansion by building a 100 million gallon per day seawater reverse osmosis desalination plant to be located in Rosarito Beach, Mexico and an accompanying pipeline to deliver water to the Mexican potable water system and the U.S. border. While construction has not yet started, this project will provide water to the drought ravaged area in southern California that is desperate for fresh drinking water.
Middlesex Water Co.
Middlesex Water provides regulated and unregulated water, and wastewater utility services in parts of New Jersey, Delaware and Pennsylvania. In addition, the company provides fire protection services to customers in select areas. The company was founded in 1897 and is headquartered in New Jersey. The company has an attractive 3.7% dividend and has increased dividends for 41 consecutive years, making it a dividend aristocrat.
Analysis
Regulated water utilities operate under set pricing that has been agreed upon by the company and the city or municipality they serve. Because of this agreement, water utilities have a very good idea what their revenues will be on a quarterly basis and will adjust their operating and maintenance expenses accordingly. This model may be boring, but it brings in consistent cash flow that is returned to shareholders through dividends. As proof of this remarkably consistent model, 4 of the 8 stocks have increased dividends for over 40 straight years. Having stocks that perform well regardless of market conditions is essential for any dividend portfolio.
While all of these water utilities provide regular and consistent dividends, there are small differences that can lead investors to exactly what they are looking for in a dividend paying stock. These 8 stocks offer dividend yields ranging from 2.4% to 4.0%. Because of the predictable revenue stream from water utilities, these stocks have very low betas and their dividend yield has only small fluctuations. To make viewing easier, the charts will split the companies in half.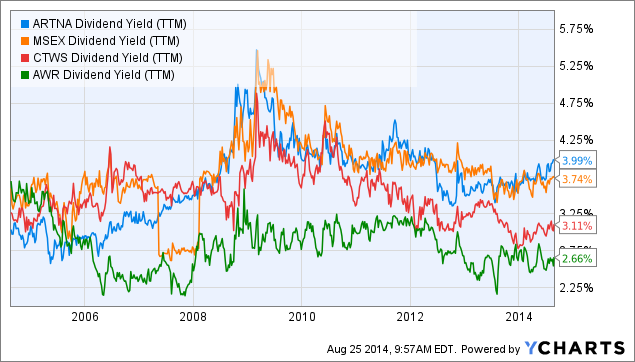 ARTNA Dividend Yield (TTM) data by YCharts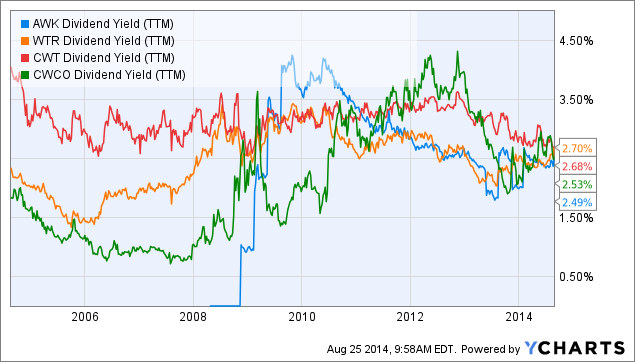 AWK Dividend Yield (TTM) data by YCharts
Over the 5-year time frame, American Water Works, American States Water and Aqua America come out on top for total returns. American Water Works and Aqua America have achieved this growth through aggressive acquisitions paying off. American States Water has the biggest exposure to California where water security has become a major issue during the drought.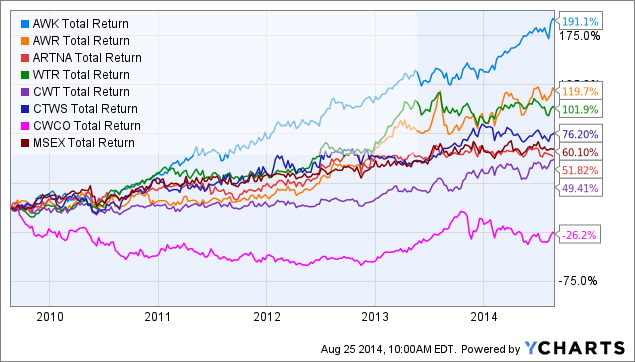 AWK Total Return Price data by YCharts
Over a longer 10-year time period, American States Water rises to the top with Aqua America and California Water closely behind.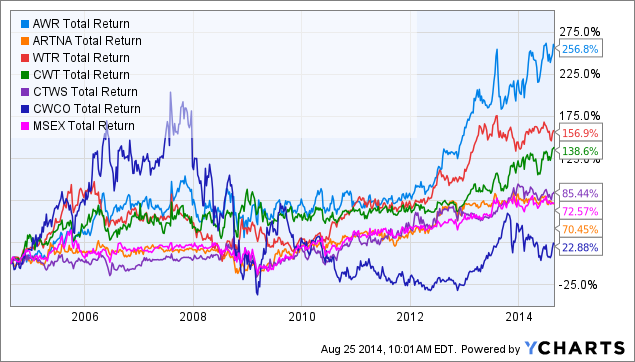 AWR Total Return Price data by YCharts
Conclusion
All these stocks are solid choices to diversify a dividend portfolio and picking the right one depends on what investors are looking for in a stock. Investors looking for a high-yield stock should look at Middlesex and Artesian Resources, as both have a yield over 3.5%. Middlesex, in particular, is attractive with its 41 consecutive years of dividend increases. Investors looking for stability have their choice among 4 companies that have increased their dividend for more than 40 straight years. With this historical performance, it's hard to argue against any one of them. Investors looking for capital appreciation as well as a solid dividend should look at American Water Works and Aqua America. Both of these companies are actively acquiring smaller water utilities which have lead to impressive capital appreciation over the past 5 years. My top pick in this group based on consistency, appreciation, geography and fundamentals is American States Water. This company has a remarkable dividend record with 59 consecutive years of increases, the lowest EV/EBITDA in the group and the second lowest debt/equity ratio. Over the past 10 years, AWR has returned the most to shareholders and its exposure to drought stricken California should continue to lead to higher margins through increased rates and public backing to improve infrastructure.
Disclosure: The author has no positions in any stocks mentioned, and no plans to initiate any positions within the next 72 hours.
The author wrote this article themselves, and it expresses their own opinions. The author is not receiving compensation for it (other than from Seeking Alpha). The author has no business relationship with any company whose stock is mentioned in this article.