A recent article about Cognizant Technology Solutions (NASDAQ:CTSH) left us wondering if CTSH really is a good buy now. What about the other business/IT outsourcing companies? So we decided to look at CTSH and two other Indian outsourcers -- Wipro Ltd. (NYSE:WIT) and Infosys Technologies, Ltd. (NASDAQ:INFY) -- and compare their relative strengths based on fundamentals.
Using our software and analysts' five-year growth projections, we get the following intrinsic value output:
From this, all companies seem to be trading at premiums to their intrinsic value, with INFY trading closest to our calculated intrinsic value.
The valuation page shows the following: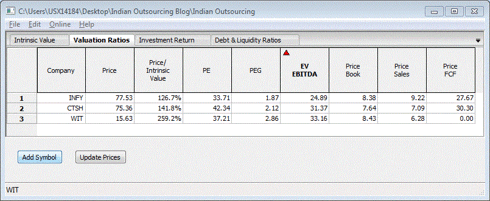 All companies trading at PEGs well over 1.0, EV/EBITDA, Price/FCF and other metrics are seemingly not a bargain (maybe a larger company sample size would indicate whether or not these are high, low or average for the industry). WIT's Price/FCF of 0 is concerning and needs to be double-checked, but aligns with the 0 FCF in 2010.
The investment return page shows the following: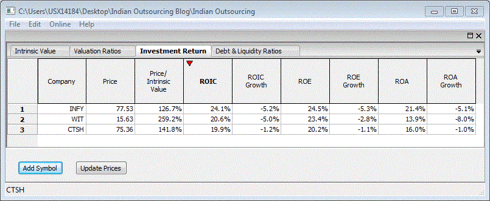 All companies have high ROICs well above 15%, but with IT and service companies we tend to look for those companies with ROICs over 20%.
The debt and liquidity page shows the following: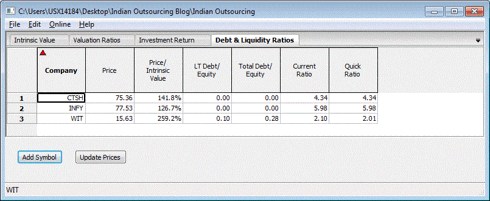 Only WIT has any significant debt, but its current and quick ratios show sufficient liquidity to cover its short-term liabilities.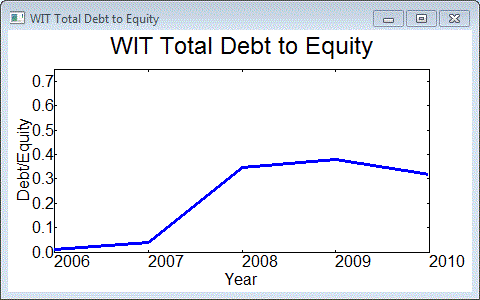 We believe it is difficult if not impossible to predict the future. Given that, assuming the analysts have not grossly underestimated the growth rates for the next five years, it is hard for us to say any of these stocks is a best buy for 2011.
Disclosure: I am long CTSH.

Additional disclosure: ZenPrime owns and is long on CTSH. However, this price we believe is too high for increasing our position.