Actively-managed ETFs closed 2010 by crossing the $3 billion mark in assets within the U.S. markets. Active ETFs had come close to that number in November 2010, when they finished that month at slightly below $2.9 billion. The general markets resumed their winning stretch in December, after taking a pause in November, as the S&P500 gained another 6.53% over the month. The S&P500 is up nearly 20% since the month of September, one of the best performances for the equity markets in a quarter.
Things slowed down slightly in the active ETF space as a year full of big developments came to a close. The only major activity we saw in the arena was the launch of the first actively-managed high yield bond ETF by AdvisorShares when the Peritus High Yield ETF (NYSEARCA:HYLD) hit the market in early December. We also spoke to Gary Gastineau in a detailed interview on the issue of transparency in active ETFs and whether it is ultimately beneficial to investors. Gary Gastineau is the co-founder of Managed ETFs LLC, a firm that owns patents to trading mechanisms that could help non-transparent active ETFs become a reality. Eaton Vance made its intentions clear when it acquired the assets of Managed ETFs LLC, a move that will definitely lead to a greater push behind these non-transparent ETFs. On the product development front, Guggenheim filed an application for a short duration high yield bond ETF while AdvisorShares expanded its pipeline even more by filing for a new tactical ETF.
What was interesting in December was to look back at how the active ETF industry evolved in 2010. We looked at the year in review and highlighted the positive and negative developments for active ETFs and also assessed how the seven different active ETF issuers fared. Looking forward to 2011, we put forward four forecasts for active ETFs and also previewed the exciting new products in the pipeline that investors can look forward to.
Fund Flows:
Click to enlarge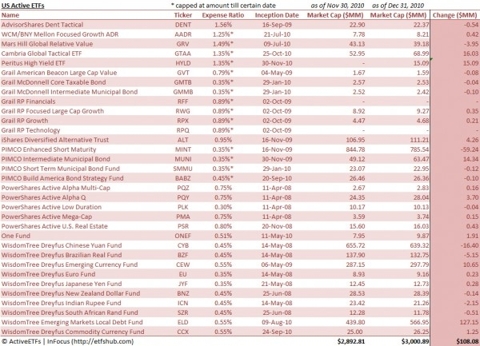 During the month of December, active ETF assets in the U.S. increased from $2.89 billion to $3 billion. There are now 33 actively-managed ETFs listed on the U.S. markets as of December 2010, with AdvisorShares' Peritus High Yield ETF being the latest addition. The Cambria Global Tactical ETF (NYSEARCA:GTAA) continued its impressive growth, reaching an asset base of close to $70 million, easily making it the largest actively-managed equity ETF. This growth has been all the more impressive because GTAA was only launched in late October 2010. HYLD was able to gather $15 million in assets over the one month that it has been on the market – not as quick a start as some of AdvisorShares' other launches. All in all, AdvisorShares now has in excess of $150 million in investor assets – commendable for an issuer that only had one fund on the market in the first half of the year.
However, the biggest contribution to the monthly gain in assets came from WisdomTree's Emerging Markets Local Debt Fund (NYSEARCA:ELD), which has continued attracting investor assets at rapid pace. ELD flew past the $500 million mark as it gathered another $127 million in investor assets and ended the month at $567 million. That provides some indication of the level of investor appetite for risky assets providing exposure to emerging markets.
PIMCO's Enhanced Short Maturity Fund (NYSEARCA:MINT) lost assets as one would expect in a month of strong equity returns, being a money market alternative. MINT ended the month standing at $785 million. What's encouraging for PIMCO is the gains that its Intermediate Municipal Bond Fund (NYSEARCA:MUNI) saw this month as it increased its asset base by about $15 million. December continued to be a tough month for U.S. municipal bonds as they took a further dip early in the month before recovering in the last couple of weeks. That MUNI was able to outperform other passive muni ETFs like MUB during the down draft would have helped it gain some credibility and traction with investors.
Click to enlarge

In Canada, Horizons AlphaPro continued growing its asset base marginally in the absence of any strong competition in the Canadian active ETF space. The gains came primarily from its largest fund, the AlphaPro Corporate Bond ETF (HAB) that grew by about $20 million to get close to $300 million in assets. AlphaPro's latest addition to its lineup, the Preferred Share ETF (HPR), did not gain any traction amongst investors during the month.
New Entrants, Filings and Closures:
1. Guggeheim files for Short Duration High Yield Active ETF – Direct link
2. AdvisorShares files for new tactical ETF – Direct link
Disclosure: No positions in above-mentioned names.
Disclaimer: Views and opinions expressed on EtfsHub are those of the author alone and do not in any way represent the official views, positions or opinions of the employers – both past or present – of the author in question, or any other institutions and corporations associated with the author. Etfshub is not an investment advisor, neither the information nor any opinions contained or expressed above and elsewhere on EtfsHub constitutes or should be construed as a solicitation or offer by EtfsHub to buy or sell any securities or other financial instruments or to provide any investment advice or recommendations. None of the material above and elsewhere on EtfsHub is intended to endorse or promote any company or its products. EtfsHub shall not be liable for any claims or losses of any nature, arising indirectly or directly from use of the information on or accessed through the site. Please see full disclaimers here.