iDreamSky Technology Ltd (NASDAQ:DSKY) - Buy Recommendation - PT $23.50.
The SEC-enforced 25-day quiet period on underwriter reports that began with iDreamSky Technology Ltd's August 6 IPO will conclude on August 31.
The expiration of the quiet period will allow the IPO underwriters to publish reports on the Chinese mobile game publishing platform. DSKY's share prices will likely receive a temporary boost with the release of the underwriter analyses.
Early Market Performance: Upward Trend
DSKY's IPO priced above its expected price range at $15 per share and posted a small 6.3% first-day return. Share prices have continued to trend upwards, closing at $22.34 per share on August 24.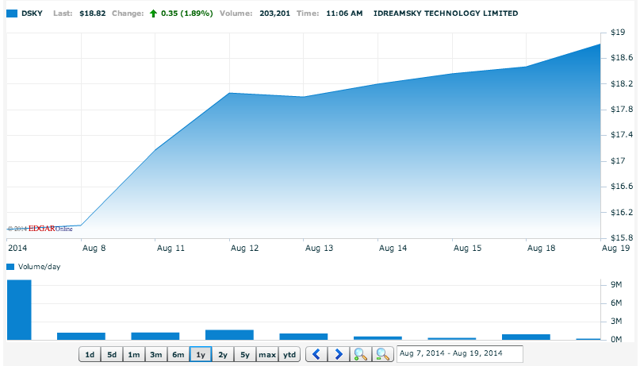 (Nasdaq.com)
DSKY's IPO underwriters, including Credit Suisse Securities; J.P. Morgan Securities LLC; Stifel Nicolaus & Company, Incorporated; and Piper Jaffray & Co., will seek to encourage the stock's growth through the release of positive analyses with the expiration of the quiet period.
Business: Redesigning International Developers' Games For The Chinese Mobile Market
DSKY is a Chinese independent mobile game publishing platform. DSKY was first among Chinese platforms in terms of active users in 2013 and averaged 98.3 million monthly users in the first quarter of 2014. The firm redesigns international developers' games to be delivered via its own platform and for the Chinese mobile market in general through app stores and device pre-installs. As of 2014, DSKY has also begun to design its own games.
DSKY partners with Chinese third parties in order to reach a broader audience. Major partners include the 91 Wireless, Lenovo, Tencent App Store, Qihoo 360 Mobile, and Huawei.
DSKY currently offers mobile users a total of 40 diverse games. Many of these games are highly popular international games revamped to be launched in the Chinese market, including the likes of Subway Surfers, Temple Run, and Fruit Ninja. DSKY offers international developers a simple way to import games to China and simultaneously provides a large built-in audience through its platform.
See our prior article on DSKY for more information.
Competition: Chinese and International Game Development Firms
DSKY competes with domestic Chinese game development firms like Chukong Holdings Limited, China Mobile Games and Entertainment (NASDAQ:CMGE), Shanda Interactive Entertainment Limited, and FL Mobile Inc. The firm also faces competition from international mobile game firms who may seek to operate directly in China, such as GREE International, Electronic Arts (NASDAQ:EA), and DeNa Co. Some of DSKY's competitors may have access to greater technical or financial resources than DSKY.
Management Overview
Co-founder Michael Xiangyu Chen serves as the Chairman and CEO of DSKY. Mr. Chen has more than a decade's experience in the telecommunications, Internet and mobile games industries. He previously worked as a technology director at Shenzhen Guoxin Communication Technology Co., Ltd and in the overseas projects division of Achievo Information Technology (Shenzhen) Co., Ltd. He also served as a software engineer at Huawei Technologies Co., Ltd.
Mr. Chen received a bachelor's degree in computer science and technology from Central South University in China.
Connections: Underwriters, Quiet Period Expirations, and Buying Opportunities
Dan Bradley, PhD, CFA, affiliated with the University of South Florida, and his colleagues describe how analysts initiate coverage immediately for 76% of firms upon the conclusion of the quiet period, almost always with a rating of 'Buy' or 'Strong Buy' (Journal of Finance 2003).
Share prices typically rise before the date of the quiet period expiration as investors anticipate positive reports from the IPO underwriters and purchase shares ahead of the expiration in order to take advantage of the forthcoming analyses.
For the two days preceding and the two days following the date of initiation, additional studies show abnormal positive returns, ranging from 2% (Highfield, Lach and White, 2001) to 4.1%-6.4% (Carter, Piwowar, and Strader, 2001).
Bradley et al also find a significant correlation between the quantity and visibility of IPO underwriters and increasing share prices near the expiration of the quiet period.
Our own research, conducted on a sample of 2014 IPOs, finds above-market returns of 2.3% within an 8 day (-5, +2) period (day 0 being expiration). These data are statistically significant at the 90% level. When we exclude IPOs for banks and REITs, returns increase further and remain within the 90% significance level. We also find that a greater number of underwriters can lead to diminished volatility of returns in the quiet period. We observed no significant linear relationship between market capitalization and returns or volatility of returns in the same period. We also observed no significant linear relationship between the percentage of the company floated at the time of IPO and returns or volatility of returns.
Conclusion: Sustainable Growth, Savvy Business Model Suggests A Buying Opportunity
We like DSKY moving forward.
Though the stock didn't get off to the explosive start that some Chinese tech IPOs have experienced this year, it has continued to trend upwards since its launch on the market, which could signal more sustainable growth.
The firm appears to have a bright future, having established itself as a leading destination for Chinese mobile gamers. The firm's model of importing successful games has been successful thus far; by selecting proven games for the Chinese market, DSKY is able to take advantage of existing marketing and media buzz for the games abroad and to offer developers a simple route to Chinese publishing.
The firm has generated profits and we expect it to continue to do so.
Investors interested in purchasing DSKY shares should consider taking advantage of the buying opportunity presented by the upcoming quiet period expiration.
We encourage readers wishing to join the discussion on IPO quiet period expirations to click +FOLLOW above the title of this article - and those wishing for the latest updates to click +Get real time alerts.
Disclosure: The author is long DSKY.
The author wrote this article themselves, and it expresses their own opinions. The author is not receiving compensation for it (other than from Seeking Alpha). The author has no business relationship with any company whose stock is mentioned in this article.