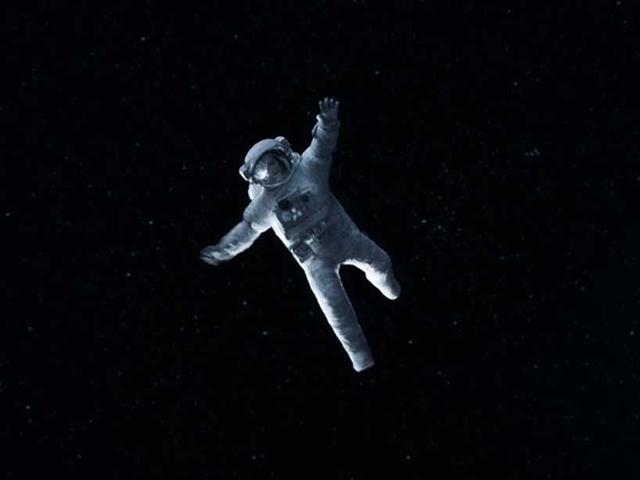 Picture: The movie "Gravity", source: strictlyautobiographical.com
Best Buy Co., Inc. (NYSE:BBY) reported earnings today before the market opened. The company delivered fairly decent results given the softness in the market for consumer retailers. Revenue of $8.90 billion was just shy of the $8.99 billion analysts were expecting. Earnings per share ("EPS") of $0.42 beat expectations of $0.31. The migration of sales from bricks and mortar to online has exacerbated revenue of retailers like RadioShack (NYSE:RSH) and Staples (NASDAQ:SPLS). Going into earnings, it was clear that Best Buy's ability to fight gravity and grow online revenue as a hedge against reduced in-store traffic was key to its quarterly earnings. Below are the company's historical financial results: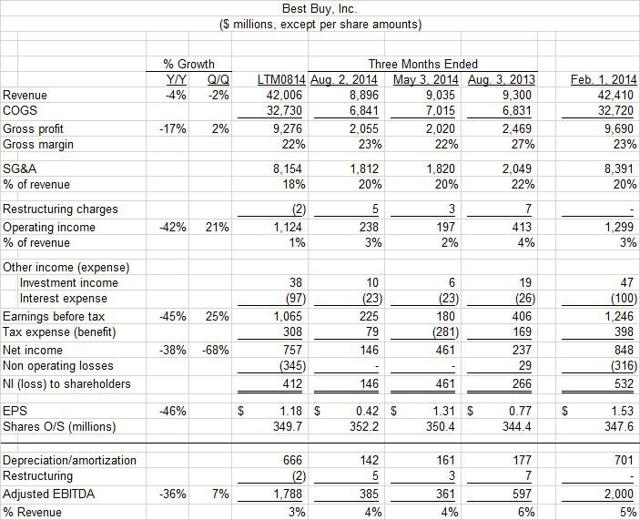 Revenue
Revenue declined 4% Y/Y and 2% Q/Q.
Domestically, comparable store sales were down 2% Y/Y, while online sales were up 22%.
Management estimated that online revenue as a percentage of total industry revenue was in the double-digits. That said, Best Buy still has room to grow its online revenue. For the previous quarter, the company's online revenue rose from 6% to 8% of total revenue.
Internationally, comparable store sales were down 7% Y/Y.
Earnings
Gross margin declined to 23% in the quarter-ended August 2, 2014 from 27% during the same period last year.
Gross margin compression was caused by [i] discounting to drive foot traffic into stores and [ii] cost-conscious customers checking prices in retail stores, and then purchasing items cheaper online. Gross margin compression is not expected to abate anytime soon.
SG&A as a percentage of revenue was 20%, down from 22% a year ago. As sales and gross margin continue to decline, management is focused on aggressively managing SG&A expense.
The company cut costs equivalent to $40 million annually. Management expects to make more cost cuts internationally.
EBITDA declined 36% Y/Y to $385 million from $597 million in the year-ago period. EBITDA margin as a percentage of revenue also declined from 6% a year ago to 4% in the current quarter.
Net income declined from $0.77 per share to $0.42 per share. However, EPS exceeded expectations of $0.31 per share.
Valuation
The stock was down $1.63 (5%) to $30.36 mid-morning, giving the company a $10.6 billion market capitalization. With $1.6 billion in long-term debt, the company has an enterprise value of $12.2 billion. Best Buy trades at 14.0x operating income after-tax through last 12 months ended August 2, 2014 ("LTM0814") of $757 million. Its enterprise value to LTM0814 EBITDA of $1.8 billion is 6.8x.
Conclusion
Best Buy's revenue and operating income after-tax declined 4% and 38% Y/Y, respectively. Its financial results and risk of future earnings declines do not justify its 14.0x P/E multiple and 6.8x EBITDA multiple. I rate the stock a sell.
Disclosure: The author has no positions in any stocks mentioned, and no plans to initiate any positions within the next 72 hours.
The author wrote this article themselves, and it expresses their own opinions. The author is not receiving compensation for it (other than from Seeking Alpha). The author has no business relationship with any company whose stock is mentioned in this article.
Editor's Note: This article covers one or more stocks trading at less than $1 per share and/or with less than a $100 million market cap. Please be aware of the risks associated with these stocks.