Recent profile
John Chen's arrival in November last year marked the beginning of BlackBerry's transition from a device oriented firm to a software and services oriented firm. Chen has played up BlackBerry's position in the Internet of Things movement and the QNX solution as an unrivaled innovation leader in the embedded device industry. To emphasize his point, Chen plans to re-categorize BlackBerry's current business segments (hardware, services, software, other) into four new segments (devices, enterprise software and services, QNX embedded, BBM).
In this article, we examine what a successful transition to a software and services oriented firm means for BlackBerry (BBRY) in terms of margins. We then look at the implied hardware and software margins and sales necessary for BlackBerry to achieve its vision by analyzing its current businesses as compared to those of its peers. As BlackBerry plans to return to profitability within two years, we allow the firm a five-year period for a successful transition.
Stock price performance year-to-date.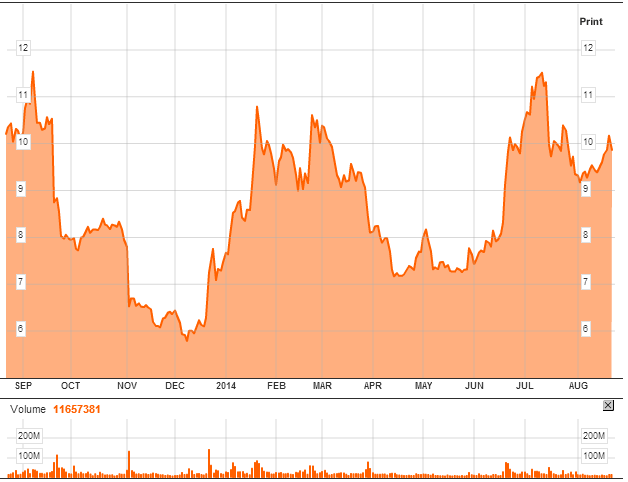 It's a margins game
According to my operating model, BlackBerry's stock price is most sensitive to its gross margins. The following table shows various PPSs as a function of the annual gross margins for the last six projected years in the firm's DCF.

This relationship makes a lot of sense: the firm is somewhat cash strapped, and has relatively little cash available for future investments. Nevertheless, it must continue to maintain R&D spending and firm reinvestments to stay competitive. In fact, the DCF projects losses before income and taxes for the beginning four years; free cash flow is positive primarily due to tax-deductible depreciation and amortization, a situation consistent with BlackBerry's cash flow results for the past few years.
More importantly, BlackBerry will be able to achieve higher margins and thus a higher per share price, if John Chen successfully transitions the firm into a software and services provider. A gross margin between 41.0% and 45.0% should be achievable as long as BlackBerry manages to generate at least 65% of revenue from services and the rest from devices after four years. Considering the fact that BlackBerry had a 40-60 hardware-software revenue split in Q1'FY15, the firm should have no problem transitioning to a 35-65 split.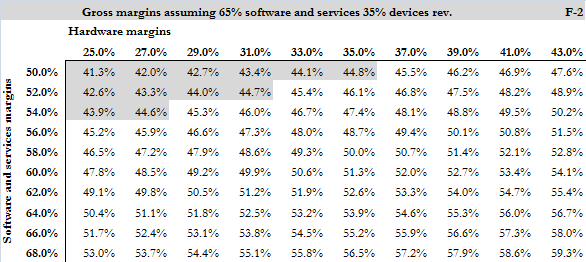 Figures 1 and 2 show that hardware margins of 27% to 35% and software margins from 50% to 54% are necessary for a PPS between roughly $8 to $12. We can get a feel for BlackBerry's future margins by comparing gross margins of relevant firms, which we segment into five categories: (1) mid-cap ($2 to $10 bil.) firms in the Business software and services industry; (2) direct Enterprise mobile management competitors; (3) firms in the Security software and services industry; (4) Public mid-cap technology firms; and (5) the six smartphone makers with higher global smartphone market share than that of BlackBerry, as shown in the following table (data from FinViz and PrivCo):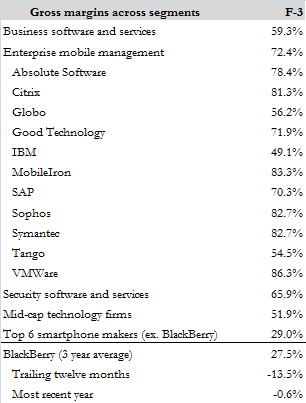 Hardware margins should return to normal
I believe BlackBerry's true gross margin for devices is consistent with that of other smartphone manufacturers, now that the firm off-shores most of its production to EMSs. Moreover, the firm's various inventory and asset write-downs in the past year have contributed to noticeably higher average costs for recent periods; adding back FY14 restructuring charges yields an adjusted gross margin of 35%. With Foxconn backstopping excess inventory and producing devices for repurchase, the firm's devices margin should return to at least 27.0%, which is on par with that of the average smartphone manufacturer but more conservative than its 43.9% to 36.3% margins from 2008 to 2010. We don't know exactly what the current device margin is, but the firm is reportedly selling its latest run of BB7 devices profitably. I estimate BB7 devices to be around 50% of smartphone device sales for the current fiscal year, and I expect BB10 devices to be profitable as well, since Chen has mitigated most of its manufacturing and storage risks.
Chen also supports the idea of a margin over volume strategy and admitted as much in his Q4'FY14 conference call, further revealing that the firm needed to sell only 10 million devices to break even. Given that the firm sold through 2.6 million devices in the first quarter and the renewed/sustained interest for its Z3 and BB7 phones in emerging markets, I think a sales range of 10 to 15 million devices is easily attainable.
The trickier estimate is software margins. Figure 3 shows potential margins of 51.9% to 72.4% for the firm, but it is hard to pinpoint a number without knowing the mix of software the firm seeks to offer; thus, we first examine BlackBerry's software and services products.
What does a software and services oriented BlackBerry look like financially?
According to John Chen, BlackBerry seeks to reorganize its current business segments (Hardware, Services, Software, and Other) into four new divisions: Devices, Enterprise service and software, QNX Embedded business, and Messaging. The most noteworthy of these is Enterprise service and software. We examine each segment and reassign their potential revenue streams to the current business segments.
BES 12 CAL licensing should significantly boost software revenue
A good portion of current services and software segment revenues (also a large portion of the future combined service and software segment) includes BlackBerry Enterprise Service (BES), which owns a large percentage of the Enterprise mobile management (EMM) market, with one analyst estimating it at 60% (Q4FY14 conference call). Given the fact that the EMM market was worth only $838 mil. in 2013, BES would account for roughly $500 million of BlackBerry's combined $2.9 bil. software and services revenue. However, most of BES's revenue should be attributable to BES 5, as the company reported that "no material revenue has been recognized from BES 10" (10-K) in fiscal year 2014.
BES 12, to be released in November, unifies BES 5 and BES 10 and should become BlackBerry's primary source of revenue in the future. John Chen estimates a 50 million device installation base with 80% business users, although there were only 1.2 million installs by Q1'FY15. I think 50 million is indeed a reasonable target assuming a niche customer base of 100 to 200 million (see "How secure is BB10?") and subscribers on older platforms upgrading to BES 12. Further assuming business users convert to BES's Gold edition ($60 per year) over a period of 5 years and the other 20% of users stay at the Silver level ($19 per year), we add around $2,590 million in software revenue from BES 12 CAL licensing by year 5. BlackBerry also offers perpetual subscriptions for one time fees at double the annual rate, although I think for the next few years customers will likely want trial versions before fully committing. For current reporting purposes, BlackBerry segregates BES services and BES licensing revenue into the service and software segments respectively, so we report all BES licensing revenue under software.
QNX revenues are negligible even when doubled
QNX seems to be BlackBerry's most profitable business segment, as Chen has noted it brings in "very high" margins. Unfortunately, QNX adds very little to the firm's top line, and revenue often lags product releases. The firm classifies QNX revenue under software, which I believe consists mostly of BES licensing revenue rather than that of QNX. Even if all software revenue consisted of QNX licensing, it would still average out to 2.1% of annual revenue over the last five years.
Nevertheless, QNX is to be the core for BlackBerry's Internet of Things strategy; i.e., facilitating machine to machine communication, connectivity, performance, data processing, etc., by providing a reliable operating system and several SDKs, tools, and apps. BlackBerry aims to release QNX Cloud in fiscal 2015, which offers machine to machine management and communications targeting embedded devices. A simple Google search reveals QNX to be a premium real-time OS (RTOS) due to its advanced but simple design, and widespread use across a large number of embedded systems. However, investors should know that QNX does have its share of competitors in the RTOS market, many of whom also offer high quality products; e.g., VxWorks by Wind River (general RTOS market share leader), LynxOS by Lynx Software, Windows CE by Microsoft, and RTAI for Linux by the RTAI team. Moreover, QNX's success is pretty recent and is largely attributable to its popularity in automobiles, where it captures 53% of the auto infotainment systems market. In fact, the QNX Neutrino OS was nowhere near top status a decade ago. The following table shows developer preferences for various RTOSs: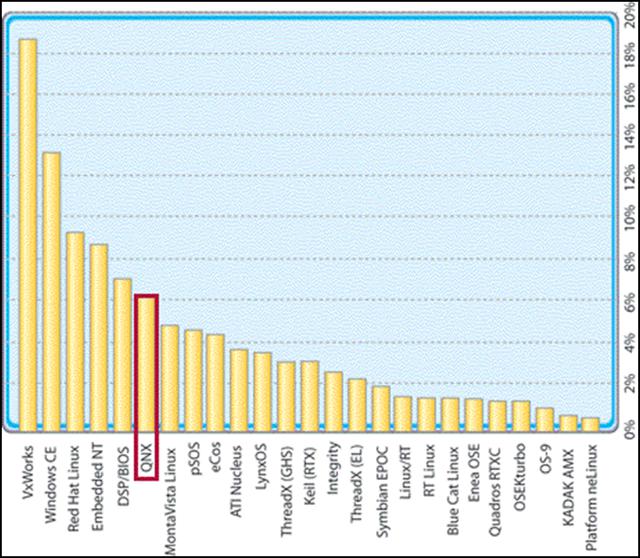 I think BlackBerry can monetize QNX through products such as QNX Cloud and QNX Car Platform for Infotainment. However, I am wary of the idea that QNX will become a major revenue item, as there are simply too many unknown variables at play; e.g., the ability for QNX to outmatch its rivals technically given BlackBerry's financial position, the speed of materialization for IoT products, the emergence of disruptive technologies in embedded devices, etc. We are taking shots in the dark until BlackBerry releases more data after transitioning to its new business segments. I include my QNX revenue projections into the DCF by allowing for 6.0% software growth in the last five projected years, which I attribute mostly to QNX, as BES CAL licensing should be stable by then. This results in QNX revenues averaging 4% of total revenue in the last five years, which is at least double its current rate and averages out to $308 million per year.
Lower service revenue going forward
Aside from BES, the largest enterprise service by revenue BlackBerry offers is categorized as "Service Access Fees" (SAF). These are fees associated primarily with BB7 devices and are charged to carriers who in turn bill their users. BlackBerry is one of few firms who charge these service fees, as it offers a proprietary secure and reliable experience through its enterprise servers and Network Operations Centers. BlackBerry has lowered these fees significantly in the past few years, due to carrier pressure and falling numbers of BlackBerry users.
The firm guides for 10 - 15% quarterly reductions in its services revenue for the next few quarters, so I assume a 40% reduction in services revenue for fiscal year 2015. However, I believe SAF outflow should slow considerably once BlackBerry returns to profitability, as the primary decrease in SAF revenue is due to decreased consumer interest rather than fewer enterprise customers (although the latter group is not unaffected). BlackBerry noted in its FY14 10-K:
"The Company has faced significant pressure to reduce its existing SAF, especially for the consumer market. In response to these pressures, the Company has been implementing certain price reduction programs in an effort to maintain and grow its subscriber base."
Even if consumers do not adopt BlackBerry devices in the future, the firm's enterprise customer base should still generate significant enterprise service revenues. However, to be conservative, we allow for a 5% decrease in service revenue per year for all remaining years (We will later change FY2016's decrease to a 7% increase to factor in offsetting BBM revenue).
This 40% initial reduction with 5% decreases every subsequent year is supported by Chen's Q1'FY15 comments. In response to Credit Suisse analyst Kulbinder Garcha's comment of BlackBerry being unable to get back to stable services revenue until next year, Chen stated: "I don't by mid-year or next year…I hope to see good progress by mid-year next year…I'm hoping to see little sooner than that personally, but if you want to use that model, [it'd be] reasonably conservative." Chen's answer is a little confusing, but I believe he means that he expects services revenue to stabilize by the end of 2014 calendar year; however, we will be conservative and stick to a large decline with stable decreases. In addition, the firm noted in its 10-K:
"As customers continue to transition to BlackBerry 10, the Company expects SAF revenue to decline further, but expects…to mitigate the loss of the enterprise portion of SAF revenue from enterprise customers that elect to utilize BES 10, BES 12 and other new products and services."
Thus, the firm admits that enterprise SAF revenue is declining, although I doubt this decrease is as severe, since firms place more value on the security and reliability offered by BlackBerry's infrastructure. However, I am unsure as to whether BES and BB 10 fees can entirely mitigate BB7 service revenue as the latter has a wider user base and the former works differently with BlackBerry's network servers in terms of generating fees. Again, this situation supports the idea of a constantly decreasing service revenue stream. Naturally, the remainder of the services revenue should consist of enterprise services such as email and contact syncing through BlackBerry enterprise server and revenue generated through BBM.
BBM monetization will be tricky and not entirely rewarding
I believe BlackBerry's BBM strategy will generate more recognition for BlackBerry devices rather than direct revenue, simply due to the nature of messenger monetization. Consider that the popular messenger, WhatsApp, is also one of the least profitable, generating less than $20 mil. with 450 mil. active users. Other more profitable messengers such as WeChat, Kakao, and Line use promotional advertising, virtual stickers, and games to generate revenue. BBM Channels is imitating some of these strategies, although BBM is more limited in its offerings, as more offerings would raise security requirements and capital needed for consumer research. Nevertheless, BlackBerry's announcements about BBM makes it clear that the firm is immediately focused on widening BBM's install base. The firm reached a deal with Nokia for BBM to be included on Nokia Lumia and Nokia X devices, and BBM is already available for Android and iPhone. BlackBerry estimates BBM's install base to increase from 85 to 100 mil. monthly active users by the year end.
As for monetization, BlackBerry is carefully balancing consumer interest and revenue generation, with greater emphasis on the former. Chen announced in the Q1'FY15 conference call that mobile payments and secure services for enterprise users is the bigger focus for BBM. But as to consumers, "there are some consumer-oriented play, but we don't -- it's important in a sense of it has to keep the interest level high. The revenue numbers isn't exactly -- will not turn the dial so to speak, but there will be channels advertising…" Since advertising generally decreases user experience, I doubt Chen will really focus on this strategy.
Nevertheless, Chen should be able to find more profitable customers in the enterprise segment. The release of BBM Protected, the first solution part of the eBBM suite, shows the firm's commitment to enterprise users. Chen has a revenue target of $100 mil. by FY2016. Considering the size and revenue streams of comparable messengers, I give him some benefit of the doubt and factored in $100 mil. to $20 mil. decelerating increases in software revenues for FY2016 and going forward by changing the -5% FY2016 decrease in service revenue to a 7% increase.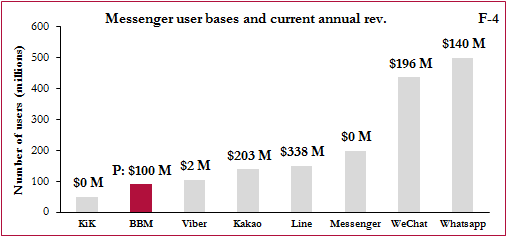 The mystery of BlackBerry World
I've asked the investor relations team to confirm or give estimates for BlackBerry World revenue several times, but they told me they do not provide this number. A comparison to similar app stores in terms of number of apps, app revenue, user base, etc., puts BB World revenue at around $700 mil. for 2013 (author calculations); however, on its financial statements, BlackBerry categorizes BB World under "Other" revenue, which was only $95 mil. in FY2014. To be conservative, we assume the latter. The difference might stem from BB World reported at net; i.e., gross margin, which takes into account app promotions, app advertising expenses, etc., although this theory is unconfirmed.
I believe the lack of top apps in BB World is a major barrier for consumers; e.g., BB World contained only 44% of top iOS games and 71% of top Android media apps, fill rates lower than those of Windows Phone and Amazon Appstore. BlackBerry also acknowledged the importance of top apps in its 10-K: "Decisions by customers to purchase the Company's products are becoming increasingly based on the availability of top-rated third-party software applications." The addition of Amazon Appstore should be extremely helpful; however, most of these apps are not native to the BlackBerry platform. Thus, they might degrade the BlackBerry experience, especially since several popular non-native apps are already rated unfavorably in the Appstore such as Skype and Twitter (although BlackBerry has its own native Twitter for BlackBerry app). Moreover, by relying on Amazon Appstore, BlackBerry misses out on a major source of revenue possibly in the billions; e.g., Windows Phone Store racked up $950 million in revenue in 2014 with 255,000 apps versus the 235,000 BB7+BB10 apps in BB World.
Software margins calculation
BlackBerry should be able to transition to a software and services firm, although its BBM and QNX software will need to generate significantly more revenue for noticeable overall margin improvements. For now, we estimated $2,590 mil. for BES revenue, $100 mil. for BBM revenue included in $1,334 mil. for services, and $308 mil. for QNX revenue. I expect most of these revenue sources to fully materialize by FY2019 and FY2020, hence we try to predict margins for the last six years of the DCF. Using these revenue streams as weights and assuming gross margins of 65% for BES, 70% for QNX, and 20% for services, we get a software and services margin of 51.2%. Thus, we end up with a combined gross margin of 42.73% = 51.2%*(.65) + 27.0%*(.35).
Valuation assumptions
BlackBerry transitions to a 35% hardware, 65% software and services revenue model by FY2019. The firm currently maintains a 40-60 split.
Hardware margins can return to at least 27%. Hardware margins in FY2014, FY2013, and FY2012 years were: -39.2%, -2.2%, and +25.1% respectively.
BES 12 reaches 50 million customers with 40 million gold subscriptions at $60/year and 10 million silver subscriptions at $19/year within five years.
BBM generates $100 million annual revenue per year starting in 2016.
Services subscription (inclusive of BBM) declines by 40% in 2015 and then 5% per year starting FY2017. Excluding BBM - appending a flat $100 million source of revenue annually - should increase the PPS by roughly 10 to 15 cents. We do not do this to simplify our model
Discounted cash flow analysis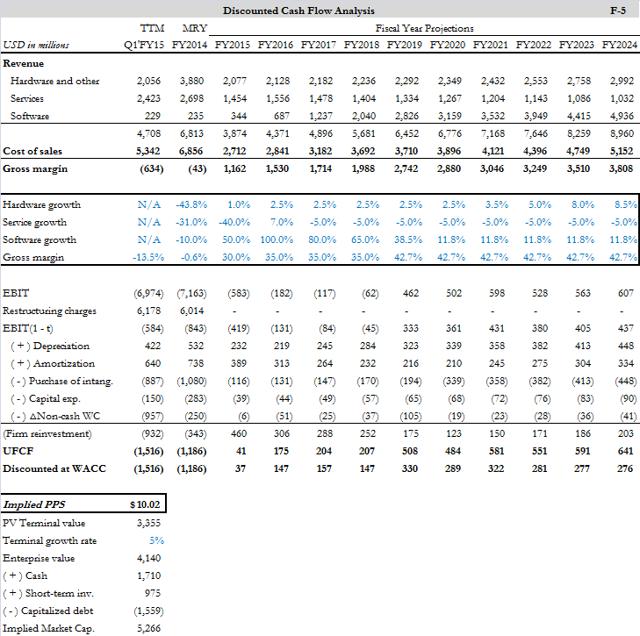 Multiple regression analysis
As a deep value investor, I prefer to invest in stocks with at least a 50% upside assuming a strong margin of safety. I am somewhat comfortable with the price outputs in the DCF model. I also trust in John Chen's judgment of a 50% to 80% survival rate for the firm. Another way to get a feel for the robustness of the DCF is to compare the numbers to those of relative valuations. In terms of a comparable companies' analysis, BlackBerry does not have positive earnings or EBITDA, which renders most comparable metrics useless. Instead, I rely on a multiple regression analysis of BlackBerry's payout ratio, estimated 5-year EPS growth, and beta (proxies for dividends, growth, and risk) against those of firms in four categories, as indicated in the following chart: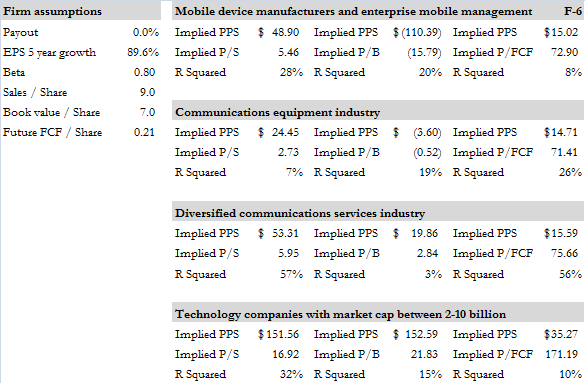 The results are pretty unreliable, even for financial regressions; however, I think the magnitude difference is enough to show that BlackBerry is somewhat undervalued relative to its peers. This analysis in conjunction with our DCF gives me enough confidence to predict safely a conservative intrinsic PPS of $10.02.
Conclusion and comments
I have tried to be conservative throughout this analysis and gave BlackBerry plenty of time to transition to a software and services firm. As Figure 1 shows, a PPS of $15 with roughly 50% upside isn't impossible and comes down entirely to how well BlackBerry can manage its margins. We were pretty conservative in estimating BBM and QNX revenue; but, if BlackBerry truly becomes an innovation and market leader in the IoT movement, our current estimates are certainly understating BlackBerry's PPS. The immediate priority for the firm is whether BlackBerry can win its 50 million BES 12 subscriptions and how much revenue those subscriptions will bring. Next, the firm needs to manage its SAF outflow and improve hardware margins. John Chen seems very confident about both of these goals, and I give him the benefit of the doubt by including these events in my $10.02 projection. However, the only reason I still own the stock is that I believe BlackBerry has a greater than 50% chance of improving its margins beyond 42.73%, and this probability will only increase with time. Given the firm's current business strategy, market position, and still unclear picture, I would advise current owners to hold, although a buy recommendation may be upcoming once the firm releases more information regarding the progress of its software and services monetization plan.
Disclosure: The author is long BBRY.
The author wrote this article themselves, and it expresses their own opinions. The author is not receiving compensation for it (other than from Seeking Alpha). The author has no business relationship with any company whose stock is mentioned in this article.
Additional disclosure: I bought shares of BBRY at $8.99.