There are 19 preferred stock closed end funds in the Morningstar CEF universe. All of the funds are currently trading at a discount to NAV and offer distributions above 7%. Preferred stocks are an interesting asset class, positioned between common equity and fixed income. Preferred stocks are not held in portfolios as frequently as equities and fixed income due to their unique structure. However, preferred stocks offer an attractive pick up in income above treasuries so they deserve a review. Many investors have been avoiding preferred stocks due to concerns over higher interest rates. Many preferred stocks are either perpetual or have very long dated maturities increasing the principal risk if interest rates rise. This perceived risk has caused many preferred stock CEFs to trade at wide discounts to NAV. The high distribution and large discounts offer investors an interesting opportunity to add preferred CEFs to their portfolio.
The graphic below lists several metrics that can help quickly evaluate closed-end funds including distribution, leverage, premium/discount, 1-Year Z-Statistic (from Morningstar), historic returns, and fund expense ratios. 2008 returns are also included to evaluate downside protection in the case of a market crash. Data for the iShares US Preferred Stock ETF (NYSEARCA:PFF) is included to provide an ETF option for investing in preferred stocks. The ETF results can also be used as a benchmark to evaluate performance.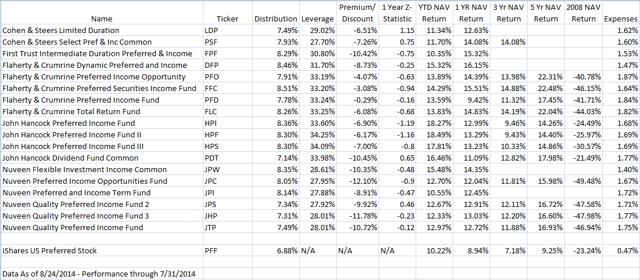 Source: Morningstar
There are several similarities in the preferred stock CEFs. First, all of the preferred stock CEFs use leverage and the leverage rate is around 30%. Second, all of the preferred stock CEFs currently trade for less than their net asset value. Third, all of the CEFs have relatively high expense ratios, due in part to their use of leverage, with most charging above 1.5%. Finally, all of the CEFs outperformed PFF for the YTD, 1 Yr, 3 Yr, and 5 Yr returns. Some of this outperformance is likely due to the leverage employed by the funds.
As mentioned above, a major investor concern is duration, as preferred stocks often have no maturity. There are two funds that explicitly address duration in their name, Cohen & Steers Limited Duration (NYSE:LDP) and First Trust Intermediate Duration Preferred & Income (NYSE:FPF). These are relatively new funds and both have shown reasonable performance since their respective launches. The performance is impressive as longer duration issues have been outperforming as interest rates have been moving lower this year. A detailed write up of FPF is available here. LDP may be worth a look in the future, but the elevated Z-Statistic gives some pause in the near term.
Cohen & Steers' other preferred fund, The Cohen & Steers Select Preferred and Income Fund (NYSE:PSF) has the lowest amount of leverage of the preferred stock CEFs. Performance has been good and PSF has the third highest 3-year NAV return. However, the discount is narrower than its one year average so the discount would have to increase to form an opportunity to purchase this fund.
Flaherty & Crumrine is probably the best known preferred closed end fund manager. The firm has five funds including:
DFP was launched in 2013 so it doesn't have the long-term track record of the other funds. However, it has the highest discount among the Flaherty & Crumrine funds at 8.73% and a distribution of 8.46%. DFP also has the strongest 1-year return of all the preferred stock funds. DFP could be worth a closer look.
PFO, FFC, and FLC all look very similar. The funds all have high distributions but narrow discounts. Performance has been strong and each fund has posted annualized returns above 22% over the past five years. However, there are two issues that should cause some caution with these funds. First, they have among the highest expense ratios in the group. Second, the performance in 2008 is troubling with losses of over 40%, much wider than the 23% loss from PFF.
PFD is an interesting case. It has the smallest discount to NAV and has the lowest distribution. PFD also has the lowest returns of the Flaherty & Crumrine funds over the past five years. On the surface, this looks like a fund to avoid as other options offer better opportunities.
John Hancock, another well-known asset manager, manages four preferred stock CEFs.
HPI, HPF, and HPS are all very similar. Distribution rates, leverage, discounts, fees, and performance are all very similar for these funds. It is interesting that these funds have had the strongest year to date performance but have the worst 3-year and 5-year performance track records. Another interesting tidbit is they have the highest leverage but held up better than their peers in 2008. These funds could be worth a closer look but an evaluation of the poor performance for the 3 and 5-year periods should be conducted.
PDT is another fund managed by John Hancock. This fund is about 70% invested in preferred stocks with the remainder invested in common stocks. The distribution is lower than most of its peers and the expense ratio is higher than the other Hancock funds. However, performance has been strong and the fund was resilient in 2008 posting performance that was better than PFF. PDT was the only preferred CEF to outperform PFF in 2008. PDT could be an interesting addition to a portfolio and is worth a deeper dive.
Nuveen is the final manager of preferred closed end funds. Nuveen manages six preferred closed end funds.
Nuveen Flexible Investment Income (JPW)
Nuveen Preferred Income Opportunities Fund (NYSE:JPC)
Nuveen Preferred and Income Term Fund (NYSE:JPI)
Nuveen Quality Preferred Income Fund 2 (NYSE:JPS)
Nuveen Quality Preferred Income Fund 3 (JHP)
Nuveen Quality Preferred Income Fund (JTP)
JPW was launched in 2013 and has the lowest expense ratio. JPW is 60% invested in preferred stocks but can also invest in individual equities and fixed income securities. Early performance has been strong and the discount is wide adding to its attractiveness. JPW has a flexible investment mandate so it may not be appropriate for investors specifically seeking a preferred stock fund. However, opportunistic investors should take a deeper look.
JPC, JPS, JHP, and JTP appear to be very similar funds. These funds trade at relatively wide discounts likely due to middle of the pack returns, lower distributions, and higher expense ratios. These funds also had large drawdowns during the bear market in 2008 so downside protection is a concern. These funds are not compelling investments relative to other options. Larger discounts could create opportunities in these funds.
JPI is another recently launched fund. The fund came public in July 2012. This fund is a defined 12-year term fund. This means that the fund will be liquidated and proceeds will be distributed to shareholders in 2024. This adds to the attractiveness of the fund because it gives a catalyst for the fund's discount to narrow. JPI currently offers a discount of almost 9% and a distribution above 8%. The fund's performance hasn't been spectacular but is above PFF. The reasonable performance along with the catalyst to close the discount could create a compelling opportunity in JPI. Further research is needed to verify the quality and outlook for this fund.
Conclusion:
Preferred stocks are not widely held in portfolios but can offer diversification and high yields. These are two factors that could make them interesting investments in the current market. Investors concerned about rising interest rates should check the duration of holdings as many preferred stocks are perpetual or have long dated maturities. There are 19 closed end funds that invest primarily in preferred stocks available to investors. Some characteristics that all the CEFs share include high distributions, a discount to NAV, use of leverage, and performance ahead of PFF. There are several funds that stand out from the crowd and could offer opportunities with more research. FPF and LDP are interesting because the portfolios manage the duration exposure reducing interest rate risks in the portfolio. DFP, a recently launched fund managed by Flaherty & Crumrine looks interesting due to its strong performance and wide discount. PDT has posted strong returns while providing downside protection in 2008 and currently trades at a wide discount. Finally, JPI could offer opportunities due to its term nature-which will give a catalyst for the discount to narrow over time.
Disclosure: The author has no positions in any stocks mentioned, and no plans to initiate any positions within the next 72 hours.
The author wrote this article themselves, and it expresses their own opinions. The author is not receiving compensation for it (other than from Seeking Alpha). The author has no business relationship with any company whose stock is mentioned in this article.